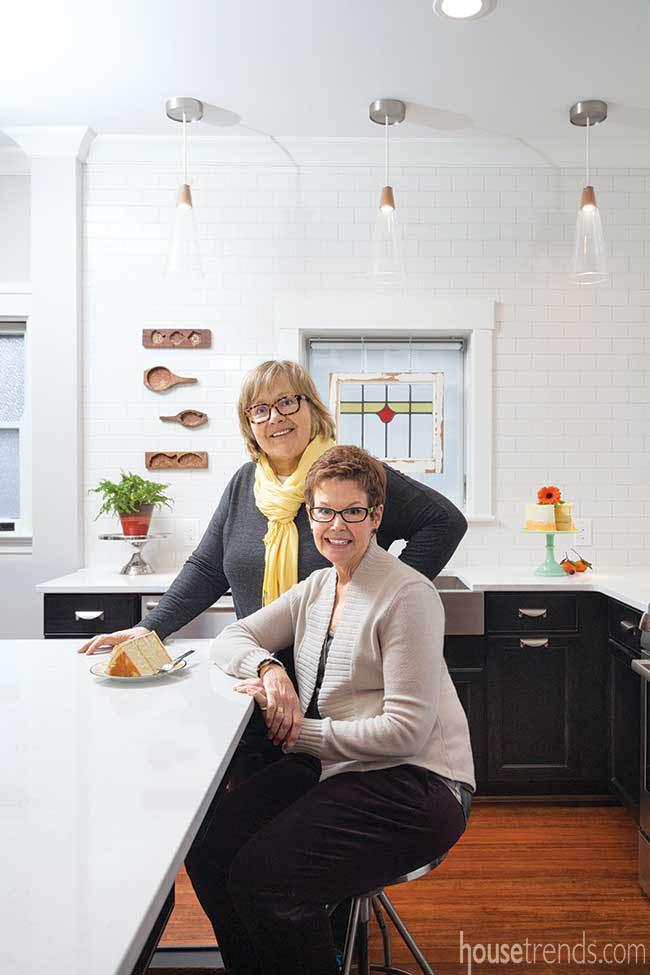 A few years ago, I toured more than 30 homes for sale in Newport's Historic East Row District. While I found this neighborhood charming, I had no plans to move there. But my friend Pat did.
I have known Pat for more than 30 years and I've helped (okay, sometimes just watched) her move into a Covington apartment, then to a Westwood home, then finally in with her brother Chuck and his wife—also named Pat—when her home sold before she found its replacement. Looking for a place within walking distance of her downtown office, Pat quickly narrowed her focus to Newport, but then things slowed down a bit. She looked at home after home—some that needed more rehab than she could handle (even with Chuck's help) and others that were just perfect—but out of her price range. This process went on for over a year until one Sunday when I got the call.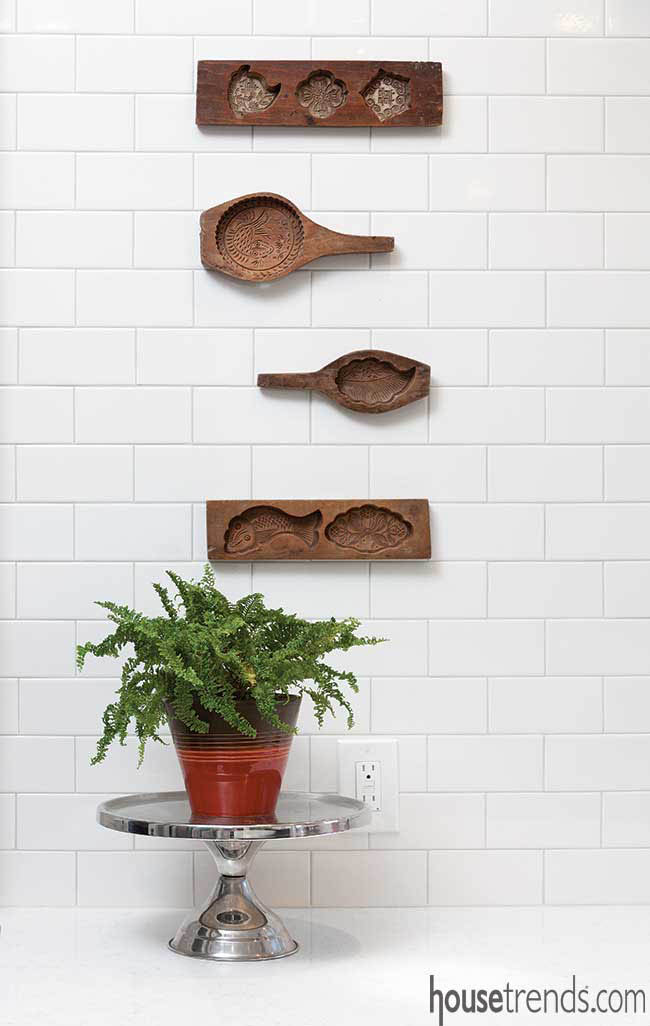 "Karen. I found the perfect house for you and Mike," she said. Now I remind you that Mike and I weren't looking for the perfect house. Our son was well on his way through school and had a great group of friends. We were committed until graduation—several years off.
Thinking the house felt too large for one person, Pat asked me to take a look. It was a grand Neoclassical Revival home with elegant touches, a wide front porch, leaded and stained glass windows, a double lot and a multi-car garage—a rare find in this area.  After her second time through, Pat decided to take the leap herself.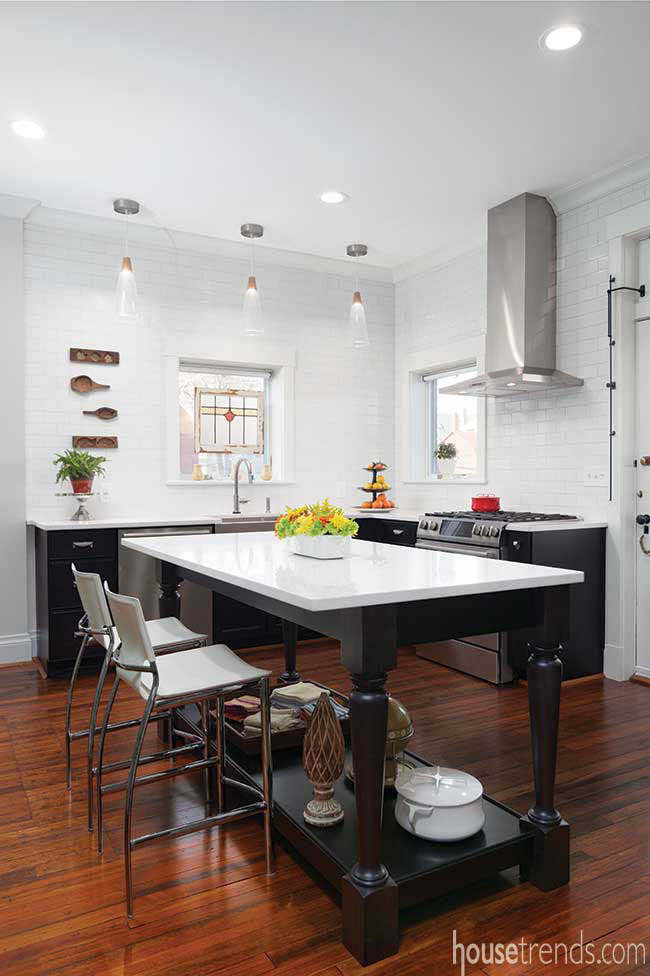 Making do
Living happily in the home for about six years, she made mostly cosmetic changes to the place. But a complete kitchen makeover was on her hit list from day one.
While the rest of the rooms were graciously sized and felt appropriate for the age and style of the home, the kitchen had a bit more of a cottage feel with handyman cabinetry and a cramped floor plan that didn't work when Pat's extended family came and prepared a meal together.
"I felt like the style was just whopperjawed," she says.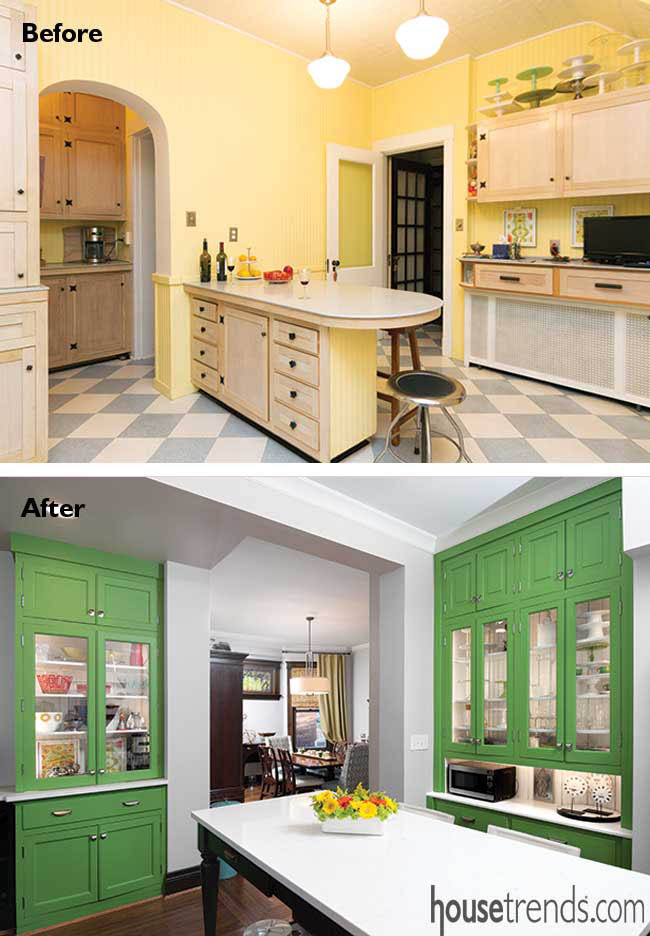 Exploring options
Late in 2016, Pat met with architect Ashli Slawter who proposed removing the wall that separated the kitchen from the butler's pantry, and most of the adjoining dining room wall—as much as they could without disturbing a structural chimney running from the cellar to the top of the third-story attic.
By suggesting they replace that load-bearing wall with a support beam, and eliminate a doorway that led to back stairs, Slawter opened up all kinds of possibilities.
Once the structural decisions were made, Pat worked with Monica Millard from Schone Kitchen Design on the layout as well as cabinet, flooring, and tile selections.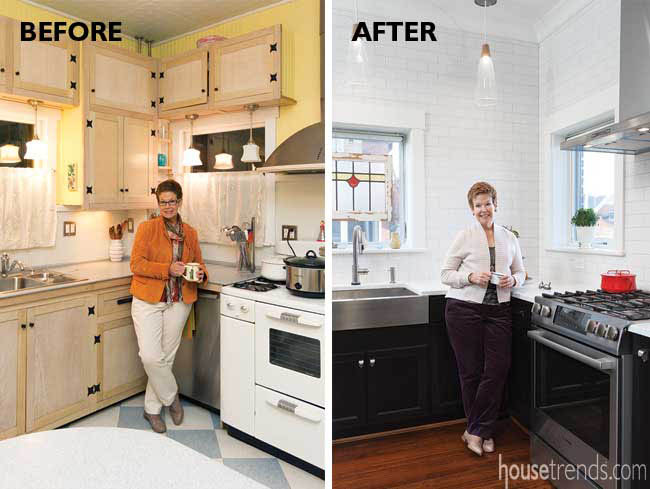 Clean and simple
Entering the remodel with an open mind, for the most part, Pat had one—or two—caveats: She wanted an old hutch, which she found in the basement and believed to be original to the home, plus a second she found at a local flea market, worked into the remodel.
One was covered in layers of paint, the other in layers of varnish.
It probably would have been cheaper, and definitely would have been easier, if she had gone with new cabinetry instead. But Pat, who is a graduate of UC's DAAP program in graphic design, had a vision.
"My overall strategy was to keep things clean and simple," she says.  "I didn't want a whole lot of upper cabinets." As it turns out, Pat and Millard decided to include one wall of upper cabinets for storage, but the walls over the sink and oven areas are cabinet free.
"I just took a chance on that," Pat says. When company comes there are mixed sentiments as to whether or not that decision was a wise one, but Pat likes having that wide open space for meal prep where there used to be very little countertop space.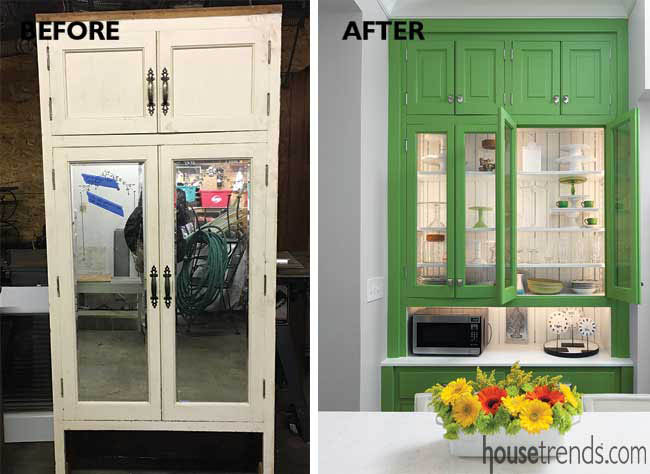 Professional help
"I originally wanted a very light blue-green finish on the cabinets," Pat admits. "But Monica steered me—wisely—to keep it more classic with black and white cabinets and then add color on my hutches which could easily be changed in the future. Monica helped me think things through so that I could make good decisions."
One strong suggestion from Millard was the farmhouse sink. "She said it just goes with the age of the house," Pat says.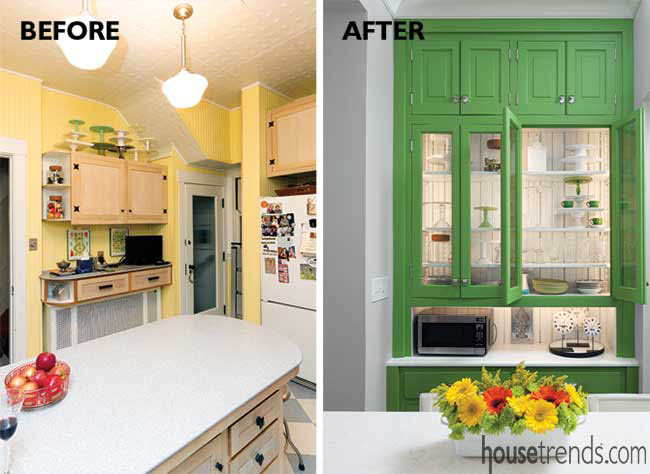 Challenges of a 110-year-old home
"I went in knowing there would be hiccups," Pat says. "I was always ready to hear 'Oops. We found something' from the crew."
The crew was led by master craftsman, Brian Shackelford, of Marcel Design Builders. "This was the first time I ever worked with a contractor," Pat says. "Brian gave me an overview of what was going to happen and kept me updated throughout the project."
The first hiccup came when walls were opened up and it was determined the plumbing was outdated. Construction was delayed as a plumber was called in to make repairs. It turned out to have a positive side effect…a pipe was moved and more wall space became available.
A large radiator that took up about six feet of lower wall space was another obstacle. As luck would have it, Pat's cousin, Steve Hutzel, who owns Schmidt Heating and Cooling, suggested adding an under-the-cabinet system tied into the existing boiler.
The final hiccup came when the linoleum was removed to reveal scarred wood and missing sections of flooring. "Everyone wanted me to replace it," Pat says.  "I ignored them and it was one of my best decisions.  I like the nicks and nail holes."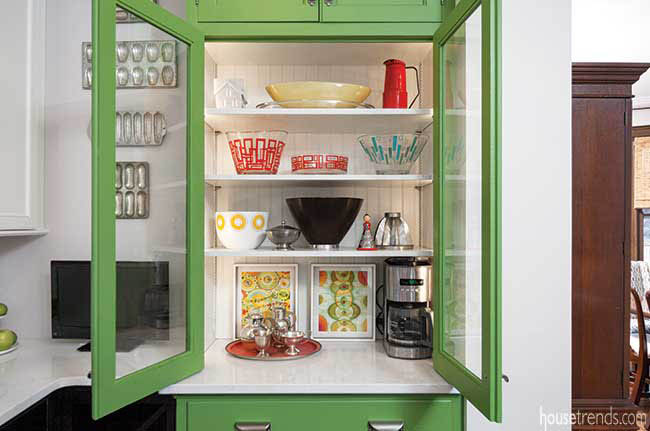 Good decisions
When asked why she chose the green paint color for the two hutches, Pat answers with one of the best reasons of all. "It makes me happy."
Resources: Architect: Ashli Slawter Architecture; Kitchen design: Schone Kitchen Design; Construction: Marcel Design Builders; Cabinetry: Medallion Silverline with White Icing and Onyx finish; Countertops: Zodiaq Coarse Carrara quartz; Hutch paint color: Sherwin-Williams Overt Green; Lighting: Ayre Naked Single Light Pendant; Plumbing: Butler Plumbing; Flooring: Lovell's Hardwood; HVAC: Schmidt Heating and Cooling; Windows: Marsh Building Products