The mother-in-law suite has become a common addition to new and existing homes, allowing multiple generations to live under one roof. It's not so common, perhaps, for the son-in-law to suggest the arrangement, or for the trio to build a custom home that not only merges two households but also welcomes family far and near.  "It's a family home, so everyone should feel like they belong here, even if they visit from India," says Jesal.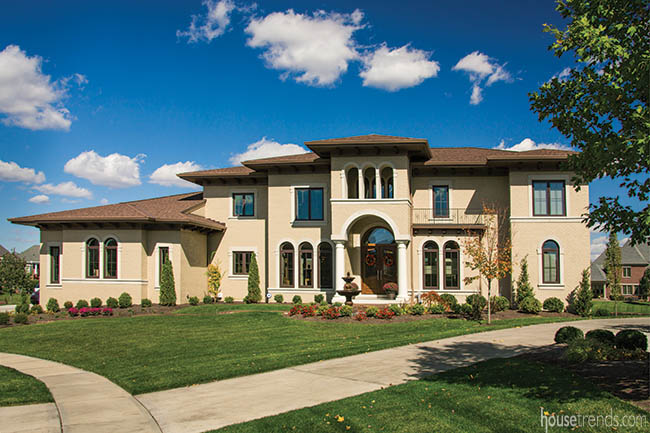 It was an easy decision for Jesal, her husband, Shawn, and her mother, Hema, to move into a shared home. It affords Hema plenty of quality time with her grandchildren Sia, 11, and Aron, 9. And contrary to popular stereotypes, Shawn and Hema are such kindred spirits that, when there are votes on household decisions, Jesal often finds herself in the minority, she says.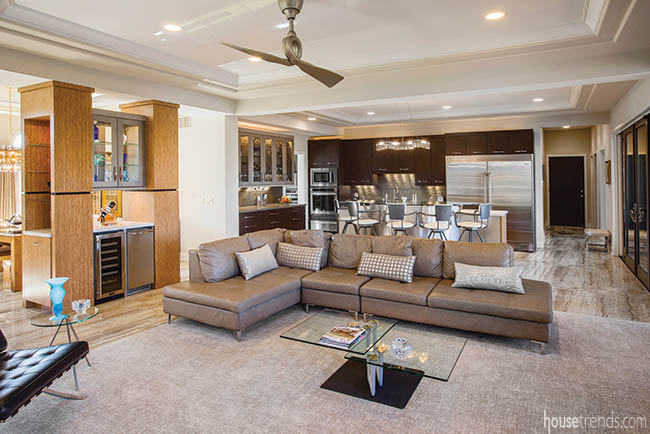 Combining two housefuls' worth of furnishings—and two distinct styles—required a little more consideration. But with the help of architect Perry Bush, builder Bernie Kurlemann and interior designer Constance Foster, the family of five built a home—and a shared aesthetic—that's comfortable for everyone.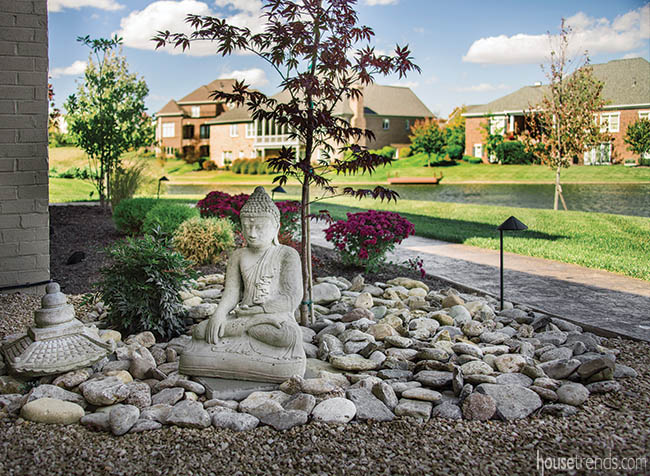 While the Italianate exterior of their Mason home conforms to the Long Cove neighborhood's historic architectural blend, inside the family created a style all their own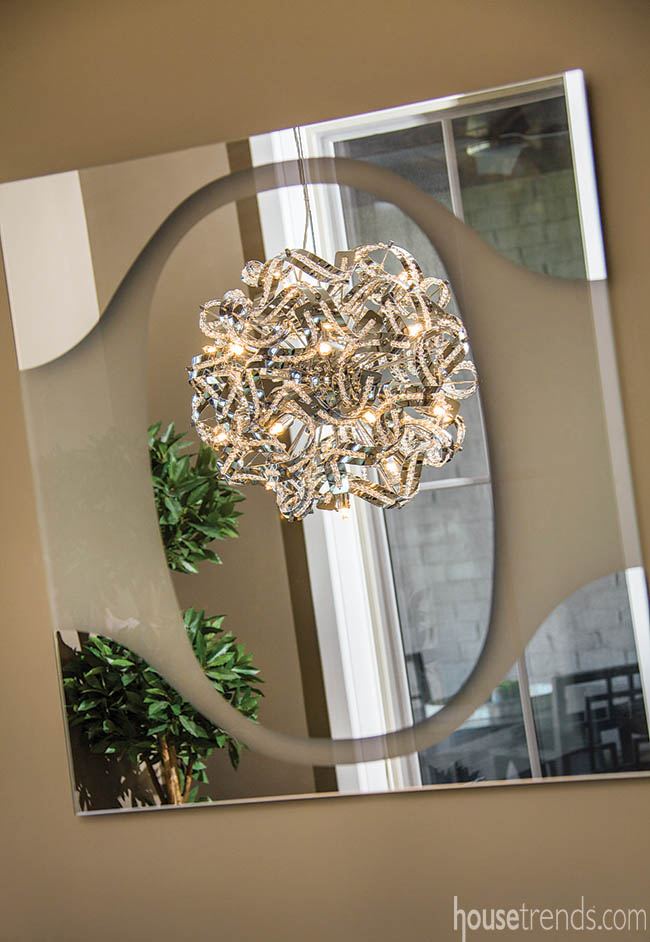 They went to great lengths to find sleek contemporary finishes that would reconcile the couple's modern tastes with Hema's family heirlooms and glamorous old-Hollywood style, and sourced nearly all of the cabinetry, tile, countertops, hardware and fixtures from India, where homeowners have long embraced the minimal, low-maintenance style.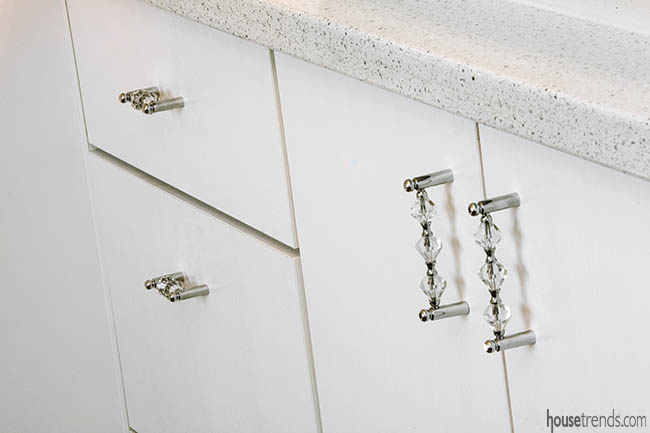 "We were selecting materials from across the world," says Foster. "Hema would send us photos and little pieces of marble and porcelain from India and we would try to make decisions. It was challenging and exciting!"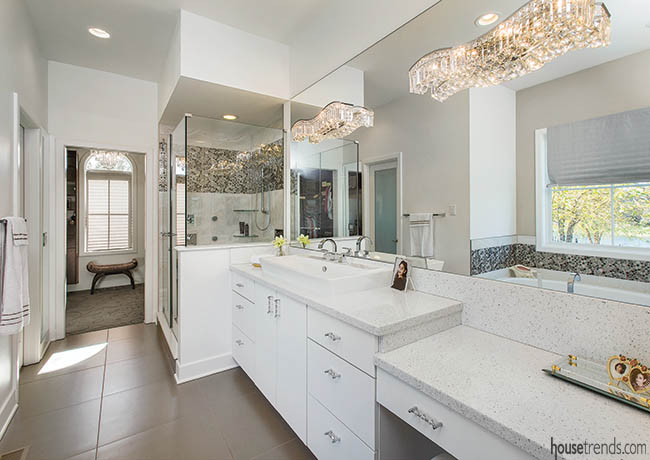 Throughout the house, creamy ceramic tile flooring and quartz countertops pair with gray and white walls, creating a neutral backdrop for the different styles to mix and mingle.
In the kitchen, perimeter cabinetry coordinates with the couple's dark wood furniture while bamboo on the island matches the blond-grained table and chairs in the adjoining dining room, which came from Hema's home—and Jesal's childhood home—in Toledo.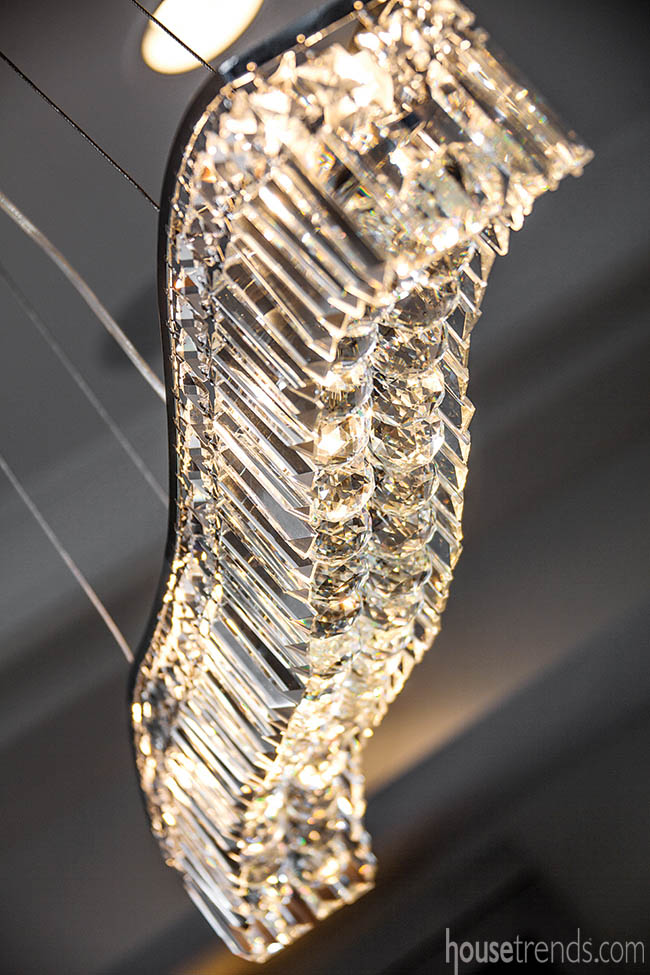 From the kitchen to the bath, stainless-steel-and-crystal light fixtures and hardware connect to the couple's art glass collection and streamlined modern furnishings, yet offer a striking counterpoint to the intricate religious sculptures that Hema and her husband collected during travels in India.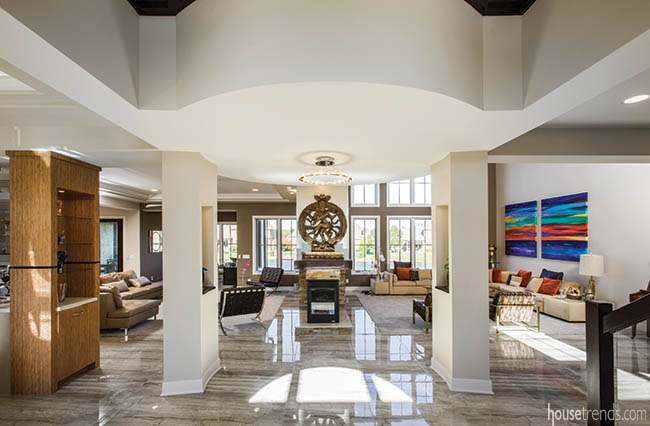 Focal points in the entry are covered in a Murano glass beaded wall covering that glistens softly as one walks by.
"All of those high-end finishes we chose had a shimmery element to them," says Foster. "But everything blends so well together."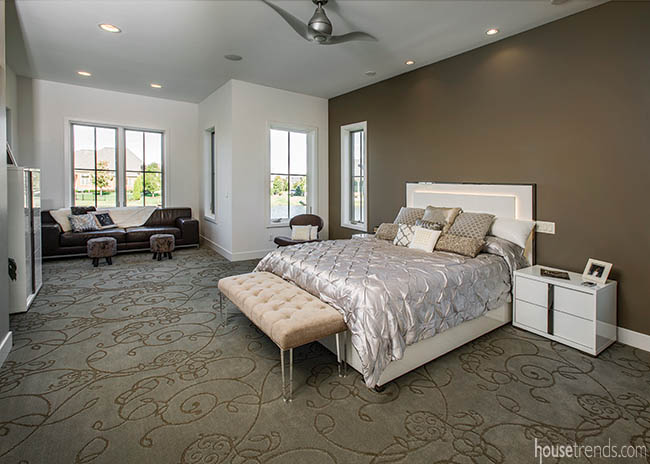 The sparkle takes a glamorous, thoroughly feminine tone in Hema's first-floor suite, where the imitation-leather wallpaper has a soft shimmer, and a barn-style door—made from silk ribbons pressed between clear acrylic panels—has the calm translucence of ice.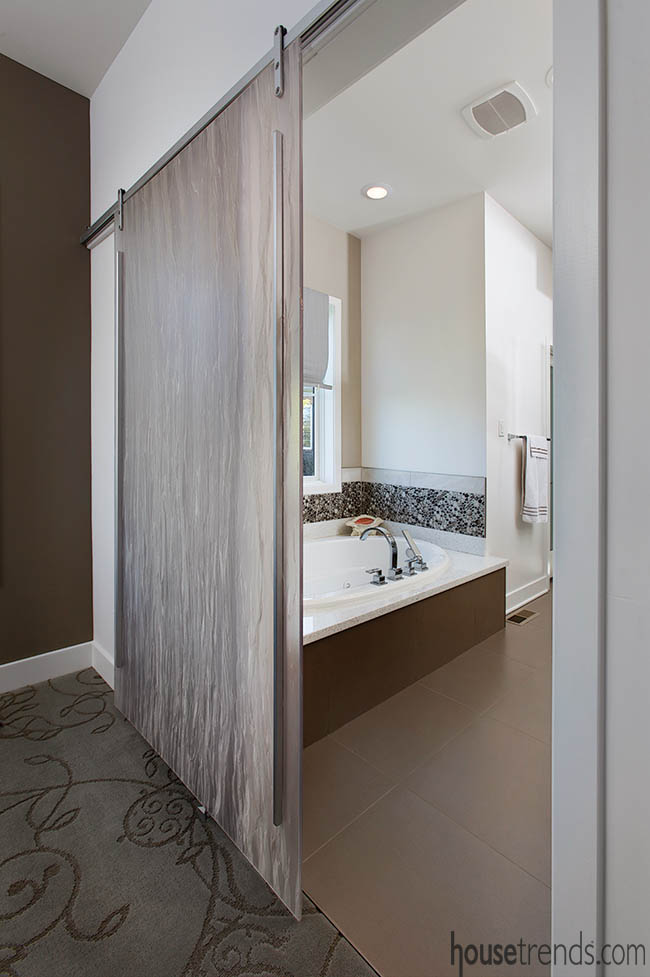 But the home's customized design goes much deeper than finishes, speaking to each family member's distinct interests.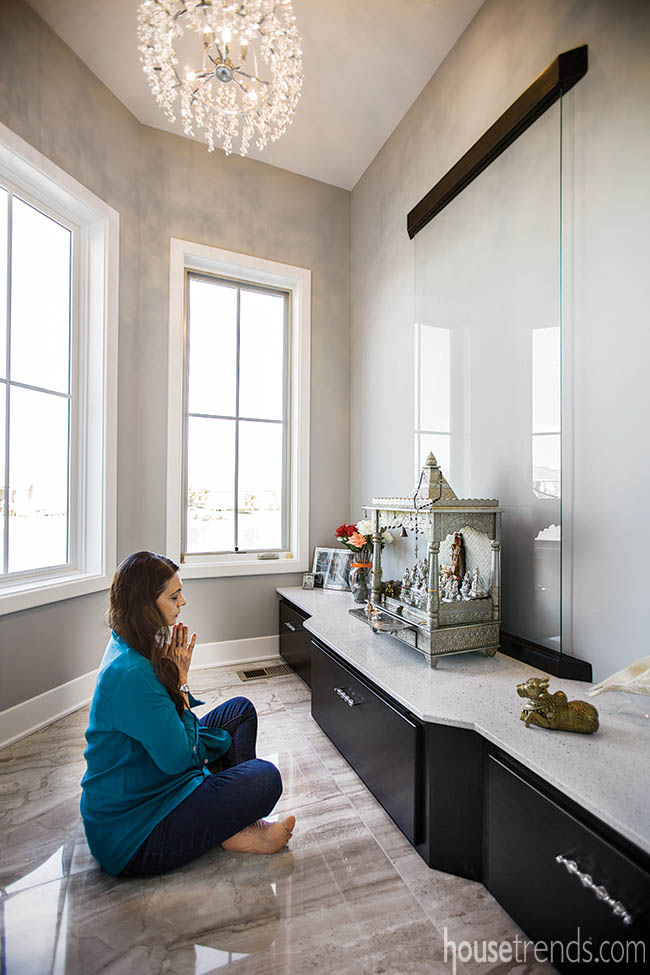 For Hema, it was important to have a meditation room built to specifications. Situated at the back of the house, it's near water—thanks to the community's meandering channels, doesn't have a second-story above it and is configured so that she can face east while praying or meditating.
A prep kitchen—equipped with a dishwasher, stove and sink—serves multiple purposes for the family. Hema uses the space to isolate the smell when cooking with pungent spices—pulling the pocket door shut and opening the window. It also functions as a catering kitchen during parties and a place for Shawn—who competes in extreme obstacle course racing—to make protein shakes without taking over the main kitchen.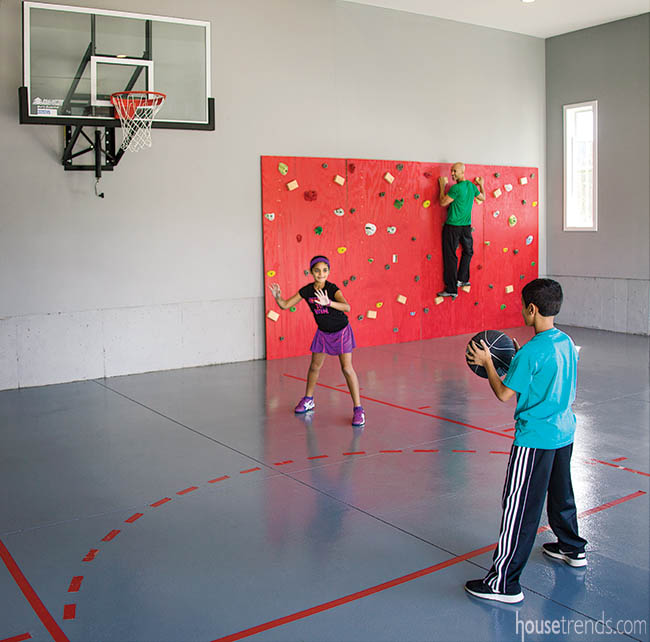 The heated garage was likewise customized, creating a space where Shawn can train and the kids can play regardless of the weather.
There's ample room for riding bikes or playing tennis off a wall, and the raised ceiling allows for a half basketball court and a climbing wall.
"This was a life-saver last winter," Jesal says, recalling a string of snow days and bitter temperatures that kept the kids stuck inside.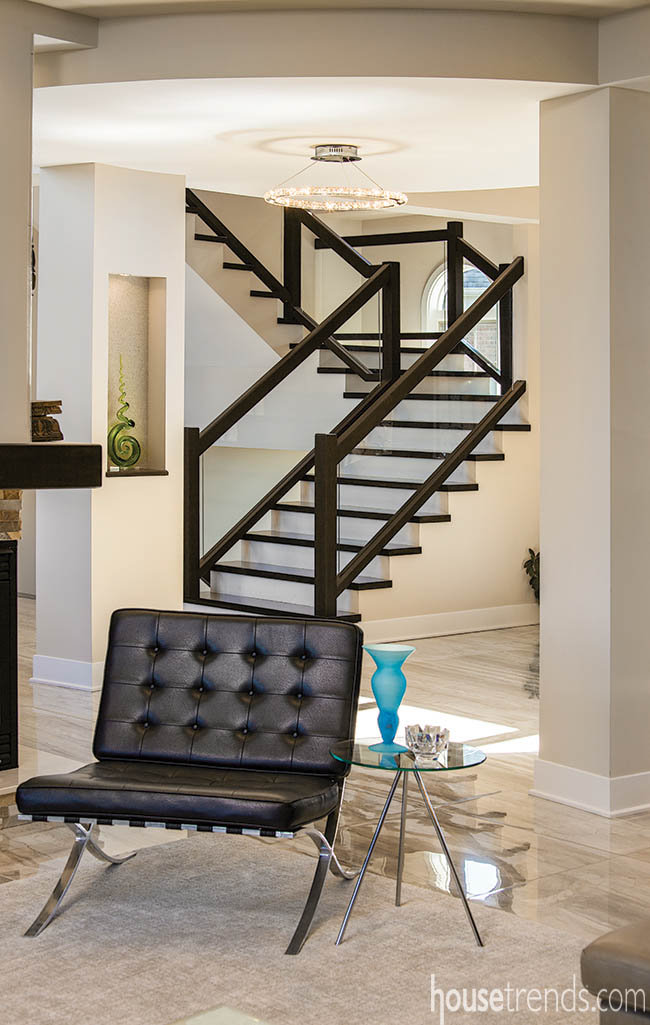 The family wanted the home to be comfortable for both everyday downtime and sizable parties. While the open floor plan and waterfront location make it an enticing destination, thoughtful features make entertaining a little easier.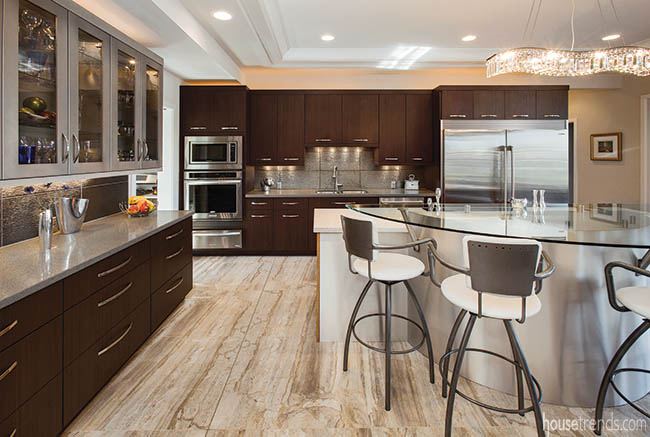 A fireplace wall between two seating areas features a hidden cabinet for TV electronics and floor-level storage for quickly retrieving blankets and pillows on movie nights. For more formal affairs, a bamboo-wrapped column next to the dining room serves as a wine bar, complete with an icemaker.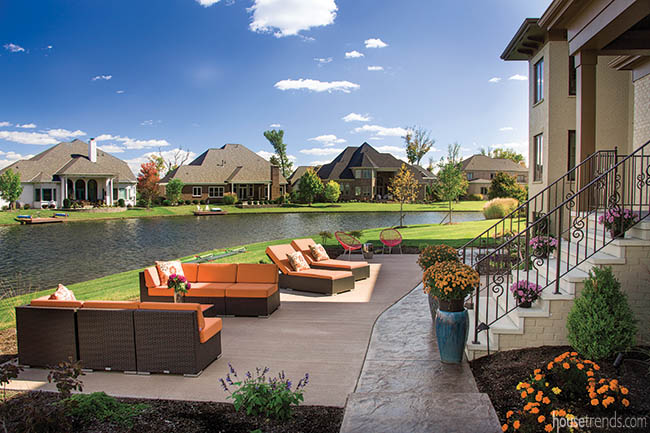 Given the resort-like amenities and spaces—including a covered porch overlooking the water—it's no surprise that a lower-level suite is frequently occupied, sometimes by family visiting from India and sometimes by Shawn's parents, who live in Canton, Ohio.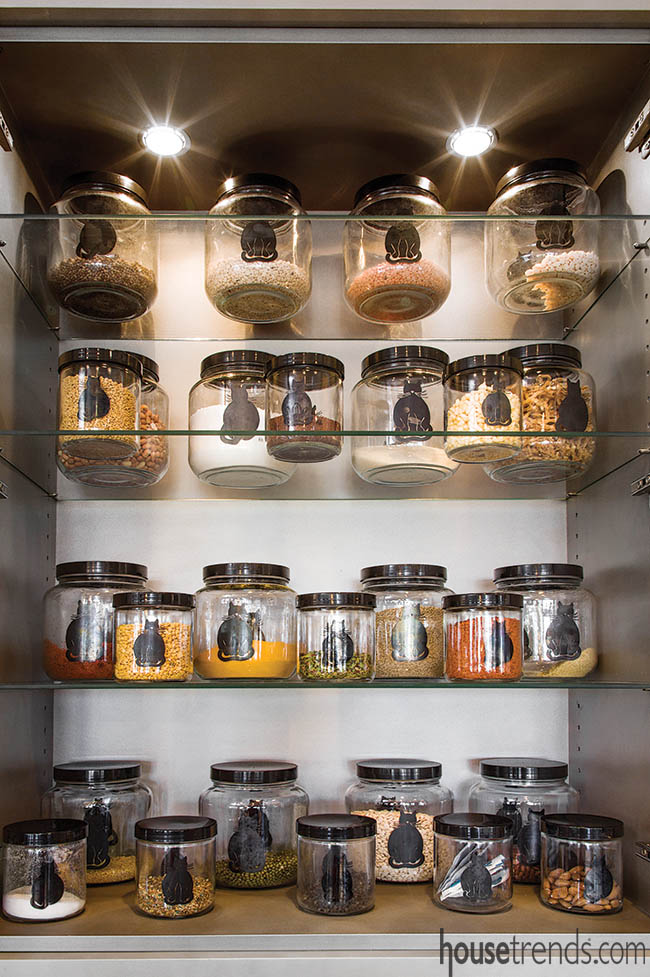 For Jesal's sister, who lives in Chicago, the home and its furnishings are especially comforting.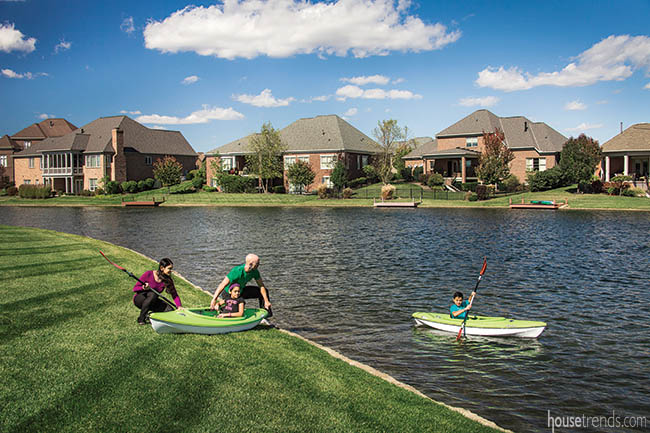 "She misses her childhood home, but when she comes here, she can eat at the same breakfast table as we did growing up," Jesal says. "She sees all of our things, and it feels like home."
Resources: Architect: Perry Bush Residential Designs; Builder: Bernie Kurlemann, Classic Living Homes; Interior designer: Constance Foster, Designworks Studio; Landscape designer: Natorp's; Lighting in entry, breakfast and island: Elegant Lighting from CLC Lighting Design; Paint: Sherwin-Williams; Wall treatments: Murano Glass by Innnovations; Flooring: Porcelain tiles from India and China installed by Northeast Ceramic Tile; Carpet in bedroom: Tapiceri from Atlas Carpet Mills; Wallcovering: Pompeii from Koroseal; Window treatments: Hunter Douglas, Blinds Plus; Windows: JeldWen, McCabe Lumber; Doors: Interior from Cox Interior; Exterior from J.B. Sales; KITCHEN: Cabinetry: Eclipse and custom, J&N Distribution and Design; Countertops: Quartz from India, installed by Take It For Granite; Backsplash: Porcelain tiles from India; Sinks: Mirabelle, Ferguson; Faucet: Moen, Ferguson; Bosch dishwashers; KitchenAid induction and GE gas cooktop; Electrolux refrigerator; KitchenAid oven all from Custom Distributors; BATHROOM: Cabinetry: Eclipse, J&N Distribution and Design; Countertop: India; Kohler sink and tub and Delta faucets all from Ferguson