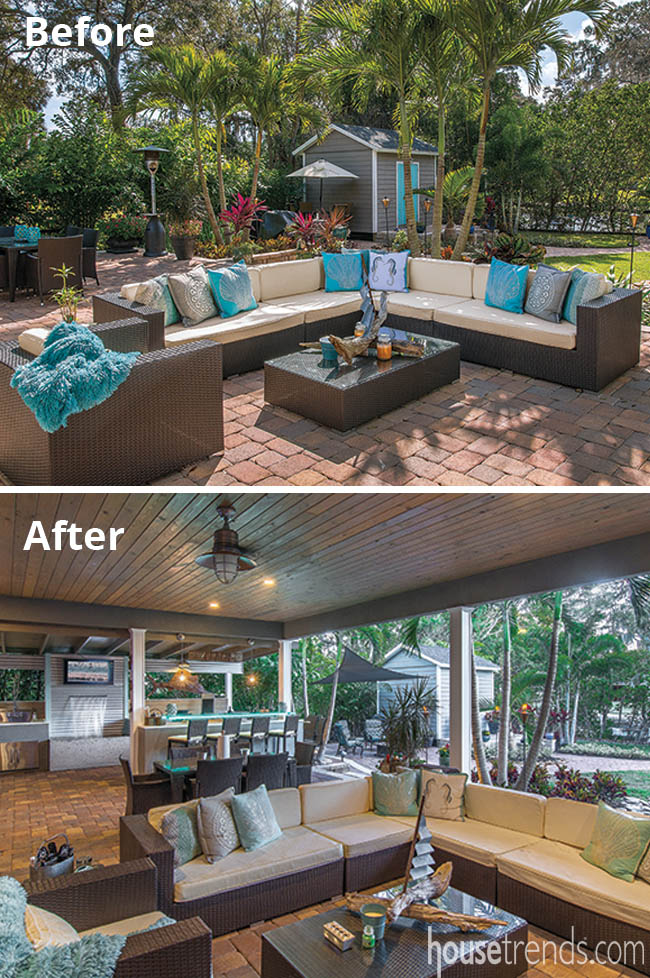 Written by: Abby Weingarten/Photos by: Johan Roetz
One year ago, Housetrends featured the private outdoor living space behind Joe Chiellini's Tampa home. The luxurious back yard was fitted with paved patios and sitting areas, water features, and sustainable Florida greenery, giving it an upscale yet completely livable look. The idea was to accommodate the lifestyle of Joe's family, which includes three young children and two large dogs.  But for Joe, who is the owner of Ameriscape Services, the area still needed a bit more magic. With the aid of Ameriscape's lead designer, Justin Parker, Joe moved into the follow-up phase of the remodel by adding an outdoor kitchen, a pavilion and a seating area.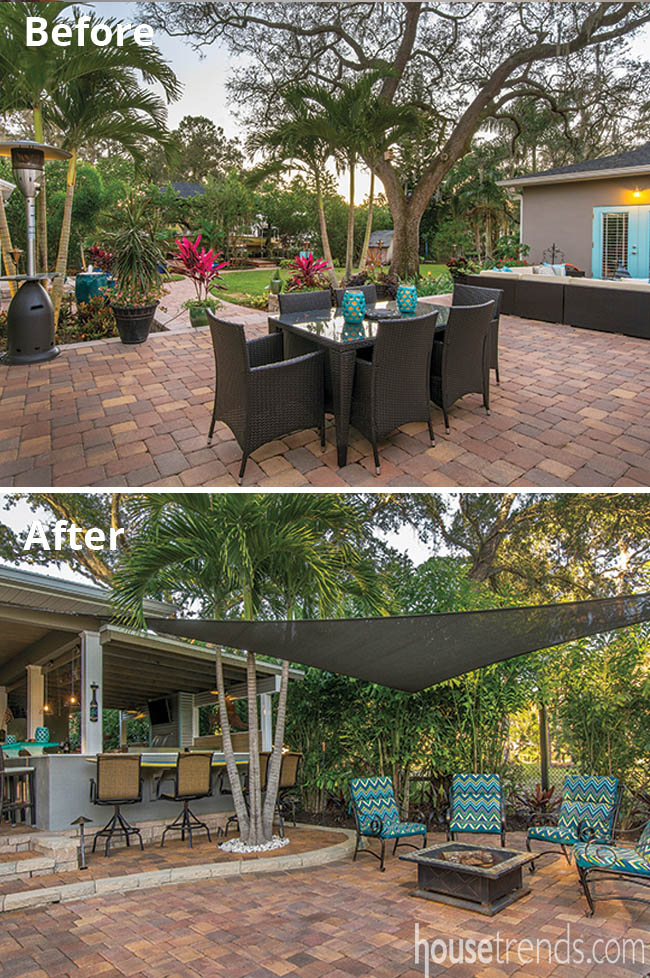 A comfortable respite
The new, covered space is 1,000 square feet, including about 350 square feet of kitchen. Upwards of 50 to 60 people can use the exterior gathering space comfortably, as there is ample seating in the form of barstools, low chairs and cozy couches.
"The area was just this big, open deck to begin with. And the mindset going in was always to try and cover the backyard area with some kind of structure. We made the decision to just do it the right way by building a whole new roof," Parker says. "So, once we closed it in, we realized we were going to do this outdoor kitchen. We put it off to the east side and started conceptualizing what that could be. We decided to go to the tenth degree with everything."
Setting the stage for this addition required all of the intense prep work that had been done the previous year: removing the wooden deck, installing the retaining walls, building a stoop-like porch at the shed entrance and creating a wide stairway with long treads. The irrigation system was rebuilt with water conservation in mind, and the fully automated concept (with multiple sensors and low-volume drip lines) would keep the Fishtail, Foxtail, Roebellini, Adonidia and Bottle Palms thriving in the hot climate. Giant rocks were placed around the grandfather oak tree, boulders were brought in as accents and lighting effects were implemented.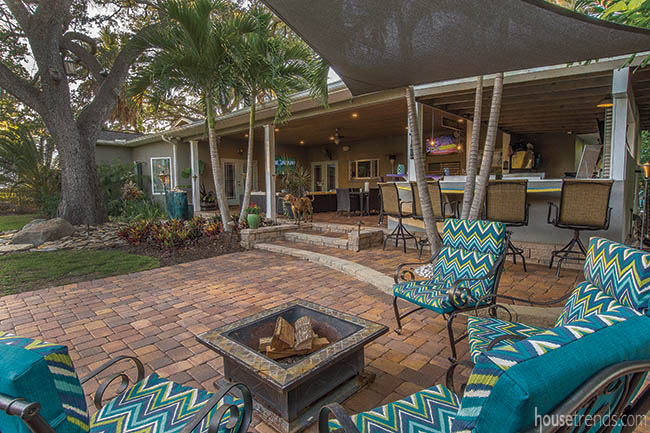 Ultimate outdoor kitchen
On this sparkling clean outdoor canvas, a cutting-edge entertaining space could be created. It would begin with the restaurant-caliber kitchen. "We've done a lot of kitchens with built-in outdoor appliances, but this one was especially unique," Parker says. "We did all commercial kitchen appliances: a three-foot charbroiler, a two-foot hibachi, a huge commercial kitchen sink, a double-pot burner, another large pot burner and a bar fridge."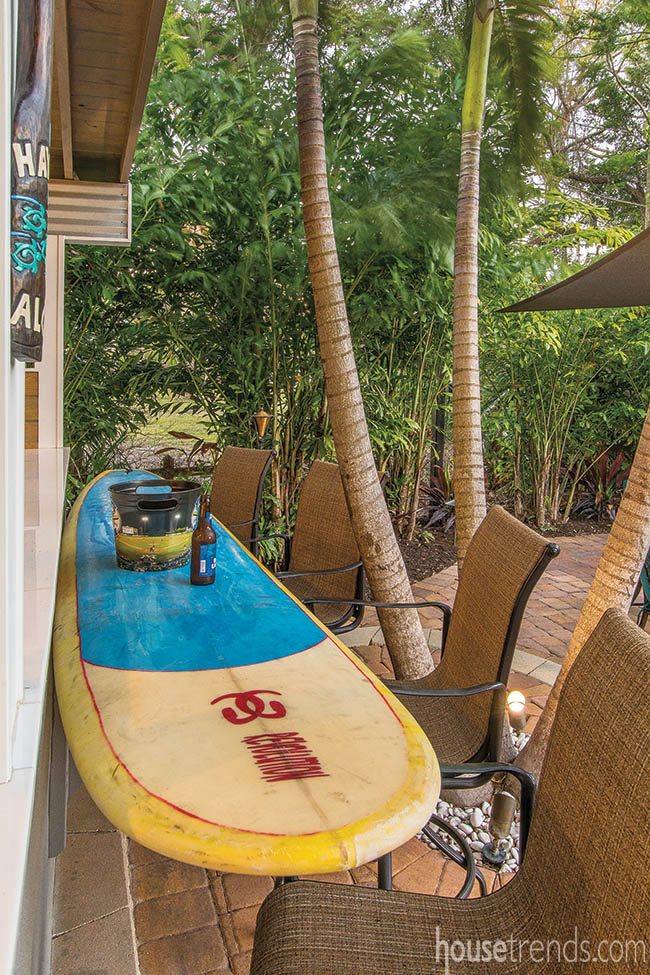 It was designed to be as impressive as a commercial eatery but with all of the comforts of home and family. "With three children there are a lot of kids over all the time, playing and hanging out. The space is built for the social events the family has there, which might include their friends from the canal coming over after a day on the water and ending at the house for drinks and dinner," Parker says. "We have client functions there, so we'll invite 20 friends over. There are football parties (like a big Florida/Florida State party every year). There's a couch area, which can fit every member of the family. We have the mounted TVs for the games. There is also a surfboard out there that doubles as a table, which is a fun element."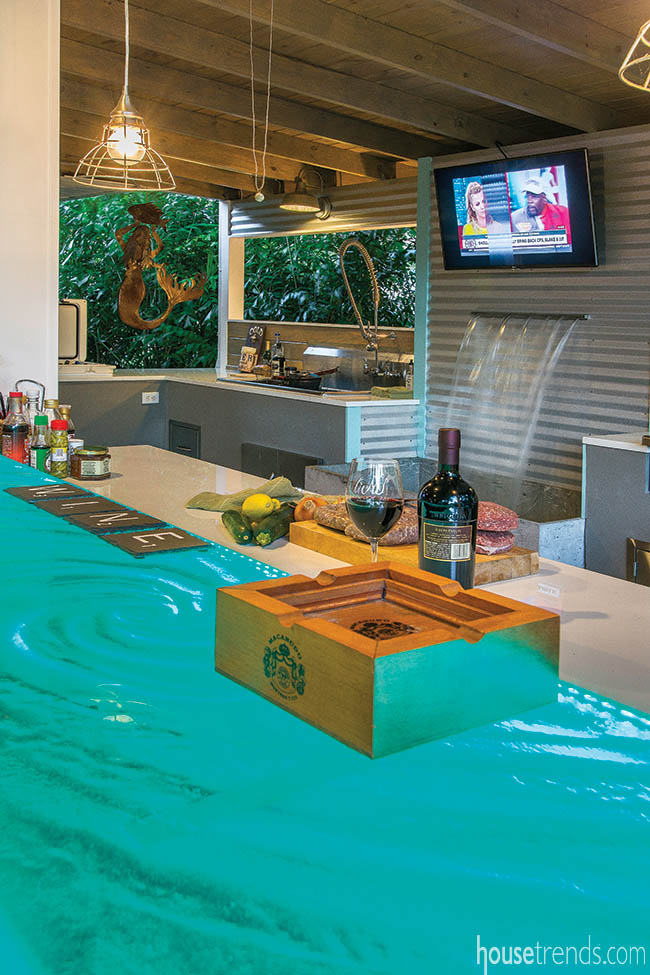 Unique elements add character
With all of the amenities in place, Parker was ready to incorporate the major wow factor, which came in the form of a custom countertop and water feature by Jeff Downing of Downing Designs in Tampa.
"We knew we wanted to do something different with the countertop. We do a lot of granite and tile tops but, for this, we used white glass. Unlike granite and other stones, there's no maintenance for it. It's much denser and it won't crack, chip or fade with the sun. It is a manmade product that's super durable," Parker says. "We came up with a custom, swirly, watery design for it. The countertop is lit from the back with an LED strip. It is a clean, modern look."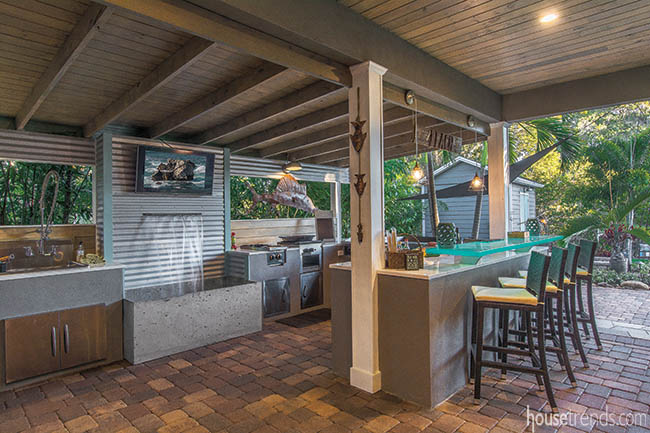 Downing also built a custom concrete basin for the water feature underneath the mounted TV behind the bar. It is a peaceful water wall with a hidden spout, and an LED bulb lights the water as it cascades into the basin below.
"We really built this space to be different. Everybody has outdoor kitchens around here, but you can almost take one and stamp it all over the place because it has the same look and feel," Parker says. "We tried to design this one to be totally custom, and a lot of the end result was because of Joe steering us toward the more rustic. He wanted it to have a refined, rustic, beachy look, and I think we made it work."
Resources: Landscape design: Ameriscape Services; Glass countertop and water feature: Downing Designs