"When people see our backyard, they are blown away," exclaims Linda Hopes, a resident of South Tampa. Linda and her husband Jim recently turned to Mike Loomis, owner and project manager of Landscape Fusion, a full-service landscaping and design company, to renovate their backyard into something special. And boy, did they get their wish.
"Mike turned our yard into such a creative, memorable and unique work of art that I feel like I've walked into a resort.  It's so quiet.  And he used every inch," says Linda.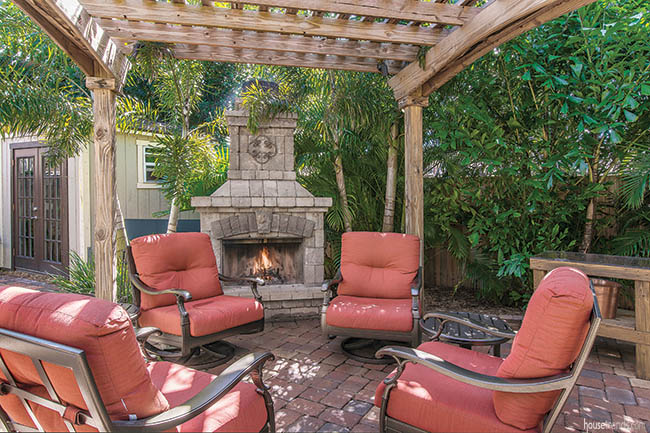 One very special feature is the pergola at the far end of the swimming pool.  The approved design called for a size of 12 feet x 12 feet, but on the day of installation both client and Loomis agreed that the pergola should be moved to a 45-degree angle which required moving a tree and resizing the structure to 10 feet x 14 feet.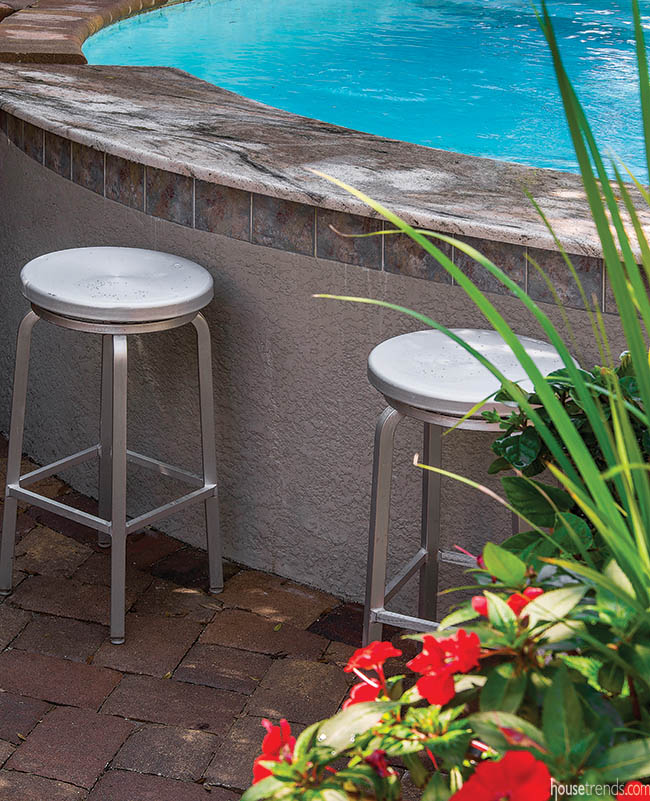 Stairs lead from the home to a swimming poolside countertop where Linda's nephews love to eat breakfast when visiting.  The LED and halogen lighting gives white up-lighting to the palms and various colors alternating in the pool.  Loomis points out, "If you spend a bit more on lighting, it can really make things come alive."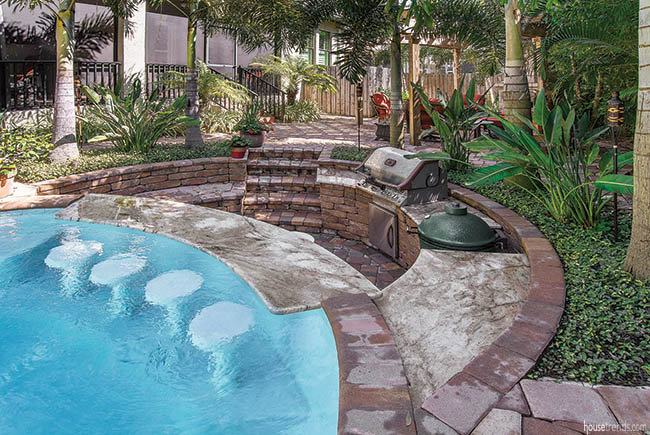 Jim considers the luxurious yard his project.  "I wanted something to finish off the house, something engaging, something that would make people want to go outside."  The small adult pool, only 3.5 feet deep, features spa jets, a waterfall, beach entrance and several bubblers.  Since the Hopes desired privacy, tall mature trees and other landscaping were installed, much to Jim's pleasure.  "We liked the fact that Mike runs a one-stop shop; he and his staff can do everything: install gas or electricity, masonry, carpentry, irrigation…you name it."
Linda appreciates the flow of the house with the yard.  For a New Year's Eve party, "people would mosey from the porch to the yard down to the outdoor kitchen and around the swimming pool to the fireplace," notes the happy homeowner.