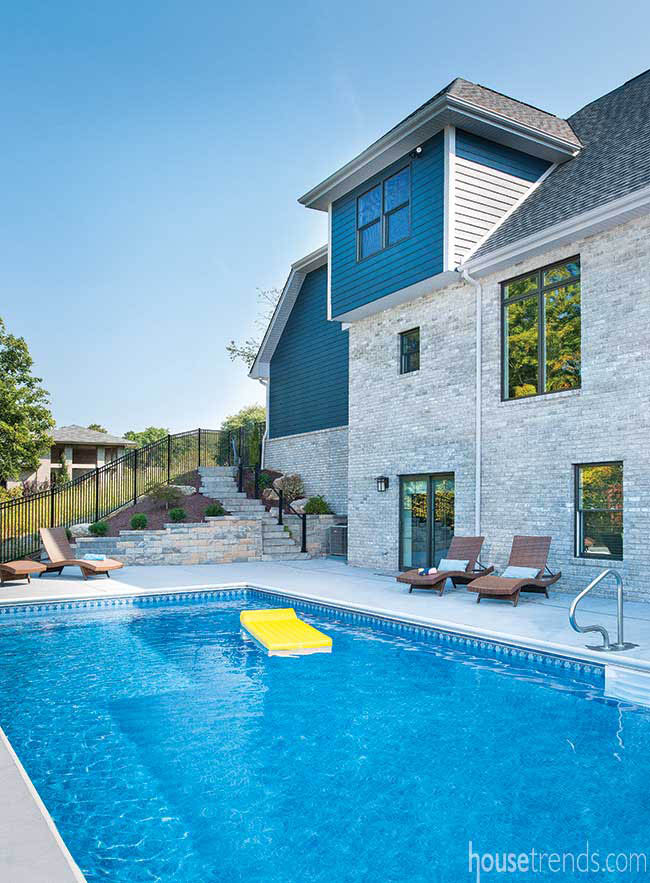 Gary McGuirk is opening his pool early this year. He has to. Every day since he closed the pool last fall, his three-year-old twin daughters have asked him if they can go swimming. "They stand at the huge, picture windows overlooking the pool and say, 'Daddy, can we swim today?' They have no concept of the weather."
But Gary doesn't mind. He built this house, and outdoor living area, for his five children ranging in age from three to 16. The space has elements that appeal to everyone.
"The twins attend Gary McGuirk swim lessons," the proud father jokes about teaching his youngest two how to swim in the heated pool. "They're getting close."
When Gary decided to build his custom, kid-friendly home, he knew exactly who to turn to … Pittsburgh's premier home builder, who happens to be Gary's childhood friend, Jeff Costa, operating manager of Costa Homebuilders.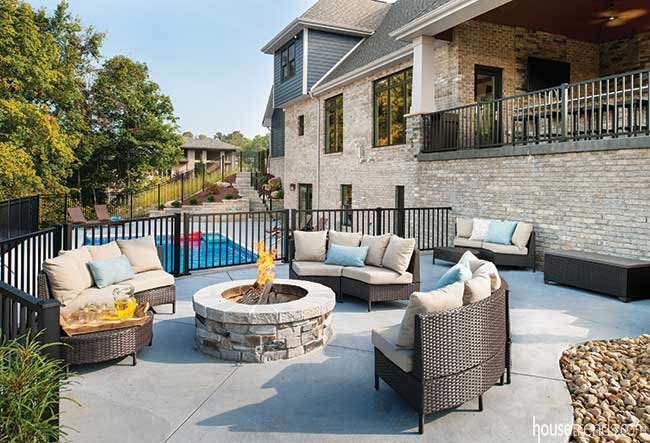 Kid friendly
Gary explains that he grew up with Costa, and he trusted Costa completely to understand his vision and execute it flawlessly.
"Our families lived a couple of miles from each other when we were growing up," Costa adds. "My dad was in the construction business in Jefferson Hills, and Gary's family was in the distribution business. That was something we had in common. We were excited to get to show Gary our family business all these years later."
Costa explains how Gary wanted to make this home accessible to all of his children. There is a fully operational home theatre in the lower level of the home that has direct access to the pool deck. This is a huge area where all the kids can hang out. There is a fire pit where the whole family can enjoy roasting marshmallows and hot dogs, and then up a stone staircase and waterfall there is a covered living area complete with a wet bar, lounge seating, fireplace and hot tub. There truly is something for everyone to enjoy in this outdoor oasis.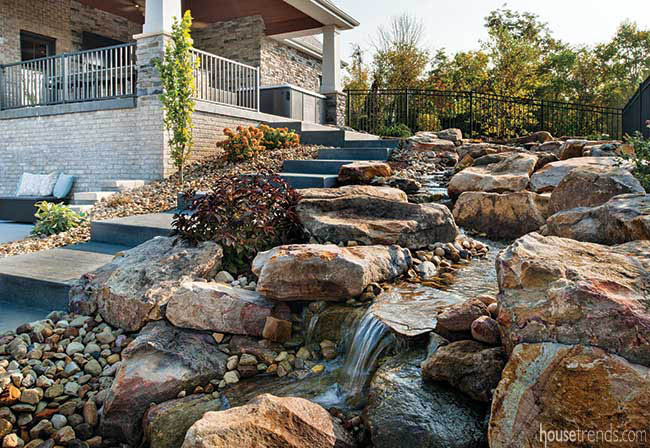 Lots of light
"The first time we went to see Gary's land, I remember being impressed with how it was situated," Costa says. "It had a level entrance from the front which allowed us to create the concrete patio for the outdoor living area, and then we worked our way around the sloping lot to the walkout basement. The lot is all trees on the left and in the back, so Gary has the best of both worlds."
The slope in the lot between the outdoor living room and the pool allowed Naturescape to install a beautiful waterfall along the stone stairs that lead down to the fire pit area before guests go down to the pool. "You get to hear the soothing sound of the water running down the sandstone and river rock," Costa describes. "It's such a nice transition."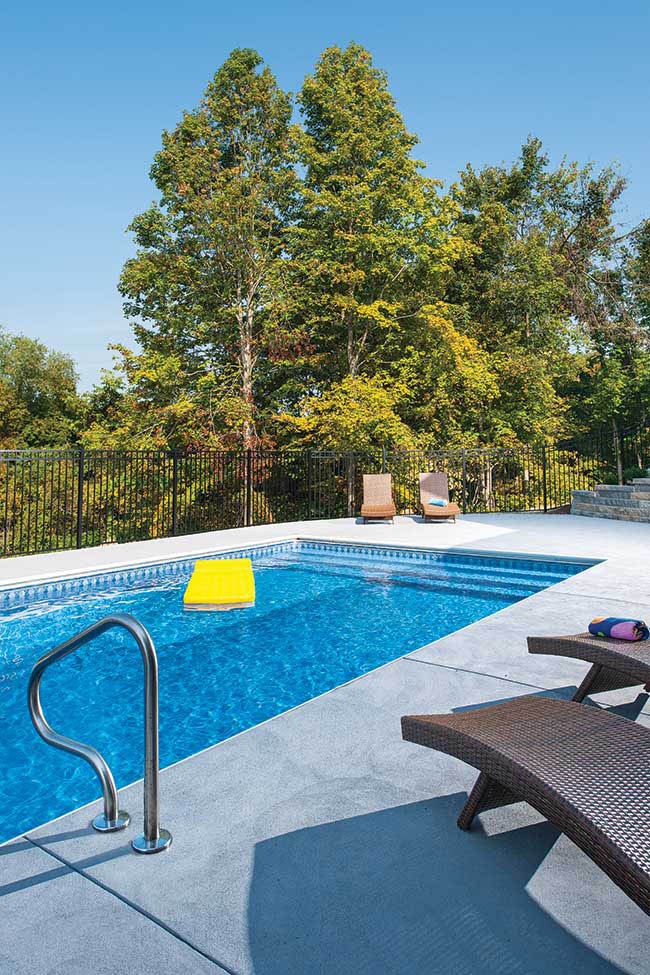 The lowest level of the outdoor space is the pool deck, which overlooks the treetops, giving it an almost infinity pool feeling when floating on a raft amongst nature.
"The positioning of the house itself means we're looking directly into the sunset," Gary explains. "That was by design. In the summertime, the pool basically has sunshine from nine in the morning until nine at night."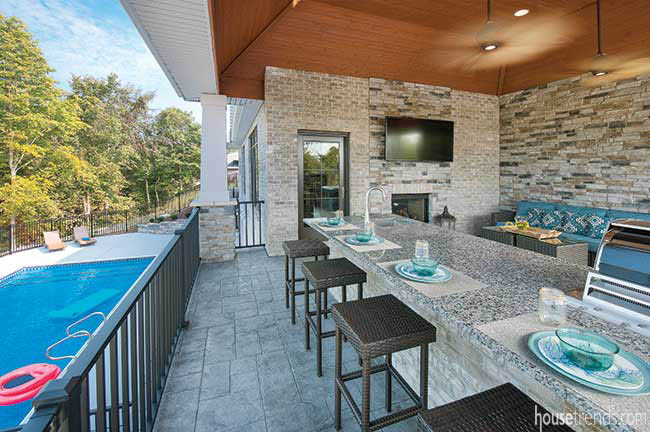 A smart phone for a smart home
Costa explains that Gary has a smart home system, so everything can be controlled from a phone or a tablet.
"It's called Control4," Gary adds. "I have an app on my phone, and it pretty much controls everything in the house."
On their website, Control4 says their technology allows homeowners to dim lights, play music, control the thermostat and security system and lock the doors with the touch of one button.
"The house has maybe too much technology," Gary says with a laugh. "A lot of times I have to have my oldest son help me with the phone.
"Listen Hear prewired everything," he adds. "Every time I meet with them, I have to have my son with me."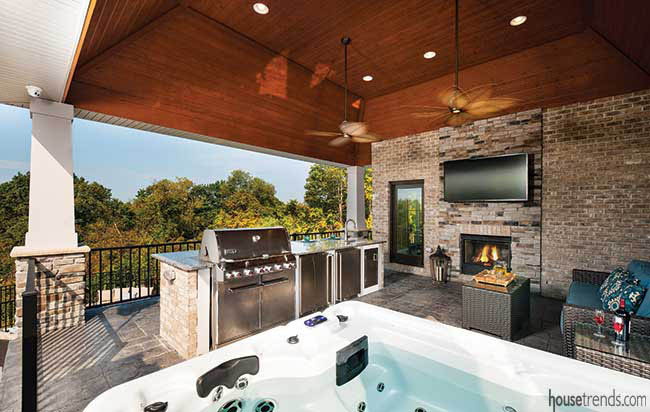 Extended summer vacation
The covered patio situated off the living room of the house is Gary's favorite part of the space. An all-weather TV is positioned over the fireplace, which is two-sided and shared with the living room inside.
"The two-sided fireplace has a glass that keeps cold air out of the house," Costa explains. "There is a little more structural work involved when installing one of these for indoor/outdoor use, but it's a really cool feature."
Gary loves that he can cook dinner on the grill while watching TV with his kids. "We can eat dinner outside and then get in the hot tub. Next winter I'm going to install screens or some kind of device that will cut the wind off from the room so it will truly be something we can use all year—even in January."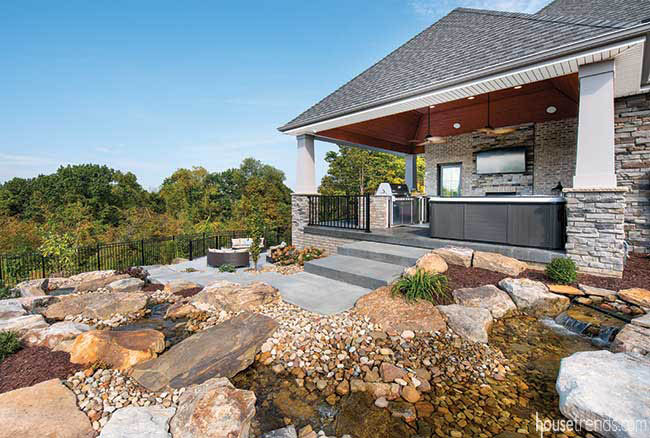 Gary could not be happier with the final outcome of his custom home building project, but he admits it gives him an appreciation for how hard custom home builders work. "It was a great experience, but it was like a full-time job for a year.
"But it was more than worth it when I get to enjoy the space with my kids. I built it for them," Gary says. "I built it so we can basically live outside from March to November, and hopefully longer next year."
Resources: Architect: Sweeney Shank Architects; Builder: Costa Homebuilders; Landscape designer, landscaping and hardscapes: Naturescape; Windows and doors: Pella; Fireplace: The Fireplace and Patioplace; Pool: Pleasure Pool & Deck; Outdoor appliances: Voss TV & Appliance; Countertop: Granite, Primo Marble & Granite; Brick and stone: R.I. Lampus; Lighting: Cardello Lighting; Concrete: Fashandi Construction; Smart home technology: Listen Hear