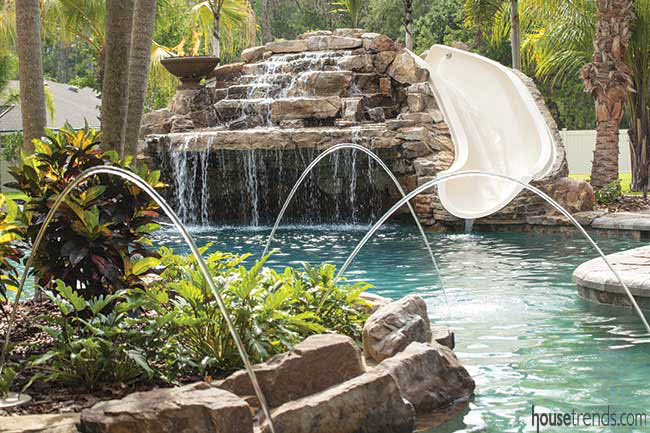 AnnMarie and Robert Bull have the perfect house for outdoor entertaining.
When I spoke to them mid-May, they were planning their oldest son's eighth birthday party. "We leave for vacation three days after, so it's going to be simple," AnnMarie explains. "But we both have big families, so with just close friends and family it's already 50 people."
And, of course, it's a pool party. AnnMarie, Robert and their two sons love any excuse to invite guests over to enjoy their outdoor oasis that rivals that of any island resort.
The Bulls, who are high school sweethearts, moved backed to Tarpon Springs to be close to their big family. "We enjoy each other's company," AnnMarie explains of their two extended families. "That's why we created this. We still go to our parents houses, of course, but it's nice to have this space."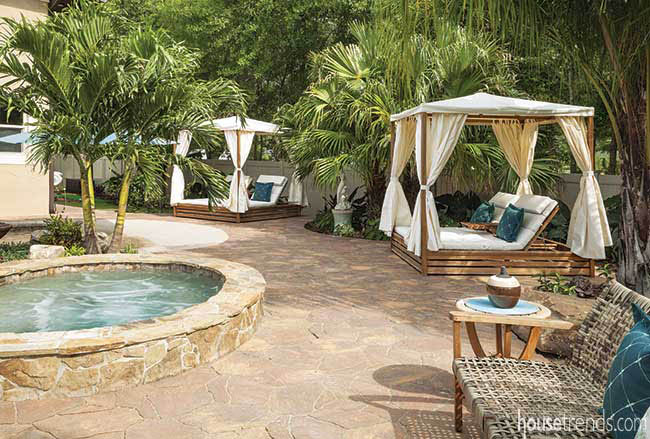 Residential to resort
The Bull family bought their home, which was in foreclosure, mainly for the land. "Most of the details of the original house were in need of work," Robert explains of the house itself. "Even the pool they had installed needed to be taken out."
But the location was ideal, sitting on a little over two acres. "There was a barn, but it was in disrepair and had to be torn down," AnnMarie says. "We were able to repurpose the wood inside the house, which brings in a little of the atmosphere of where we live. Every morning I drive down the streets and see turkeys, chickens and horses. Our location has a very country feel."
You wouldn't know it sitting under a cabana by the pool though. That's because AnnMarie and Robert turned to Pat O'Connell and his team at Landmark Pools to create a lush, tropical, resort-style outdoor living area that includes a pool, outdoor kitchen, fireplace, miniature golf course, and a grotto.
"When we were designing the pool, the blueprints they first presented were still kind of simple," Robert says. "But once we told Pat that we wanted something spectacular, he ran with it."
"This project is very unique, from the shape of the features to the materials used," Bart O'Connell, Pat's son and General Manager at Landmark, says. "This is the largest grotto we've ever built."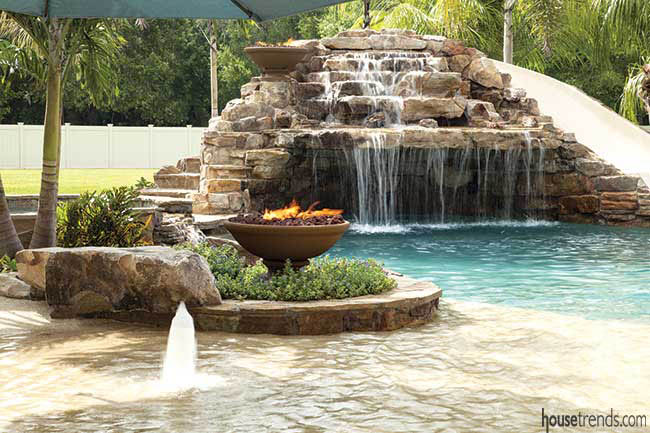 Going grotto
The pool is the center of this space, figuratively and literally. It boasts a beach entry, fire features, a hot tub that flows into the pool, and a waterfall that cascades over the grotto.
"The grotto has a seat that goes all the way around the wall, speakers for music, and an adult can stand inside," Robert explains of one of his favorite spots in the back yard. "Eight people can fit inside the grotto comfortably."
"And the rock overhang is actually a jump rock," AnnMarie adds. "The kids can jump off of it into the water." The stone stairs leading to the jump rock over the grotto also lead to the slide.
"It's a kid's dream," O'Connell says. "All the coves and spaces give them places to swim through and explore."
All of the stonework, which is a favorite feature of the homeowners, was met with hesitation initially. "We definitely wanted something tropical, but initially I was against the natural rock look," Robert says. "But Pat said we needed to do it, and I'm so glad we did."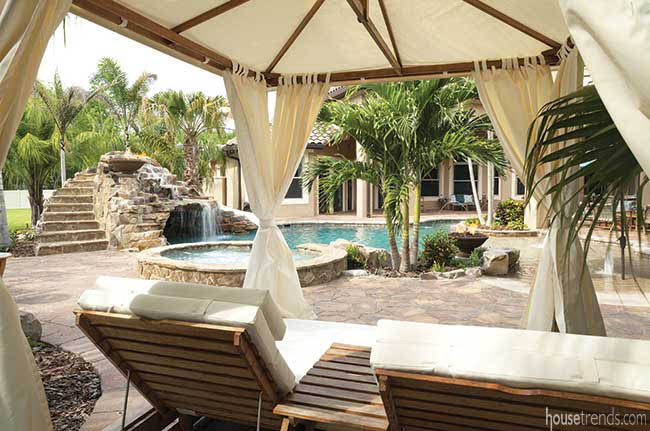 AnnMarie knew she wanted cabanas reminiscent of ones the family enjoys on vacations. "It's nice to have somewhere you can get out of the sun and still watch the kids swim," she describes.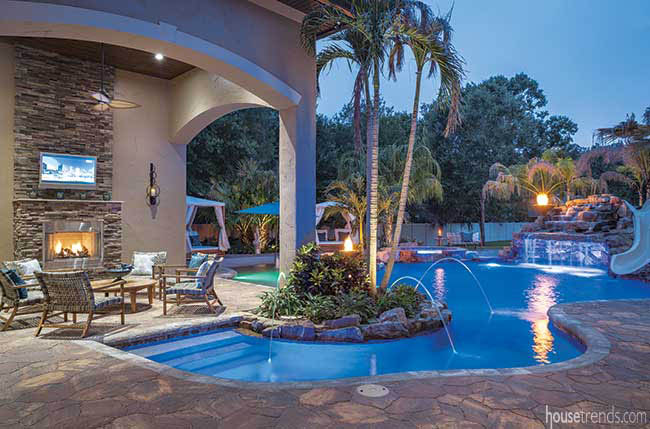 Fully wired
The outdoor living space and pool are fully automated and operational from the homeowners' phones. "Pretty much the whole back yard is hooked up on our smart phones," AnnMarie says with a chuckle. "I'm not the most tech savvy, but my husband actually has it set-up very simply. There's an iPad set up on a docking station that I can use to turn on all of the pool features including fire bowls, music, waterfalls, and even the spa heater."
O'Connell explains that the pool has a unique lighting system where every light is individually controlled. "They don't have to turn on and off at the same time or all be the same color," O'Connell says. "It took quite a bit of extra effort to set it up this way, but that was what Robert wanted and we were happy to make it happen."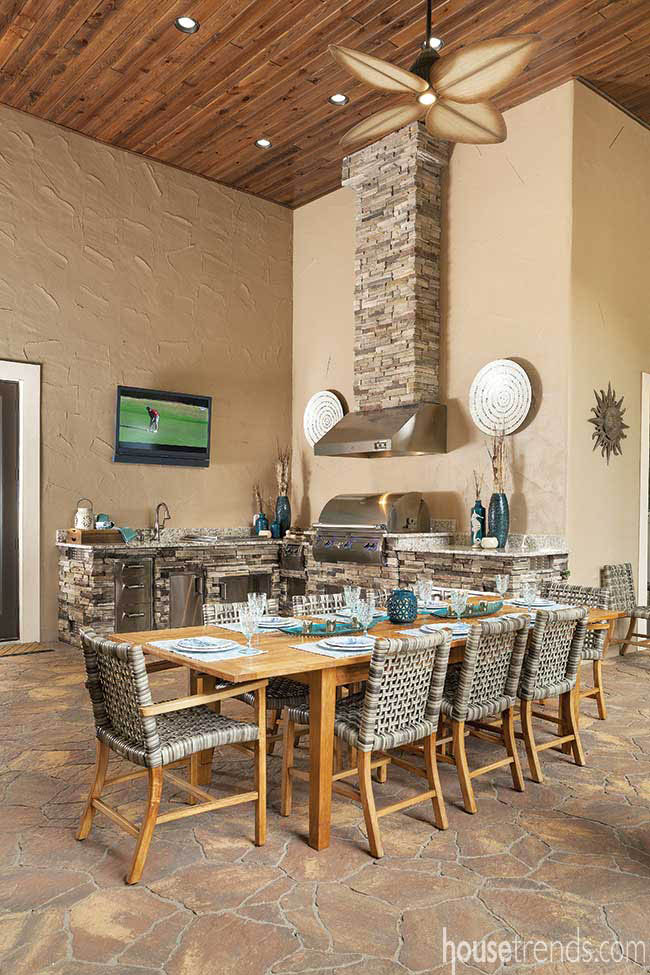 The outdoor kitchen is equipped with a gas grill that the family enjoys for small dinners and holidays. "On Mother's Day, we had everyone over and grilled filets," AnnMarie says. "My husband is really good on the grill."
On the opposite side of the fireplace, the outdoor space is equipped with an outdoor bathroom. "It's perfect for the kids so they don't have to come into the house sopping wet," AnnMarie says.
Memory rock
The Bulls couldn't be happier with their exotic outdoor living space. O'Connell says it is one of his favorite projects, as well as his father's, who sadly passed away as the construction was coming to completion.
"This is one of the last pools Pat designed before he passed away," Robert says. "Right after the project was finished, we had a party for my 40th birthday and we dedicated the large rock between the cabanas to Pat."
"My dad had been doing this so many years, and had always had a desire to create something new and different," O'Connell says. "The Bull family gave him that opportunity, and I think he succeeded in making it special. It is a lasting testament to the company and legacy he created."
Resources: Pool Landmark Pools Landscape design MJM Design Group Pool deck Premier Brick Pavers Interior pool finish Pebble Pros