It could be said that the seasons of Barbara Eichert's life have been carefully marked by each garden design she has created.
Her love for the earth began at the Kansas farm where she grew up as a child. There, alongside her mom, she learned how to grow vegetables and enjoy the fruits of her labor by preparing foods such as canned pickles. She took her love for gardening with her and as an adult adorned each home she lived in with its own unique outdoor space.
Over the decades, she has transformed ordinary backyard spaces into exquisite masterpieces. The time she poured into each piece of land gave her something back in its own way. Underneath the symphony of blooms, Barbara has always found solace and joy in the layers of ordinary dirt. Hours of digging have allowed her to reflect and sometimes heal.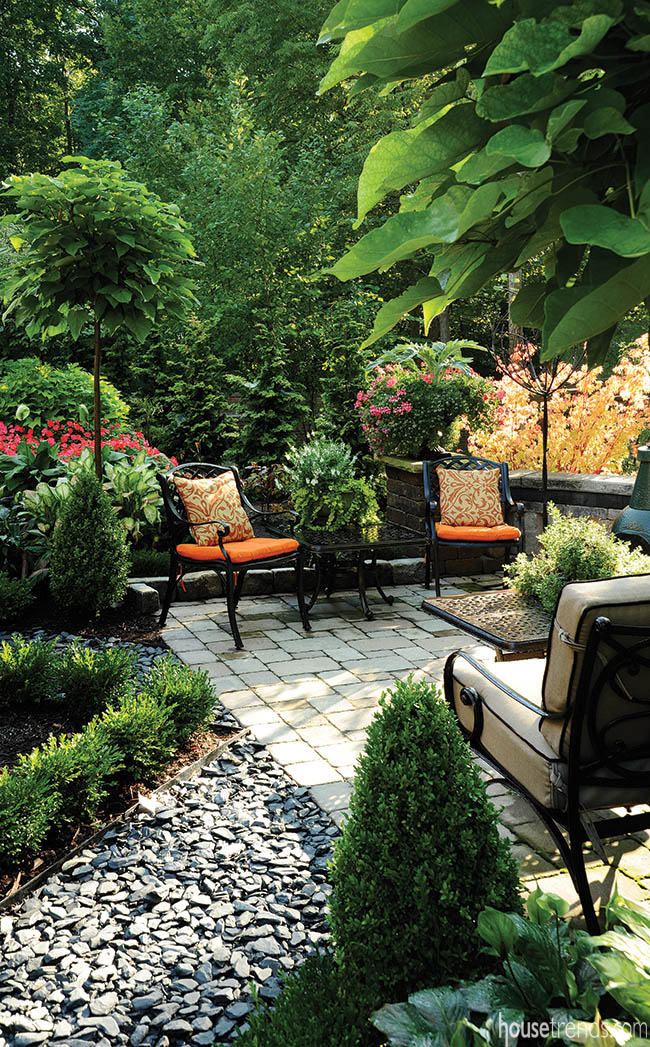 It's a love that she feels blessed to share with her husband, Dr. Stephen Eichert. Perhaps that is why the couple went to great lengths to design their newest garden that has transformed the back yard of their Washington Township home. Barbara had done so many different designs over the decades including cottage, French and oriental gardens. This time, she and her husband were ready for something more formal.
"We are both very symmetrical and like discipline," Barbara says about their choice to build an English garden. "And because of the space of our yard, we also wanted something that would be very intimate."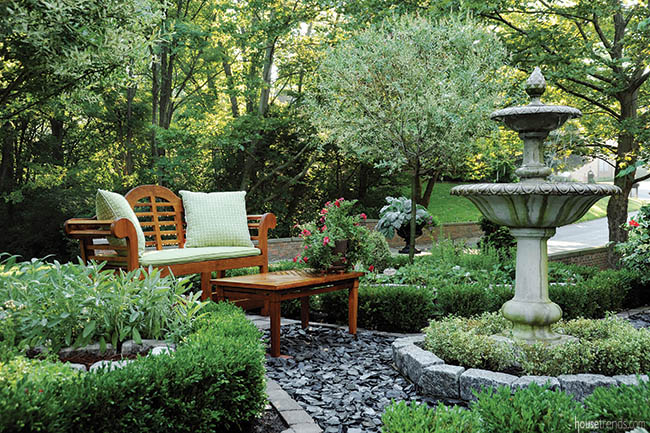 The couple put their vision in motion by digging the first hole in the back yard themselves and planting an herb garden. However, they knew enough to realize they would need an expert to help them formulate a bigger plan. They hired local landscaper Tony Carpenter to craft plans for three main areas including the original herb garden, a sculpture garden and a lawn area.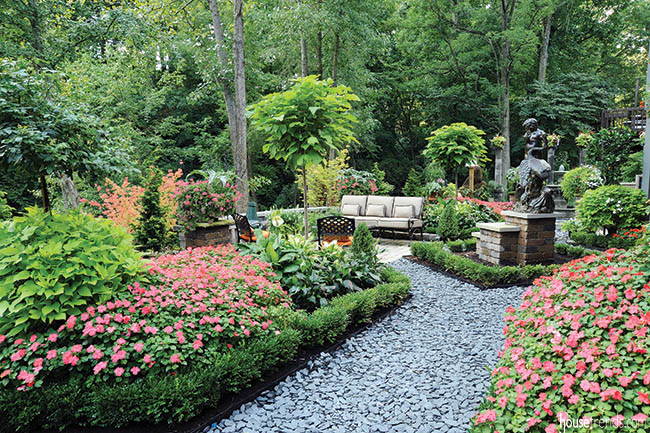 A main path was created down the center of the yard from which three different access points were placed to lead to other areas of the yard. The paths not only lead to different parts of the garden, but also offer intimate sitting areas and spectacular angles where one can view the garden.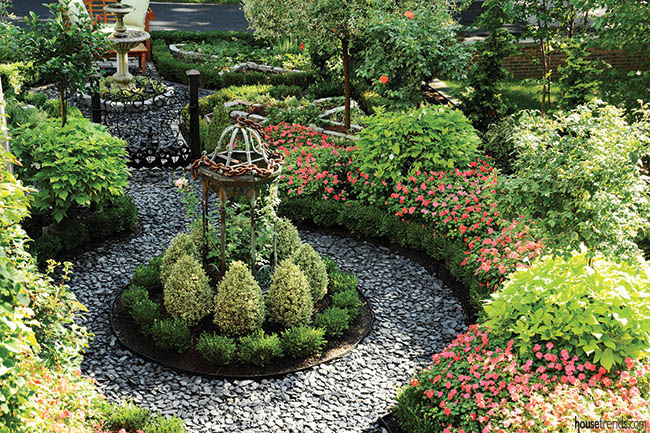 An English garden is not something typically found in the Dayton market, which is one reason Carpenter was so thrilled to be given the job. Another reason is that Carpenter also had the opportunity to put some of his experience in England to work.
"I have spent time in Europe and have seen formal gardens that have been there for hundreds of years," Carpenter says. "I was able give them what they wanted because I had walked through gardens like that. The reason this garden works is due to the details. All the lines are straight and perpendicular and very exact. If they are off ever so slightly you will see it."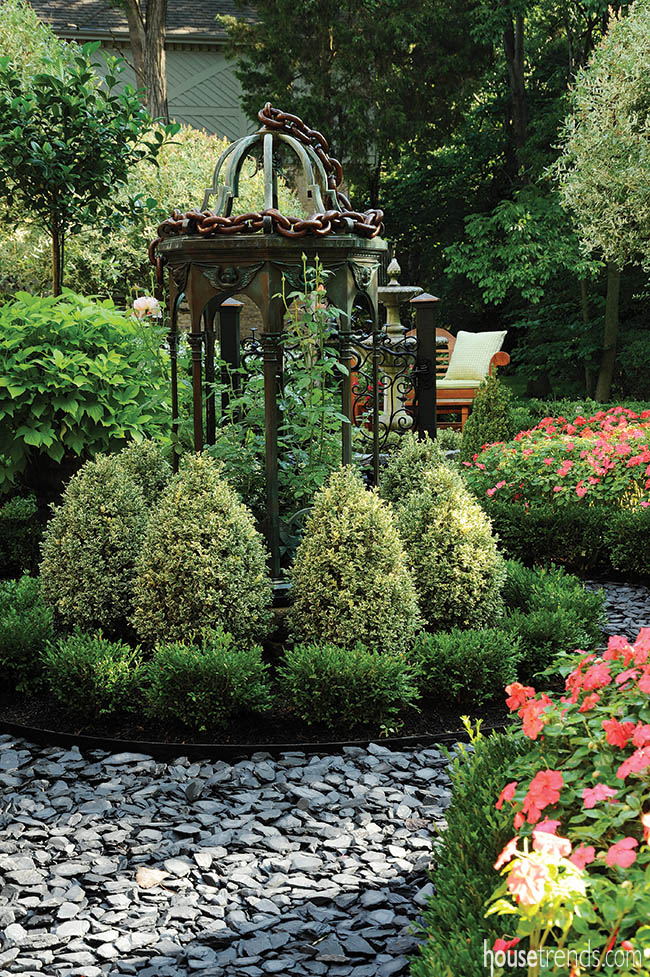 True English gardens have crushed granite for their gravel pathways. Carpenter created his own formula when he was unable to find a similar product. He was able to create a mirror image of an authentic English garden by using slate chips. "When it rains (the pathway) looks like moving water," Barbara says. "It is beautiful."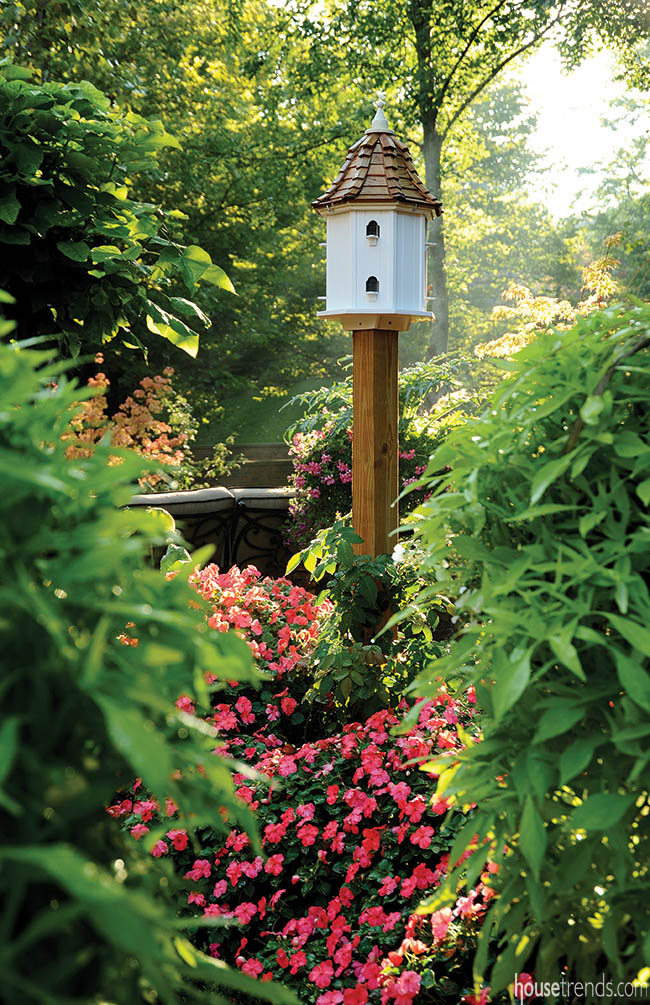 It took two years to create the garden, but its space continues to evolve. The Eicherts are continually reshaping, relocating and retuning the finer details. Each year, Barbara plants more than 1,400 impatiens in the beds, while perennials that were planted years ago—such as the tree peonies—are now showing their true blooms for the first time.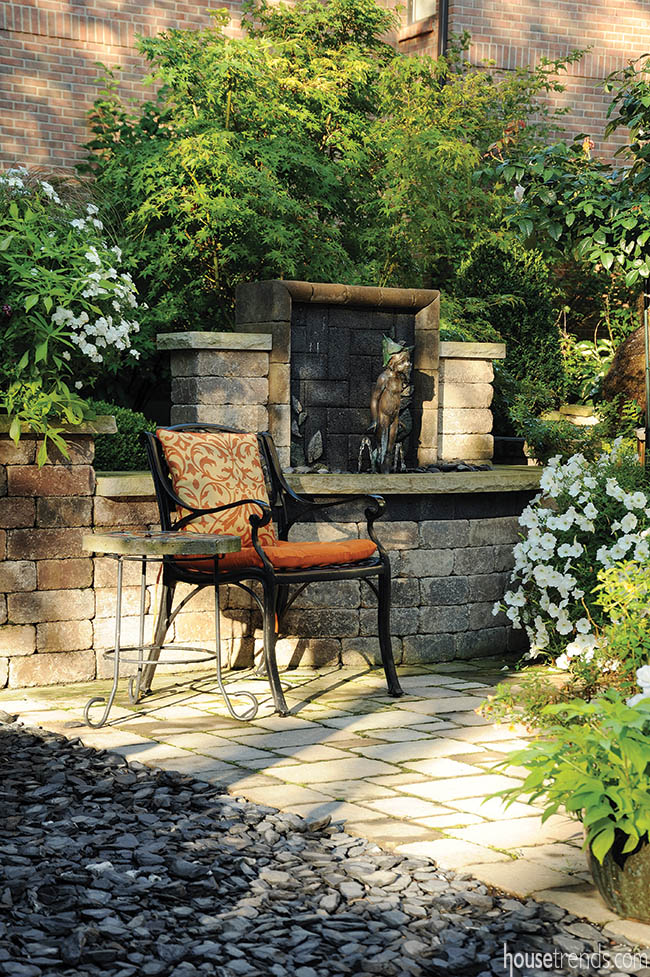 The couple has become known as fine collectors for their garden as well. Antique pieces are tucked in every corner of the garden, creating dimension among the various plants and flowers.
A Belgian artist created a pair of nine and four-foot rabbit frames for the Eichert's fourth anniversary. The rabbits, now stuffed with moss and soil, bring life to the garden.
Over the years, the garden has also grown from three spaces to nearly 10 intimate themed areas. Last summer, the couple brought in Jim Teske and Centerville Landscaping to help with some new additions including one of the garden's two fountains.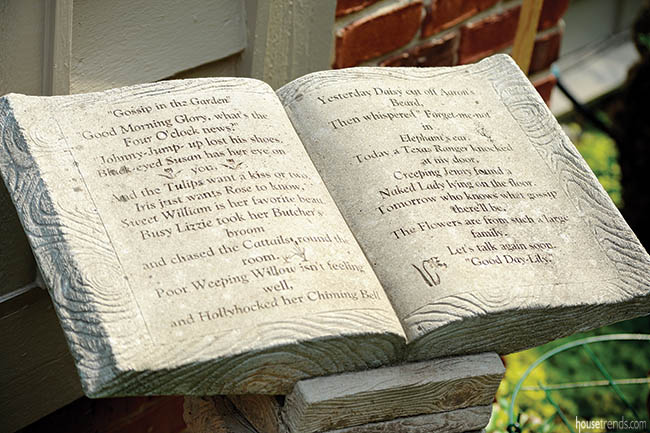 "Their garden is so exquisite, it is the real deal," Teske says. "The detail alone is astounding. Barbara has poured her heart and soul into this garden design."
The impressive English garden might seem complete when viewed by an outsider. But to the Eicherts, it is just the beginning. If there is anything they have learned over the years, it's that the creation of a garden merely lays the foundation for future ideas to take root. And this one is certainly no exception.