Tracy and David bought their Worthington home in 2011 knowing the kitchen was going to need a makeover someday. The wallpaper was dated. The cabinets were dark, and there weren't enough of them. Only one person at a time could work comfortably in the kitchen, and because the small space was walled off from the eating area, whoever was cooking was isolated from the rest of the house. Entertaining wasn't really possible.
"We didn't realize how bad it was until we lived there," David says.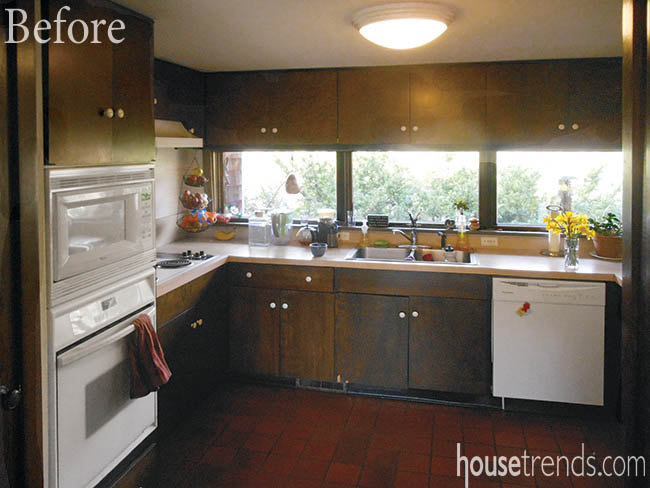 But they lived with the kitchen for three years. This is David and Tracy's fifth home, and, having taken on renovations quickly at other houses and regretted choices later, they wanted to take time to really see how they used the home's space.
When they finally were ready to redo the kitchen last year, they came to Rogers Krajnak Architects with clear ideas. Architect Darryl Rogers had thoughts about expanding the space, but Tracy and David wanted to stay true to the footprint of their home, which was built in 1967.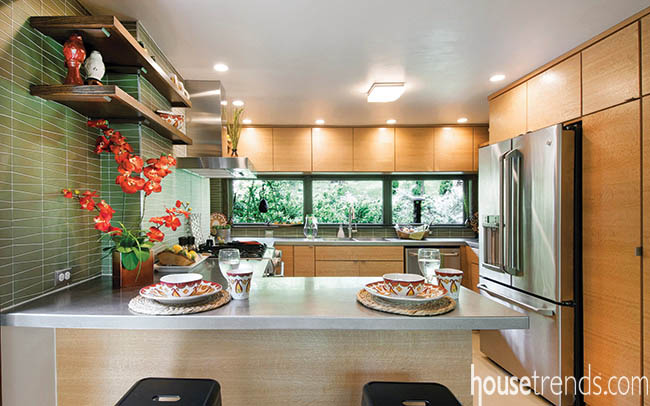 "Once we decided not to expand the kitchen, we focused our attention on designing a highly functional space with fresh new materials, refined detailing, and a bright and open character that compliments this unique, mid-century modern home," says Rogers.
"It was really fun to think within the framework of the original house," Tracy says.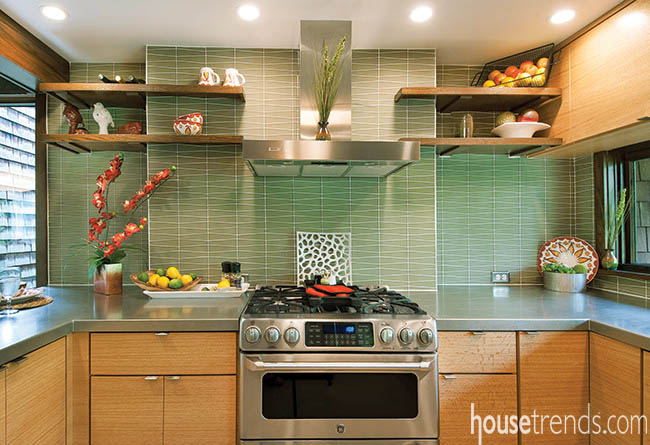 Tracy and David took plenty of the architect's suggestions though, reworking their budget to allow for special touches such as smoky green glass tile backsplash, cabinets with horizontal wood grain and hidden pulls, and brushed stainless steel countertops.
Surprisingly heavy, the countertops required six men to carry them in, says Joel Walter, owner of NJW Construction, the team that translated the plans into reality for Tracy and David last fall. The transparent backsplash, Waveline BGA Seagrass ceramic tile, required precise installation because of its transparency.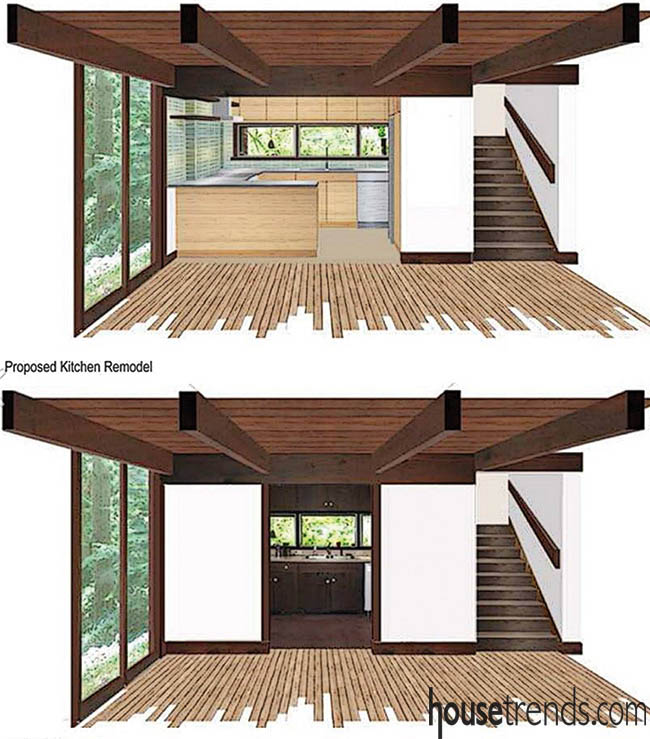 "But really, we had the plans, and it's just a matter of putting everything back together and making it look original," Walter says.
One tricky bit was taking out a 9-foot section of the wall that closed off the kitchen. Walter's team had to add in a support beam and reroute a laundry chute the family couldn't bear to lose—and do so without disturbing the adjoining family room with its 27-foot-tall vaulted ceiling.
"They were really good about keeping the dust down," Tracy says. "As much as I know I was living in a construction zone, it didn't feel that bad."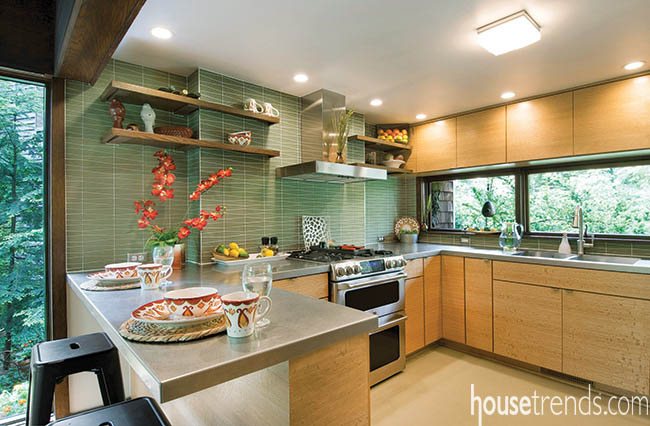 The end result was a practical, light-filled space. Like the cabinets—flush doors and drawers in red oak with a horizontal grain from Fairfield Woodworks—appliances and finishing touches such as the chimney-style range hood were chosen for beauty as well as function. Stainless steel appliances, including a French-door refrigerator, match the counters, and brushed chrome hardware finishes off the cabinets.
The couple's 16-year-old son has taken a liking to the griddle, making grilled cheese sandwiches often. Tracy, who David says has always been a great cook, has found a new love for roasting vegetables in the gas double oven.
Floating upper shelves make the space feel even more open. The backsplash and stainless steel counters reflect light to make the whole room glow. People tend to congregate around the new bar when the family entertains.
"It feels modern and old all at the same time," Tracy says. "We have this great house, but people just like to gather in that space."