It is easy to see how much Gerrie Bielefeld loves her new kitchen remodel. "If I could fit in a bed, I'd sleep here," she says with her easy laugh.
No wonder. Thanks to unbelievable cabinetry, the kitchen, which is in handsome harmony with the Bielefeld's lovely 1848 Federal style home in Waynesville, is stunning.
A renovation project in 2014 took Gerrie's kitchen from outdated to outstanding. She began the process by doing "a ton of research" to nail the look she wanted in order to keep the character of the house. Then Gerrie made another smart move: she contacted David T. Smith, of The Workshops of David T. Smith in Morrow, a designer/builder widely known as the guru of period kitchens. "David Smith is the real deal," Gerrie says.
The pair worked together selecting every element to bring true 1800's style to the space.
Hickory flooring in 8-inch planks and walls of beadboard set the stage for the kitchen. Smith explains that using random widths of beadboard most accurately mirrors builders in the 19th century who used various widths of boards, never cutting to size because that would be wasting.
Smith recommended a design tactic to Gerrie that he often tells clients: a kitchen has to have "an altar."
"There has to be a grand focal point, the one place in the kitchen that's the star of the show," Smith says. "For this kitchen, it's the range and hood, backsplash, and surrounding range cupboard."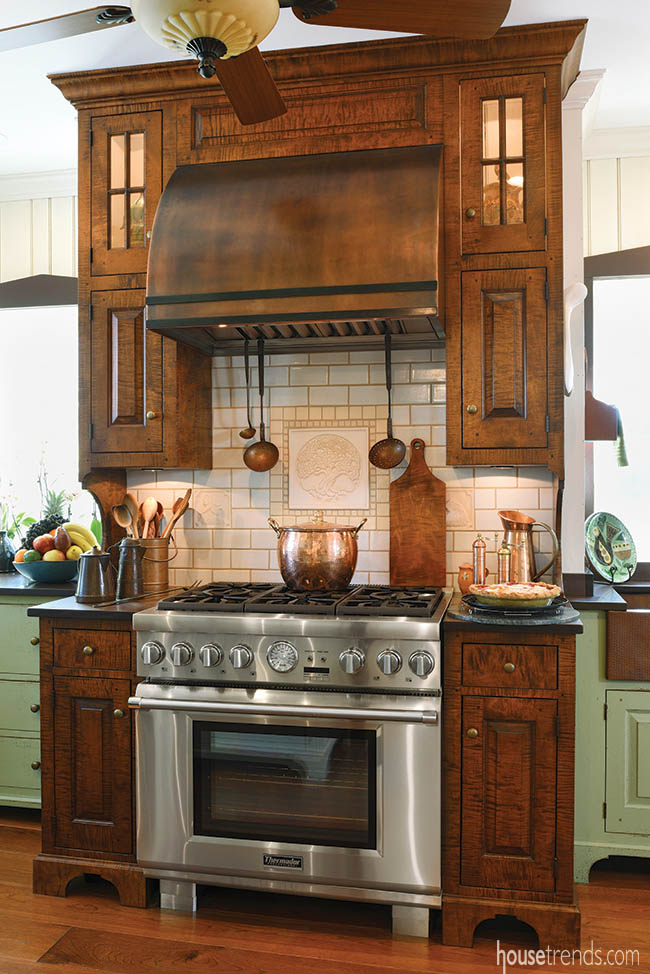 The aforementioned Thermador Grand with six burners is framed in by curly maple cabinets handcrafted by Smith, using "Time Worn Brown" finish.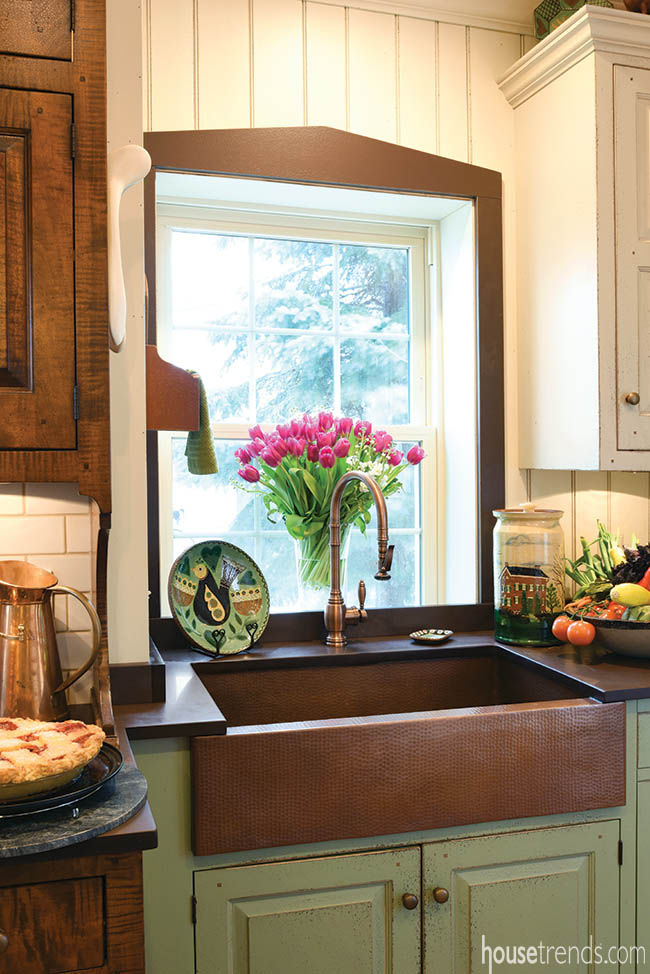 "I'm a fourth generation Texan and I always wanted an antique copper sink and a range hood. David made it work with this kitchen," says Gerrie, who came to Dayton in 1992. The copper hood, by MetalCraft, is accented with two horizontal strips of black iron to help complement the black range.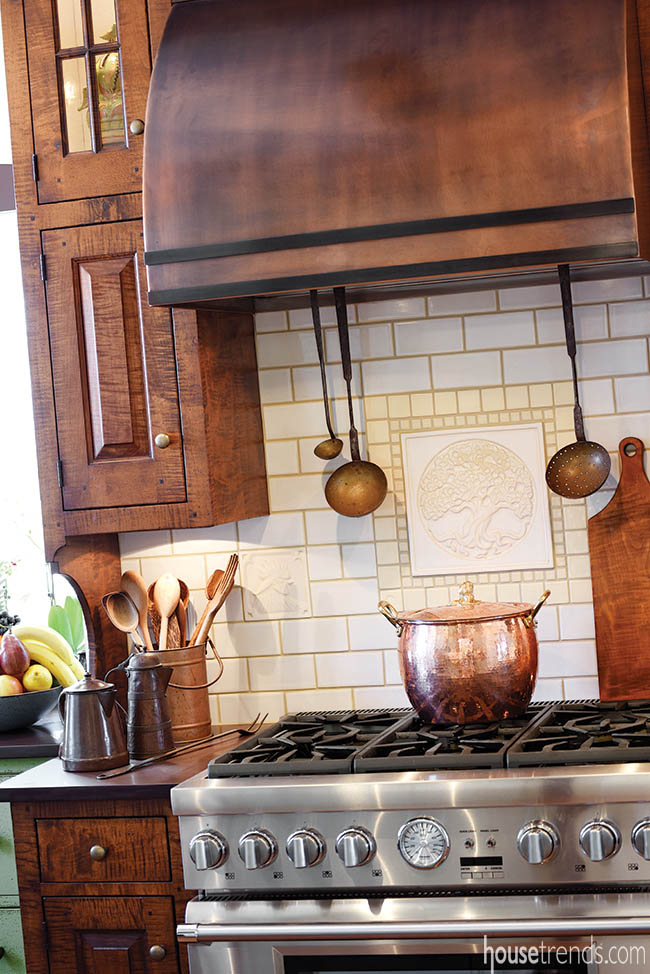 The backsplash features Morning Frost subway tile with a Tree of Life inset, all of which helps to establish the classic look that the homeowner wanted.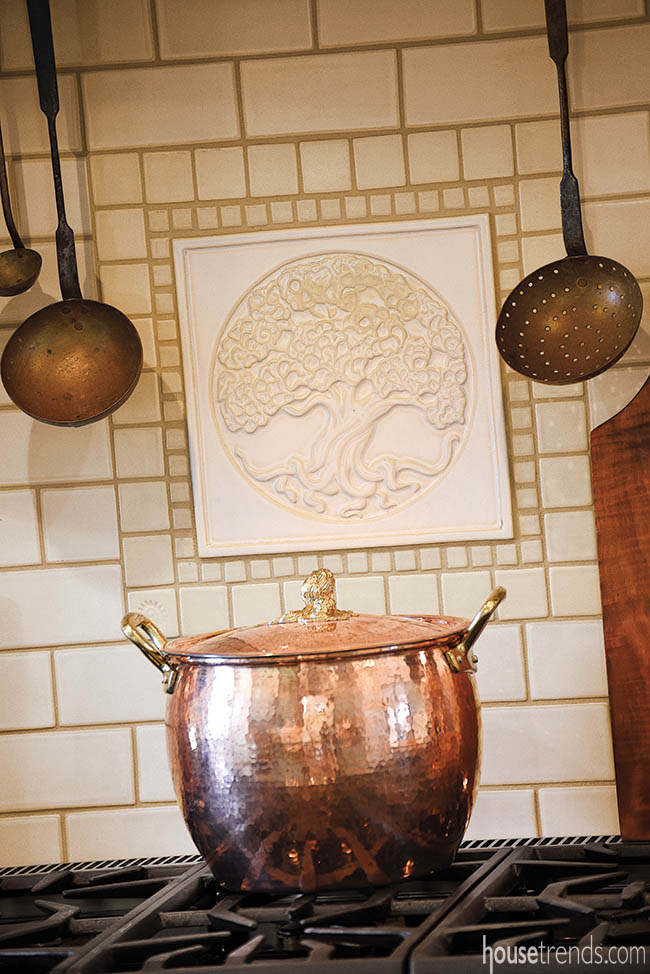 The subway tile and inset are all from the world-renowned Rookwood in Cincinnati.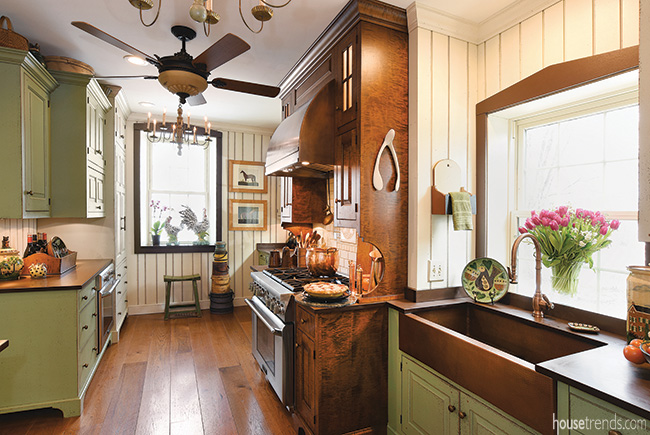 Gerrie's selection of a copper sink drove her decision for slate countertops. "In the over 450 kitchens I've done, I've never had a homeowner choose a slate countertop and you know what? It works beautifully," says Smith. "The color is dark plum so I used a chocolate-purple paint for the trim around the windows close to the countertops."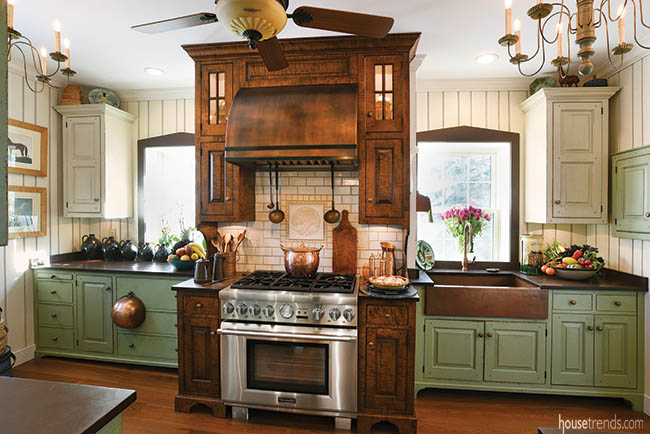 Smith's cabinetry expertise coupled with Gerrie's sense of style is evident in the hanging cupboards throughout the rest of the kitchen. They feature two finishes: Linen Museum (also used on the beadboard walls) and Moss Museum.
"More primitive kitchens can have five or six cabinet finishes but for the more upscale Bielefeld kitchen, a total of three finishes works well," says Smith.
He used raised panels, textured paint-over-paint, special treatments for the edges of the doors and other tricks of the trade to create the 19th century kitchen.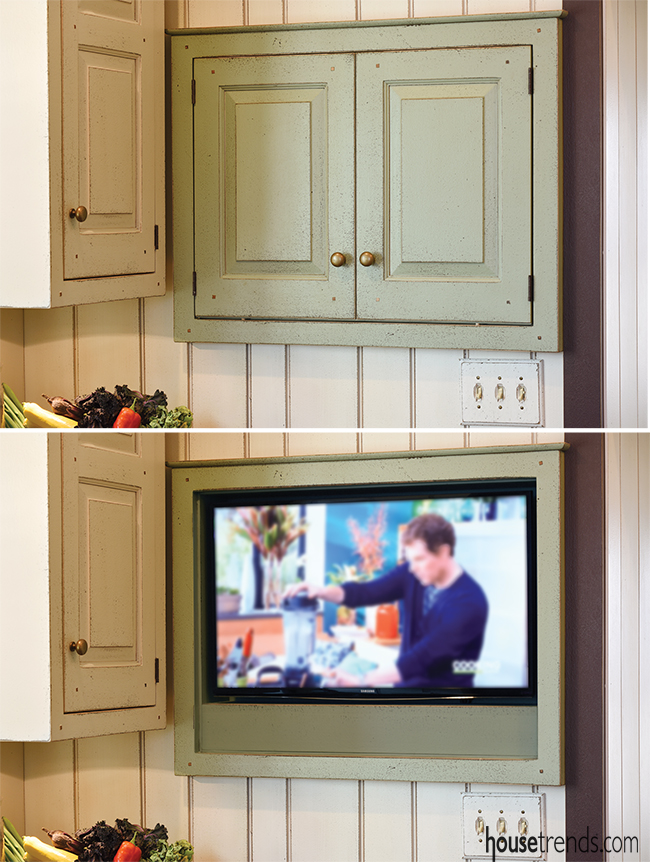 In a historic kitchen, concealing appliances and conveniences is a must and Smith does it exceptionally well. You won't see a flat screen TV in such a kitchen, of course—unless you look behind a section of flat cabinetry on the wall.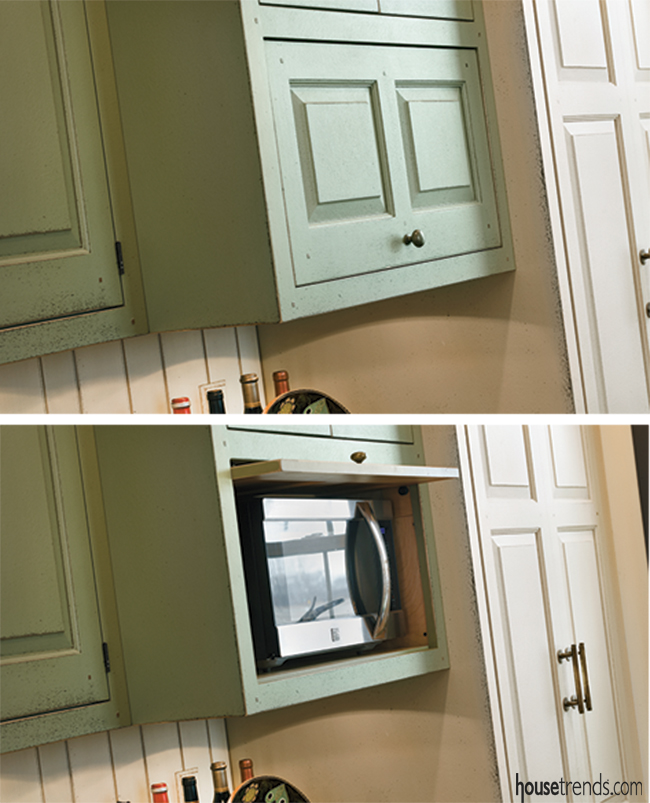 Just across the room, a microwave is hidden the same way.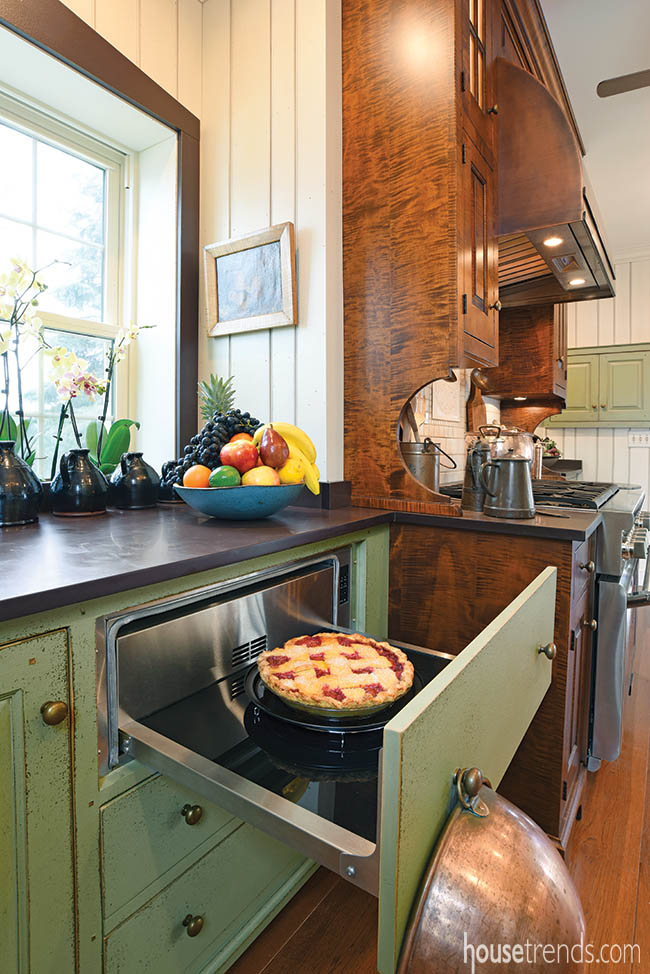 A warming drawer hides behind a cabinetry facade and is easily accessible when the homeowner is cooking a large meal.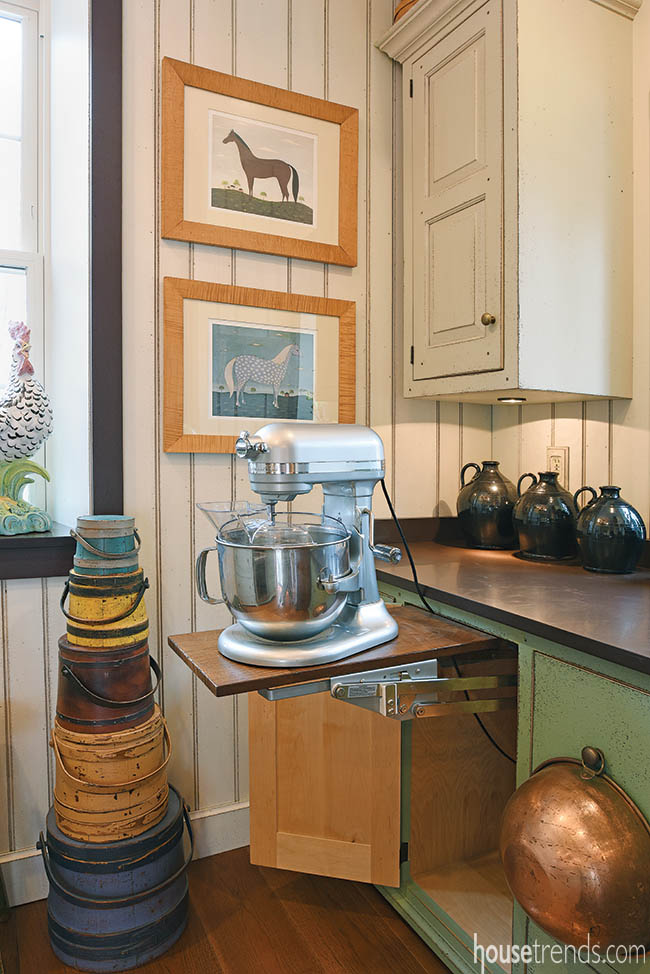 When needed, the stand mixer lifts up out of an undercounter cabinet.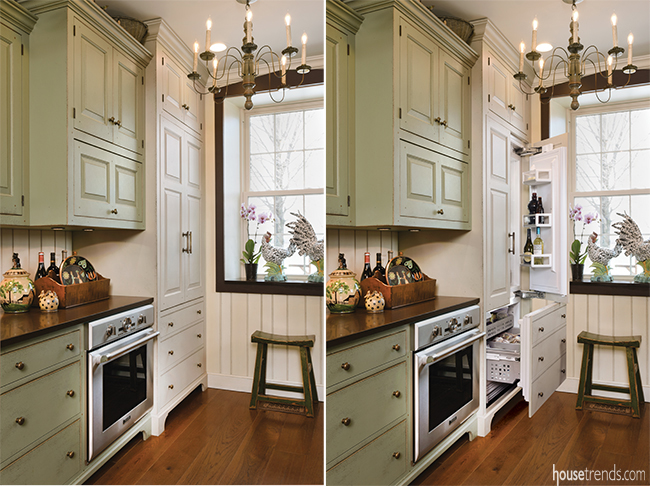 A pair of Thermador refrigerators stands at opposite ends of the kitchen, but politely conceal themselves behind cabinetry.
"When you have a house this old and this wonderful, any renovation you do should honor the house," says Smith.
"I love what we did but this is not a trophy kitchen," Gerrie says. "It's a working kitchen that also works well with this house."
Resources: Cabinetry and kitchen design The Workshops of David T. Smith; Contractor JoMack Remodeling; Masonry Glen Mills Outdoor Solutions; Flooring Carlisle Wide Plank Floors; Countertops Sheldon Slate; Backsplash Tree of Life and Morning Frost subway tile, Rookwood Pottery; Hood MetalCraft; Sink and faucet Copper Sinks Online; Appliances Thermador, Appliance Gallery; Beadboard wallcovering The Workshops of David T. Smith; Windows Gilkey Window Company; Geothermal unit Greenergy Professional Services; Electrical Jeff Bonham Electric Inc. 
Article by Jane Schreier Jones/Photos by Daniel Feldkamp
Article originally appeared in Housetrends Dayton–March/April 2015