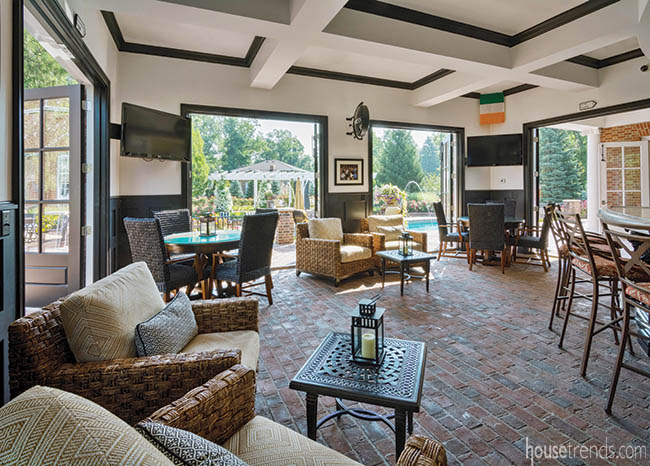 Written by: Jane Schreier Jones/Photos by: JB Woodruff
At last it was time for the Riazzis to add a pool and pool house to their property.  In 1999, this family of seven had moved to a beautiful Kettering home that was built in 1929 by Charles Kettering for his son. "Other fix-up projects came first, including getting air conditioning," says Jill Riazzi who owns the home with her husband, John.  As renovations progressed over the years, John had to keep postponing his dream of a swimming pool. "With having five kids, I was worried about the safety factor of a backyard swimming pool," Jill admits.  But in 2011, when the kids were ages 10 through 18, the couple agreed that the time had come to make John's dream a reality. "I envisioned it as a place where the kids could have friends over and relax and have a good time without us hovering," he says.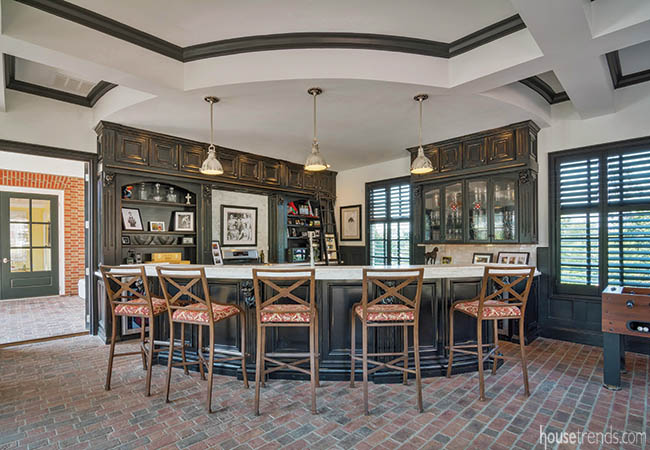 An entertaining haven
John adds that because he has nine siblings and dozens of nieces and nephews, he and Jill wanted a place to entertain. "A pool house seemed like a good idea, especially so people wouldn't be running in and out of the main house with wet swimming suits," he says.
Jill calls the entire venture "John's project" but both love the 22×46-foot rectangular swimming pool with fountains, outdoor entertaining space, fire pit, hot tub, arbor, outdoor sound system and a magnificent pool house that were constructed in 2011 on the couple's property of almost four acres.
The pool house with its massive wide-open doorways was designed to offer individual spaces to gather, as people flow from poolside to indoor areas. Luxury appointments such as coffered ceilings and dark cabinetry and woodwork blend extremely well with casual outdoor-style furnishings.
The Riazzis asked interior designers Lori Orlando and Megan Carfagno of LM Design Group to provide suggestions for furniture and lighting for the pool house. The designers have worked with the Riazzis on projects for more than twenty years.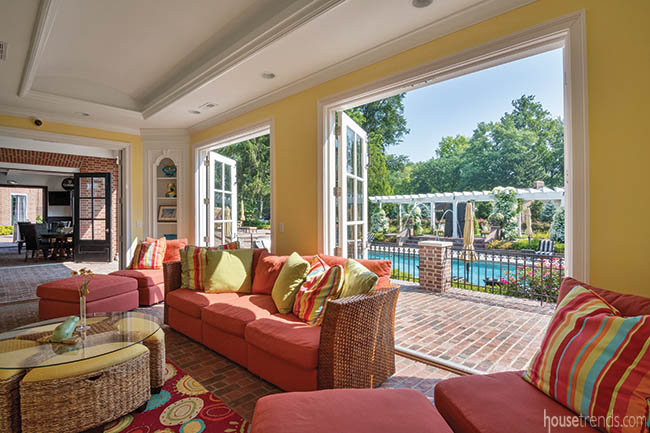 Fun for all ages
Each of the two main rooms of the pool house serves a purpose. "The smaller room was designed more for younger visitors, so we used bright, fun colors and comfortable furniture," says Carfagno. "Three screens mounted on the walls make this an inviting place to take a break from the sun and play some video games."
Two complete bathrooms with showers—one for girls, one for guys—are accessed through this room.
John had definite—and very creative—ideas for the main room of the pool house. "Sure, I'm Italian, but I'm also half Irish from the Fitzgerald side of the family, so I had the idea of having an Irish pub feel to this room with a bit of a library look too," he says.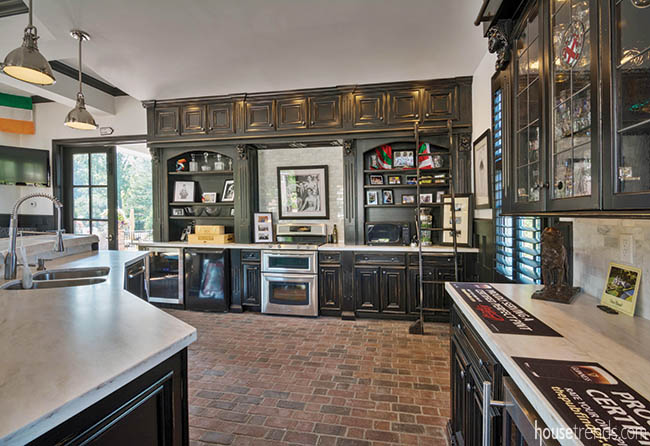 The fully-equipped kitchen features rich, dark floor-to-ceiling cabinets, with display shelves, a rolling ladder and the Fitzgerald family crest engraved onto the glass doors of an upper cabinet. An interesting array of family photos includes a large 1957 black-and-white photo of John's dad, Carmen Riazzi (Class of '57), and three of his fellow basketball players at the University of Dayton. "I was touched when John included a photo of my dad, Jim Bratton, from his high school basketball days," says Jill.
Upscale appliances along with conveniences such as an ice maker and two wine refrigerators make this kitchen a cook's dream.
"We designed this room with zones, individual places to gather," says Orlando. "This extended family has wide age ranges and individual zones allow conversations to go on in different areas. Besides the curved island with five bar chairs, there are two separate table and chair areas, as well as two clusters of comfortable lounge chairs, all with water-resistant materials."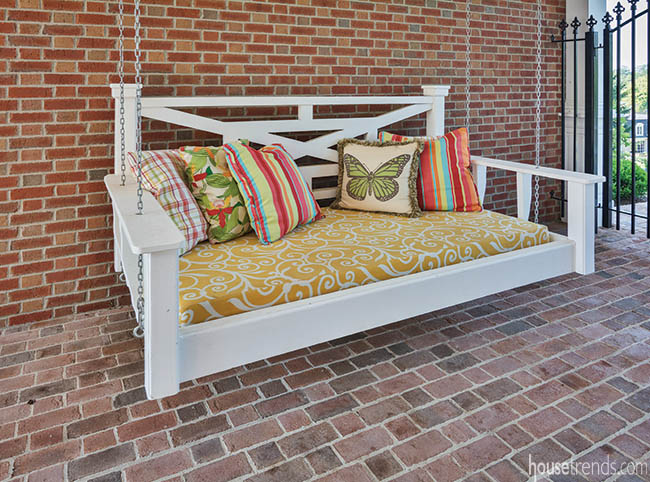 Large televisions mounted strategically next to doorways can be swung out to allow people swimming in the pool to keep up with sports scores.
A breezeway separates the two rooms of the pool house and features an irresistible porch swing that is, in fact, a twin-size bed.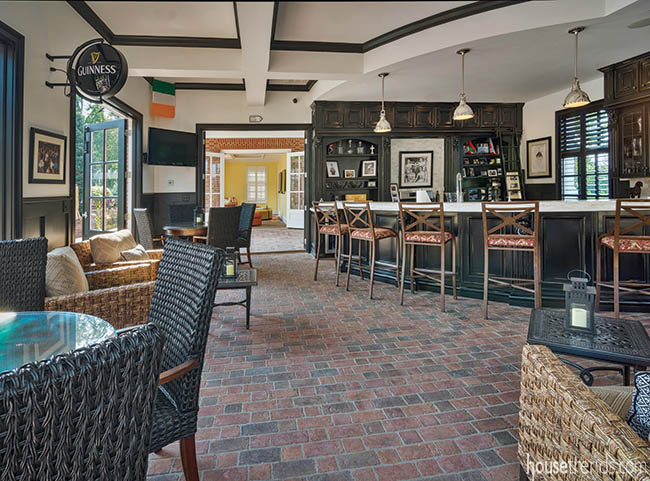 A cohesive design
John wanted the floors of the pool house and patio to match the brick of their home. He was delighted when he discovered he could purchase bricks from the demolished University of Michigan stadium. "The bricks match the house so well. I tell Ohio State fans they're walking all over Michigan—and I tell Michigan fans they're walking on hallowed ground," he says with a laugh.
Now with just the youngest Riazzi child still living at home, this outdoor space is more important than ever as the kids come back home, often with friends. "As everybody scatters a bit," says Jill. "This gives us a good place to connect once again."
Resources: Pool house contractor and custom cabinetry: Jeff Miller, M & M Construction; Interior designers: Lori Orlando and Megan Carfagno, LM Design Group; Furniture and fabric: Howard Miller; Braxton Culler; Stanley; Company C; Schumacher; Lighting: Hudson Valley; Countertops: Corian; Appliances: GE Whirlpool; Pool: Buckeye Pools