In the grand scheme of things, powder rooms tend to fall by the wayside. After all, it's much more exciting to design a trendy kitchen or living room. Some homeowners, though, like to go all out and round off their home design with a pretty powder room. Check out some of our favorites!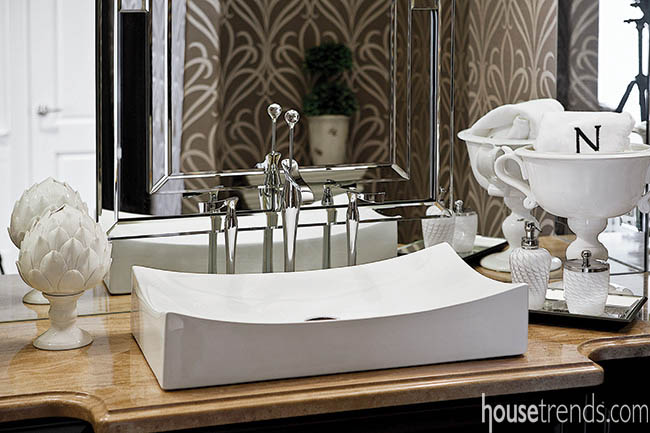 It might make you do a double-take, but yes, there are two mirrors in this Cleveland-area powder room. A framed mirror is mounted on a wall-to-wall mirror, adding an interesting depth and curious lines.
Contractor: Bill Henderson, Brookes & Henderson Building Co.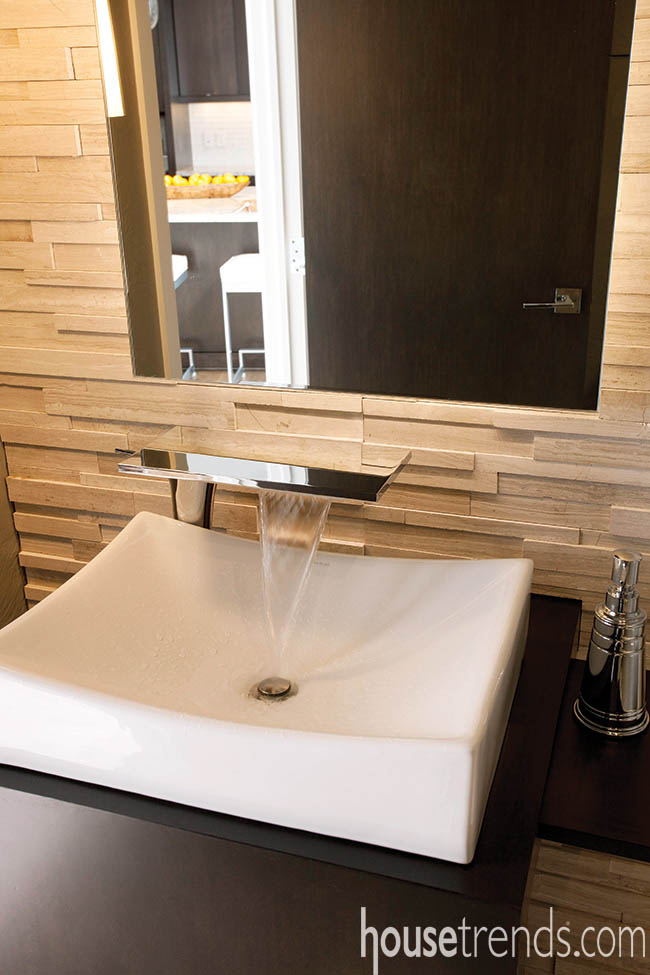 There are no protruding spigots or bulky knobs for this classy powder room, just a modern faucet with a minimalist design.
Architect: Ryan Duebber
Builder: JP Compass Consulting and Construction Inc.
Bathroom cabinetry: Custom maple from Hartville Cabinets
Bathroom countertops: Custom concrete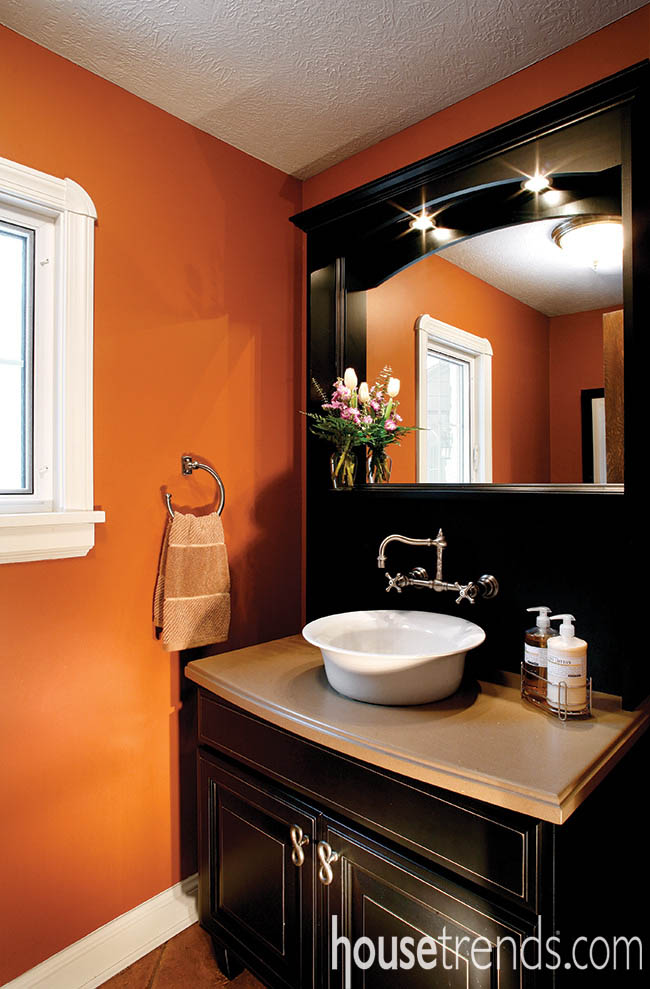 Bearing an uncanny resemblance to the colors of the local football team, the Cleveland Browns, bright orange walls perk up this powder room design. A raised bowl sink serves as the standout feature and draws eyes away from the bright walls and to the striking black-painted maple cabinetry.
Designer: Mary Gut
Architect: Ed Kundla
Contractor: Design Tech
Bathroom cabinetry: Decora
Bathroom countertops and backsplash: Corian
Bathroom sink: Bates & Bates
Bathroom faucet: Cifial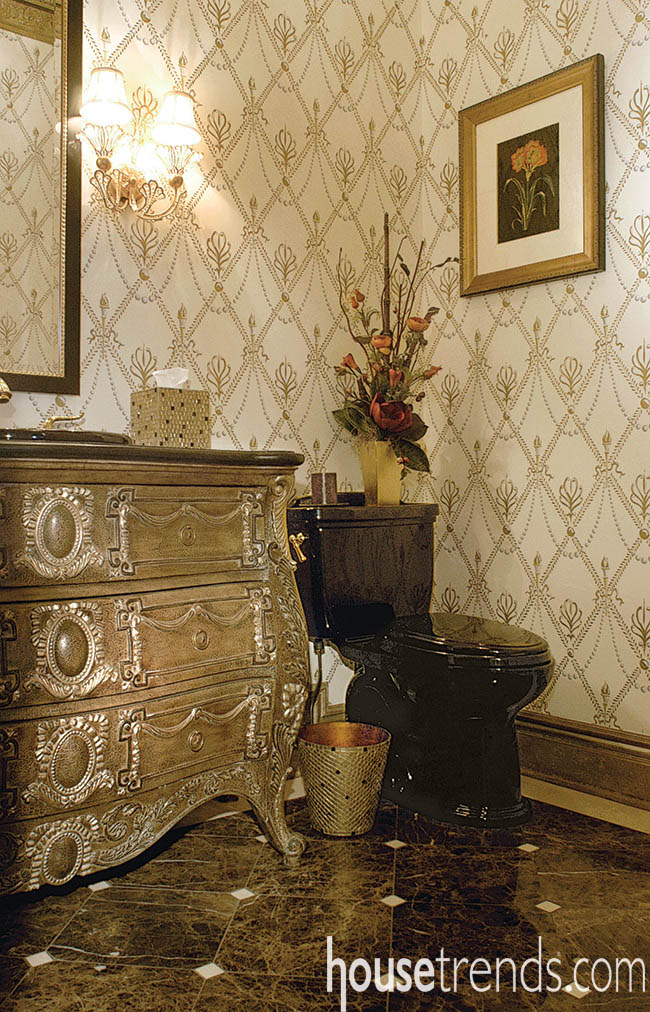 Wallpaper, sconce lighting and a delicate vanity help to establish the feminine vibe in this Northern Ohio powder room.
Interior decorating: Lee Meier Interiors
Architect: Steve Schill
Home builder: Valore Homes, Tony Valore and Jeff Szczepanski (on-site supervisor)
Plumbing and bathroom fixtures: Edelman Plumbing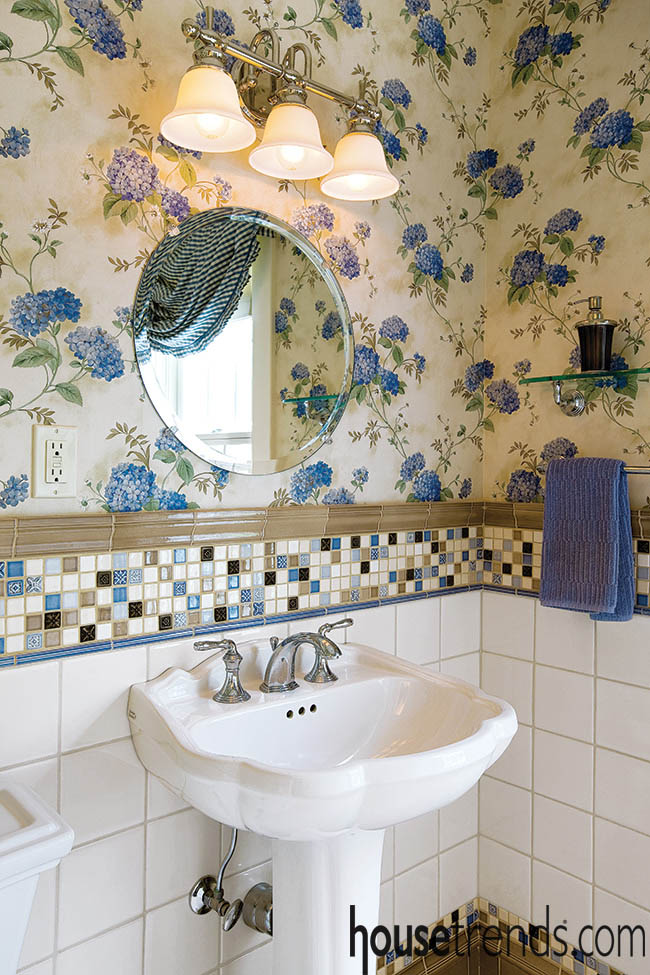 Hand-molded tile and bright floral wallpaper merge to create a retro charm in the powder room of this 100-year-old Cleveland home.
Project designer: Mary Gut
Architect: Rex Gilliland
General contractor: Rich Hobar and DesignTech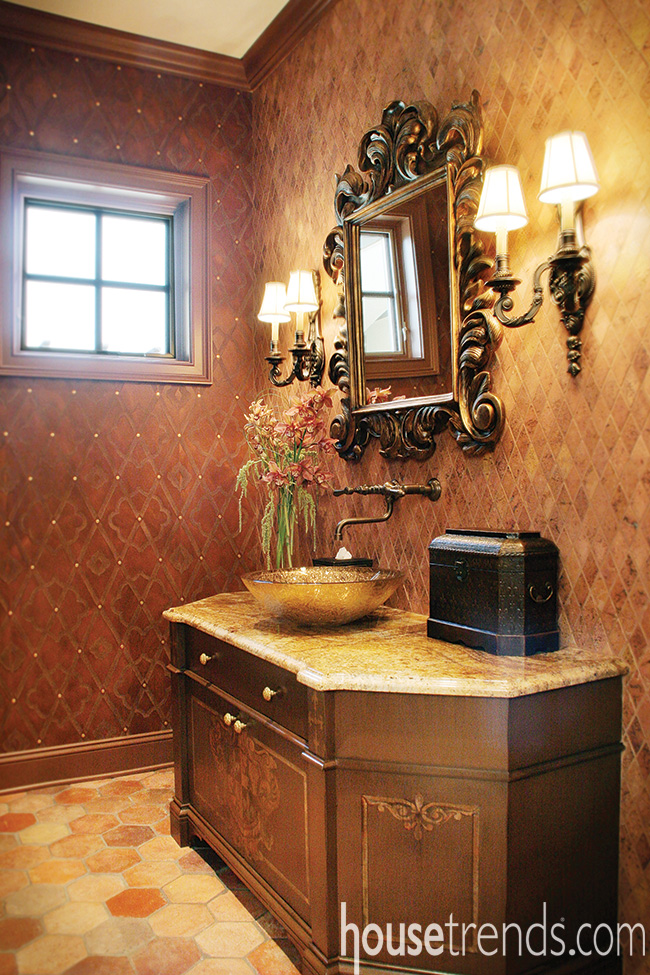 Rich red coppers add warmth to this Tuscan-inspired powder room. An ornate mirror creates a bit of a "wow factor" and keeps this space from becoming just another Tuscan bath.
Designer: Libby Palmieri, House of L
Architect: Justin Kapela Design
Builder: Dino Palmieri, Palmieri Builders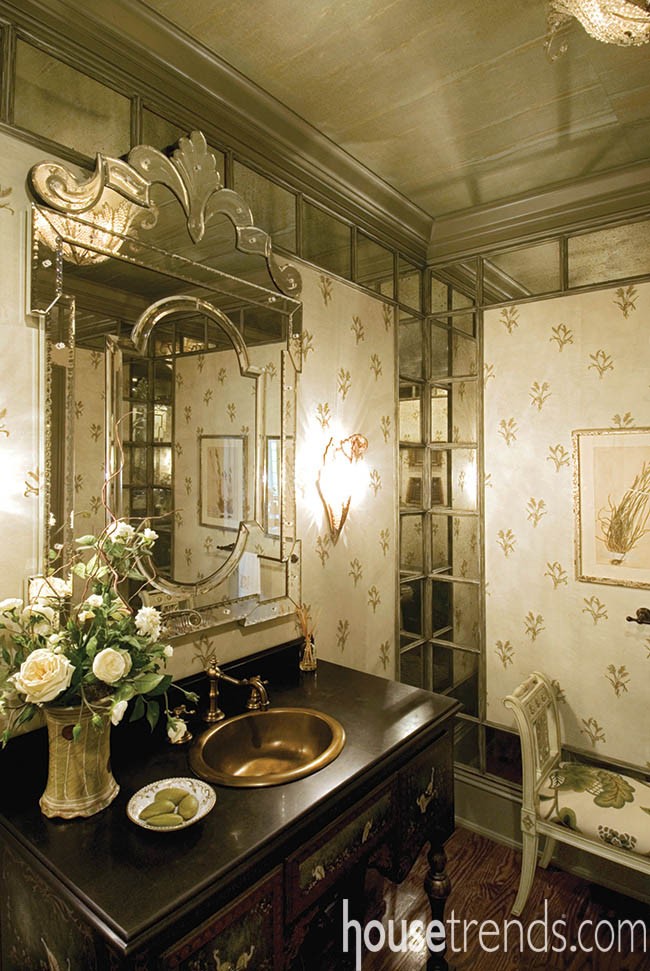 In a world stuffed with modern and contemporary design, this classic Cleveland-area powder room stands out in a big way. The designer used 1920's Parisian fixtures to truly nail down the design. The walls are framed with bamboo trellis with insets of antique mirrors to give the space a little something extra.
Designer: Charles Hartman and Associates
Architect: Marc Graham, George Clements Classic Architecture
Builder: Mark Chapic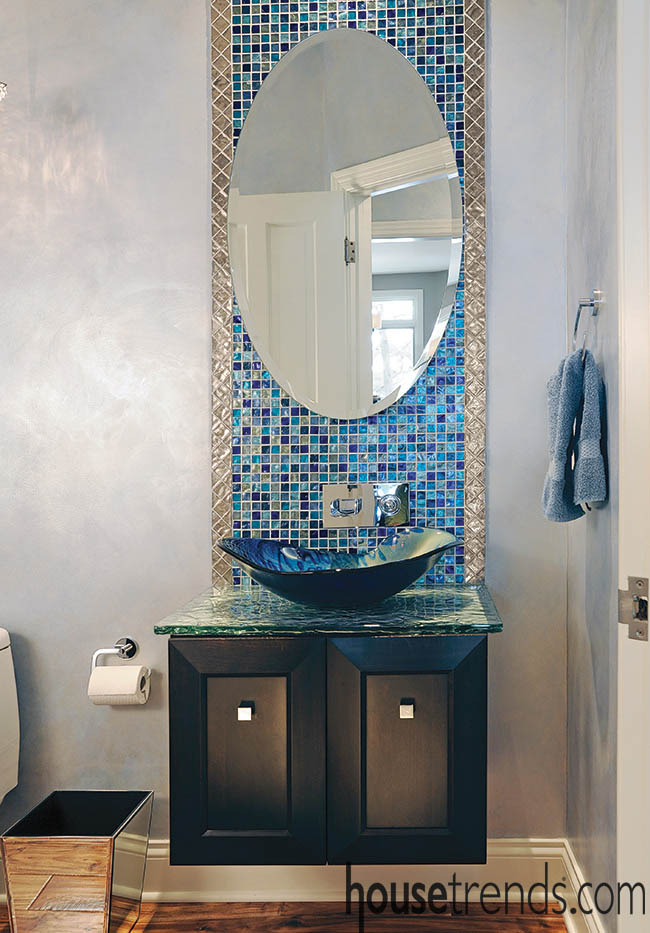 A hand-blown glass vessel sink was the design inspiration for this central Ohio powder room. The designer paired it with a water texture glass countertop and silver and blue Venetian glass mosaic tiles which run vertically from the floating vanity countertop to the ceiling.
Designer: Ultimate Interiors
Contractor: S&G Services Galore, Inc.
Tile: The Hamilton Parker Company
Hand-blown glass vessel sink: Bear Creek Glass, Carr Supply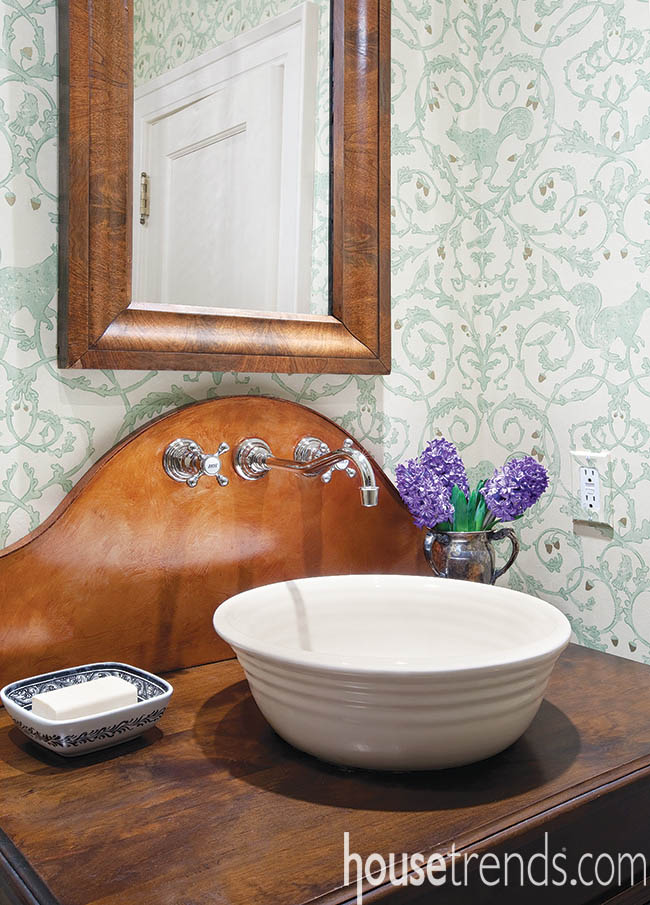 This home was originally the residence for the Thompson brothers who founded Upper Arlington, a Columbus neighborhood, in 1918. Current owners and their designer worked with painstaking detail to match the home's historical details and it shows in this powder room centered around an antique chest that has been repurposed as a vanity.
Interior design: Interior Works
Architect: Behal, Sampson, Dietz Inc.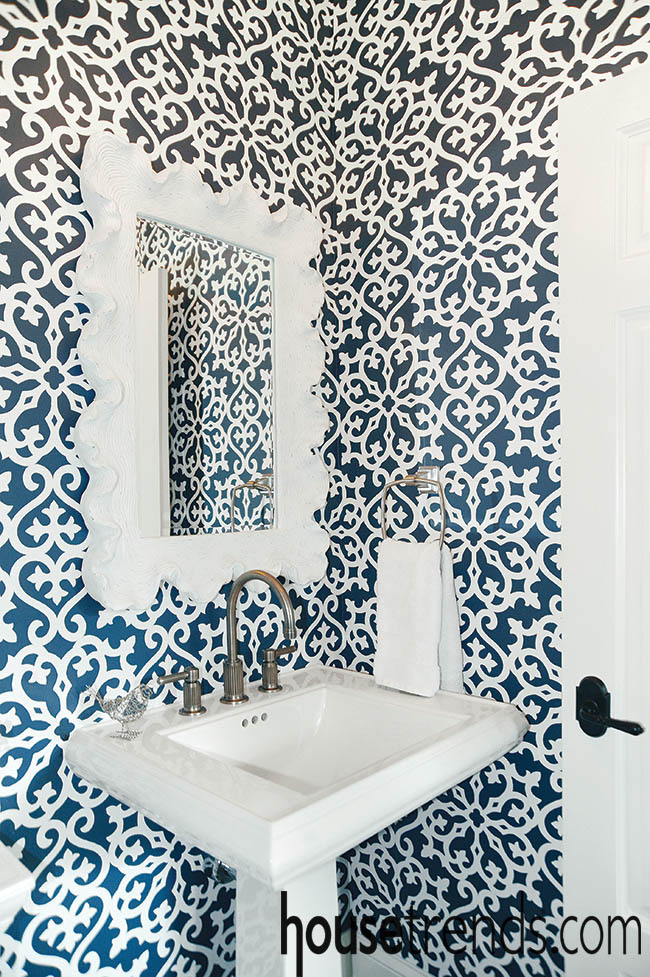 Eye-catching wallpaper in crisp whites and blues goes far to create an inviting powder room in this recently remodeled Columbus-area home.
Designer and contractor: Dave Fox Design-Build Remodelers
Plumbing fixtures: Kohler, Devonshire collection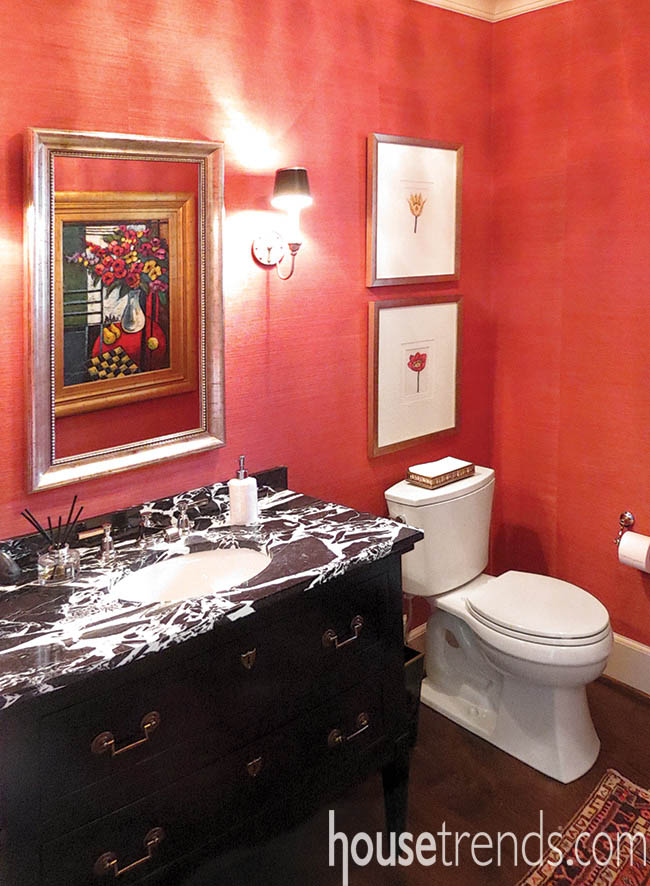 Bold red grasscloth covered walls contrast with the black and white fixtures to add a powerful sense of drama to this relatively small space.
Contractor: Michael Matrka Inc.
Interior Designers: Susan Matrka Interiors
Vanity top: Chester Smith Inc. Marble & Granite
Wallcovering: Phillip Jeffries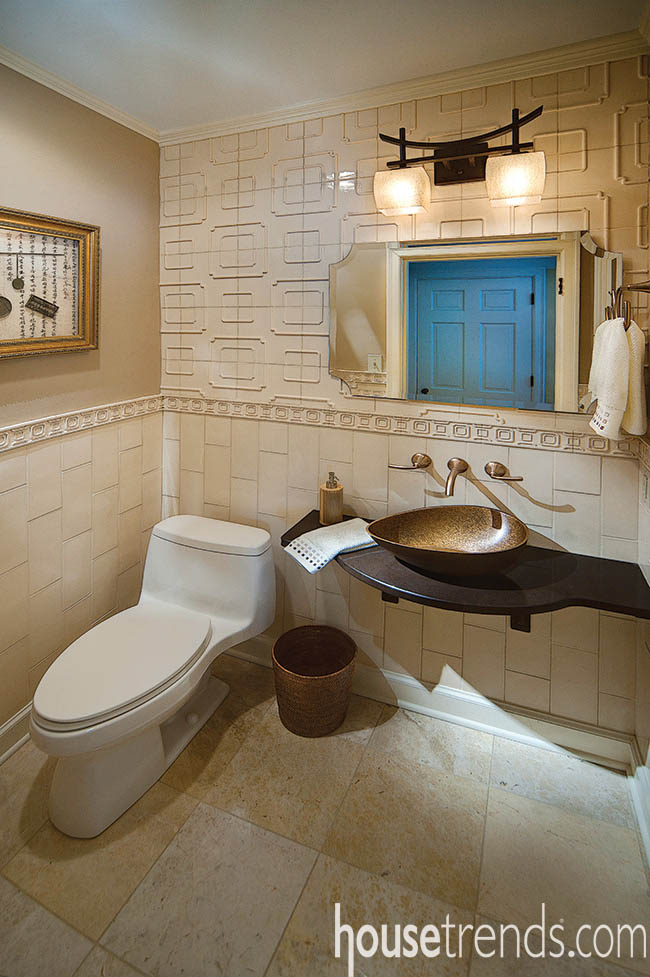 A conversation-starting bronze vessel sits atop a floating vanity shelf and the wall mounted faucet adds the perfect finishing touch in this Columbus bath that is far from ordinary.
Designer: Monica Miller, CR, CMKBD
Contractor: J.S. Brown & Company
Tile: Walker Zanger
Sink: Papillon by Stone Forest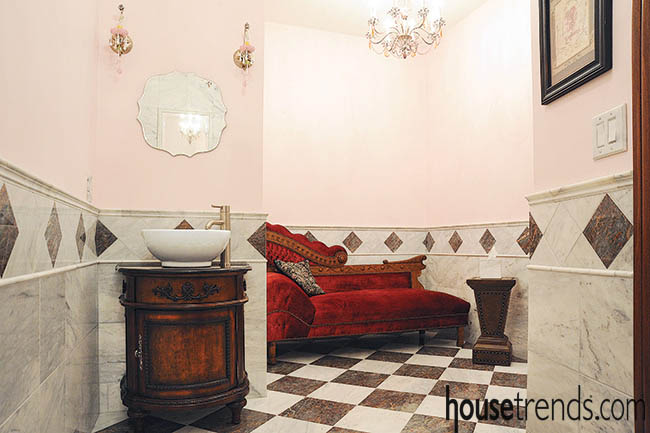 In a central Ohio home with a lower level built for entertaining, this ladies' room features two water closets each with a pedestal sink, and a soft pink lounge area with a pink and gray marble floor laid in a classic harlequin pattern and marble wainscoting.
Builder: S&S Fine Homes, Ltd.
Architect: Acock Associates Architects
Floor and wall tiles: The Hamilton Parker Company
Lighting: Capital Lighting Inc.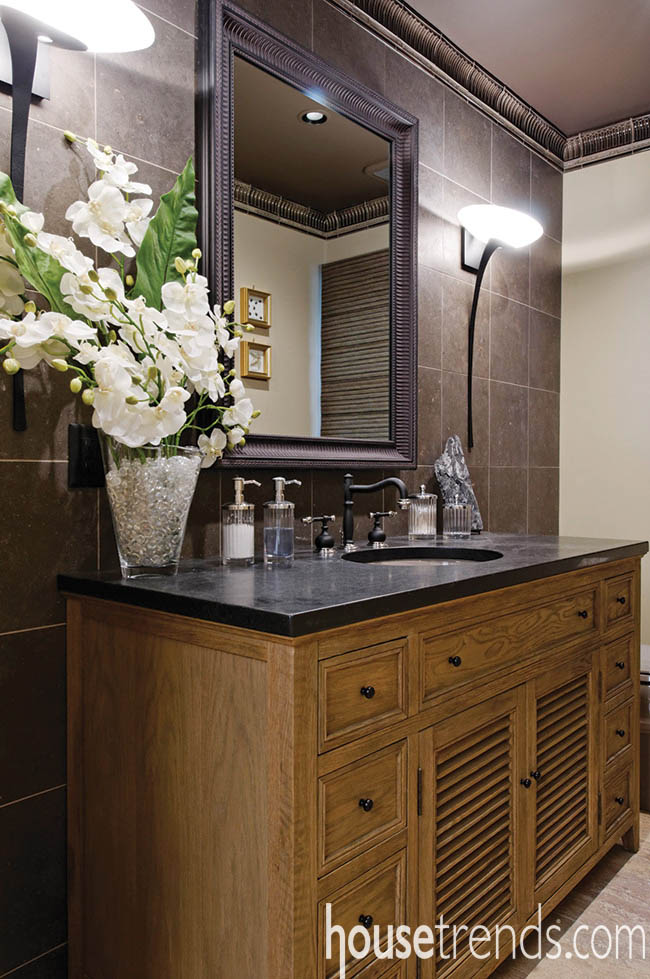 In Upper Arlington, a Columbus neighborhood, this powder room mixes dark, honed natural stones with natural woods to create a masculine, yet classic, space.
Designer and contractor: Dave Fox Design-Build Remodelers
Natural stone and custom glazed tile: Sonoma Tile
Sconces: Hubbardton Forge
Countertop: Honed black granite
Faucet: Santec Faucets from Ferguson's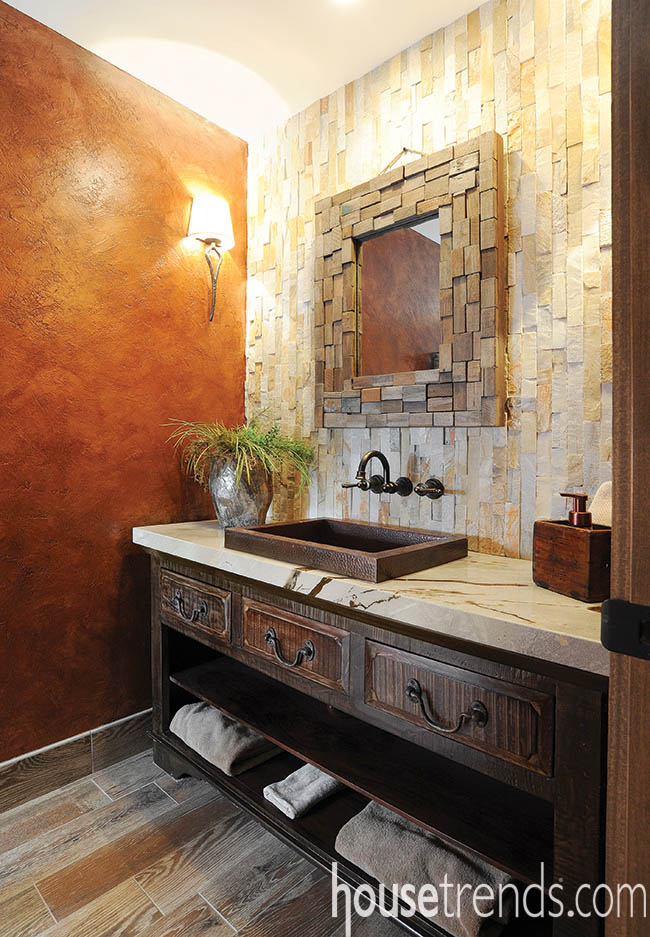 The designer of this Central Ohio bath made sure the materials throughout the room were drawn from an earthy color palette with copper accents and natural materials which introduced plenty of appealing textures.
Designer: Anne Rogers Interiors
Architect: Chateaux Designs
Contractor: Iulianelli Custom Homes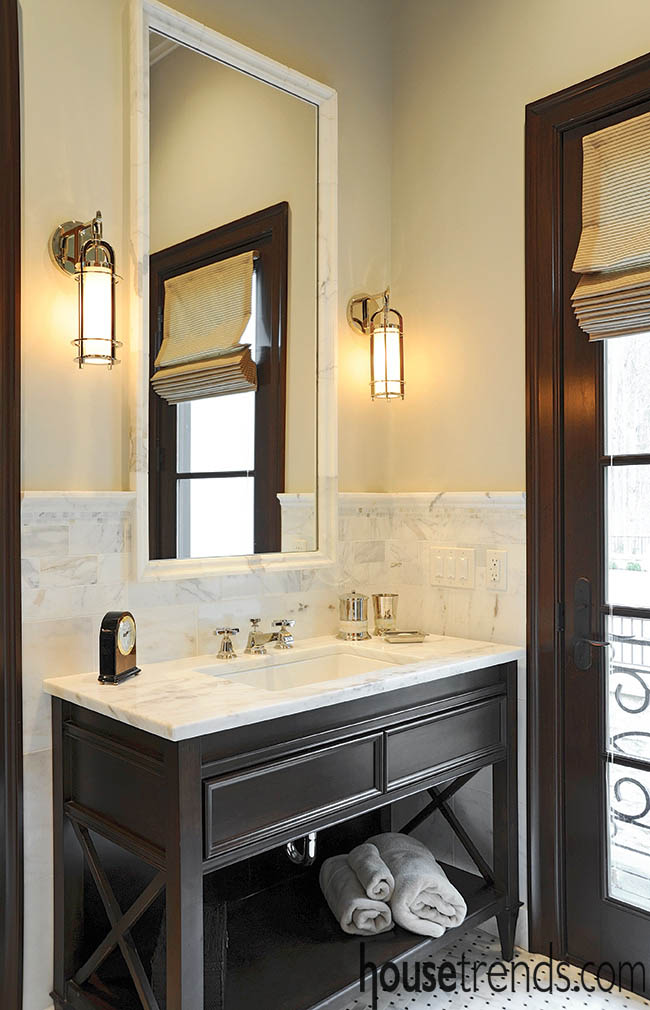 Design choices such as dark woods, simple fixtures and streamlined surfaces give this Columbus bath a decidedly masculine touch.
Builder: Bob Webb Group
Architect: Sullivan Bruck Architects
Interior design: Grand Design Group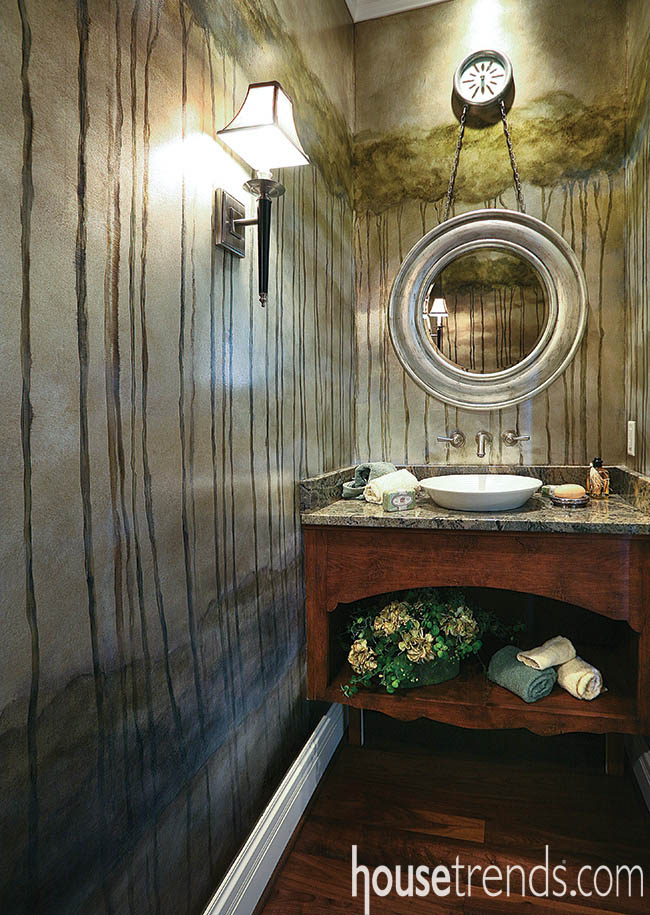 This space—part of a Cincinnati Homearama® home a few years back—was a hit with show goers with its "sanctuary" theme, including tall trees artistically painted on the walls.
Interior design: Interiors by Nancy Paul and Julie Bell
Residential designer: RLT Design
Cabinets: J&N Distributors
Countertops: Take It For Granite
Florals: Botanica
Lighting: Central Light
Plumbing fixtures: Keidel Supply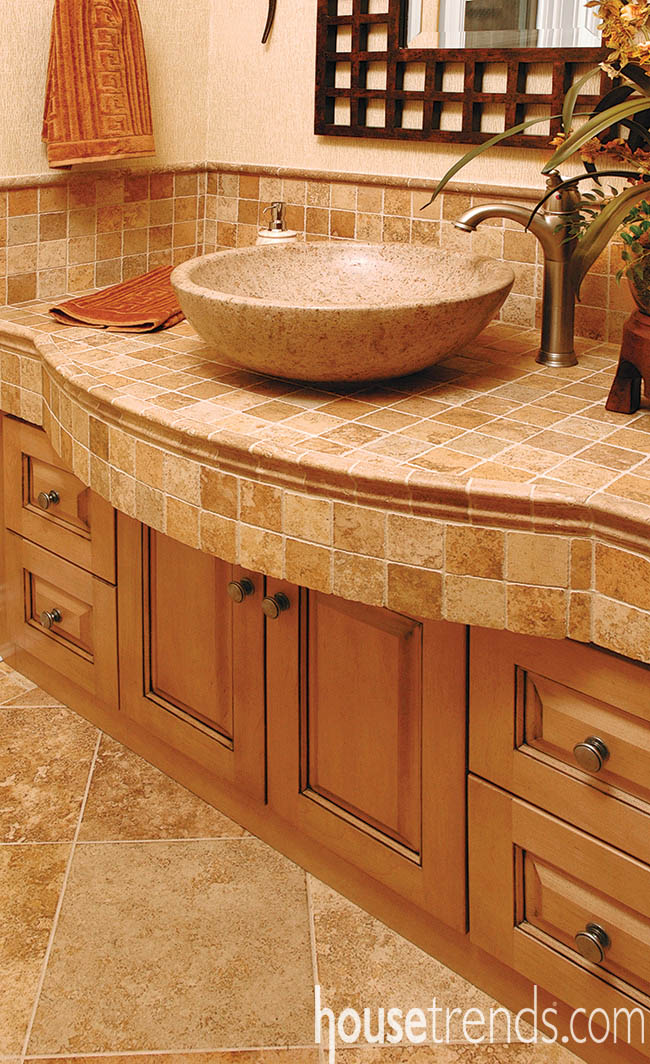 This Cincinnati couple opted to transform the first floor of their 30-year-old Colonial into a transitional-style plan, including this powder room with its stone tile vanity and vessel sink.
Designer and contractor: Neal's Design-Remodel
Architect: Bob Voigt
Cabinetry: Wood-Mode Edgemont
Countertop: Kemper Tile
Sink: Noce Vessel, Chocolat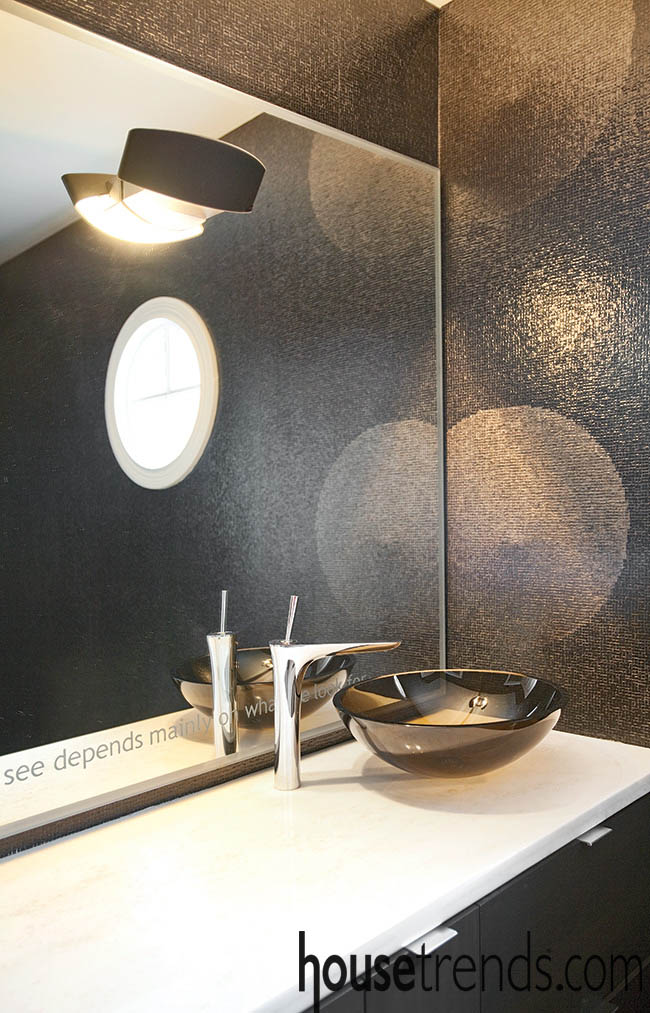 This room's black vinyl wallpaper, with charcoal-gray circles meant to resemble a bird's-eye view of a traditional Asian rice hat, is named "Fortune Cookie." So the designer encouraged southern Ohio homeowners to run a fortune of sorts across the bottom of the mirror. Their choice? "What we see depends mainly on what we look for."
Designer: RM Interiors
Lighting: Switch Lighting and Design
Contractor: J Michael Companies
Powder room sink: Norwood Hardware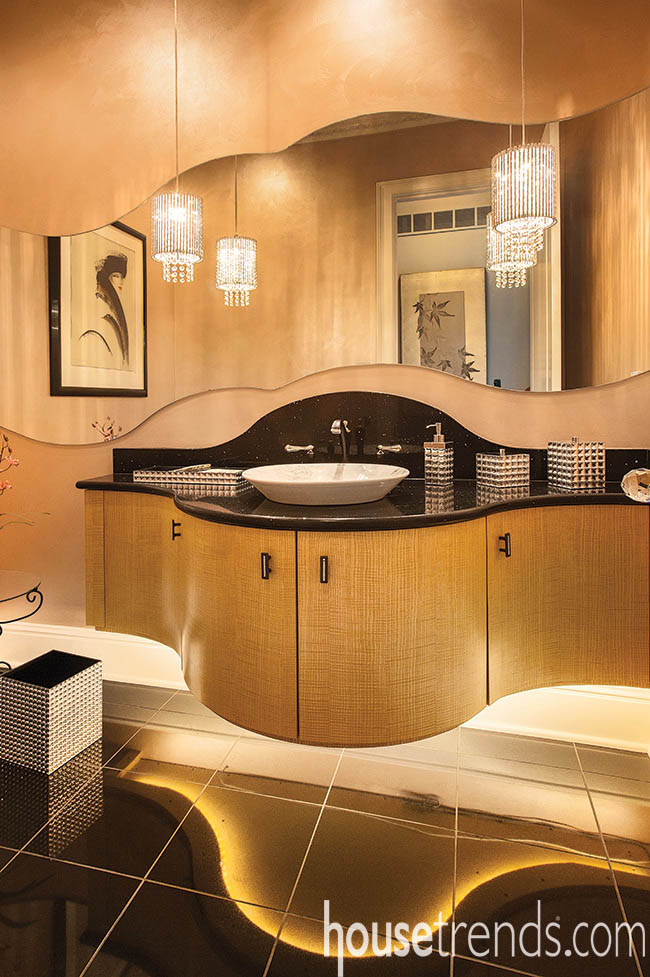 A Cincinnati-area powder room is a trove of custom-designed details, including a wall-mounted vanity with underlighting, a curving mirror designed by the homeowner and metallic paint finished with an innovative swirl technique.
Interior designer: Henry Vittetoe Interior Design
Residential designer: Mike Studer
Builder: Toebben Builders
Bathroom cabinetry: Kinsella
Bathroom countertops: Helmart
Bathroom sink and faucet: Ferguson
Lighting: Lighting EFX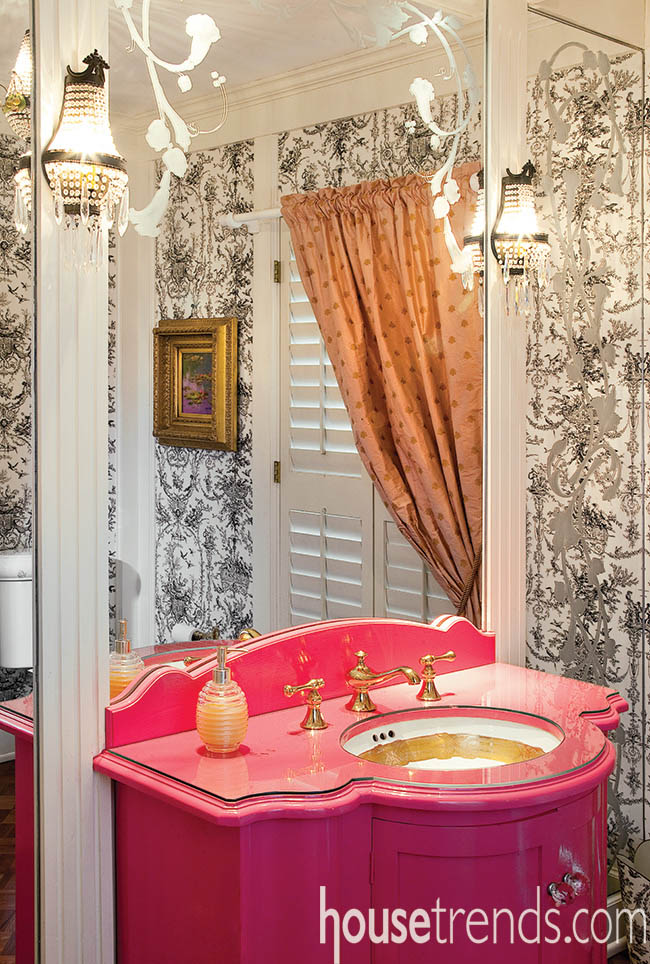 This Parisian-style powder room showcases just a few of the dazzling details added for dramatic effect in a Cincinnati home.
Interior designer: Cecitino Home
Architect: Finelines Architecture
Contractor: Camery Hensley Construction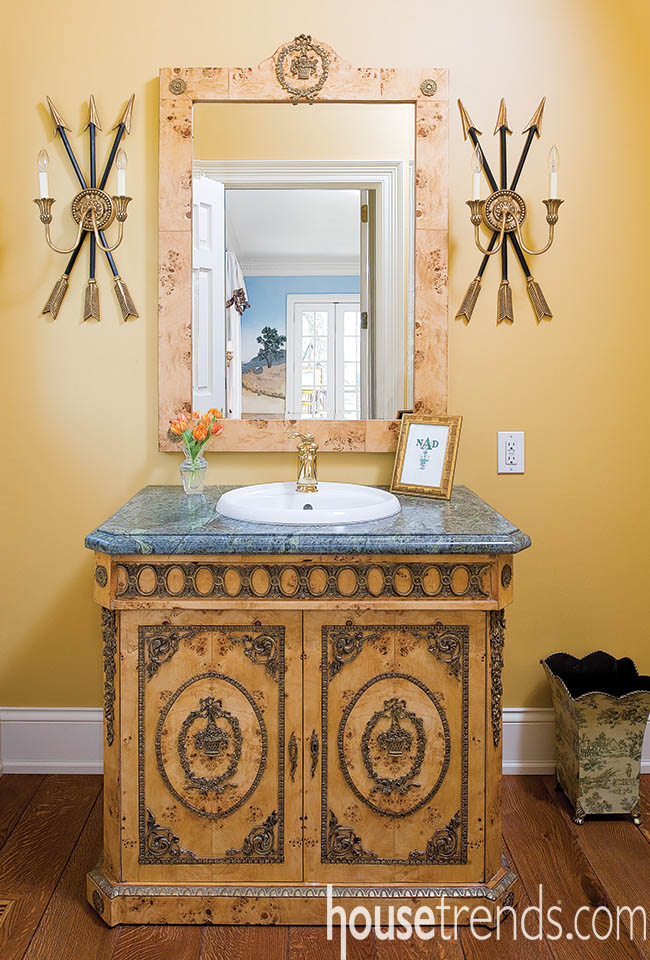 An old west feel abounds in this Cincinnati-area powder room with its carved vanity base and its light fixtures with their three-arrow accents.
Interior designer: Bolce Interior Image
Contractor: Stewart and Jervis Builders Inc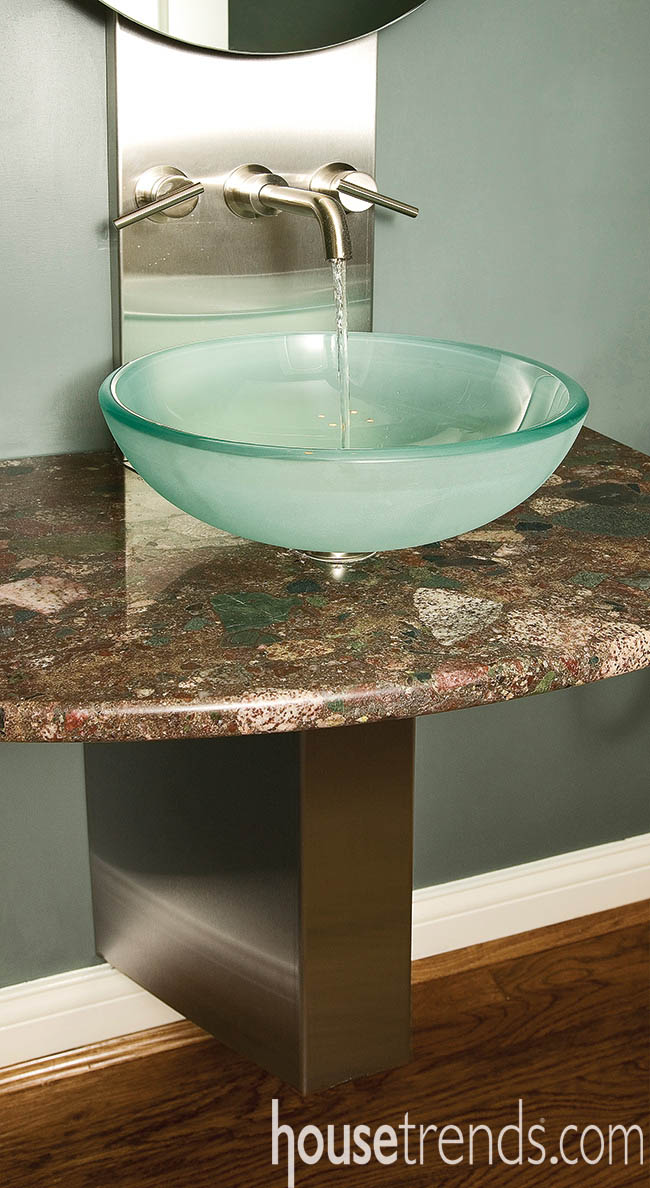 This homeowner's brother, whose metal work is found in several prominent locations around Cincinnati including Adam's Landing, The Taft Museum and Eden Park, created this vanity/mirror combination in this Montgomery home's front hall half bath.
Designer and contractor: Robert Lucke Remodeling
Architect: Joe Brown
Metalwork: Sycamore Street Studio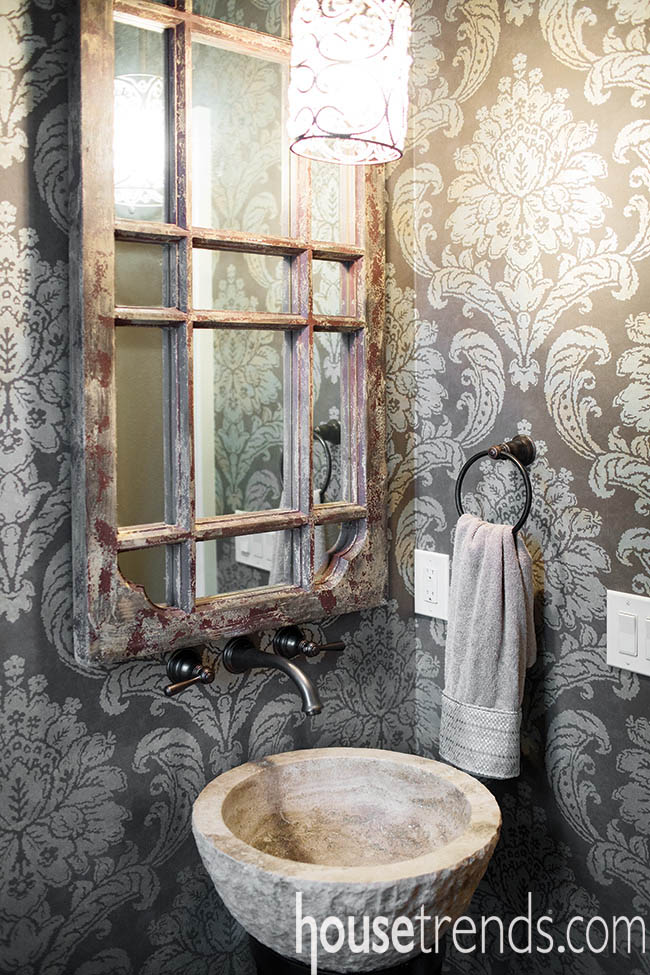 A stone vessel sink and aged-frame mirror fit in perfectly in this powder room, all part of the careful renovation of a 200-year old suburban Cincinnati home.
Designer: Kimberly Fox Designs
Architect: Perry Bush Residential Designs, LLC
Builder: JDH Remodeling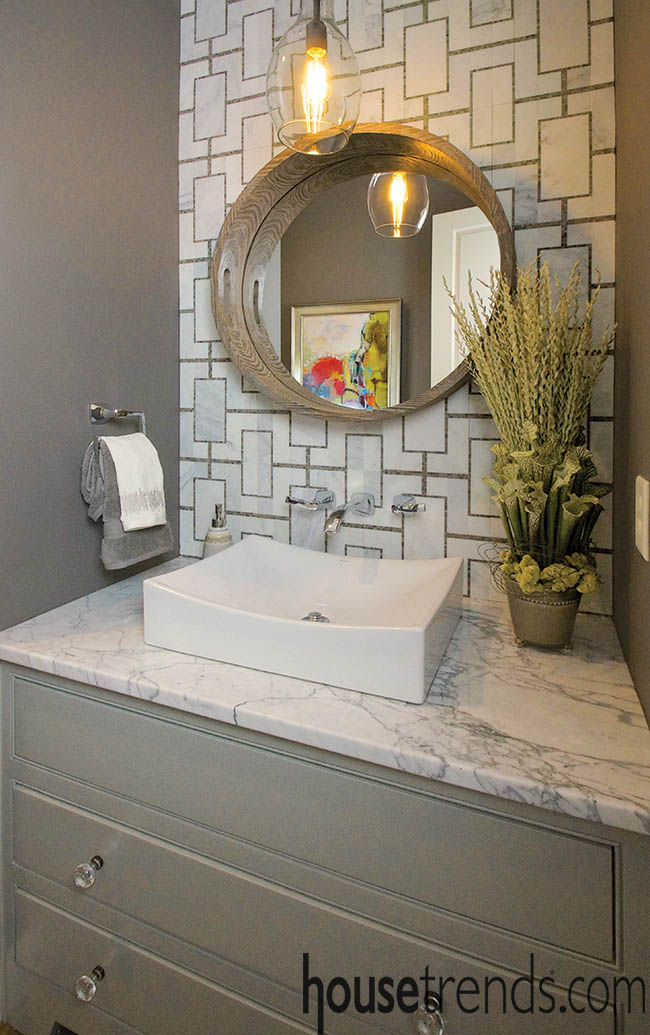 A sink-to-ceiling tile backsplash makes the vanity, lighting and accessories pop in this Cincinnati-area powder room.
Designer: Designs on Madison
Contractor:  Wieland Builders
Architect:  Ken Bowerman
Backsplash:  Florida Tile
Sink:  Winnelson
Counter:  Mont Granite
Vanity:  Profiles In Design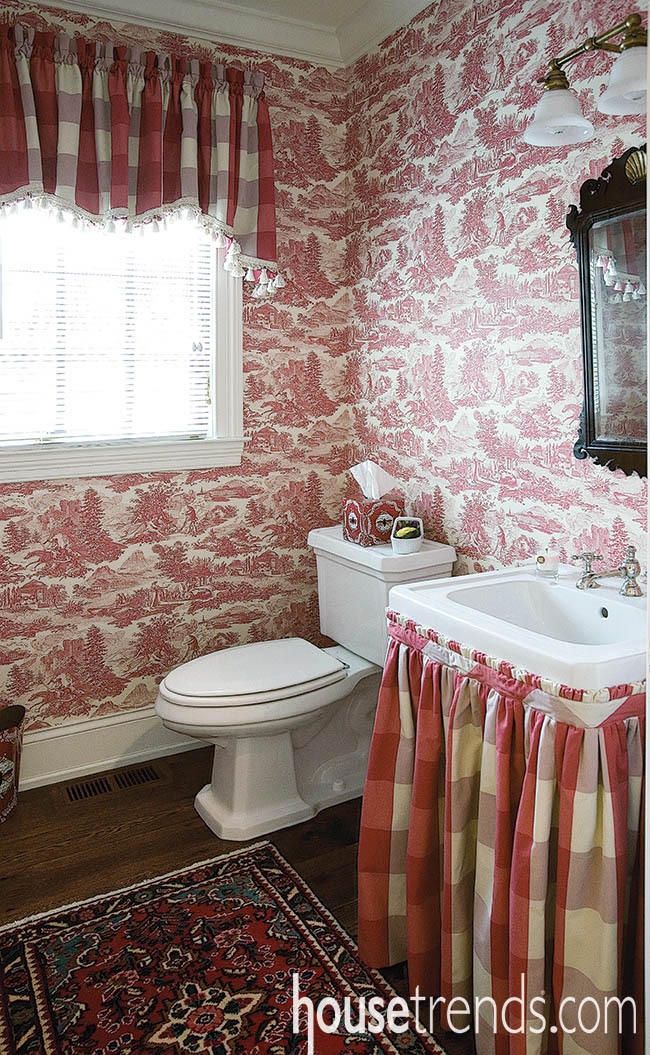 After years of living in older homes, this couple decided they wanted a new home with all the modern conveniences, yet an old feel as seen in this undeniably English Country powder room.
Interior designer: Elizabeth Schmidt Interior Design
Builder: Stewart and Jervis Builders Inc.
Architect: Architects Plus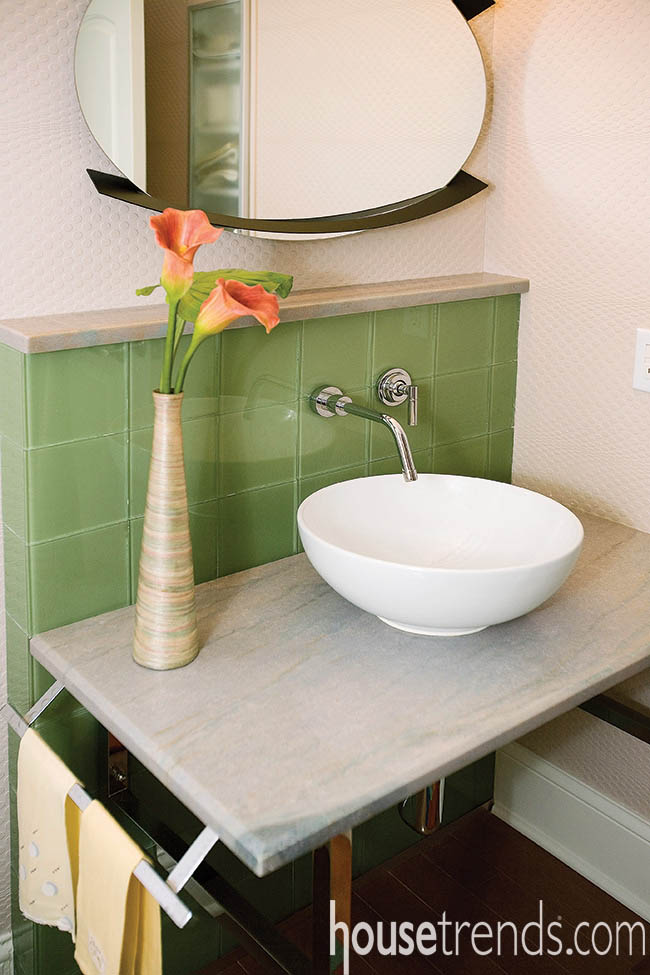 Empty nesters moving from a house in the suburbs of Cincinnati to a condo across town love the crisp efficiency of this space with its green glass tiled wall and vessel sink atop a granite surface.
Design: Evolo-Design
Cabinetry: Profiles in Design
Countertops: Archibalano Arcobaleno Blue granite from Mees Distributors
Vessel sink: Bona Hardware
Glass tile: Mees Distributors
Mirror: Evolo-Design
Light: Becker Electric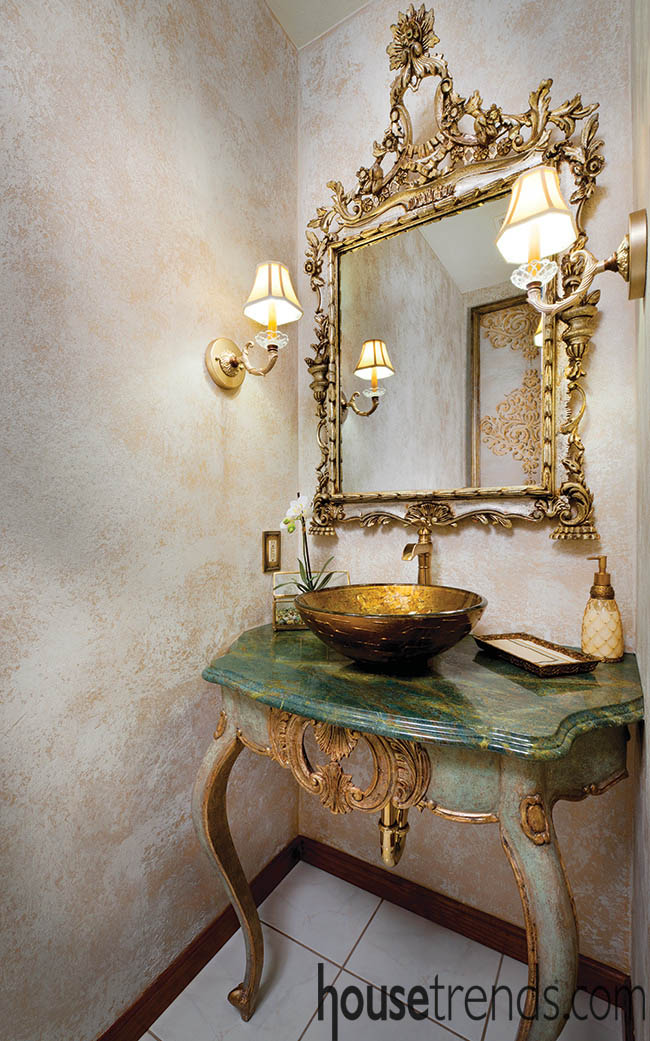 The rich green and gold veining of the granite countertop sets the tone in this ornate Pittsburgh-area guest bathroom. The heavily decorated vanity and mirror add drama.
Interior designer: Amy Speranza, Murrysville Design Center
Vanity: Antique console, Murrysville Design Center
Countertop: Vangura Surfacing Products
Sink: Vigo
Faucet: Kohler, Nicklas Supply
Mirror: Antique Italian mirror, Murrysville Design Center
Lighting: Currey and Company, Murrysville Design Center
Wallcovering: S&J Decorative Finishes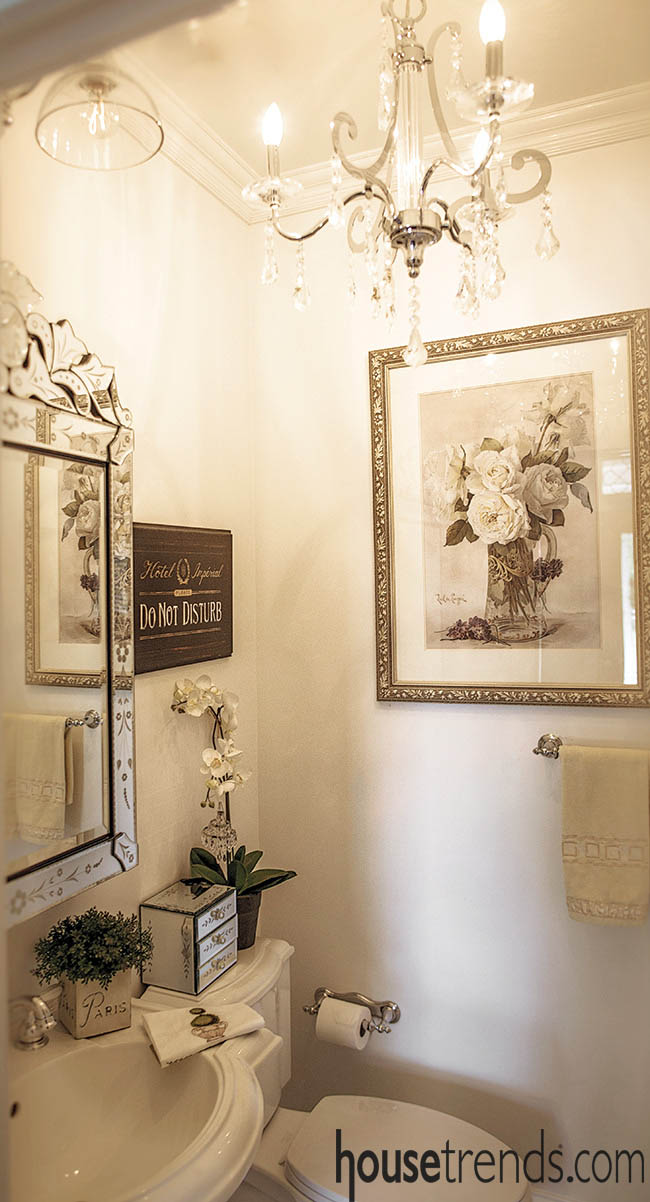 This glitzy powder room in a 100-year-old home receives a glamorous makeover thanks to a crystal chandelier and an eye-catching mirror.
Interior designer: Judy Minegar, Ideas Vintage Market
Sink and faucet: Kohler, Crescent Bath & Kitchens
Medicine cabinet: Afina Radiance Venetian cabinet, Splash
Chandelier: Kichler Leanora, Cardello Electric Supply & Lighting
Vintage art: Paul de Longpre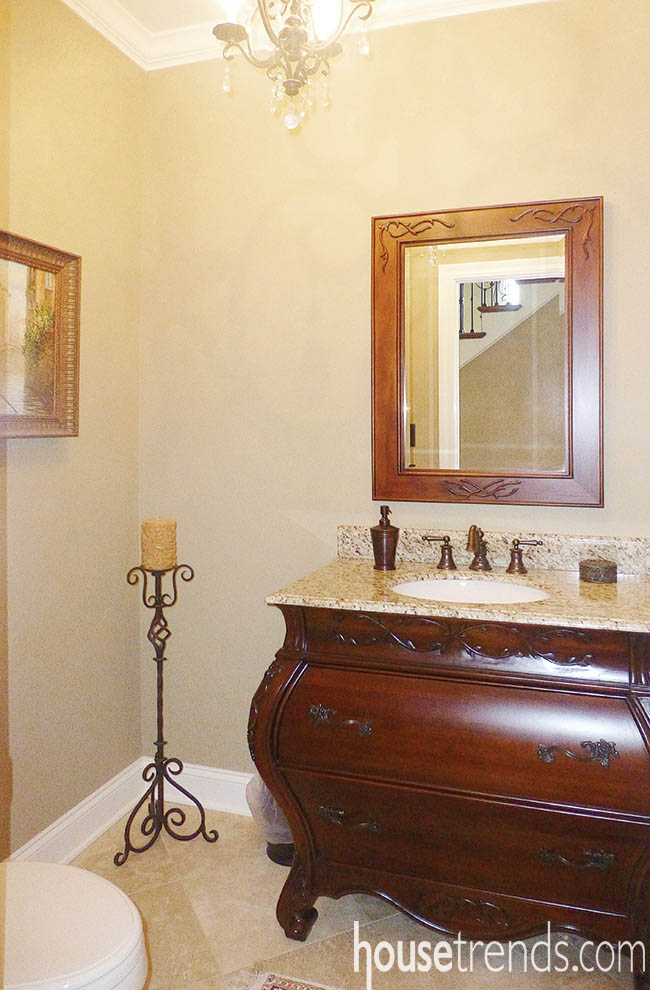 The focal point in this Pittsburgh-area guest bathroom is the dark wood vanity with sensuous curves and carved legs, which establishes an old-world aesthetic.
Builder: Ray Snoznik, R.A. Snoznik Construction, Inc.
Tile:  G Stone
Tile installer: John Frost
Vanity and mirror: Fairmont, Pittsburgh Plumbing
Faucet: Moen Waterhill oil rubbed bronze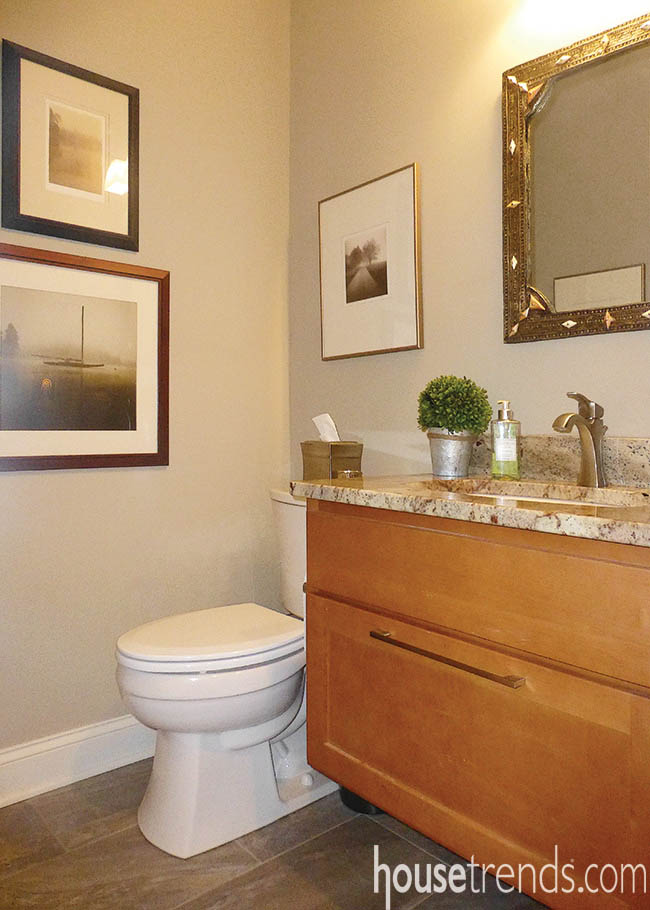 The owners of this Pittsburgh powder room incorporated an impressive mirror purchased during a trip to Morocco. A floating vanity with a sleek granite countertop adds a modern touch to the space.
Builder: Ray Snoznik, R.A. Snoznik Construction, Inc.
Vanity: Maple floating vanity with caramel stain, Natures Blend Wood Products
Countertop: Typhoon Bordeaux granite, Excel Granite
Faucet: Moen Voss
Flooring: Larry Lint Flooring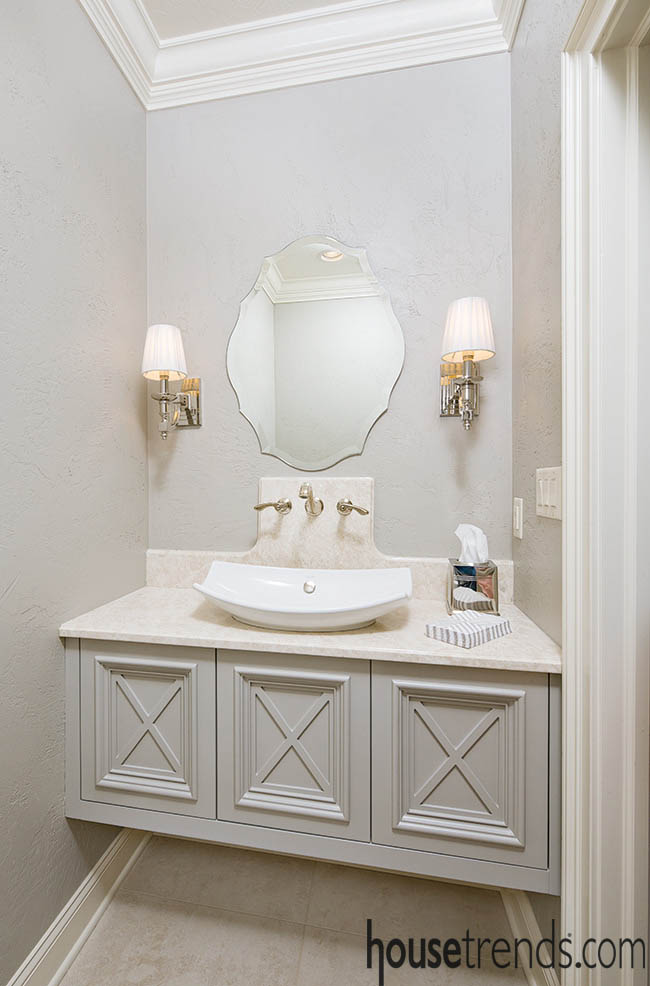 This powder room proves simplicity can make a big statement. The sleek white vanity with clean moldings and a rectangular vessel bowl add a modern twist.
Bathroom designer: Volpatti Signature Renovations
Builder: Costa Homebuilders
Lighting: Metropolitan, Cardello Lighting
Paint: Sherwin-Williams
Flooring: Crossville, Volpatti Signature Renovations
Bathroom cabinetry: Ken Leech
Sink: Kohler, Ferguson
Faucet: Brizo, Ferguson
Mirror: Rex Glass