Summer or winter, rain or shine, a day spent in this outdoor living space will be a day long remembered. More and more families are moving their living rooms outdoors, and Greg and Erica of Adams Township, recall when their patio was just a concrete slab with a table and chairs. "We knew we wanted a big fireplace with a hearth that people could sit on, and we wanted a lot of space surrounding it, but we needed help in coordinating our ideas," says Greg.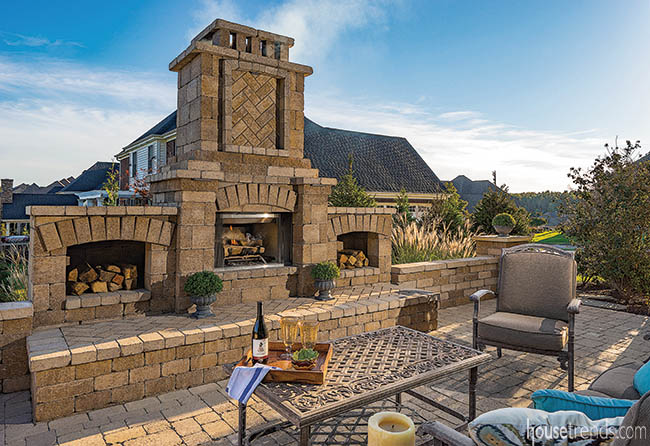 Functional style
The couple brought in Justin Beall, owner of Beall's Nursery & Landscaping, to execute the planning and the installation of the new landscape design. "Being a busy family with kids, it was important to design the space with both style and functionality," says Beall. "Having practical patio space for entertaining, grilling and family functions was a top priority for the homeowners." Also significant, was to ensure privacy through strategic landscape and plantings. Beall's design team began well ahead of the installation process, meeting with the homeowners at the site to discuss their wants, needs and a wish list.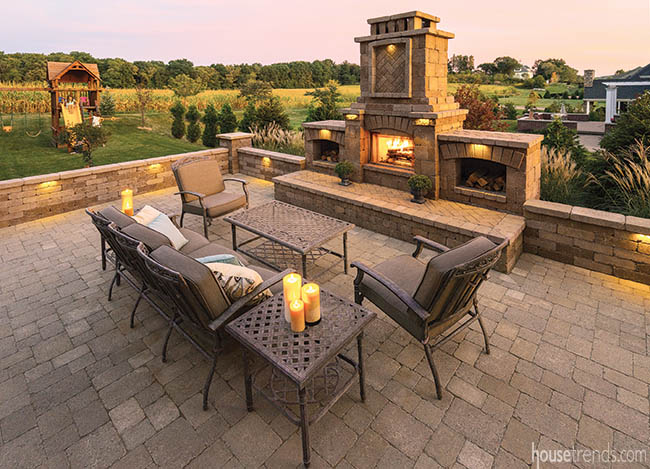 A fireplace for seasonal use was a must-have, and is flanked on either side with purposeful boxes to store firewood. The fireplace was designed to function as a focal point as well as a privacy feature. In addition to the fireplace, trees were planted behind the area to create a wall of privacy on that side of the house.
Although the home sits on just half an acre, Greg and Erica have the visual luxury of seeing 15 magnificent acres of farmland that surround their property. The couple wanted to incorporate the natural aesthetics of the property into their landscape design, so Beall used pavers instead of concrete to add to the casual appeal of the patio. Paving stones have the added benefit of being easy on the feet, and their smooth surface keeps patio furniture from teetering."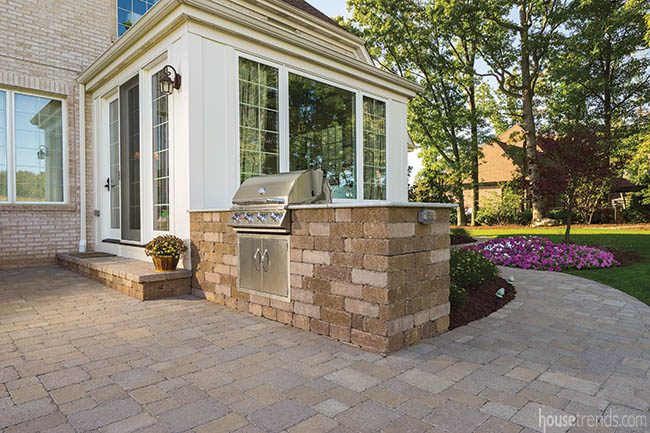 Quality design is a process that creates an outdoor environment that will last a lifetime," says Beall. "They knew what they wanted, and we delivered."
Tasha Thomas, of the R.I. Lampus Company, worked with Beall to supply all of the stone and hardscape products for the job. "The unique thing about this project is that they were able to use Lampus products for every facet of the job, so we supplied everything for the wood boxes, patio columns, fireplace and seating walls."
A jumbo, gas-powered grill is fired up on many summer evenings. "With three kids, we love to eat out there because any meal you can clean up with a leaf blower and a hose is good by me," Greg says with a laugh. "When the kids make a mess, that's all you need."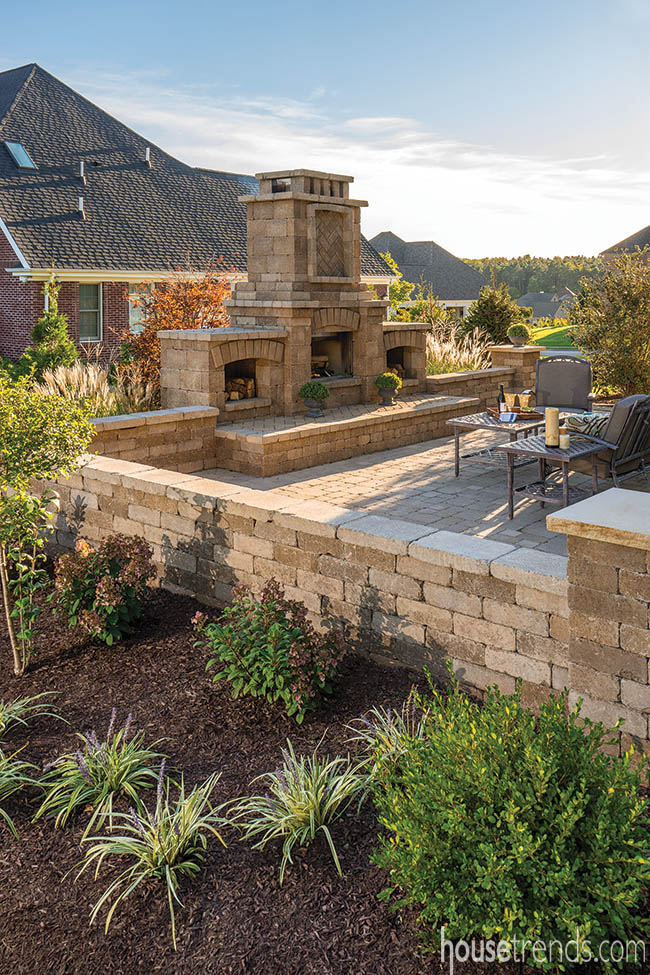 Creating privacy
Greg loves the landscaping walls for their privacy, and for the extra seating that they provide. "It's casual and beautiful, and it feels like we're sitting in a garden." A walkway from the patio to the driveway was incorporated in the blueprint; bending and curving naturally to keep the flow seamless. Also strategic, was the accent lighting installed around the fireplace. The owners used low-power LED for cost effectiveness. "We leave them on every night of the year so that when we're in the house we can still enjoy looking out at everything."
Located in the rear portion of the yard, is a flagstone, kidney-shaped area that the kids use for playtime. Hidden away in a clearing of trees, the couple refers to this enchanting spot as the Secret Garden. "It was my wife's idea to create that area for the kids to play, and it's so pleasant for us to relax there because you feel like you're out in the woods."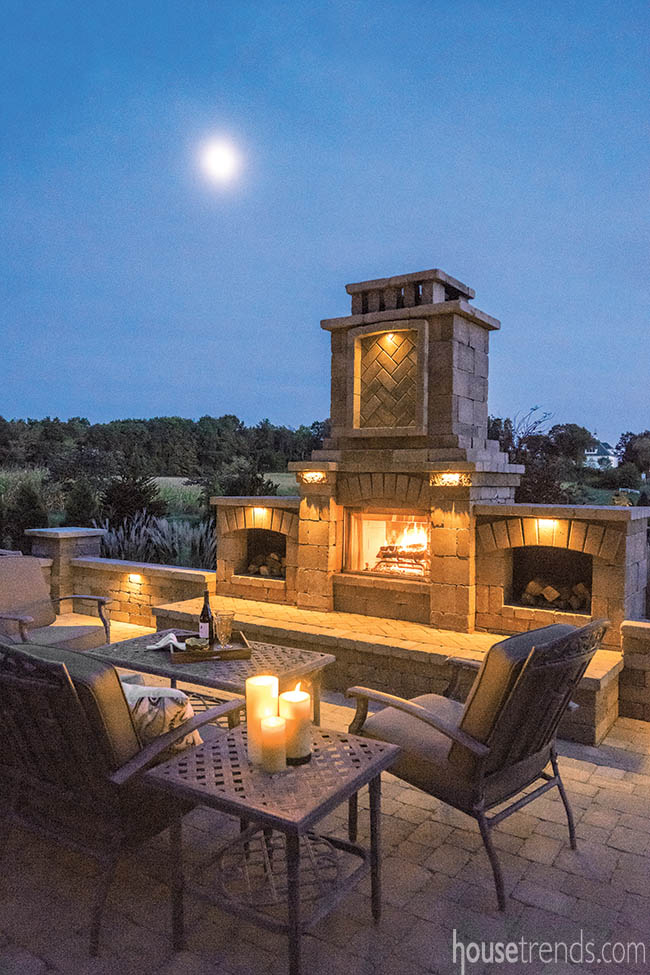 A natural retreat
Back-to-nature takes on a new meaning in this stunning outdoor living room, surrounded by immaculate landscaping. On cool evenings, Greg and Erica make a fire and sit on the hearth, late into the evening, with a glass of wine. "We love it out here because it's like having a special room to retreat to," says the owner. "And, with the wall of privacy that Justin created, we don't see the neighbors, and they don't see us."  It would seem that this couple has a "home away from home" right in their own back yard.
Resources: Landscape design: Justin Beall, Beall's Nursery & Landscaping; Hardscape supplier: R.I. Lampus Company