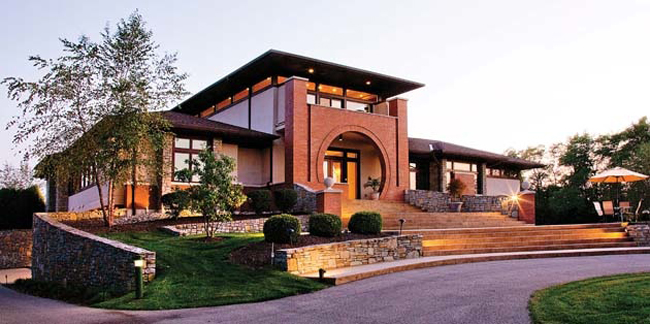 Just 20 miles from the bustle of downtown Cincinnati, Richard Grow's 9,400-square-foot, resort-style house is packed with high-end "estate"-style features perfect for safeguarding a private weekend at home or hosting a lavish dinner party to raise money for a variety of charities.
Grow, president and founder of DEI, Inc. (founded as Design, Equipment and Interiors), the Forest Park-based build/design company that fashions unconventional bank buildings, designed his own home for relaxation and entertainment.
Creating a home that feels couple-cozy and secluded at the same time spacious and accommodating for a crowd was a challenge. But Grow succeeded, mostly by applying what he knows about commercial and retail building design to the project while sticking to principles for a comfortable home laid down by Frank Lloyd Wright, whom Grow holds in high esteem.
"Wright served as the model for the design," Grow said. "I admire how his spaces flow and how he integrated a house into its landscape."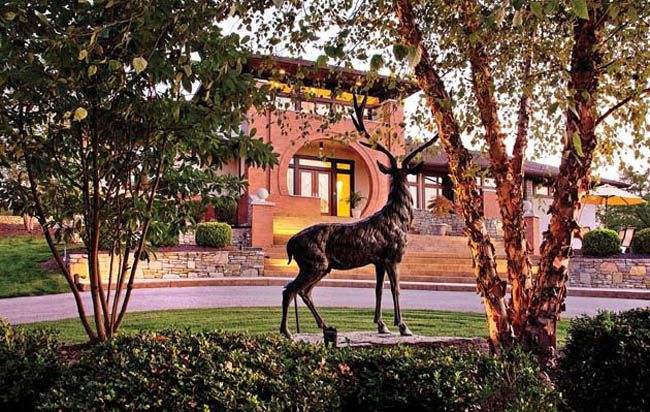 The house feels like a small resort hotel with the most luxurious amenities without losing sight of its down-home, serene qualities.
"Each level of the house has a unique look and feel," Grow said. "But the spaces flow together comfortably."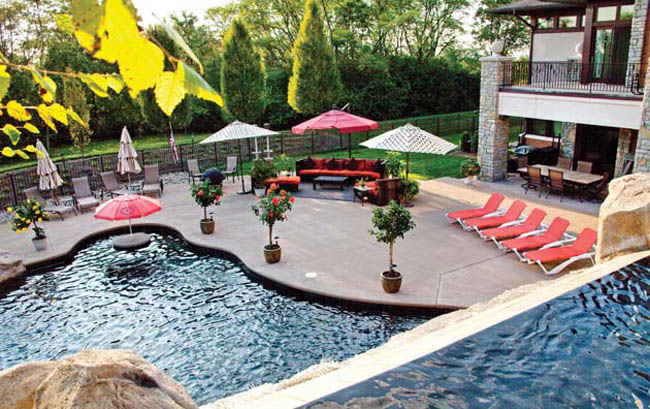 The exterior and interior contrast and complement each other, conveying a sense of gracious living at a relaxed pace in a human-scaled space. Even the extensive pool area—dominated by an irregularly shaped pool with a black bottom so you can't see the depth—is subdivided into functional areas that tame the large, open space by breaking it into a series of restful outside "rooms."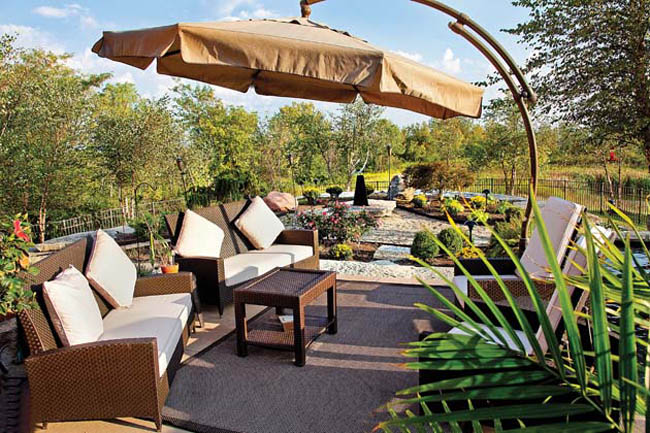 Grow used materials to contrast the hardscape of stones, granite, bricks, and concrete against open sky, greenery, and blue water features. Natural materials like bamboo and rattan seating offer a counterweight to industrial concrete pavers and cut-stone stairs, too.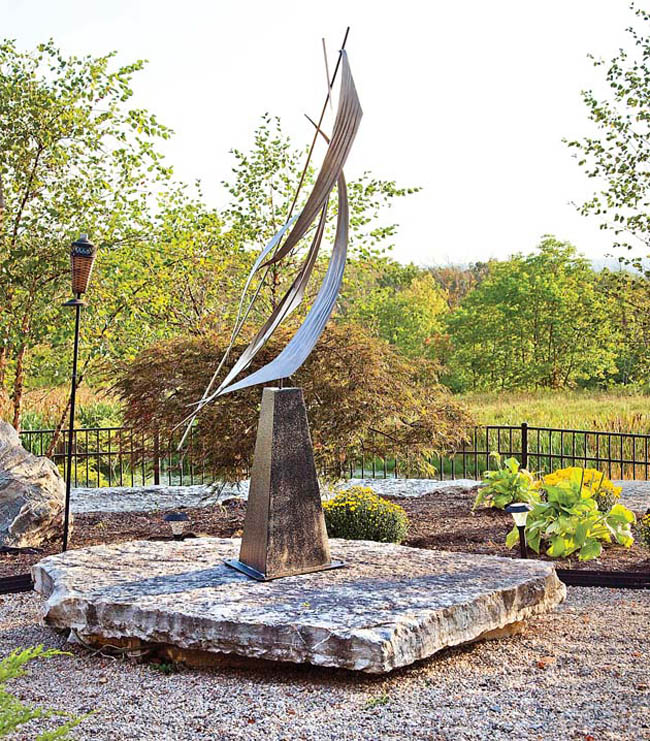 Plantings and stonework surround the backyard pool, waterfall, and lounge areas, where the steel sculpture "Sails" echoes the watery themes of the pool and patio compound.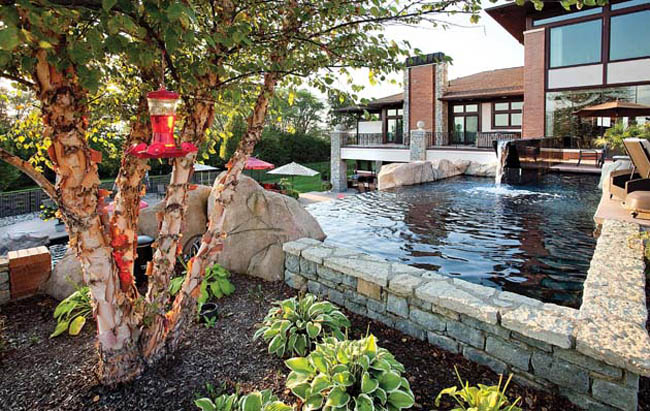 Walls, terraces, and paved open expanses surrounded by greenery are repeated front and back for a sense of organization without feeling repetitious or redundant. In all, the observant visitor will find 36 river birches, which anchor plantings of hostas, potted plants, and lush sweeps of green lawn. Large natural stones are integrated into cut-stone walls to break larger spaces into smaller ones and to provide focal points in the landscape.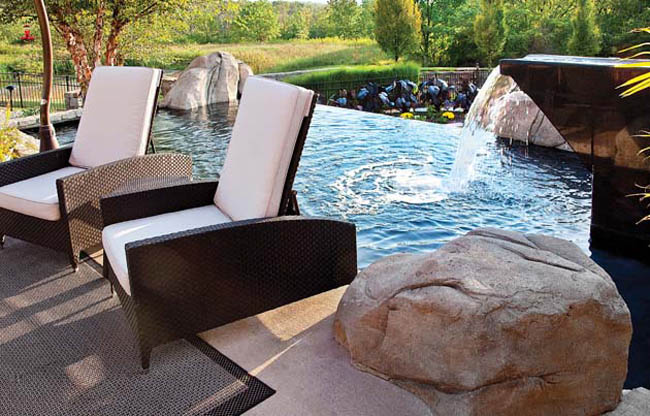 The patio "playground" includes a reflecting pool, waterfall, hot tub, and four seating areas for taking it easy when Grow and his partner, Joyce Wood, are at home alone or to break up larger conversation groups when Grow and Wood entertain more formally.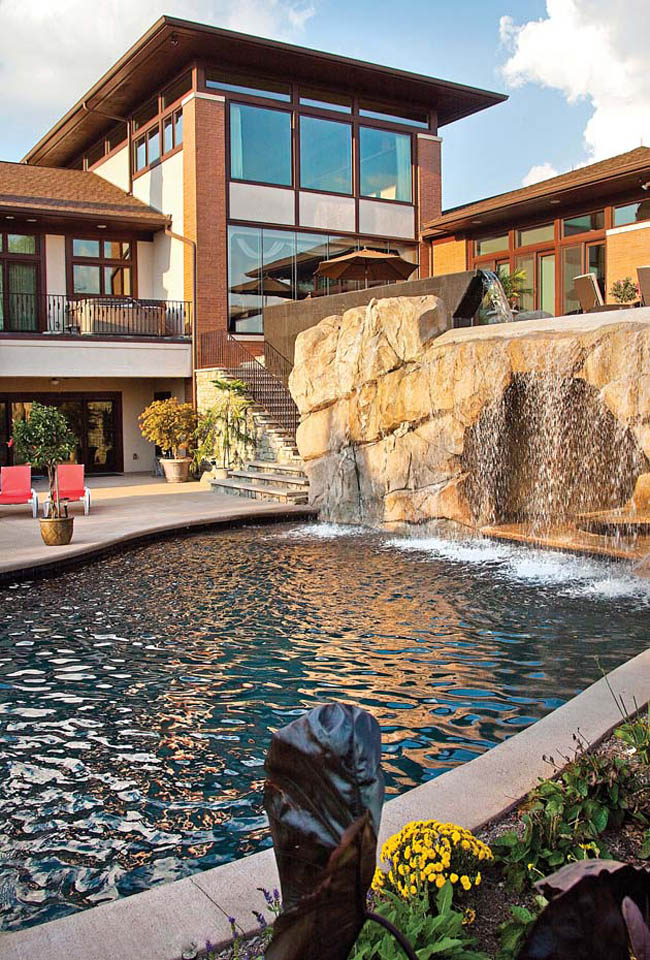 The 25-foot-long reflecting pond is visible through the windows of the kitchen and living room, visually tying the home's interior to the outside landscaping and recreational zone.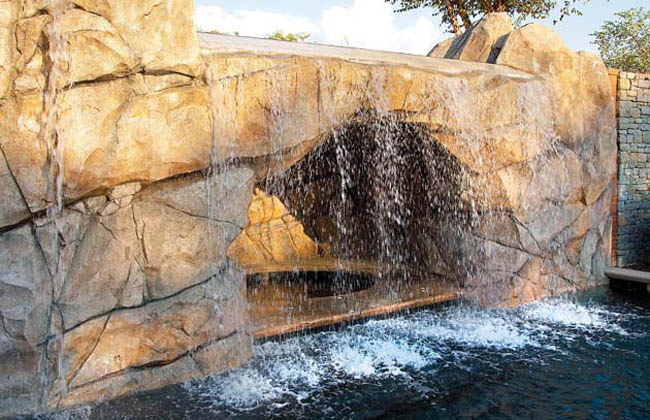 An 11-foot-high waterfall that spills from the pond to the swimming pool was designed by a friend who is a Disney theme park designer, bringing the Disney sense of fun on a grand scale to Grow's more modest back yard.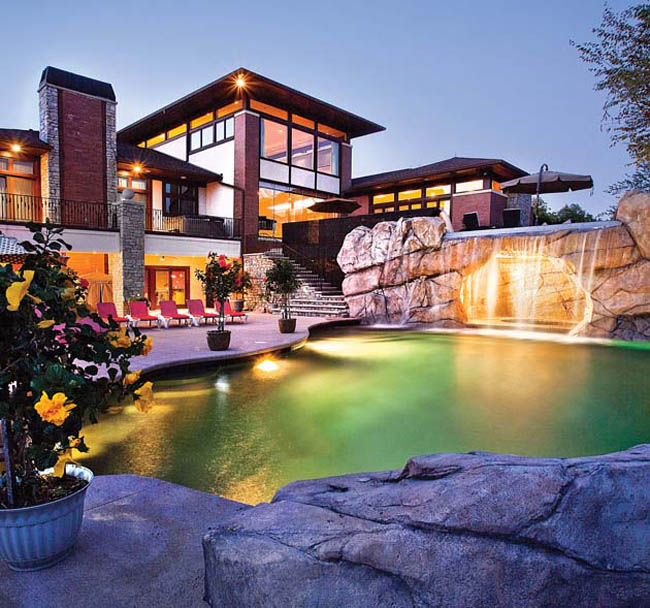 The waterfall spills over into a hot tub in which LED lights sparkle, reflecting the water and sky themes.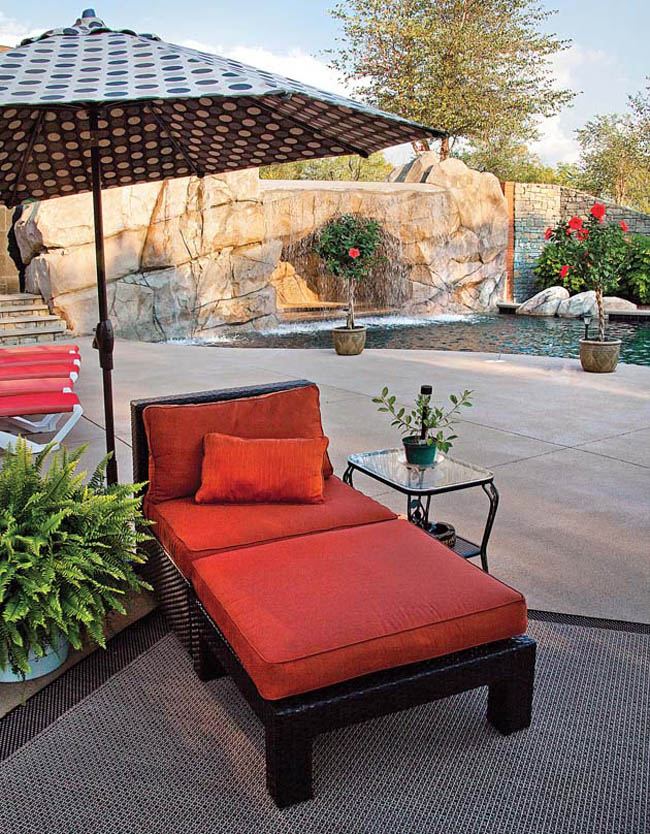 There were more than 2,000 decisions made in the two years it took to design the home. Grow said, "I wanted the place to stand as a counterpoint to the financial buildings I design for banks."
Grow and Wood wanted to bring home the feel of the resorts around the world that they enjoy visiting. You can bank on the fact that the couple loves to show the house off to guests, but they emphasize that it's also comfortable when their grandchildren visit, too. In short, the house is the perfect backdrop for both their private and public lives.