A couple of weeks ago, we were in the mood for something sweet and colorful in the Housetrends office. Meanwhile, I was asked to bake something for my husband's carry in lunch at his workplace. To kill two birds with one stone, I turned to Pinterest. Enter these bright purple waffle cookies, which were an energetic ball of light on our feed last week and irresistible to a group of design junkies like us looking for a new recipe to try.
The recipe itself came from Bakers Royale. It was originally intended to be a "Blueberry Waffle Cookie" recipe, but because my local grocer had raspberries on sale, and I was doubling the recipe, I decided to make it a "Purple Berry" recipe instead.
The recipe also called for quite a bit of lime, which was unexpected, given the absence of the word "lime" in the original title, but I thought it gave a nice, though unexpected, citrus flavor to the cookies.
QUICK TIP: To avoid waste (and measuring), I always round up to using the whole lime if it is close to the amount called for in the recipe. This kicks up the flavor a little bit as well.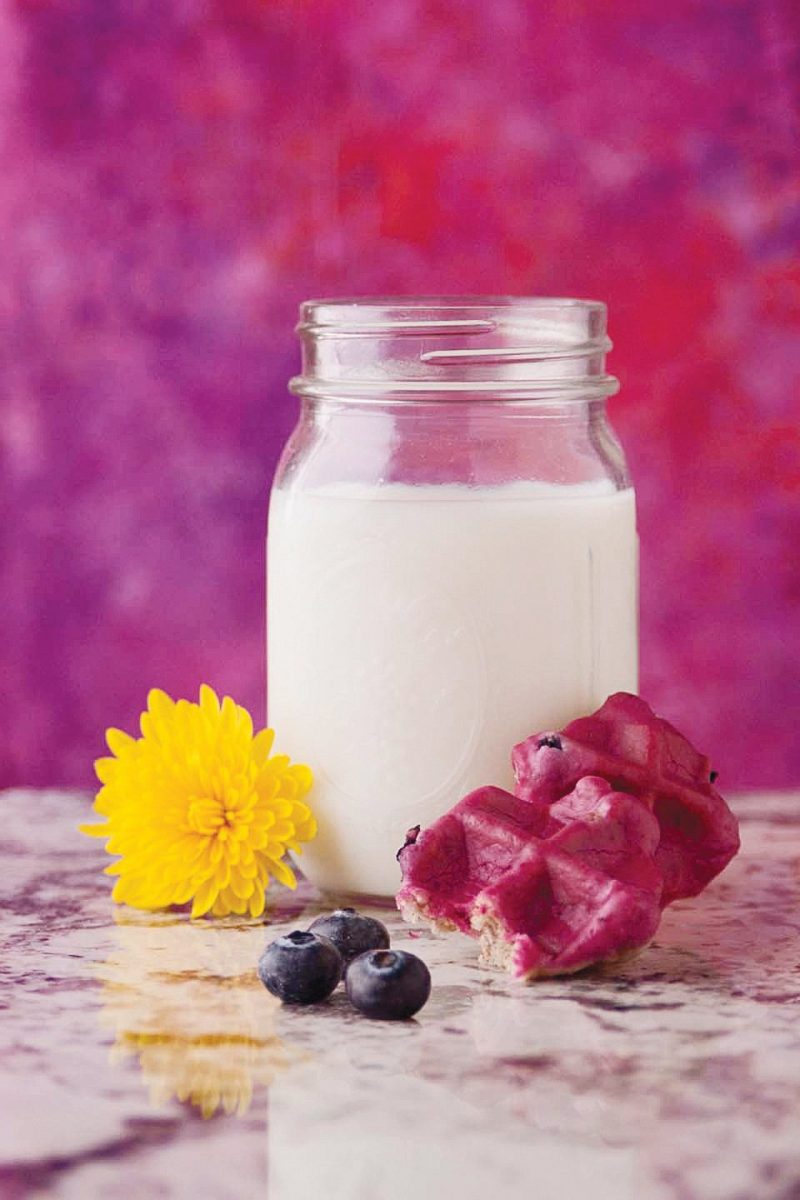 The process to make these cookies was pretty fun. I grew up baking cookies. That always meant following the same routine of dropping dough via a cookie scoop onto a cookie sheet, while another dozen were in the oven baking, rotating the sheets as they come out of the oven and repeating. The process for this recipe was very different from my cookie norm.
Using a waffle iron, I could only bake four at a time in two-minute increments, though, it left little time to work on other aspects of the recipe in between. Luckily, I had a helper in my husband, who worked on the glaze, as I baked and cooled the cookies.
The Housetrends taste testers all seemed to enjoy the finished product, as did my husband's co-workers. Almost everyone pointed out they weren't expecting the burst of lime flavor, but most thought it added a nice extra flavor kick to an otherwise very sweet recipe.
Connie Kimsey photographed the finished cookies on a granite remnant from Cincinnati Stoneworks.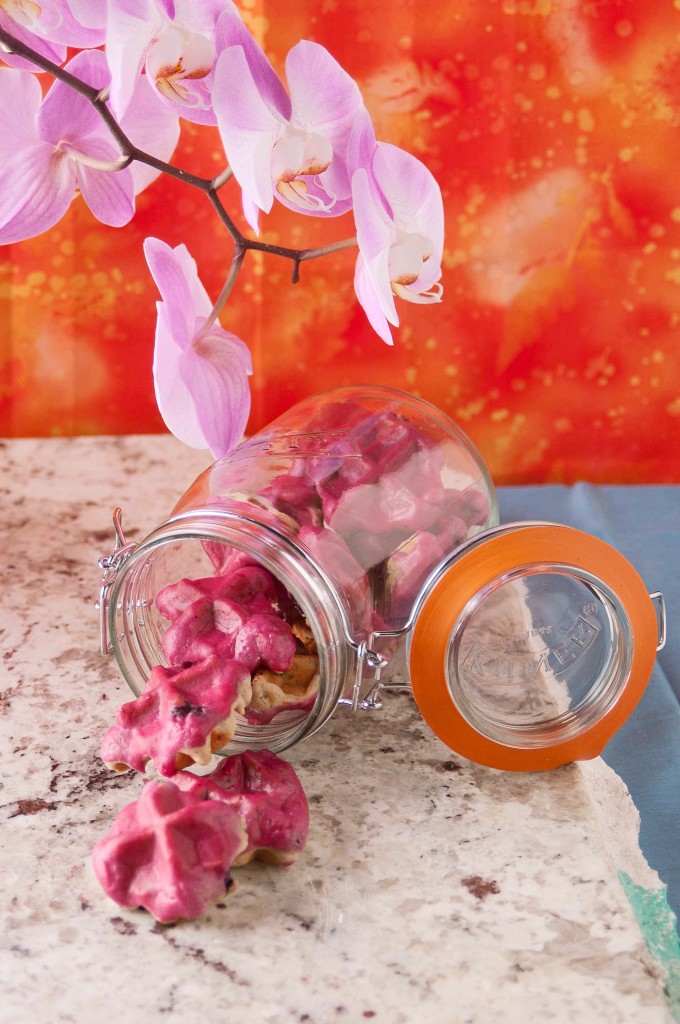 Purple Berry Lime Waffle Cookies
Recipe: adapted from Bakers Royale
Yield: About 5 dozen cookies (doubled from the original)
INGREDIENTS:
1 cup unsalted butter
1 cup brown sugar
1/2 cup granulated sugar
2 eggs
1/2 teaspoon vanilla
2 1/2 cups flour
1 teaspoon baking soda
The zest from two medium-large limes
1/2 of a pint container of blueberries, lightly mashed
1/2 of a half-pint container of raspberries, lightly mashed
Glaze:
1/2 of a pint container of blueberries
1/2 of a half-pint container of raspberries
2 tablespoons water
4 cups confectioners' sugar
All of the juice from the two limes you zested for the cookies
DIRECTIONS:
Preparation: Heat waffle iron and lightly coat with non-stick spray.
Drop four heaping tablespoons of batter (or use a cookie scoop) onto waffle iron to form four cookies. Close the waffle iron and cook for 1-2 minutes or until golden brown. Remove and transfer the cookies to wire racks. Cool completely before glazing. Once cooled, dip waffle cookies in the glaze. Swirl in the air to let the excess glaze drip off, and let dry until the glaze is no longer soft.
To make the glaze:
In a small saucepan, over medium high heat cook blueberries, raspberries and water until mixture resembles thick syrup. Remove from heat and then strain out the berries. Combine the syrup with the confectioners' sugar and whisk until smooth. It will get pretty thick at this stage. Add the lime juice and whisk to combine.