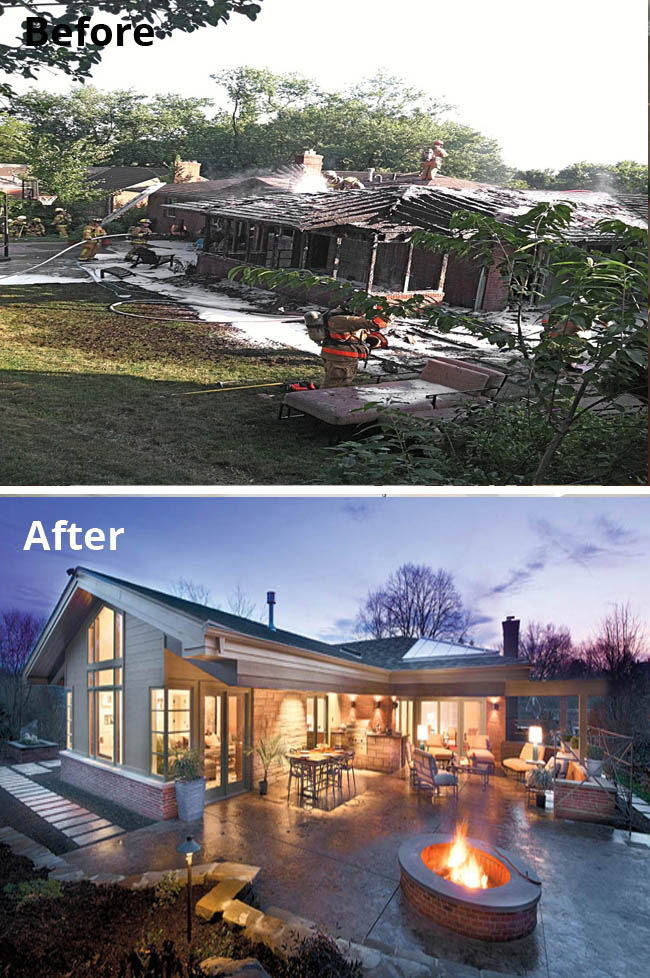 Helene and Regis McQuaide had just celebrated five years of living in their Mid-Century modern home, when it was nearly destroyed by a fire. A candle accidentally left lit on the screened-in porch was the source. Within minutes, the home, and almost all of the family's possessions, were destroyed.  Rather than packing up what little they had and moving on, they decided to stay and rebuild. They wouldn't need to look past their own back yard to find the best man for the job. Regis is the owner of Master Remodelers Inc., which is a full service design and build company. Regis had very specific goals on how he wanted his new home to function and insisted that it be energy efficient, scientifically functional and comfortable throughout.
Cambria quartz countertops were chosen for the kitchen for their eco-friendly components. The nonporous texture is a low maintenance surface that inhibits bacteria growth, making it a practical choice for moist environments. "We reuse many products and some of the green features are things that you don't even see," explains Regis. "The addition was built out of recycled wood from old decks that my company had torn down."
For a couple that is all about entertaining and comfort, there were a few hurdles to get over, "We wanted to have a porcelain tile floor and quartz countertops, so that was going to create an acoustical problem," points out Helene. "Sound would have just bounced off of these hard surfaces."
Regis engineered the solution, and had sound absorption panels built into the ceiling. This would allow people to comfortably interact in the kitchen and not overpower what was happening in the family room.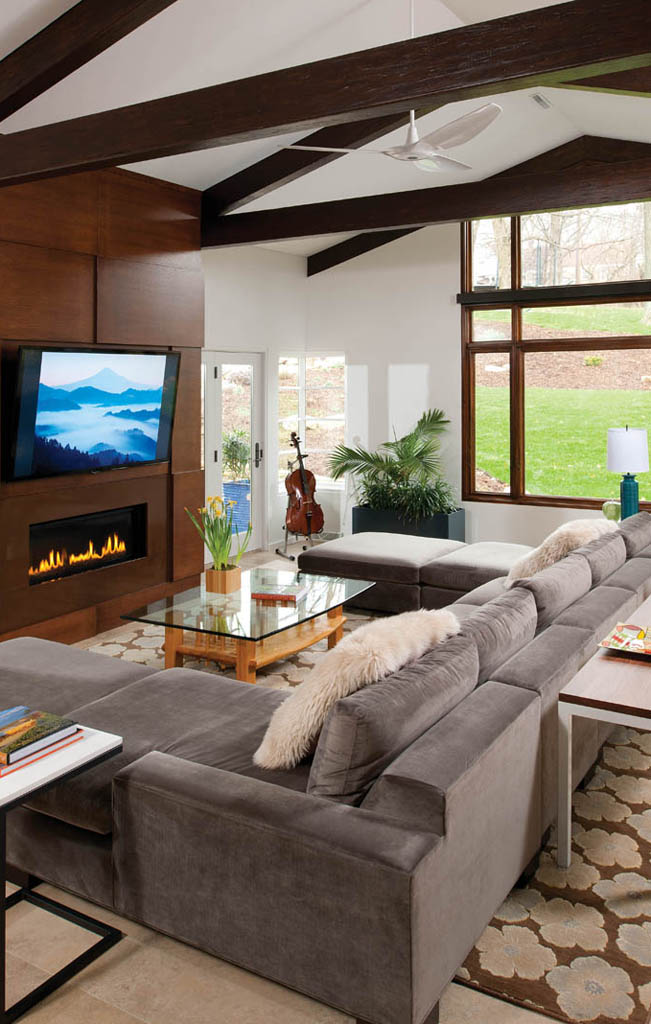 As for the family room, the floor-to-ceiling windows are high performance with less energy loss. They have been glazed with a metallic material that reflects light and at the same time, protects upholstery."I wanted the family room to be casual, comfortable, and forgivable," says Helene. "Everything was designed around function and entertaining."
Each living area and bedroom is on its own individual thermostat and can be heated according to individual need. Floors are warmed with radiant heat. "We always try to buy American furniture, to buy locally and to repurpose things," Helene points out. "Some of these things were in office buildings or in other people's homes."
To aid in the entertaining factor, the home is equipped with stealth speakers that can be heard, but not seen. They were imbedded in the drywall and placed strategically throughout the space, adding to the perfection seen-and unseen-around the house.