Executing a bathroom remodel project in a 1960s home will generally throw a few curve balls, but that wasn't a deterrent for two transplants from New York. When Laurel and Alan Freeman purchased their contemporary, mid-century home, they knew exactly what they wanted, and meticulously developed a plan to do it. Laurel, an interior designer and principal of Laurel Interiors, relocated to Pittsburgh with her husband and began the renovations prior to moving in. The couple brought in contractor Carl Lieberman, owner of Lieberman Group, to do the overhaul and Liz Murphy, of Liz Murphy Design, who acquainted them with some of the local resources in Pittsburgh.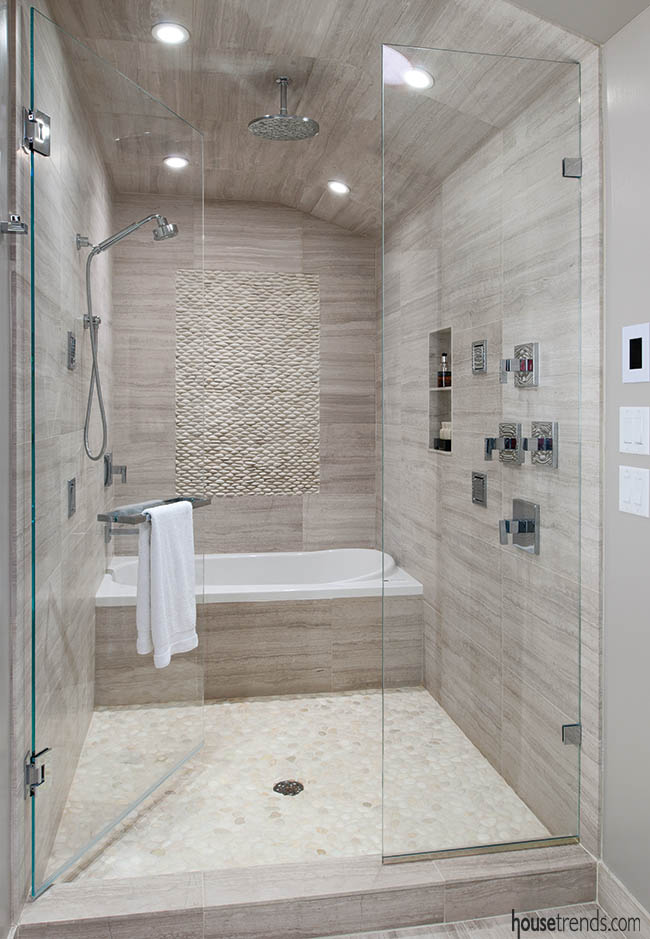 The couple wanted to have a shower and bath chamber, so both were merged into one contained space. Substantial floor to ceiling shower doors give a grand entrance, but are simply a means to prevent water from wetting floors or splashing the vanity. "It's an adult space that is kid friendly," points out Laurel. "We have a soaking tub for adults, but it has a wide lip which allows us to sit on the edge while we bathe our child."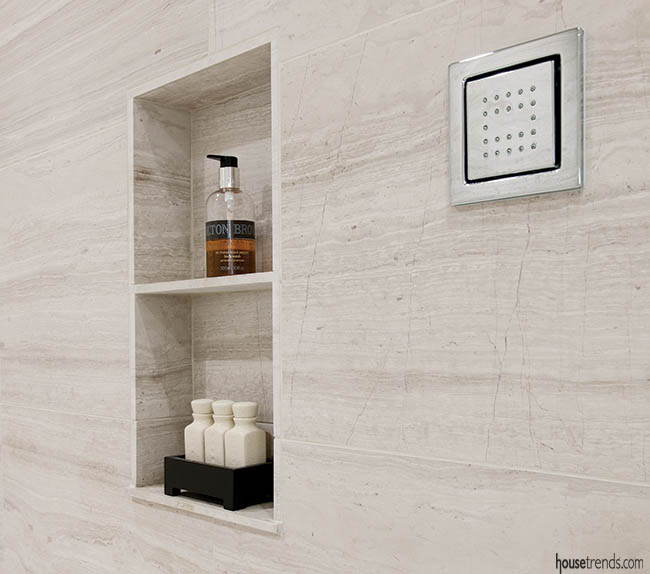 Athens Silver Cream, a light and neutral marble from Ann Sacks, covers the walls and floor of this spacious chamber. The striking cream marble is characterized by a threadlike striated pattern that is delicate, yet distinguishing.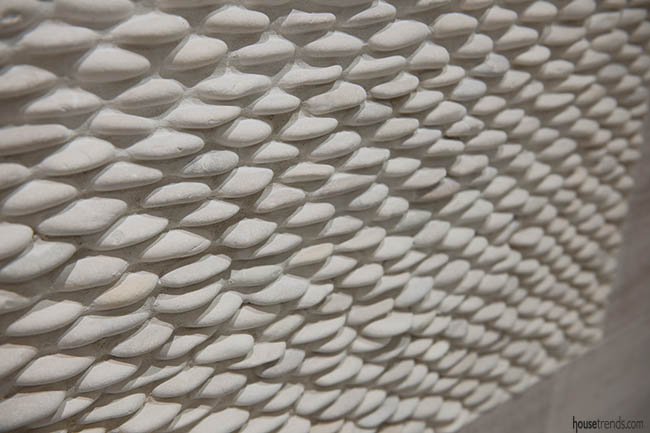 A rectangular pattern comprised of stone pebbles was added to the back wall above the tub to create textural interest without adding any color. The pebbles generate a spa-like backdrop, giving the bathroom a natural and earthy feel.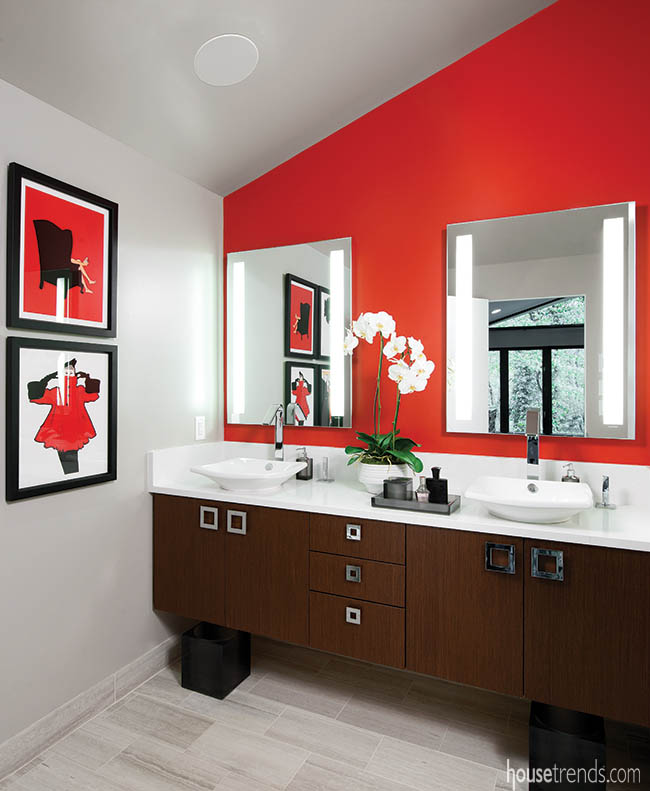 To play against the soothing neutral tones, Laurel decided to warm things up a bit with a splash of red. Playing off the red accents in their master bedroom, the spicy hot wall sets a great backdrop for the orchid plant and white fixtures. Walls are illuminated by a set of electric mirrors with built-in lighting tucked behind them. Subtle lighting was also installed below the wall-hung vanity and adds a warm glow across the tile floor.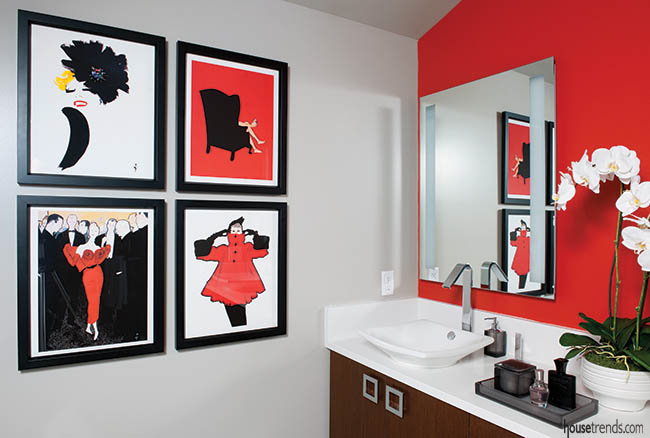 Loure faucets, by Kohler, add a blend of graceful design and cutting edge functionality. The faucets allow for precise water flow and temperature control, and feature a low-flow aerator that allows for water savings of up to 30%. They are a discreet complement to the square motif that is repeated throughout the shower and tub fixtures.
Four playful prints add whimsy to the room, and a dramatic pop of color. "They are very clean and architectural," points out Laurel. "They lighten things up and add a little humor to the space." The overhead Solatube skylight was installed to shed some much needed natural sunlight in a room without windows. It's a flexible tube that winds its way through the ceiling, allowing sunshine to be reflected into the room.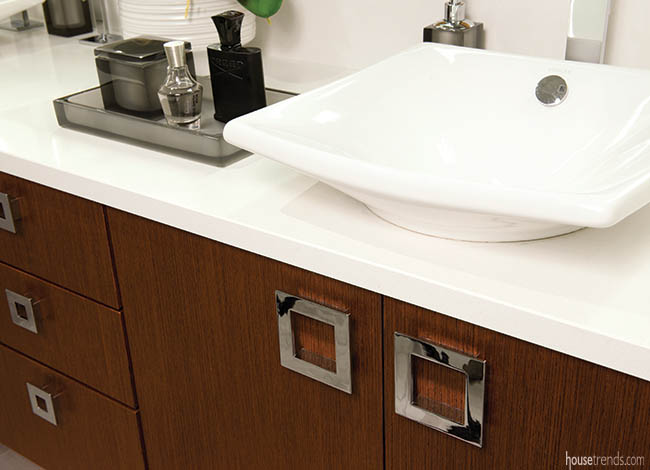 The house was constructed as a contemporary home in the 1960s, and the couple kept with the integrity of that time period during the bathroom remodel. At all times, their focus was to make sure that the decorating style would be sympathetic with that type of architecture. Their bathroom takes on that concept with the cathedral ceilings, and long narrow space, but brings it into the 20th century.
Resources: Interior designer: Liz Murphy, Liz Murphy Design; Contractor: Carl Lieberman, Lieberman Group, Inc.; Cabinetry and countertops: Leggett Kitchens; Bathtub: Crescent Supply; Sinks and faucets: Kohler, supplied by Crescent Supply; Shower door: Rex Glass; Mirrors: Electric Mirror; Wallcovering: Hobbs Painting; Flooring and wall marble: Athens Silver Cream, Ann Sacks; Stone pebbles: Pebble Tile, Island Stone, supplied by Ceramiche Tile & Stone; Cabinet hardware: Habitat Hardware; Accessories: Jonathan Savage Interior Design