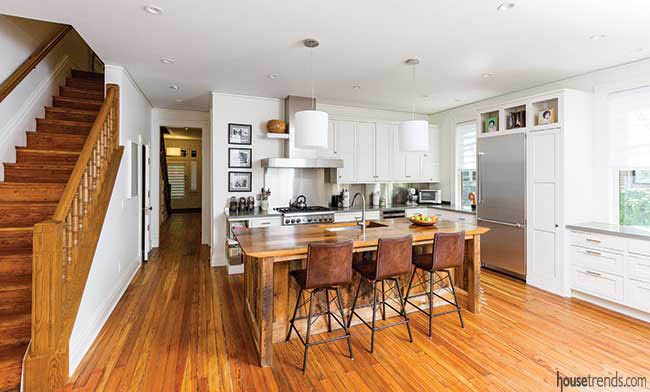 It's a frigid morning in the Ohio Valley. The first day of February, and Kathy Holwadel is doing what she loves. She's watching two of her three grandsons while their mother is at work. "My twin grandsons are sick today, so I apologize for any interruptions," Kathy says at the beginning of our phone call. She reassures me they will be fine after I offer to reschedule our interview. "I can tell they don't feel 100 percent because of how quiet they are, but it's not too serious. I love having them for the day."
When Kathy decided to move from the Cincinnati-side of the river to Newport, she had one requirement: Her house had to accommodate the two loves in her life—her grandchildren and her art. "Everything had to double as being sophisticated and practical…kid-friendly," Kathy says of her renovated, Queen Anne Victorian. Because she knew this would be no easy feat, Kathy put her complete trust in Chris Kepes, founder of Kepes Architecture, to guide her along the way.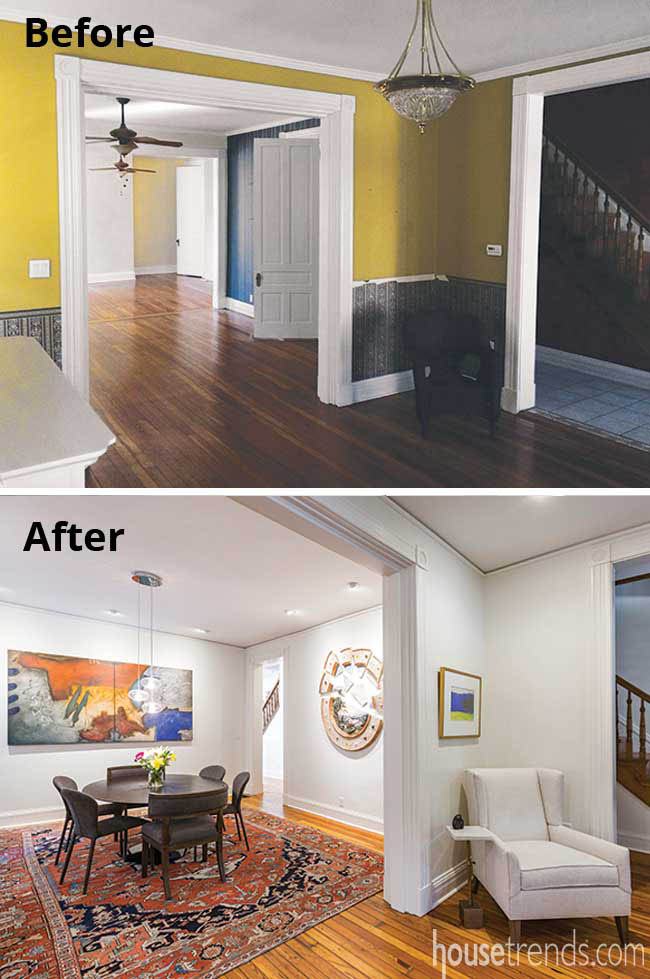 One bad apple
Kathy first saw Kepes' work at a friend's home he had designed. "I really liked what he had done, so I contacted him to go and look at a property I was thinking about buying," she says.
"We walked through the home, then sat down at a coffee shop and spent an hour discussing her options," Kepes says of that first home tour. "It didn't seem like the right fit for her, which meant I didn't have a project at the time, but I want my clients to be happy and to trust me. I was honest with her and she decided not to buy. About a month later, we found this house."
Metamorphosis
"I should have been looking for something more practical, where I could grow old, without these steep steps," Kathy says, with a laugh, of her three-story home. "But this house—and these kids—will keep me young whether I want to be or not.
"The house was such a great metaphor for my life transformation," she adds. "It was me putting together a whole new me."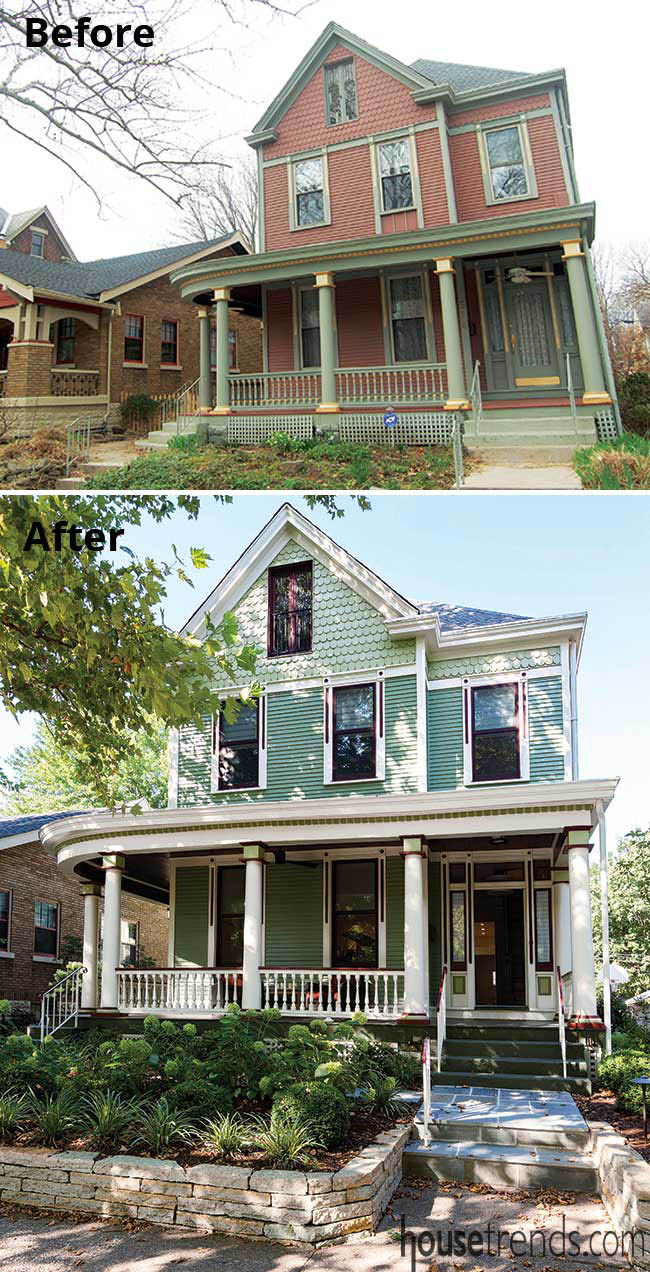 What Kepes enjoyed most about this project was that they remodeled the exterior of the home to the historical standard, but transformed the interior to a very clean and open floor plan with simpler finishes. "I really like the contrast of the interior and exterior," he explains.
While Kepes knew the challenges of working with an old home, Kathy was a bit naive going into the process. "I thought it would be done in three months, and it took a year and three months," she says. "But Chris did a fantastic job of pulling it all together and keeping me sane."
"I always expect—and tell my clients to expect—things behind the walls," Kepes adds. "In an old home there is no way to know what we're up against until we get in there."
Kepes says there were typical, old-home problems that needed to be addressed during renovation but nothing catastrophic or majorly alarming.
The home, originally built in 1896, had been converted back and forth between a single to a multi-family residence; so there were awkward hallways and doors. The space was also very dark, so the two main objectives were to open and brighten the house.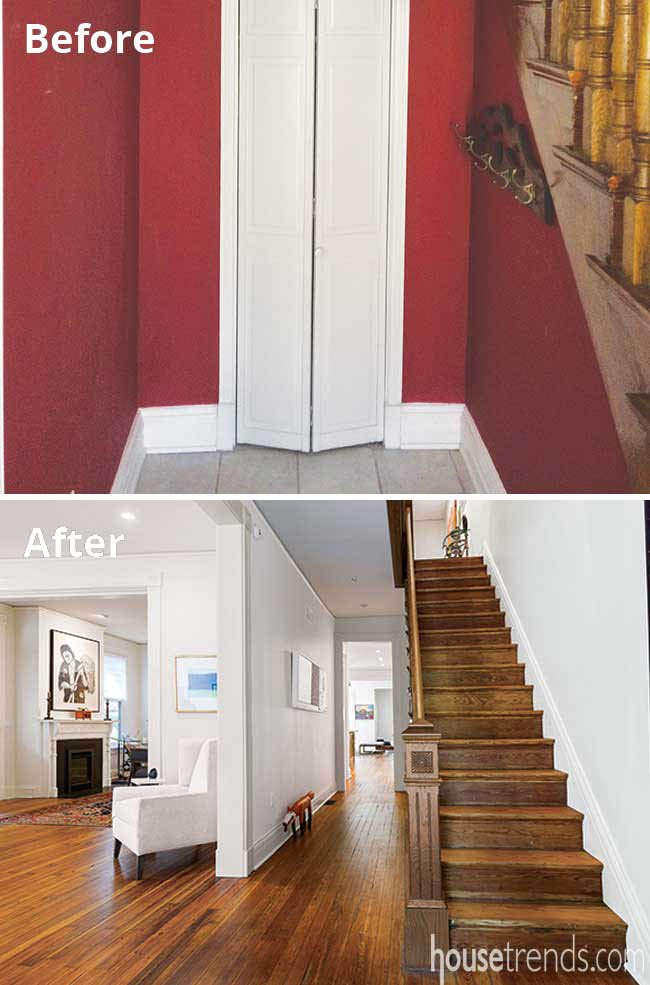 The entry door opened to a staircase and closet that closed the space. Behind the closet was an unsalvageable bathroom, so Kepes decided to open the hallway and create a central artery traveling through the main living area that connects the parlor, dining room, kitchen and sunroom.
The kitchen, formerly located in the current sunroom, was walled off. A structural beam was added in the ceiling, allowing the construction team to open the space for the current kitchen and refurbished back staircase. "Moving the kitchen to where it is now is the key to why this floor plan works so well now," Kepes explains.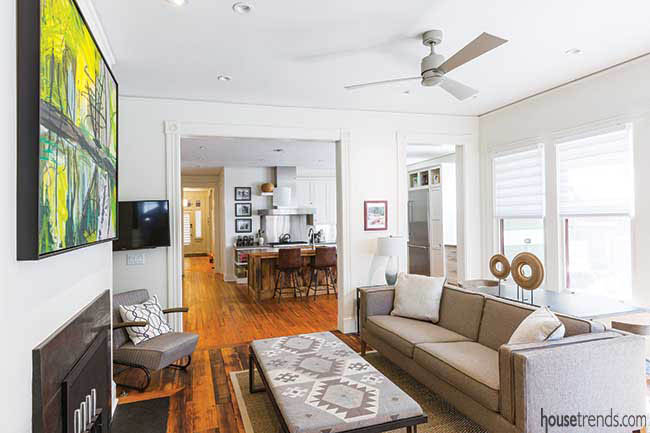 One of the difficult decisions Kathy and her architect had to make was determining what to keep and what to replace. The sunroom, the former kitchen, had fairly new cherry hardwood that had been installed during a previous remodel. However, it was not in keeping with the other hardwood throughout the home. Kepes removed the cherry flooring and used salvaged pine from an old church.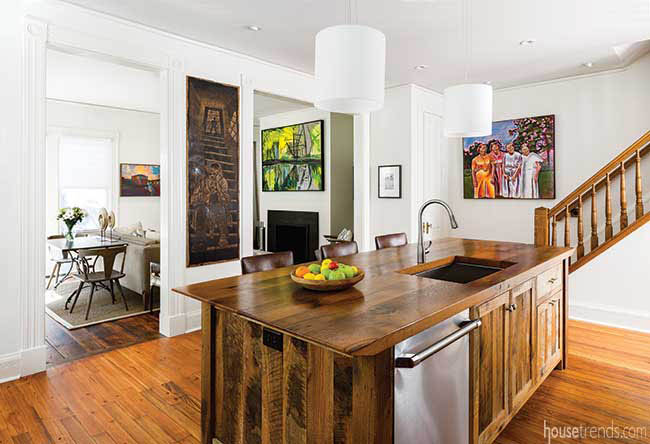 Kepes designed the white kitchen, with cabinetry built and installed by Legacy Kitchens of Newport, to blend nicely with the white walls, allowing the woodwork to pop.
Kepes then worked with Bench Made Woodworking, of Cincinnati, to build the kitchen island out of reclaimed oak. "It's all from a cattle barn from the 19th century," he explains.
"Chris did not allow me to take shortcuts," Kathy says. "Even when I wanted to throw in the towel—he would say, 'No, Kathy. We're going to do the concrete countertops in your kitchen.' It was a little harder, but he treated my whole house like it was a work of art."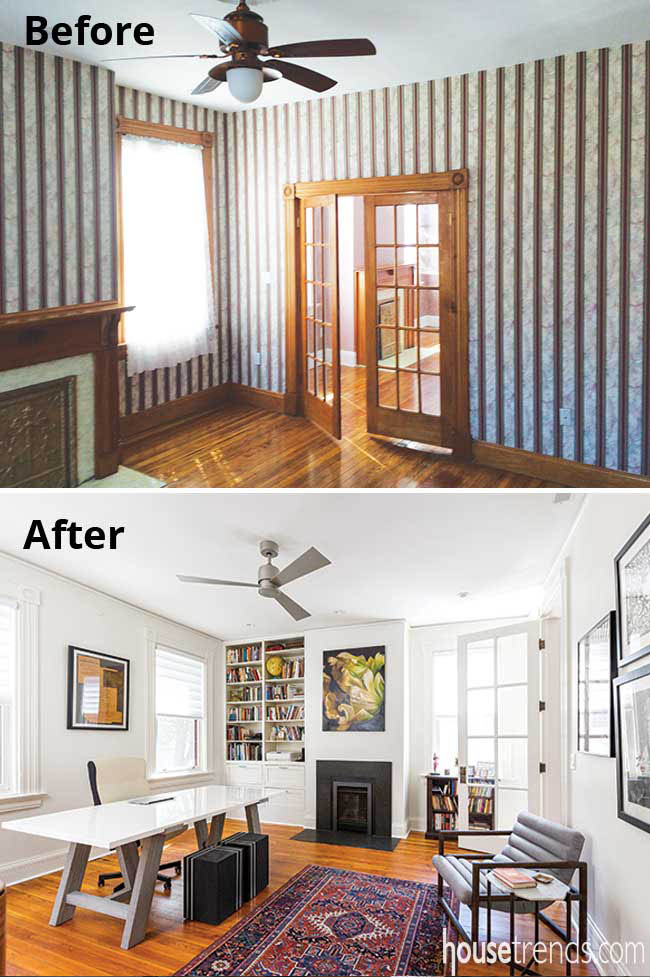 The gallery
"Clean. A white interior so she could hang her artwork," Kepes says when describing the interior design inspiration for Kathy's home. "Lighting was also very important. We had to make sure every piece of art was lit properly."
Kathy, who has been collecting her art for more than 20 years, says she is embarrassed to call herself a "collector," as it sounds very official. Her "gallery" includes a blend of local and international artists, yet her selection process has nothing to do with status or prestige.
"I don't pick my art. My art picks me," she explains. "I have pieces in my home that took me two, three, four years to understand. One day I'd walk by and say, 'Ah, that's what that means.'"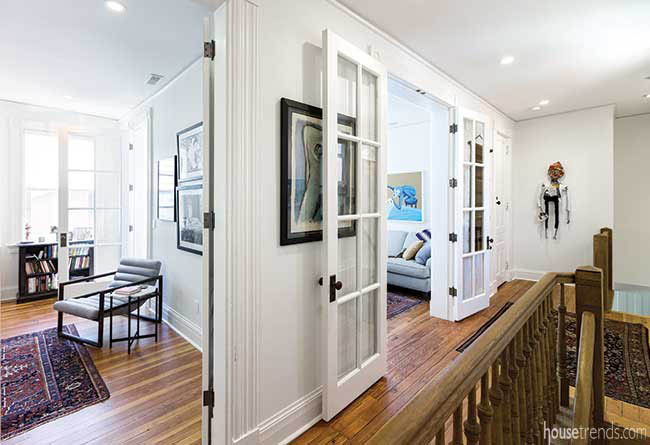 Kathy started purchasing art to explore social issues, such as race and class, and her own personal relationships and emotions. She started locally and then expanded to regional, national and international purchases. A Wolf Kahn abstract landscape that hangs in her living room was Kathy's first big purchase. "But I had no idea who he was," she admits. "That's been 20 years ago.
"I've got a two-hundred dollar snake displayed beneath a piece that I won't tell you how much I paid for…but it's not about the price.
"Each of these artists, whose work I have, has made my life a magic adventure every single day," Kathy says. "How do people make sense of their crazy lives without art?"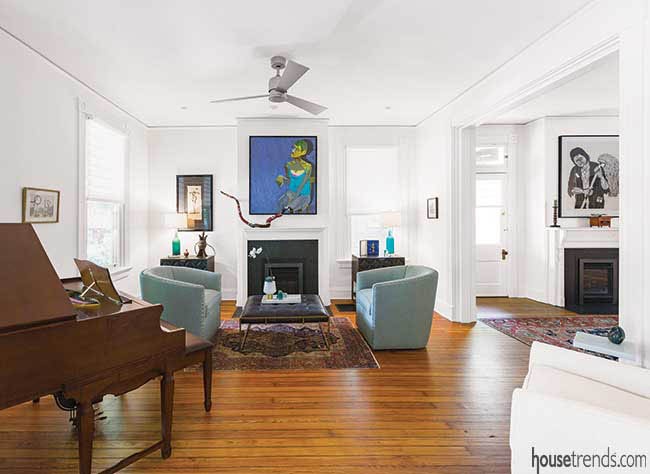 No grandmothers allowed
While the artwork is for Kathy, there are some special spots hidden throughout the house just for the grandkids.
"The house has a basement, which I thought was a throw-away space, but Chris and the team at Stegman Construction had the fantastic idea to create a rainy-day playground down there for the boys," Kathy explains. "They installed a secret passageway with a trap door to a slide that goes down to a sandbox and tire swing."
The third floor of Kathy's home has fire-engine bunk beds for the boys.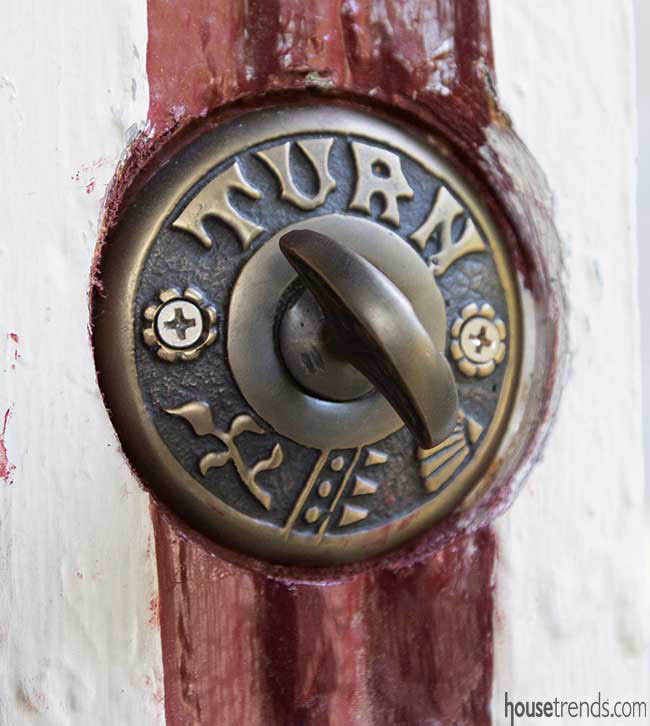 Come on in
"I have a new house, but it's in an old shell," Kathy says of a specific design decision she made with Kepes. "We had to honor what was here before, so we used all antique—mismatched—door knobs."
Kathy says you could walk around her house for a year and still find a new detail on one of the doorknobs you hadn't seen before. She collected them from her new neighbors, traded a refrigerator for some more, and her builder even got in on the fun.
"So every knob and hinge in the house is old and different, and it gives the house some old energy," she explains. "Chris and I spent a morning with a bucket of knobs deciding which would go where."
Kathy could not be happier in her new, old home. And besides the basement and third floor, which are for the grandkids, she says she goes into each room every day.
"I start out in the parlor. I get my cup of coffee, and turn on the fireplace insert. And I will put a roll on the player piano. And then I will move to the sunroom, where I will light a fire in the wood-burning fireplace on special occasions like New Year's Day. At night, I move upstairs and relax in my sitting room to read before going to bed."
Resources: Architect: Chris Kepes, AIA, Kepes Architecture; Builder: Stegman Construction; Lighting: Switch Lighting and Design; Furniture: Bromwell's; Flooring: Reclaimed pine, Ohio Wood Connection; Window treatments: Allure, Max Scenes; Windows: Marvin, Marsh Building Products; Fireplace: Valor insert, Bromwell's KITCHEN: Cabinetry: Crystal, Legacy Kitchens; Custom island: Bench Made Woodworking; Countertops: Concrete, Distinctive Concrete Designs; Backsplash: Stainless steel, Top Notch Sheet Metal; Sink and faucets: Kohler, Keidel; Appliances: Thermador, The Appliance Loft; Range hood: BlueStar, Legacy Kitchens