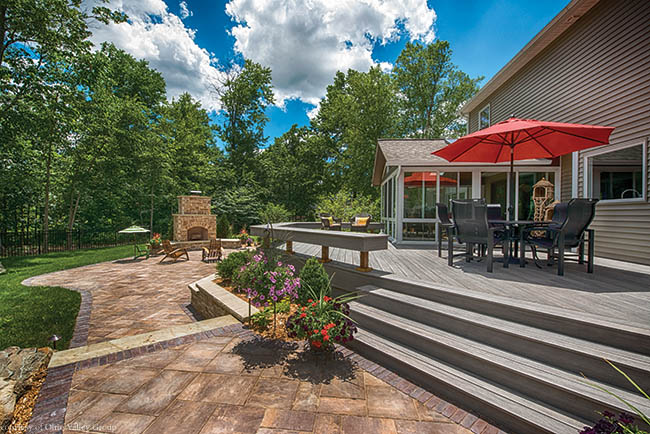 Written by: Lauri Gross/Photos by: Hal Stata, except where noted
If you don't think the construction phase of any remodeling job is as fun as the finished product, you don't know Jack. Jack Cipolletti, that is. Four years old when the back yard of his family's new home was under construction, Jack loved to spend his evenings sitting on, and pretending to drive, the backhoe left there by the crew. Although he probably misses the backhoe, Jack loves his finished back yard, and now, finally, the whole family enjoys it right along with him. Jack's parents, Joe and Robyn bought their Hudson home in April 2015, had work done on the inside until they moved in, in June 2015, and then began an overhaul of the front landscaping that lasted through the summer, just before twins Nathan and Vincent joined the family.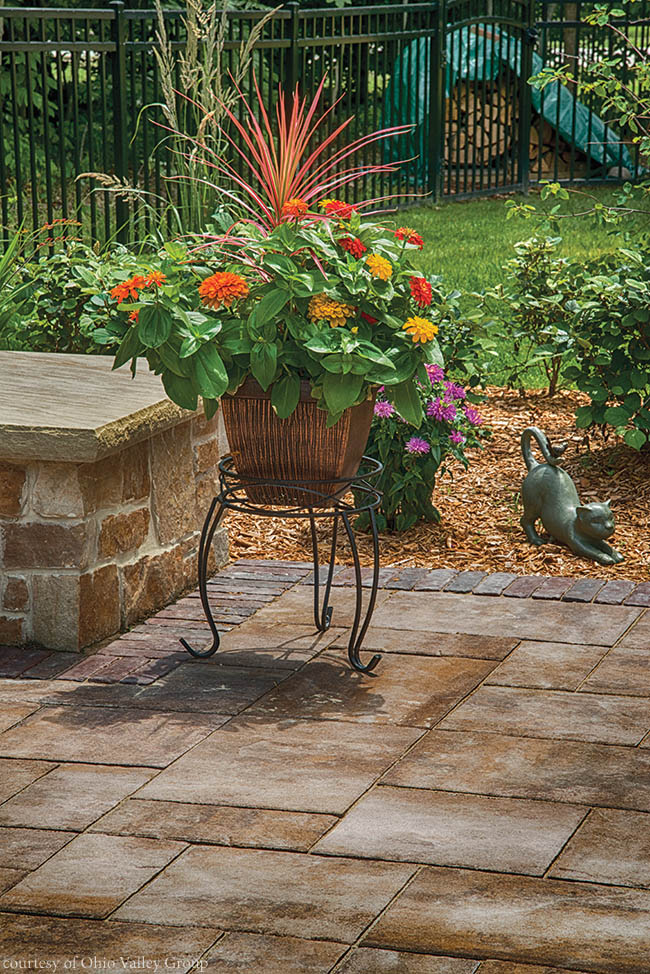 Serendipity
"During our first week in the house, we needed to find someone to cut the grass," Joe said. "I saw a truck drive by with the Ohio Valley Group name so I called them. Then I met Keith," he added, referring to Keith Laninga, one of the landscape architects for the Ohio Valley Group. "I think I am a good reader of people and Keith and I hit it off. I have complete trust with him and the company and it was blind luck that I found them."
Keith and his crew began work on the Cipolletti back yard in April 2016 and the family was able to start enjoying the space in mid-summer.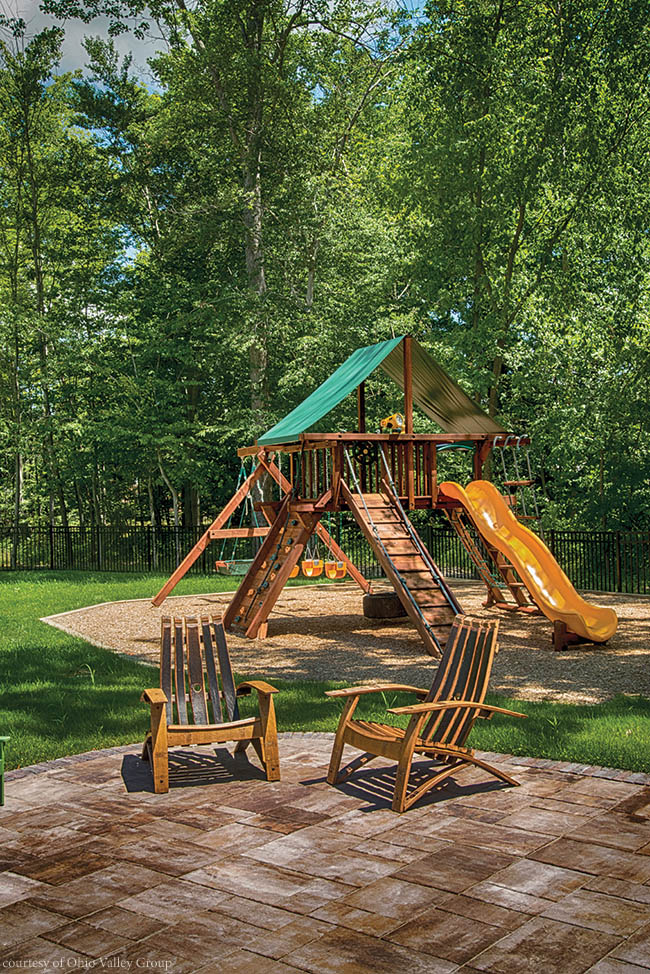 A messy start
"When we lived in the house over the summer of 2015, we realized we needed to be able to use the back yard," said Joe. "But it flooded. When we bought it, we knew the problem was there but it was snow covered and we didn't know how bad it would be." In the Cipollettis' first summer in the house, they couldn't use the back yard at all. "It was a disastrous mess," said Joe. "We had a playground installed and just getting to it was hard because it was so muddy and damp. We had to wait four days after a rain to use it."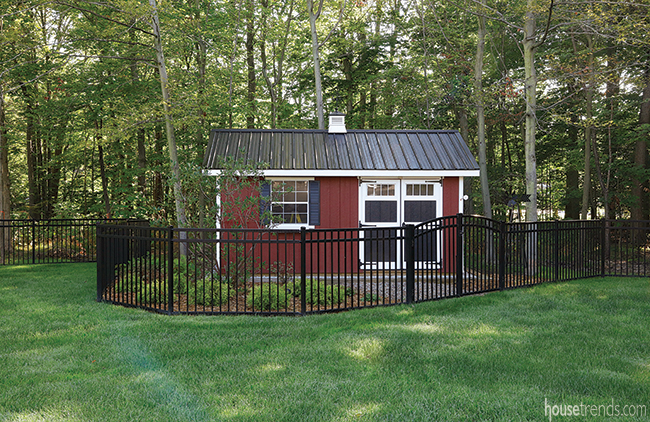 Ohio Valley Group's intelligent and mostly unseen system of catch basins, holding tanks and sump pumps gives Joe and Robyn's yard a fighting chance against the rain and allows for mud-free use of all that their new back yard offers. "Fixing that was one major thing that we did, that no one can see," said Joe. Plentiful poison ivy convinced Joe and Robyn to install a fence that provides a visually appealing separation between the usable yard and the woods on their 1 ½-acre lot.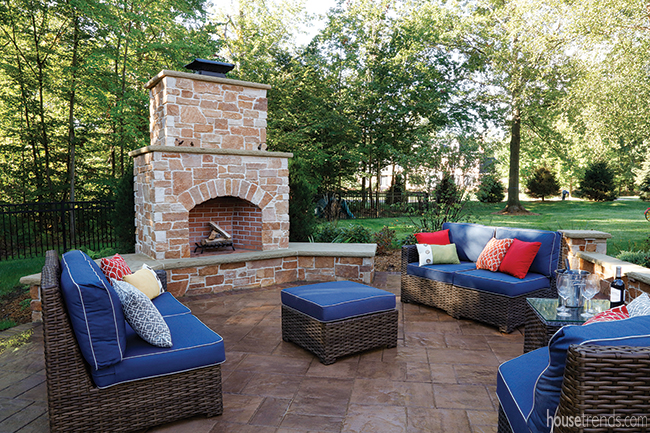 With the drainage and poison ivy taken care of, Keith and Joe set their sights on the fun stuff. "Keith and I met weekly to tweak and adjust the plan," said Joe, who added, "We set a budget and we went a bit over but we were always informed by Keith. Once we had the architectural blueprints approved by the city and Ohio Valley Group started to build it, you think 'I wouldn't mind trying this or that.' The patio by the fireplace is about twice the size originally planned. When they laid it out, we saw we needed to add on."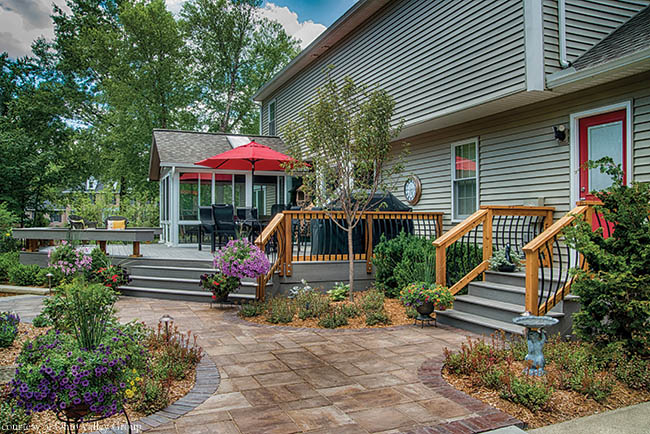 The pieces come together
The main elements of the finished project include a three-season room (transformed from an old screened-in porch), the playset (now framed in and set on a woodchip base), a charming red outbuilding that looks more like an elf cottage than a shed, and a spacious deck and patio with looming fireplace, all enhanced by attractive retaining walls that provide extra seating, flowing landscaped beds full of ever-changing color throughout the growing season, and a lush lawn that connects everything.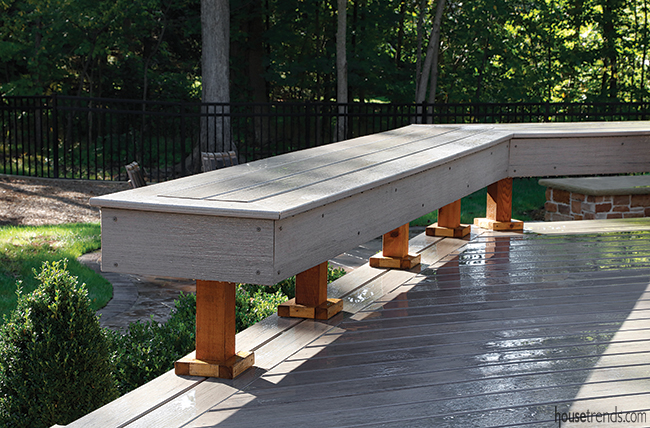 This is a back yard that says, "Come and play!" with an invitation that is equally appealing to kids and adults, thanks to thoughtful planning that takes into account the needs of revelers of all ages.
"We use it every day," said Joe. "We are always out there. We come home from work, and we go outside. Jack is running around, families come over for barbecues, and we are building fires." As of this writing, the Cipolletti twins are not yet walking so they spend a lot of time on the deck. "It's easy to contain them there, without them falling," Joe laughed. And of course, Jack loves it. To him, the retaining walls and boulders are an extension of the play area as he hops from one to the other and runs his toy trucks over the terrain.
Smart choices
In the front of the house, Ohio Valley Group revived the front stoop with brick and added a front walkway of Beldan clay pavers inset with bluestone in a range of colors. For the back, the team chose natural sandstone and cut fieldstone for the retaining walls and seating areas that flank the fireplace.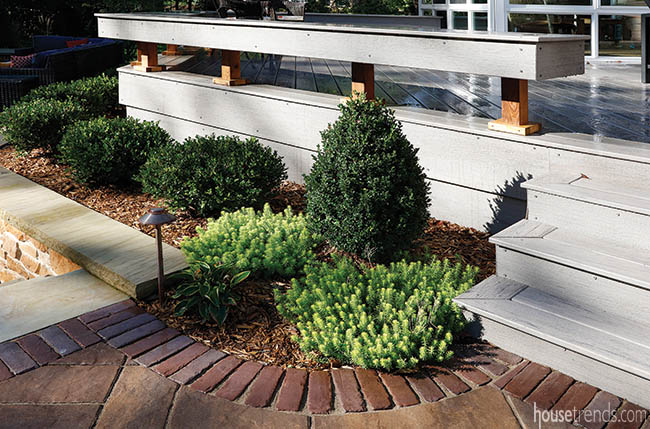 A walkway of Unilock Beacon Hill flagstone with a Copthorne border matches the patio in the fireplace area. Composite materials make for a low-maintenance deck, which is enhanced by cedar rails with bowed metal spindles. Gray sandstone steps connect the various levels and are fitted with low-voltage photo-voltaic lights on timers. Capstone benches around the perimeter of the deck conceal additional lights.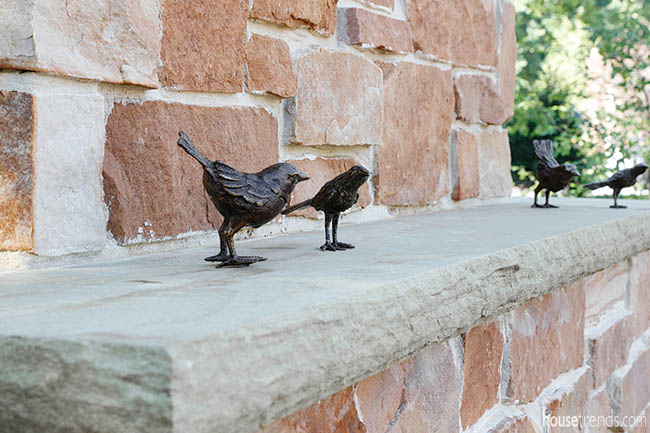 A collection of whimsical yard art enhances the Cipollettis' outdoor space and also reflects Jack's input. The Cipollettis have been collecting the statues on annual family vacations in Colonial Williamsburg. "Jack likes them. He pets them and talks to them," said Joe.
Reflecting on his transformed home and yard, Joe said, "Having three kids who, at the time, were all under four, it was complicated just trying to go out and leave the house. So we wanted a back yard where we could stay as a family and have everything we could want right in our back yard, nice and easy."
Resources: Landscape architect: Keith Laninga, Ohio Valley Group; Landscape developer, plant installation, hardscapes and fireplace: Ohio Valley Group; Grill and furnishings: The Great Escape; Patio: Unilock Beacon Hill Flagstone