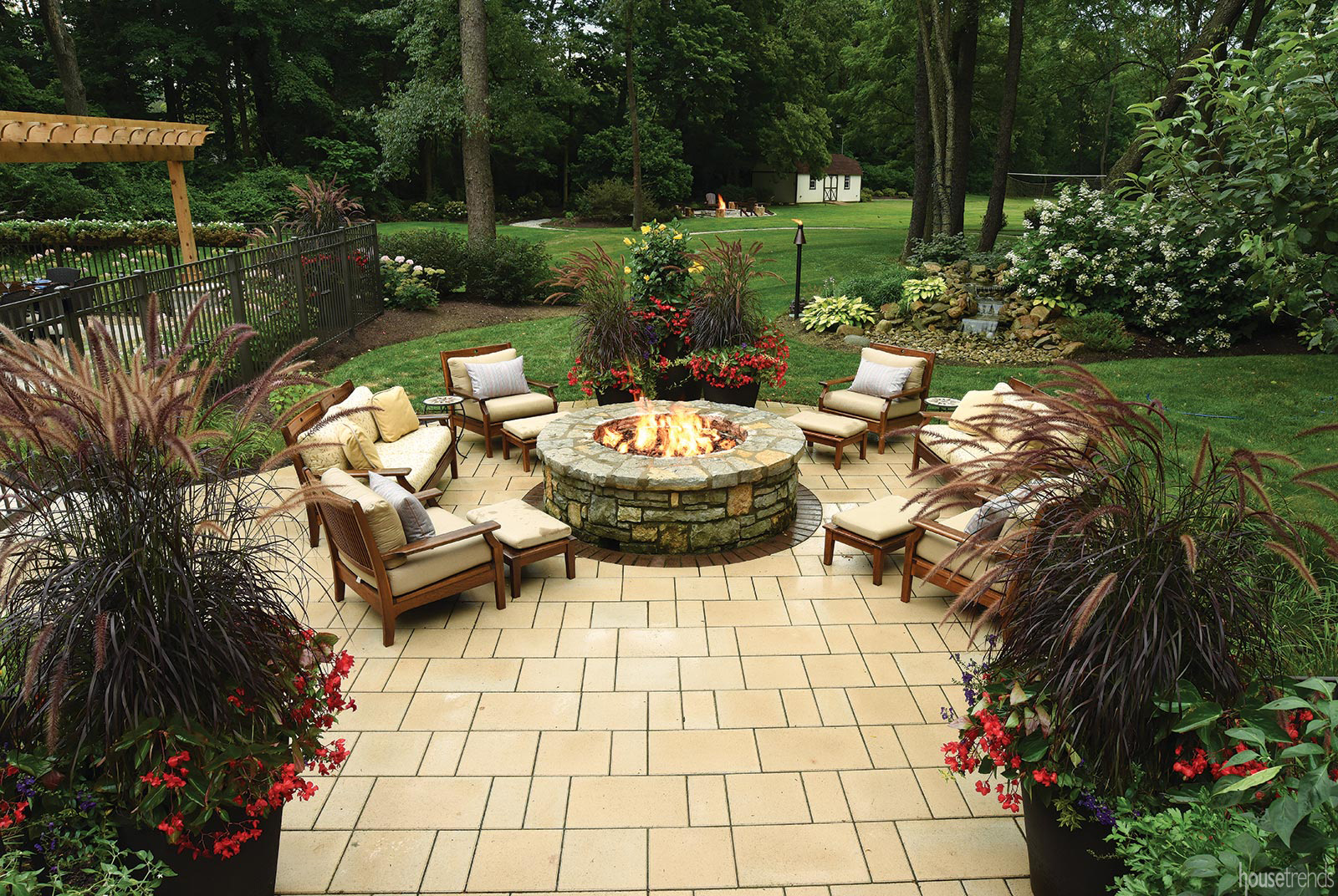 "Years ago, I used to pick up ornaments when I traveled. Now I seem to pick up landscaping ideas," Angela Dunaway admits with a laugh when discussing her newly renovated back yard. "But I love having different design influences. It makes me feel like I'm on vacation all the time."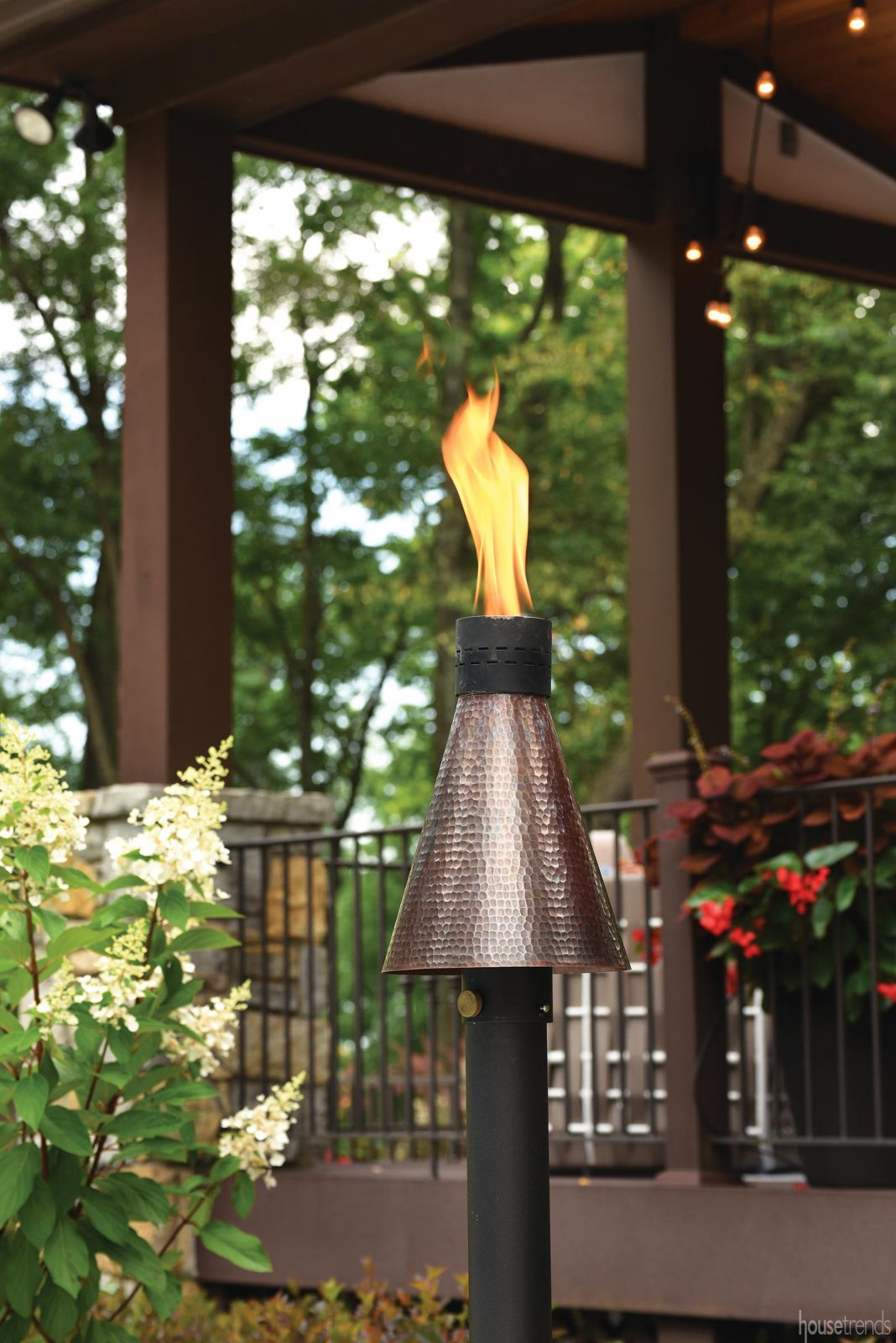 And she's right. A trip to Italy can be tasted when Angela prepares pasta for her large family dinners around their repurposed, barn-wood table. Children's voices telling ghost stories on family camping trips can be heard floating up from the smoke of the wood-burning fire pit. And the Famous Oysters 'Turtlefeller' from The Turtle Club in Naples, Florida can be smelled as you walk by the fire torches surrounding the pool.
Angela and Dan Dunaway love to travel. And with the help of Ben Bayer, a partner with The Site Group, they've brought a piece of their travels home with them to their back yard.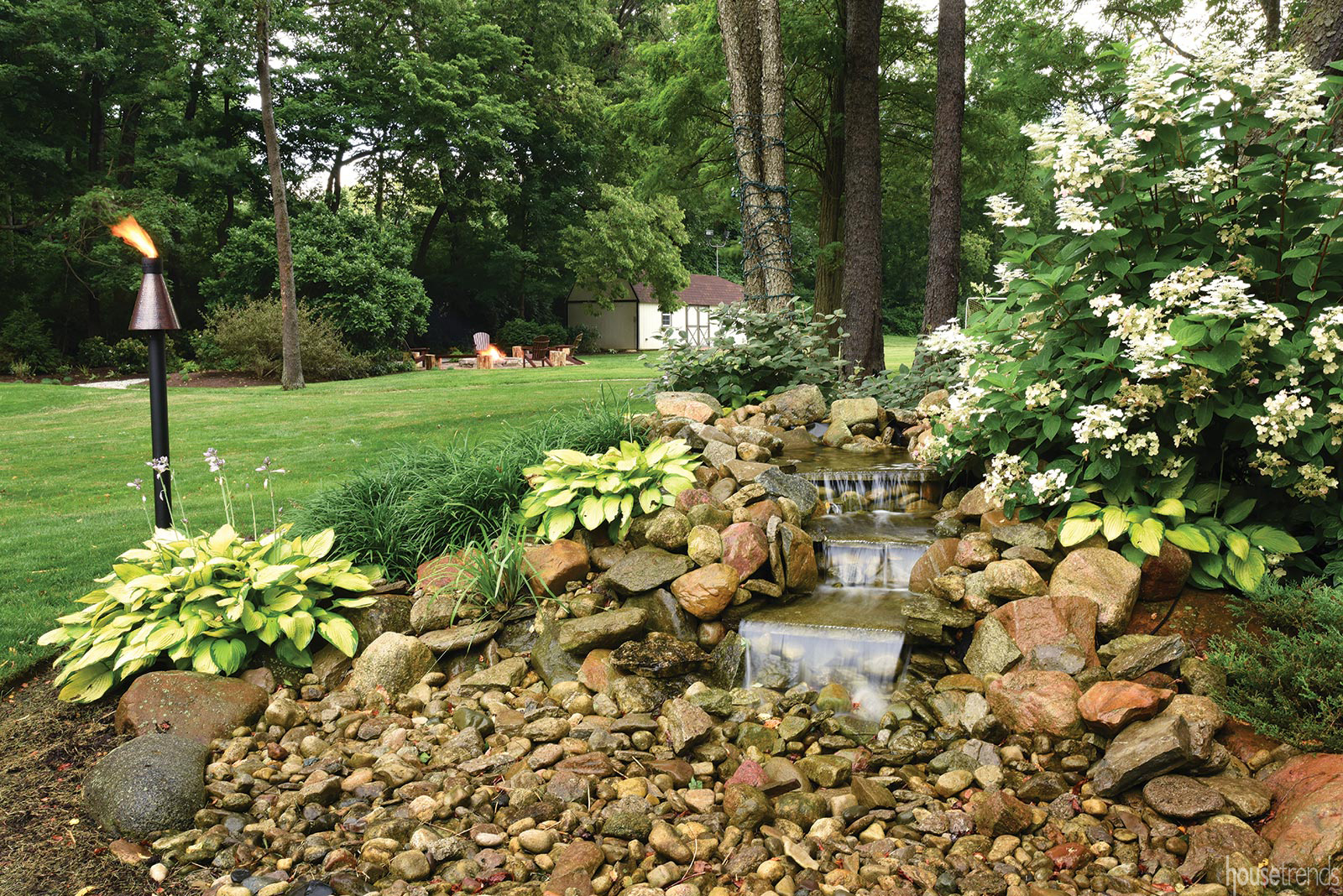 Deeply rooted
The Dunaways, life-long Daytonians, met playing opposite each other in the Centerville High School production of Oliver. The two were married before starting medical and law school, respectively. Their family grew to include four sons, so the couple moved to their current home—situated on four acres—to give their boys plenty of room to roam and explore.
That was 18 years ago. And as the boys grew so did the scope of their yard. "The space looked great until Hurricane Ike came through and took down about 50 trees," Angela says of the 2008 storm. "Then it looked really sparse, so we started thinking of ways we could spruce it up."
The couple originally worked with Bayer and The Site Group when they had some outdoor lighting installed, so they contacted the trusted contractor and began working on a project that included expanding their deck, installing a gas fire pit and some plantings, and creating a gravel walking trail.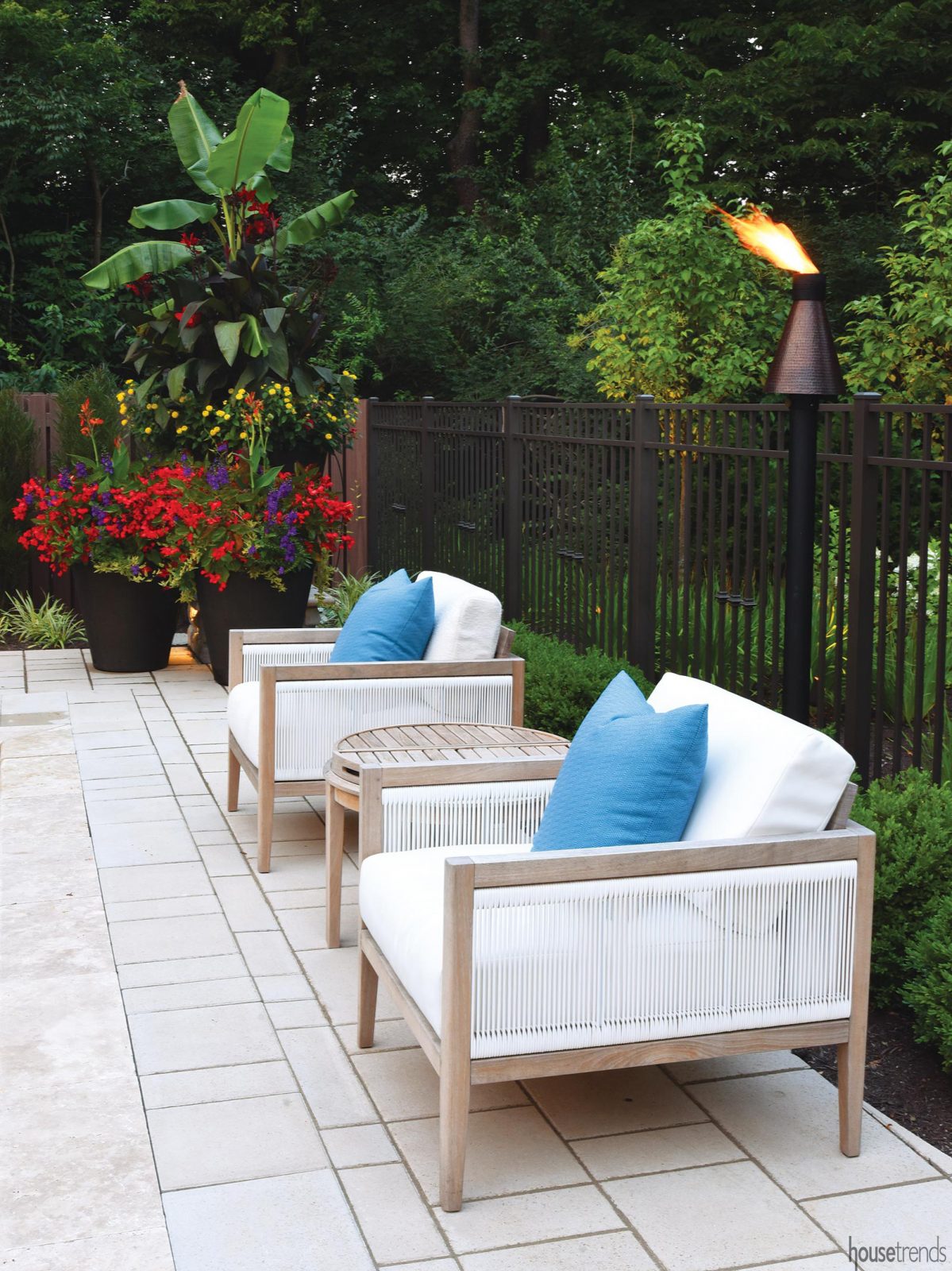 "I love to walk. But there are not a lot of areas to walk close to our house, so Ben built a walking trail for me. Three times around is a mile. The dogs and I love it," Angela says of her frequent walks with her two golden retrievers.
Angela adds that The Site Group comes and refurbishes the gravel on her path as part of their maintenance program offered to clients. "We call it the Site Gardener," Bayer describes. "We visit the property once a month to weed, prune, and check the walkway."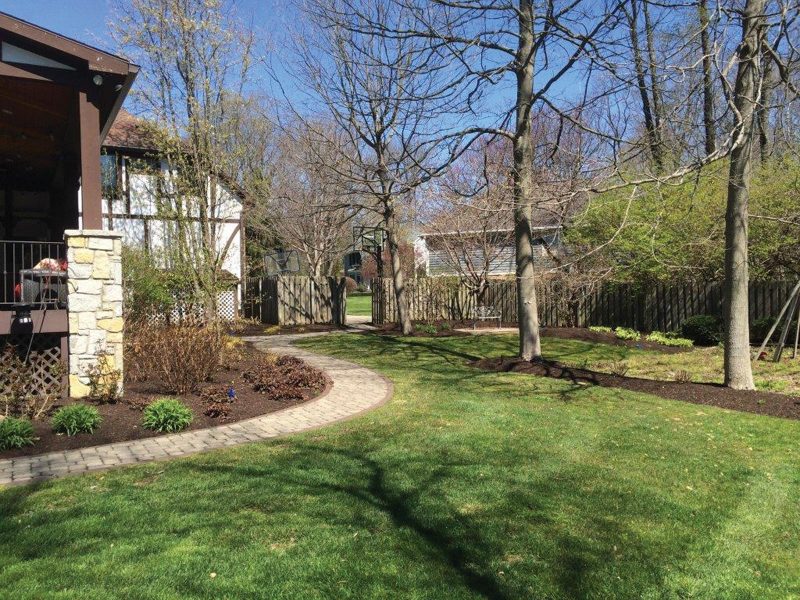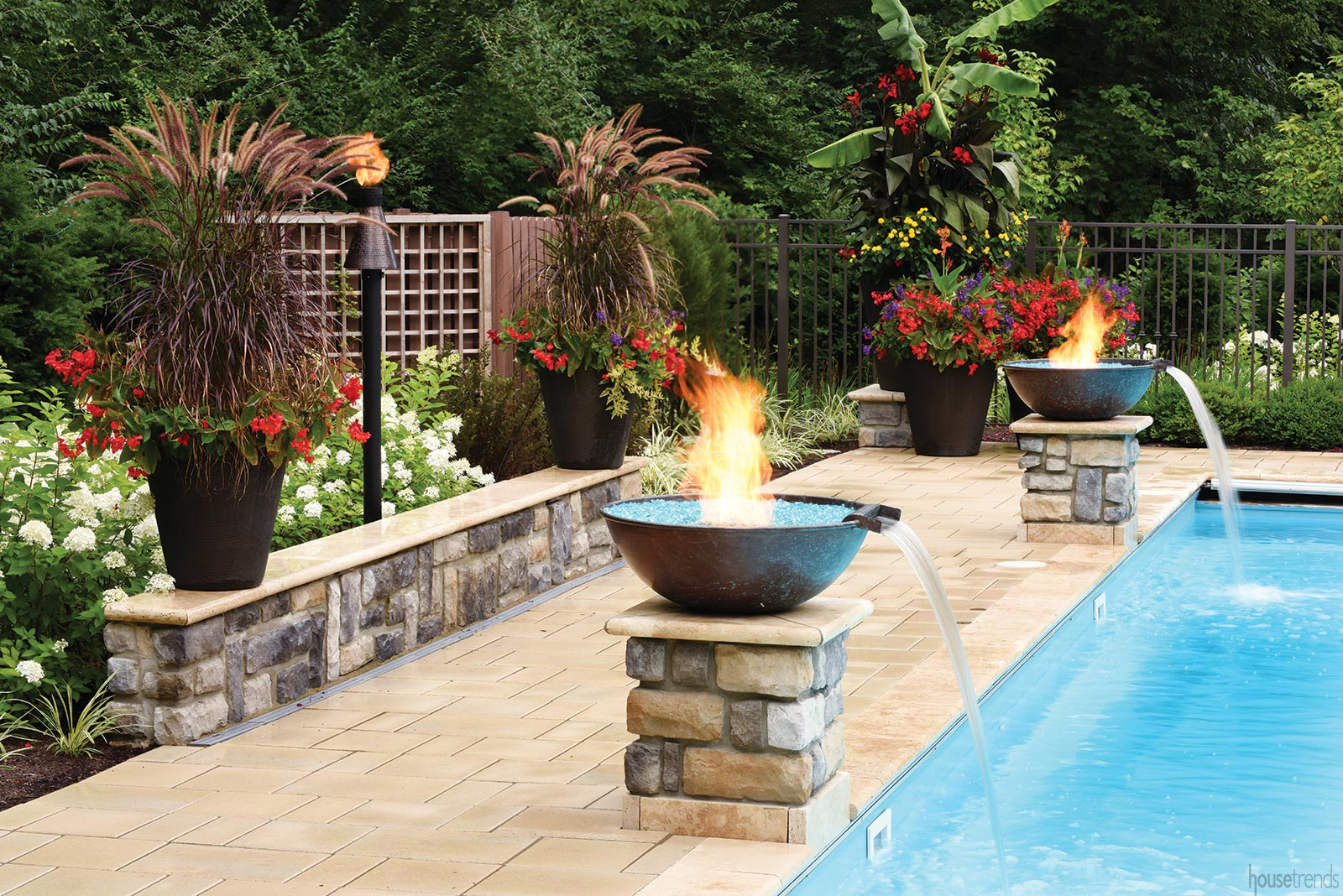 Longing for water
Angela and Dan both grew up with pools, and Dan wanted one in their own yard. Angela, however, had a major roadblock – three roadblocks to be exact.
"Where the pool sits now, there used to be three beautiful maple trees that turned the most amazing colors during the fall," she describes. "Everyone that knows me knows I love fall. I would never cut those trees down, even though my husband wanted a pool. A year-and-a-half before we installed our pool, those trees all died – one right after the other. I teased him about doing something to them… but it was really just a sign that it was time to put in the pool."
The couple contacted Bayer once again and they began planning to completely overhaul their outdoor space. "I had been teasing them about installing a pool in their old playground area," Bayer says. "So I was excited to redo the project we'd done for them eight years ago."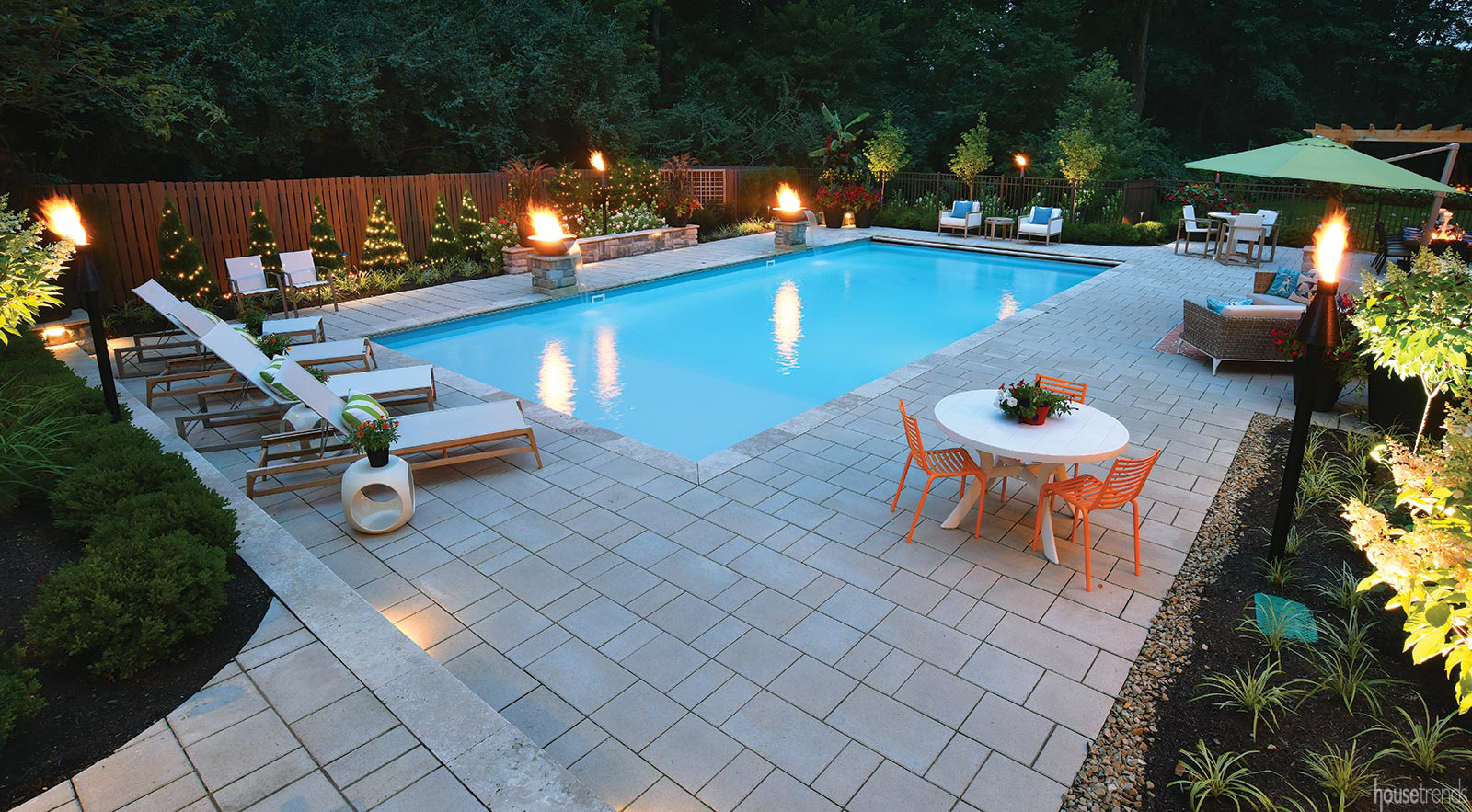 The Site Group partnered with Buckeye Pools to build the family a pool complete with a sun shelf, LED lighting, and fire and water features. "The Dunaways are very active and athletic, so we made sure this was a sport-friendly pool with anchors for basketball hoops and a volleyball net," Bayer says.
The entire outdoor renovation started in August and was completed before Thanksgiving. "That year was so warm that after the pool was complete, they swam while we were working on the rest of the project," Bayer remembers.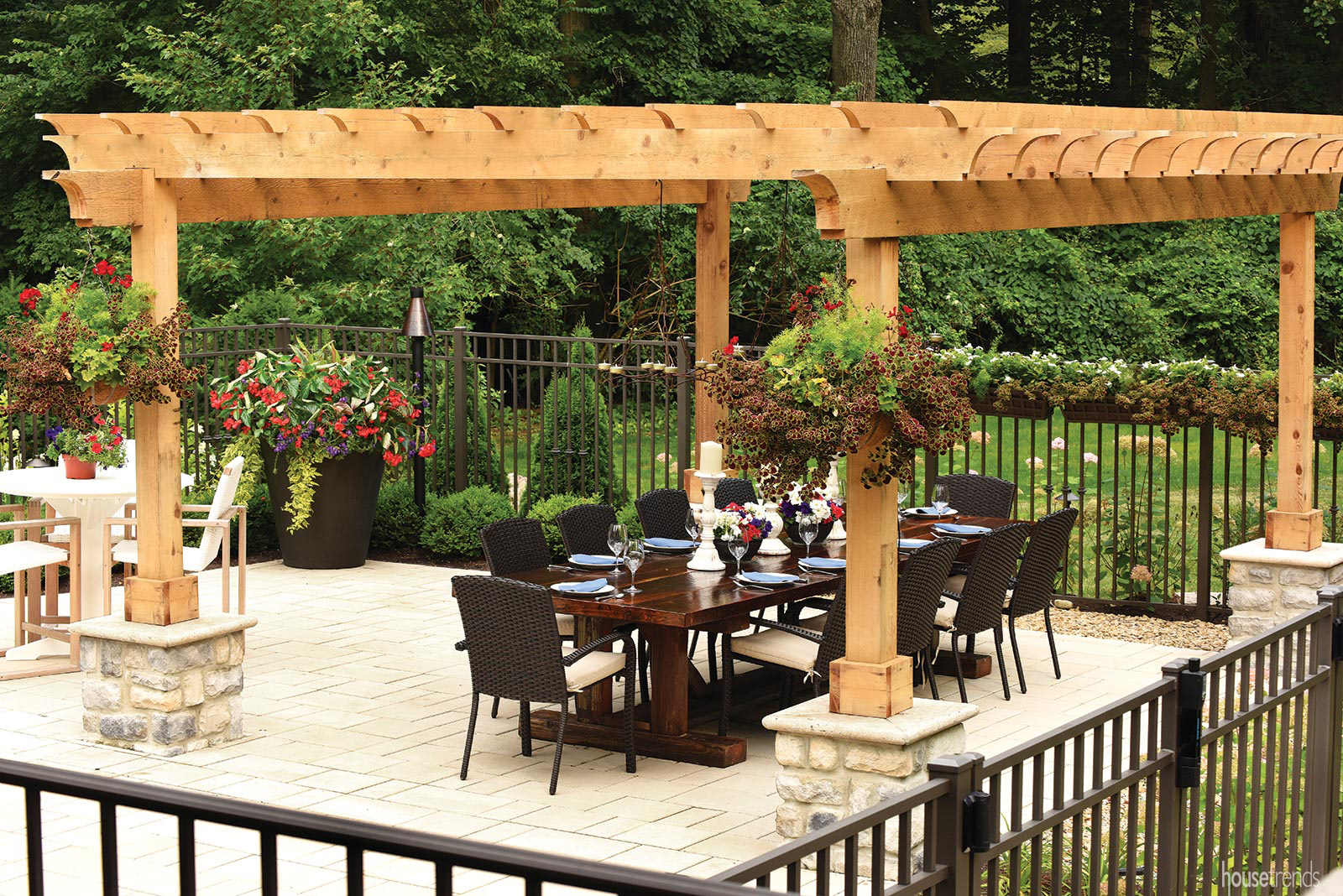 Little Italy
"I love to cook, so I am always trying different recipes," Angela says. "I love to grill. In the fall I love to do a big pasta dish. Our wood table caters to an Italian meal."
Angela is referring to the massive dining table they had Village Salvage construct for them out of salvaged barn wood. "I have such a large family and love to entertain, so I wanted a huge table. That's where we got the idea for the pergola – it is reminiscent of a trip we took to Italy."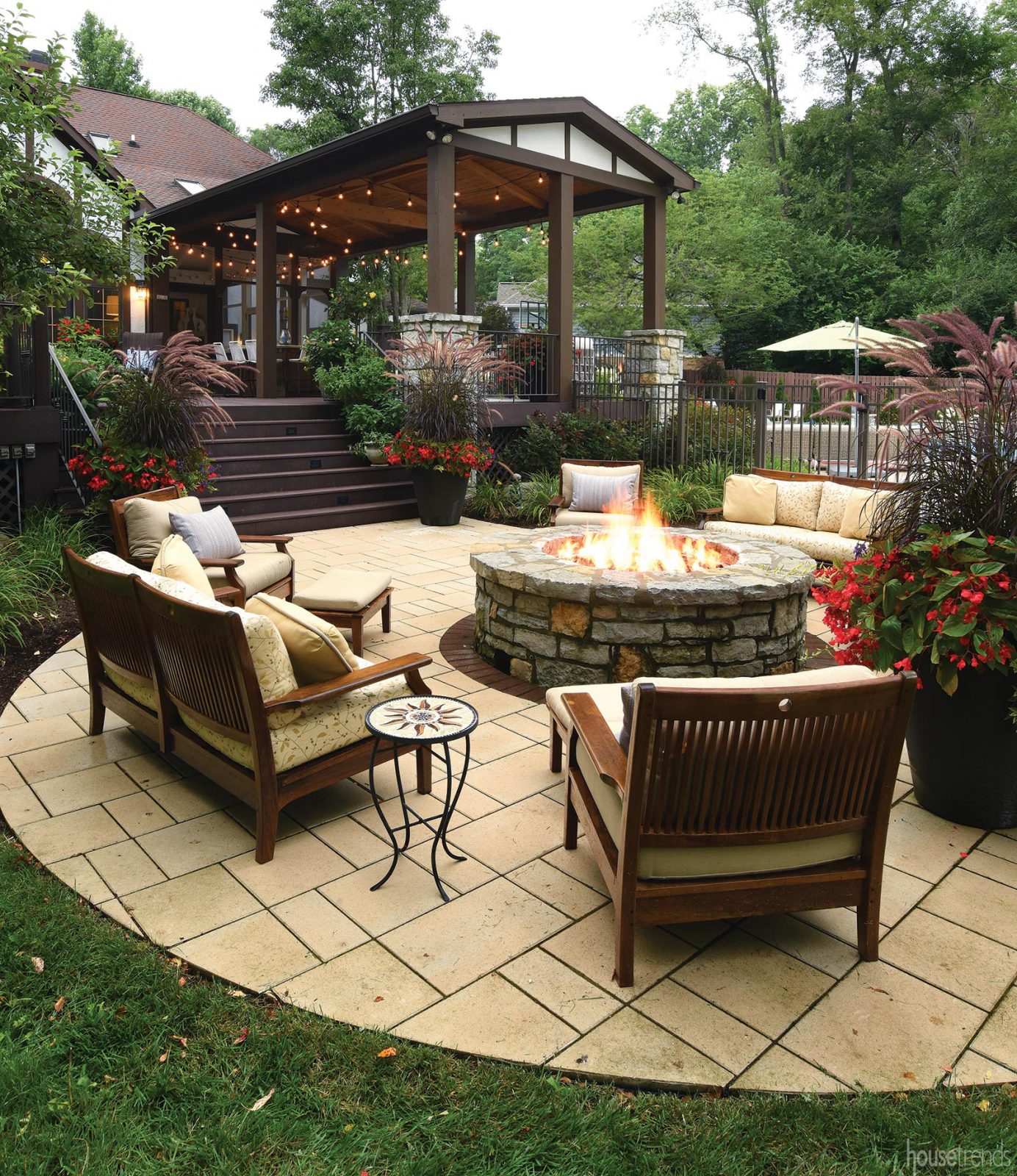 Angela has an outdoor kitchen area right off the deck where she can prep for outdoor meals. She then simply walks down the steps, across the expanded fire pit patio and through the gate, constructed by Hess Fencing, into the pool surround where her dining area is located. The pergola is showered with color from hanging baskets and massive annual containers.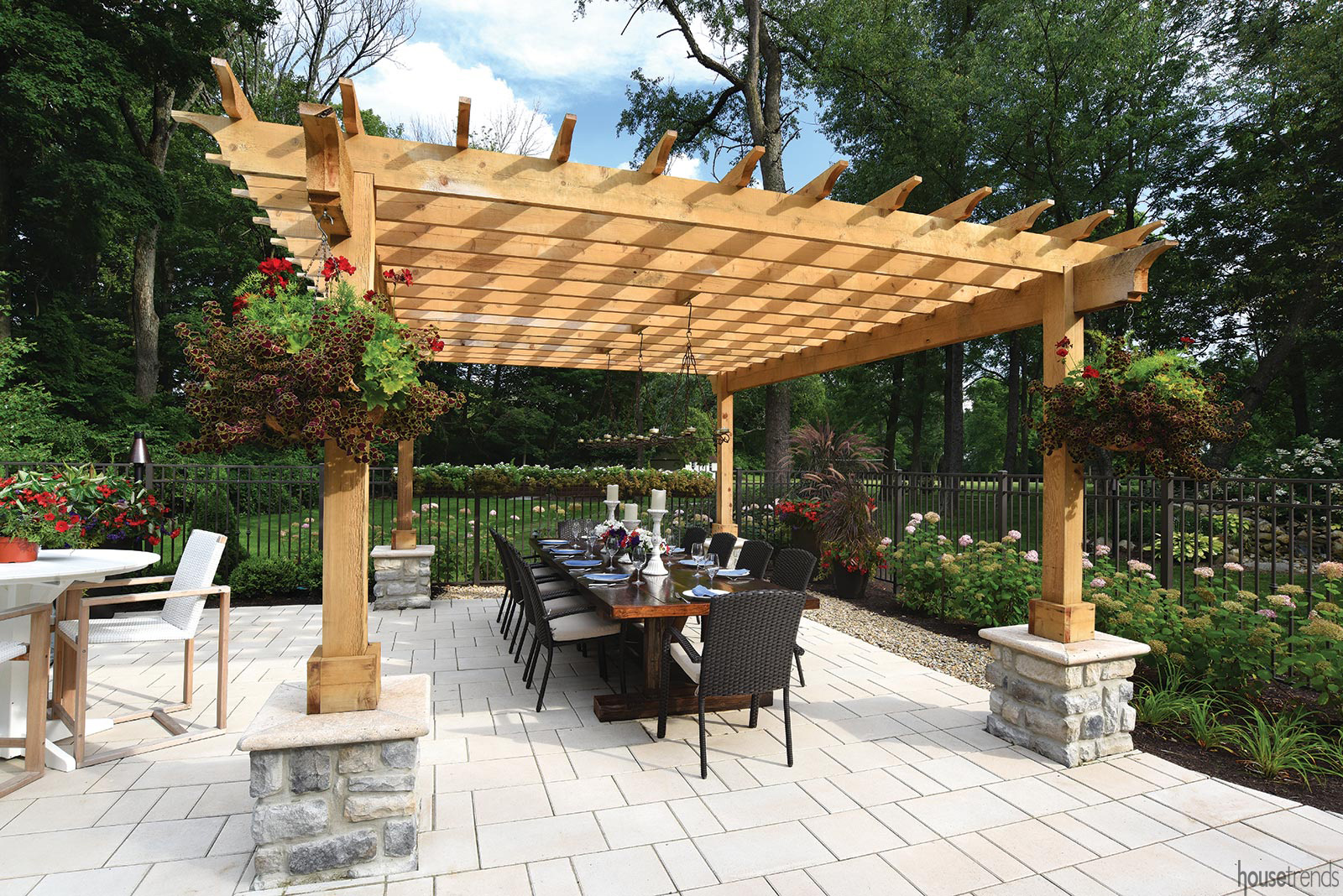 "We have a nursery that works with us to maintain our clients' planters year-round," Bayer explains. "We come out and get the containers at Thanksgiving, and empty them for winter storage at the nursery. Around February the planters are filled with plugs, which means they are bloomed and ready for delivery around Mother's Day. It's a nice Mother's Day gift."
This is the first year the Dunaways have taken advantage of the service. "I cannot wait until Mother's Day when they bring them back," Angela says.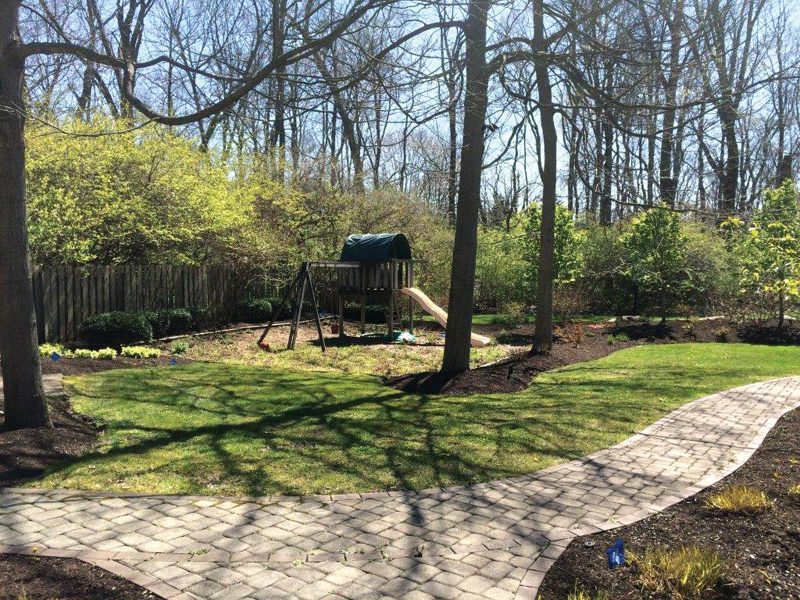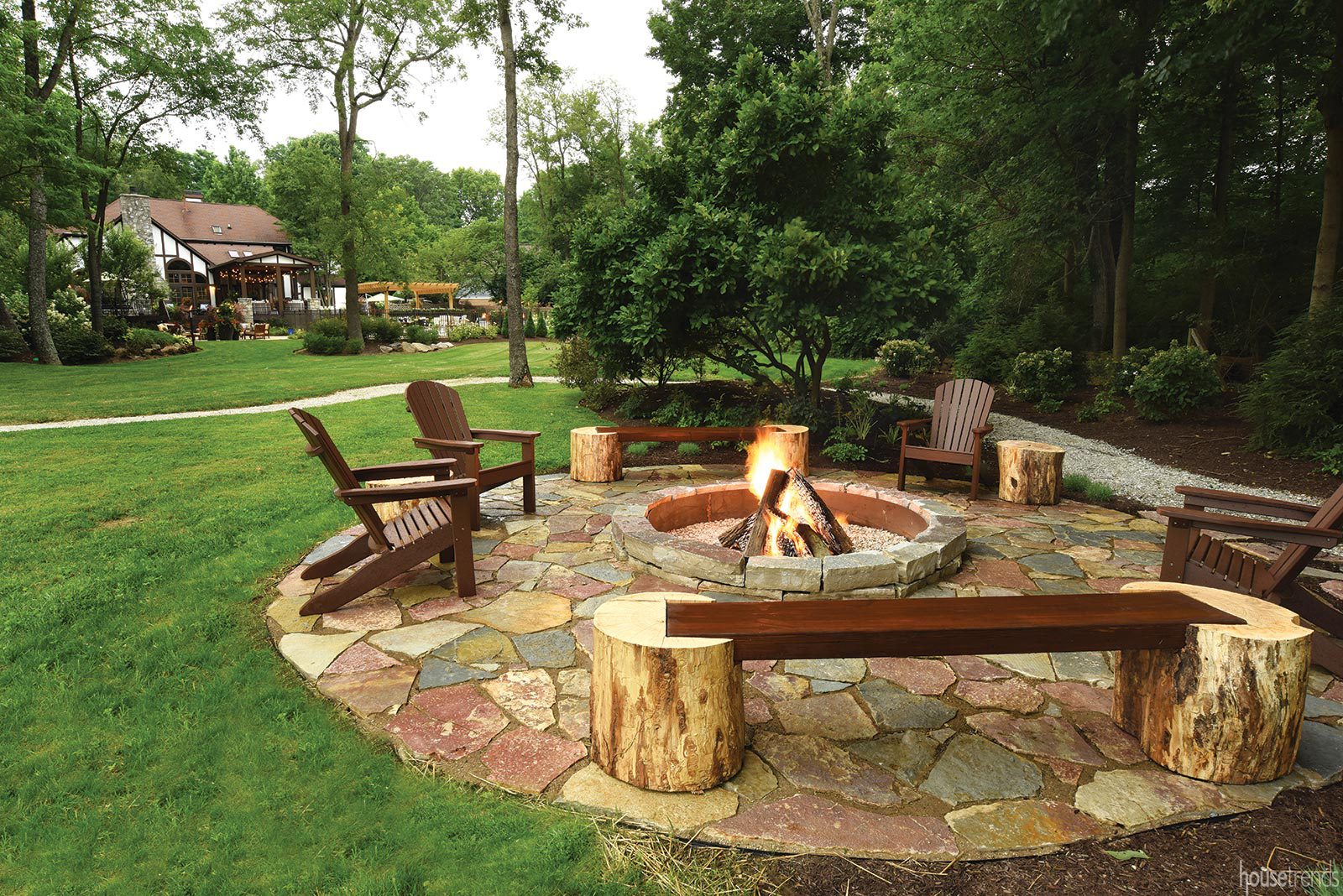 Camping trip
Dan spent a lot of time camping with his family growing-up. While Dan and Angela enjoyed the maintenance-free warmth of their gas fire pit right off their deck, the family missed the rustic-feel of a natural fire. "We do love sitting by a wood-burning fire," Angela says of their decision to create a natural fire pit farther back in the yard surrounded by trees. "It's so cozy in the fall."
"This fire pit not only gives them the camping-feel, it gives them a place to burn the brush they collect off all their trees," Bayer adds.
The couple had a tree fall, so Bayer and his team cut it up and used the stumps as the bases of the benches. The seats are constructed of repurposed barn beams, and the fire pit is a Chilton Flagstone, which gives it a unique color. Bayer hollowed out parts of the tree to create one-of-a-kind path lighting leading guests to the cozy spot.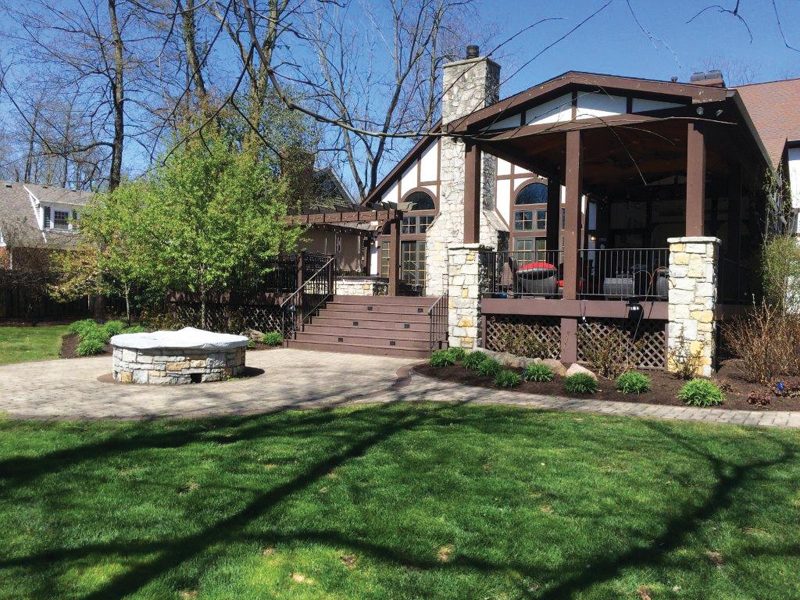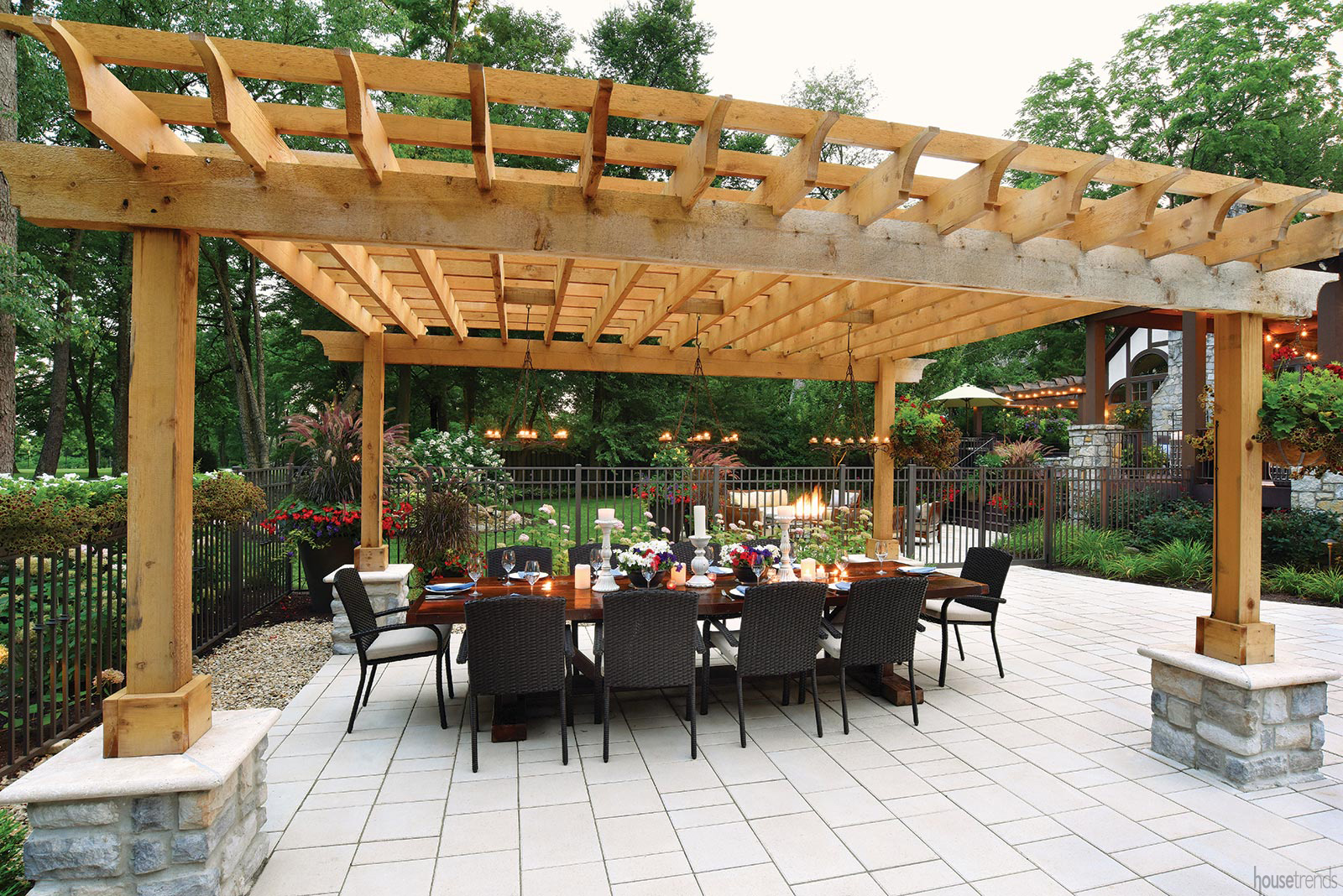 Let it flow
"My biggest worry was that it wouldn't all flow together because of all the different looks," Angela says. "But as a whole, it doesn't seem like it's designed in separate pieces. It just flows so well, and we really use each space equally."
And while Angela admits that her older three boys might be a little confused about why their parents waited until they moved away to install a pool, she says her son at the University of Dayton enjoyed bringing his friends home last summer. "On my birthday, all my boys were in town, and we had a blast by the pool. I jokingly asked, 'What did we used to do on my birthday?'"
Angela loves her new back yard, even during the snow-covered winter months. "The dogs and I love going out on the walking trail in the winter," she explains. "It is so peaceful out there when everything is covered in snow. I love that I can enjoy it year-round."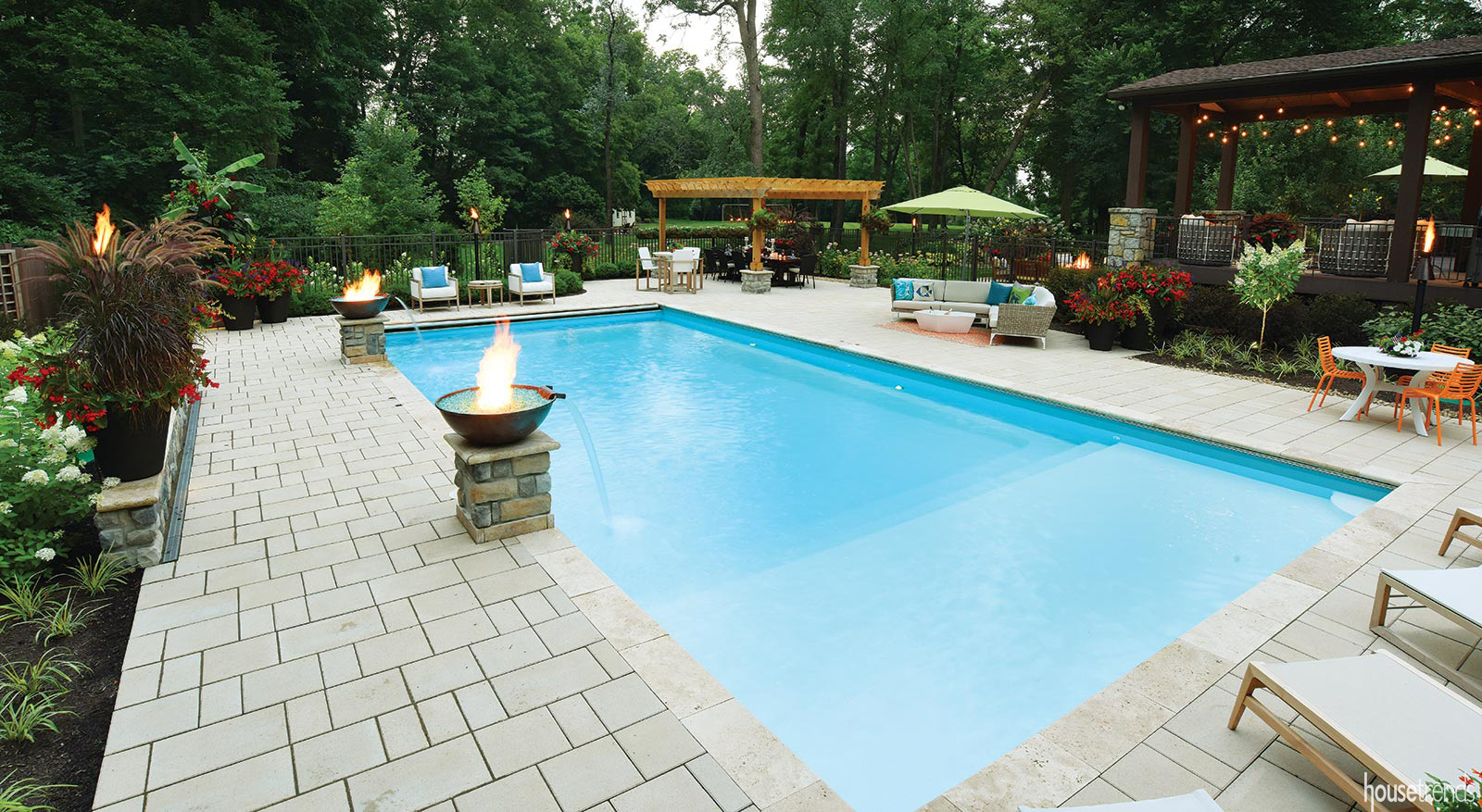 Bayer could not be happier to see his clients enjoying their outdoor oasis. "Creating spaces outside for people to relax and spend time together as a family, that is why I got into this business," he explains.
And as much as Angela loves her hometown, she admits that the views make her feel like she's on a constant vacation. "It's nice, every now and then, to get away…without having to leave home."
Resources: Contractor and landscape designer: Ben Bayer, The Site Group, Inc.; Pool: Buckeye Pools; Pavers and travertine: Oberfields; Fire bowls and tiki torches: Hearth Products Controls; Dining table: Vintage Salvage; Fence: Hess Fencing; Interior designers: Lori Orlando, Megan Carfagno, LM Design Group; Deck, outdoor kitchen and privacy fence: Dave Weir Construction