Gray is on everyone's mind lately. What was once a plain, neutral color that was slapped on the walls of spare rooms and basements has become the dominant color seen in trendy design ideas. To bring these hot ideas to you, we've compiled some of our favorite gray rooms in the hopes that you can get inspiration for your own spaces or simply enjoy them as much as we do.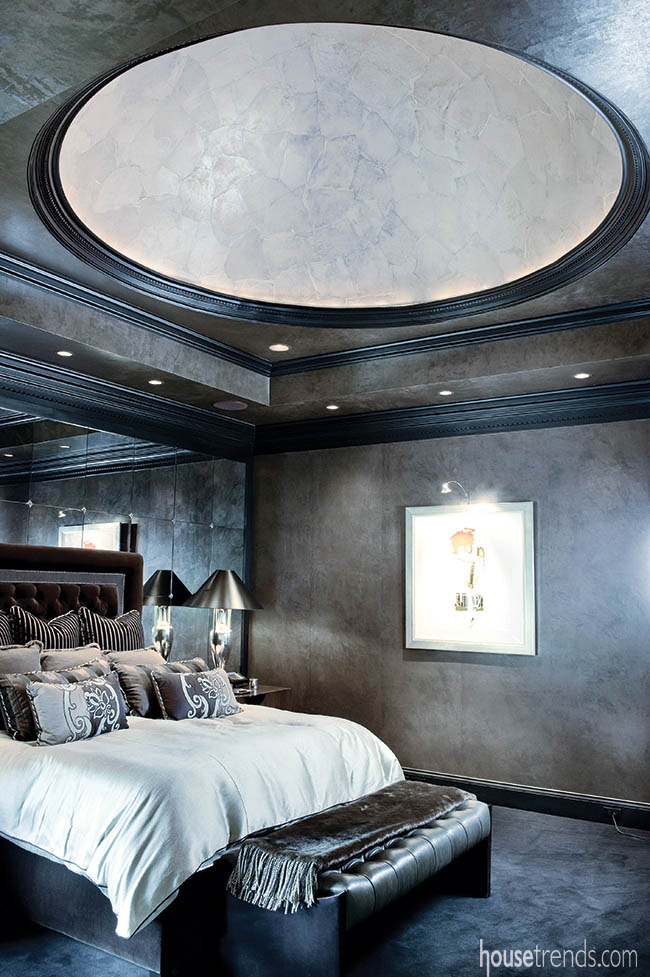 This bedroom is cloaked in a lot of gray and black, the overall design creating a look of dark elegance. A mirror reflects back the non-traditional design, further heightening the drama of this space.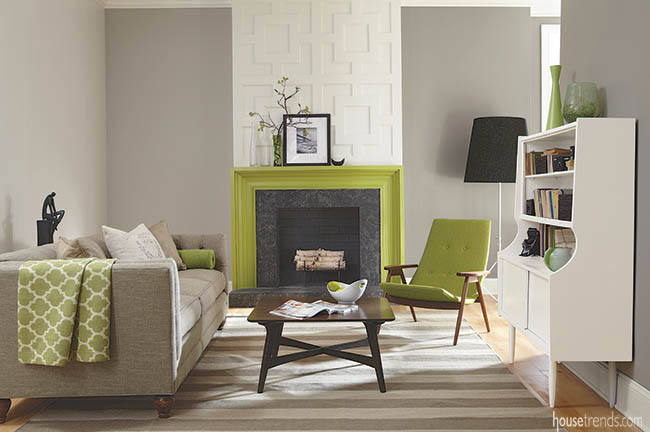 There's something simply irresistible about a calming room design peppered with bright pops of color. In any other situation this green might have been overwhelming, but the gray surroundings help to keep it grounded.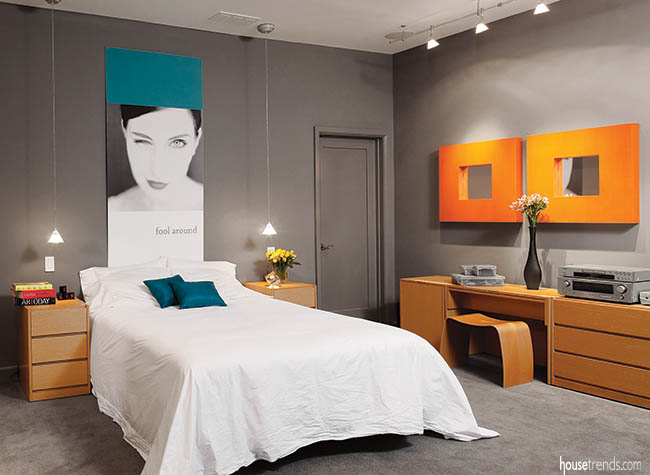 Surprisingly bright and modern this sultry bedroom follows a unique design concept. With everything substantial in the room being gray-the walls, carpet and door-it starts off as a blank canvas and really highlights the accessories, the large white bed and the bright orange and blue decor, in particular.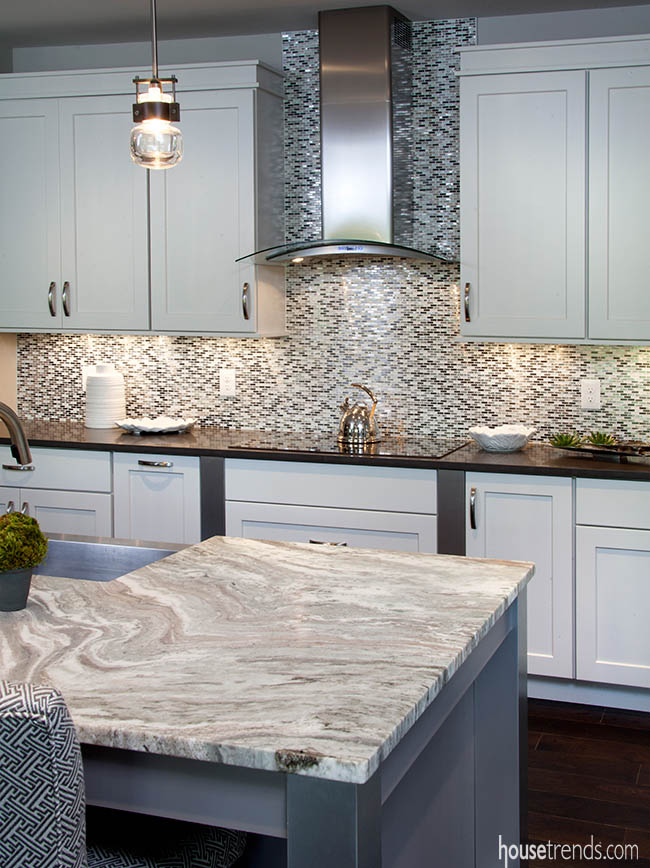 Many rooms that feature a neutral color palette can be bland and unimaginative, but not this space. In this gray kitchen, the wavy granite countertops and tile backsplash help to add texture and interest.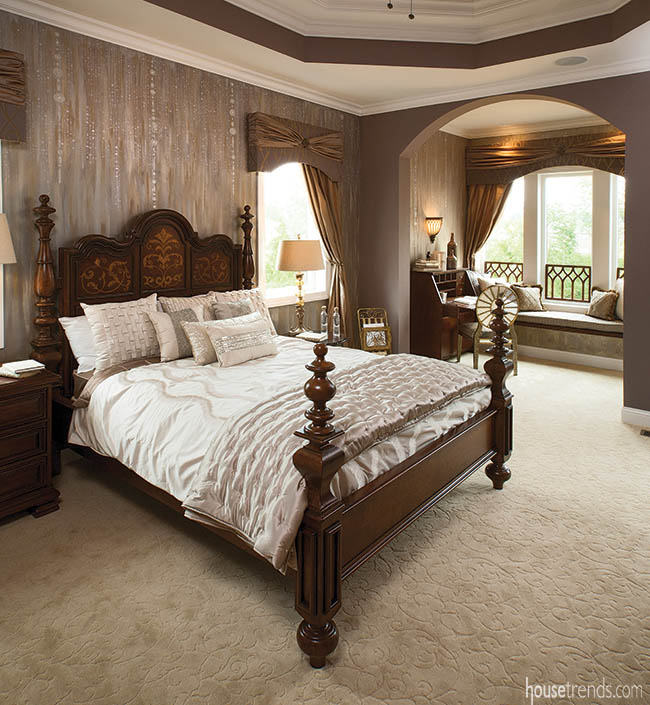 To add glitz and glam to this bedroom design, the interior designer who worked on the space added a faux finish with subdued shades of brown, plum and gray and embellished it with tiny crystals.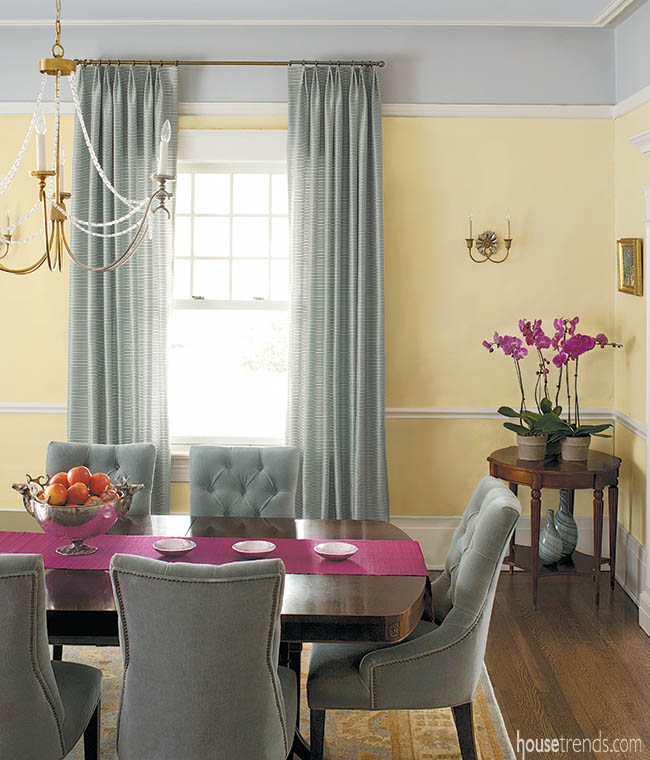 While some might say that the pink seen in this dining room draws all of the focus, the shocking color truly complements the soothing gray seen in the furniture, draperies and walls.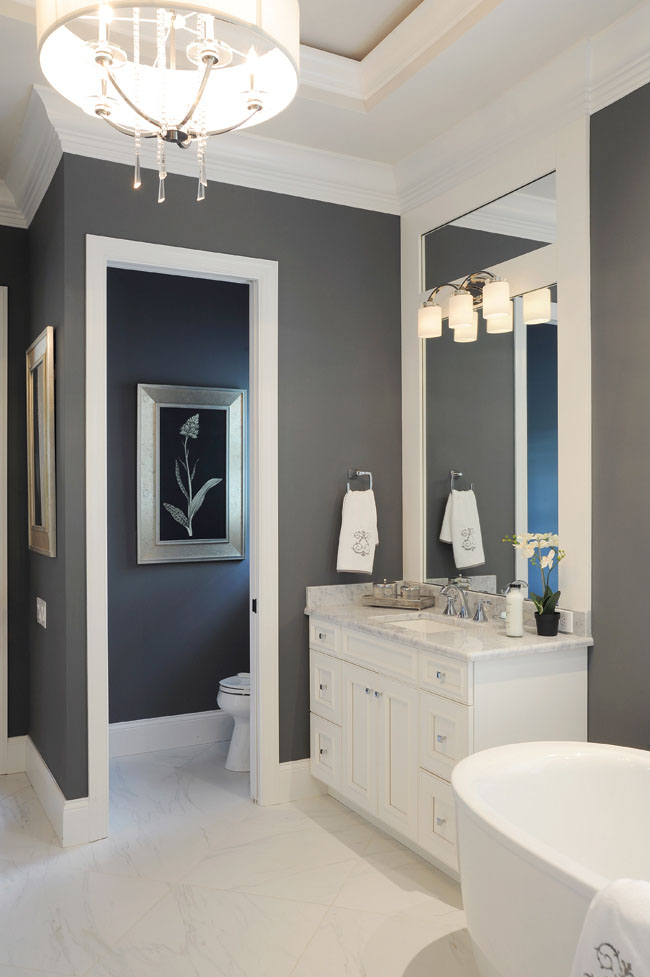 The deep gray color contrasts sharply with the white trim and accessories used in this bathroom design and generates a very clean cut look without sacrificing its sense of relaxation.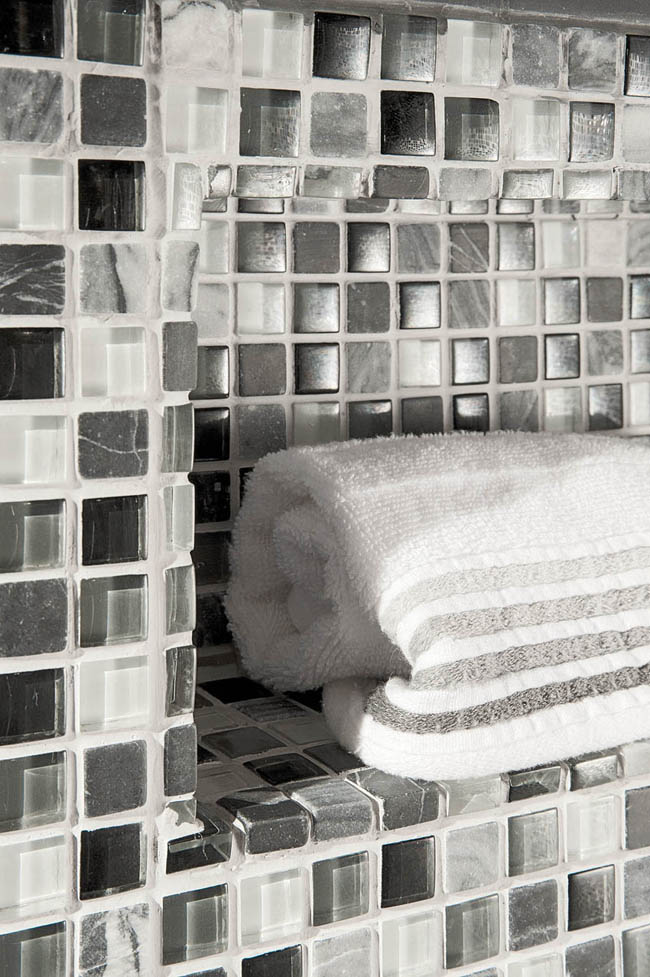 This tile seamlessly blends a trio of colors-black, white and gray-to contribute to the dark gray color scheme embraced by this bathroom.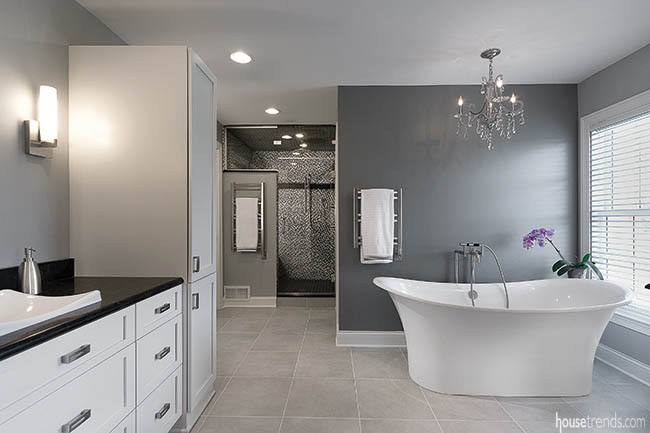 This master bath is the epitome of relaxation. Natural light shines through the window to supplement the soft glow given off by the chandelier. A large soaking tub is situated in a prime position to take advantage of all of these benefits.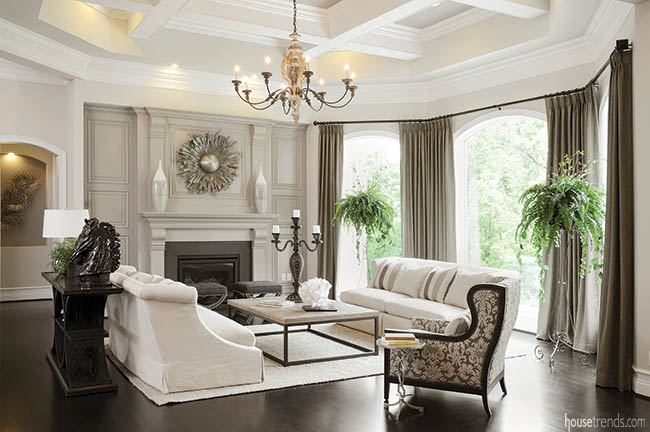 Different shades of gray, everything from an almost black to a shade that is a mere whisper of the color, help to create the simple elegance that this living room radiates.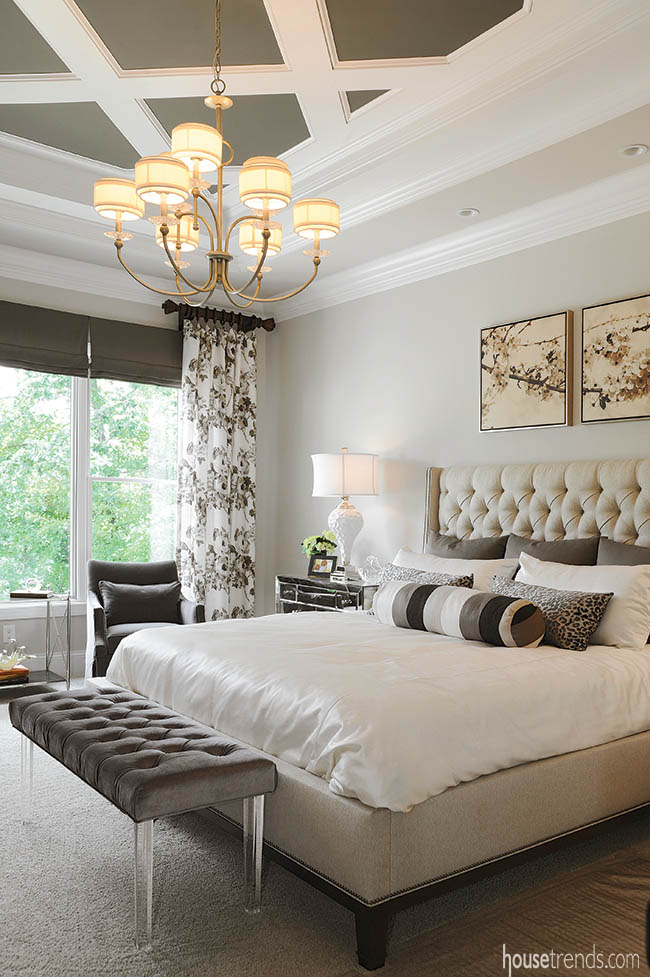 In a space full of neutrals and sophistication, patterned curtains and throw pillows lend a playful touch to the area.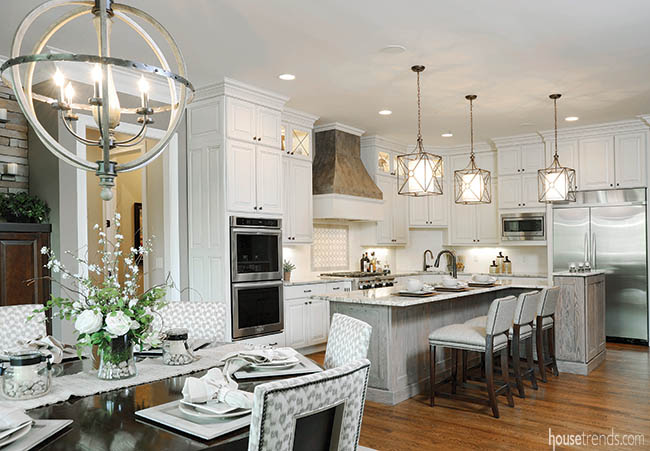 This modern kitchen design features an open floor plan which enables the color palette to easily travel from room to room with no interruptions. The light gray tones seen throughout the food prep area were carried over to the dining table where they can be seen in the patterned chairs and the table settings.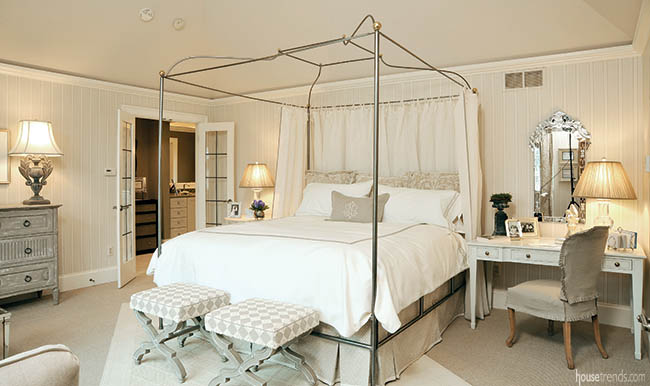 This bedroom design uses soft wisps of gray here and there to complement the neutral color palette. The metal canopy bedframe adds interest to the space with its unique shape and keeps the whole room from becoming too neutral and ordinary.