Having a great sense of style is more than just what one sees on the surface. It's about how various parts come together as a whole. In fashion, designers don't rely on one article of clothing to create a stylish outfit; they depend on each piece to work together as one entity. The same could be said for Regis and Jodi McClelland's remodeled kitchen. An eclectic mix of stylish materials and colors was gathered together to create a seamless and fluid space.
As the parents of three children, the McClellands knew they needed a kitchen that was both convenient and durable, and after cooking in the kitchen for so many years, Jodi had her ideal floor plan mapped out. In addition to the basic necessities, she also wanted to incorporate a clean, modern look. Her challenge was finding a kitchen designer to help bring her vision to reality.
Jodi was introduced to Natalia Dragunova, owner of Notion, LLC., and the two hit it off right away. "As soon as I met her, and walked through her house, I learned she had a great sense of style," Dragunova recalls. "She was not afraid of things and I couldn't wait to get started."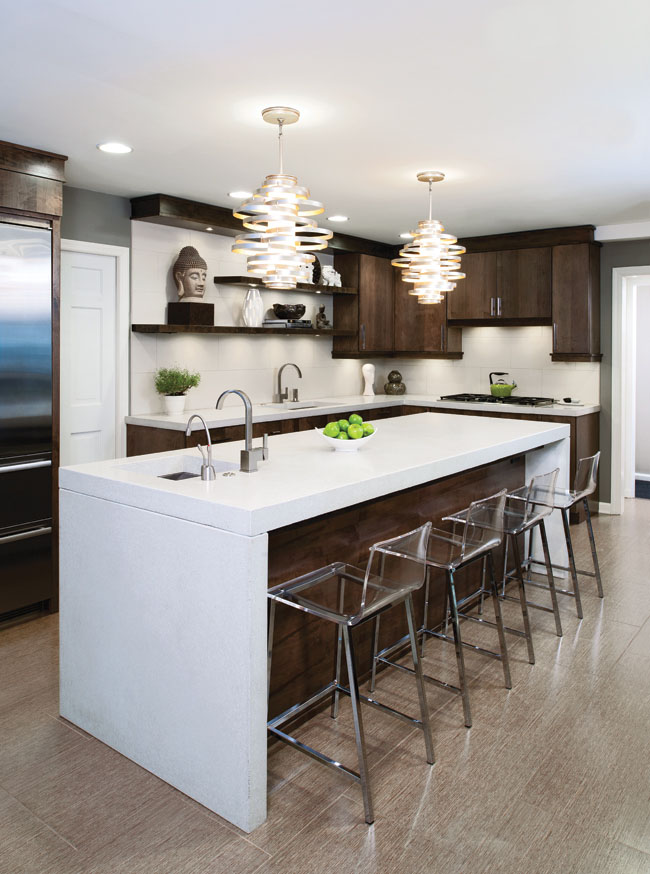 To meet Jodi's requirements for a fully functional space, the new kitchen features an accessible layout. The appliances are in close proximity to each other as well as to the sink and food prep areas. The massive center island could be considered the base of operations. It is the perfect place for Jodi to catch up with the kids or help them with homework while she's working on dinner. The island is also home to a vegetable sink, trash compactor, two dishwashers and a separate chilled filtered water dispenser. "The kids really take advantage of this and it prevents them from constantly opening the refrigerator," Jodi says.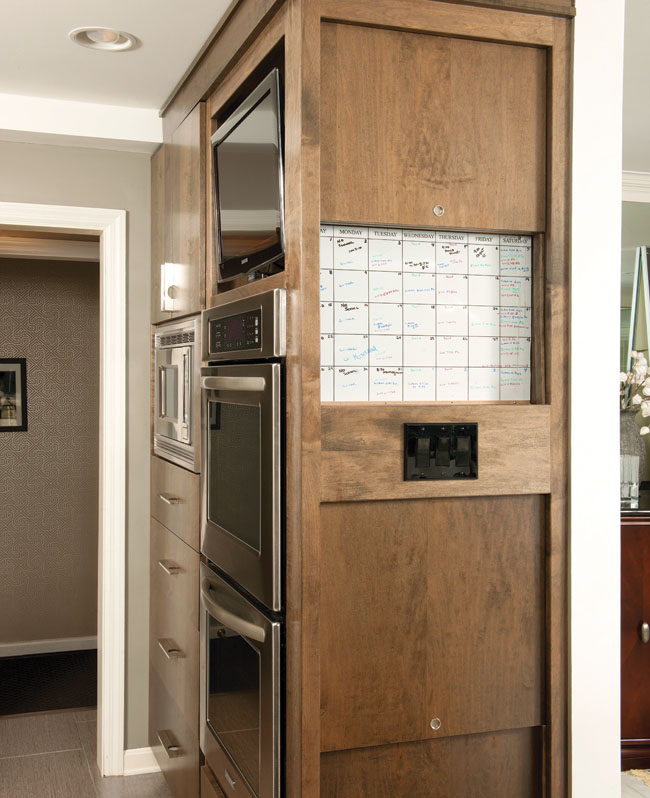 Another custom feature is the pair of dry-erase board calendars hidden behind moveable cabinet panels. Considered Jodi's "control center", this keeps the family's daily and monthly schedules on track and organized.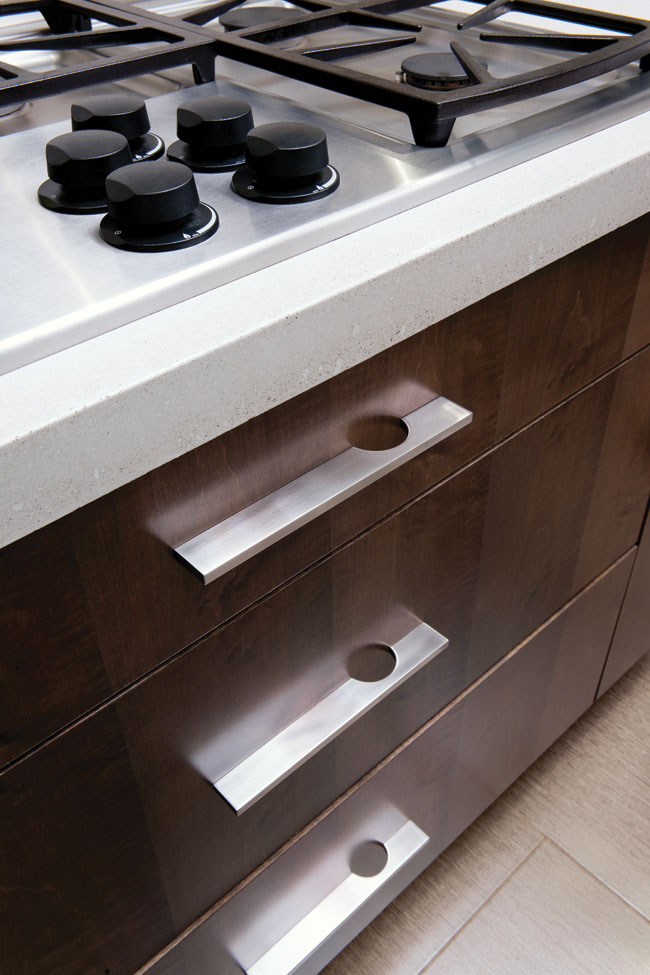 In terms of aesthetics, Jodi says her overall goal was to avoid a lot of decorative embellishments. "I had this vision of a linear look, with clean, refined edges and finishes," she adds.
The cabinets, made of hard maple veneers, feature a weathered oak stain with gray and brown undertones. A satin lacquer topcoat gives the veneers a polished finish, while simple stainless steel hardware shipped in from the United Kingdom adds just the right touch of shine.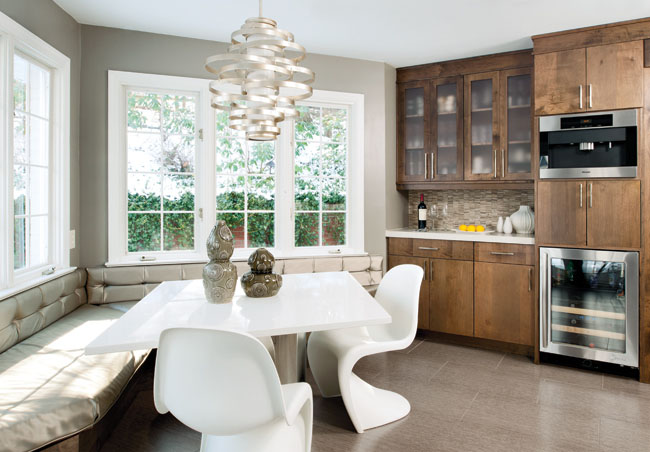 Jodi opted for very few wall cabinets, instead adding shelves to hold decorative accessories over the sink. "I didn't want to crowd the kitchen with too many cabinets," she says. "Plus, you can see this wall from the dining room and I thought it would be a great place to add a little drama and highlight some accessories."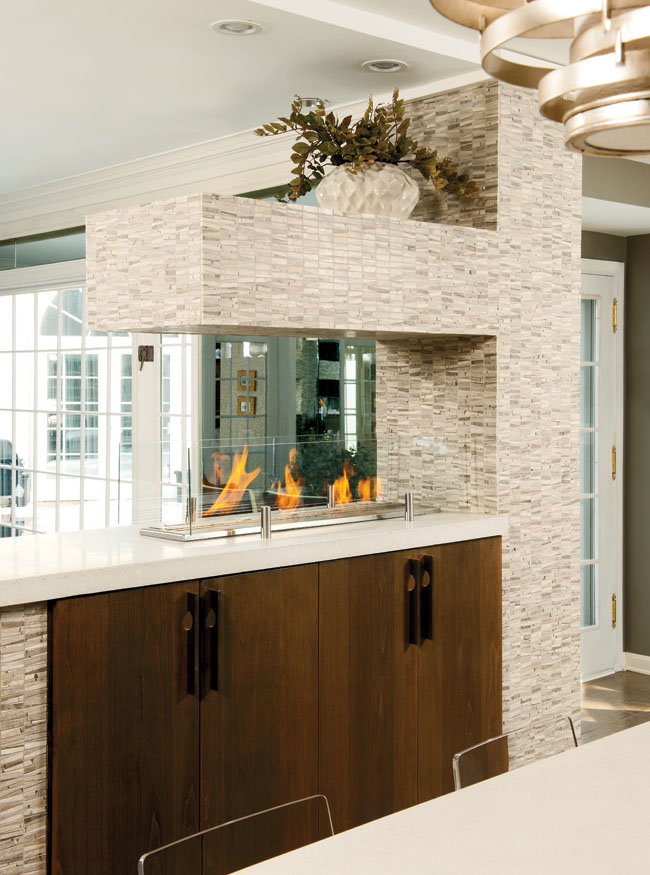 Since Jodi spends a lot of time in the kitchen, she wanted to incorporate a few of her favorite elements—including a fireplace. To accommodate the request, Dragunova knocked out the wall separating the kitchen and dining room to install the drop-in ventless fireplace. The bioethanol-burning fireplace, from EcoSmart Fire, is surrounded by natural stone and features a unique suspended shelf and cabinet panels on one side. "The fire creates a cozy environment, " Jodi says. "If I'm preparing food for a dinner party, there's nothing like lighting the fire to make it all the more enjoyable."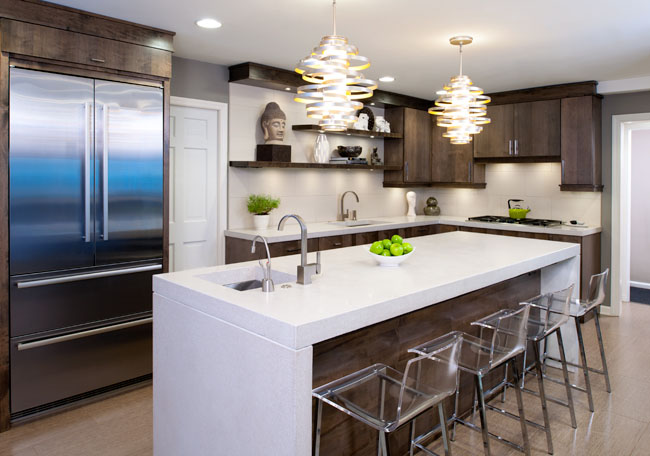 Lighting was another important feature to Jodi. Like jewelry, the two-toned Corbett pendant lights accentuate the island and breakfast area. "As soon as Natalia showed them to me I couldn't imagine anything else, " Jodi adds.
Just like complementing someone's outfit, everyone who enters the McClellands' kitchen has something to say. "One of the countertop installers compared the concrete island counter to a fashion runway. A friend of mine says it reminds her of a cocktail lounge," Jodi says. "Either way I have fun cooking in here and just hanging out in here. It's the perfect kitchen for us."