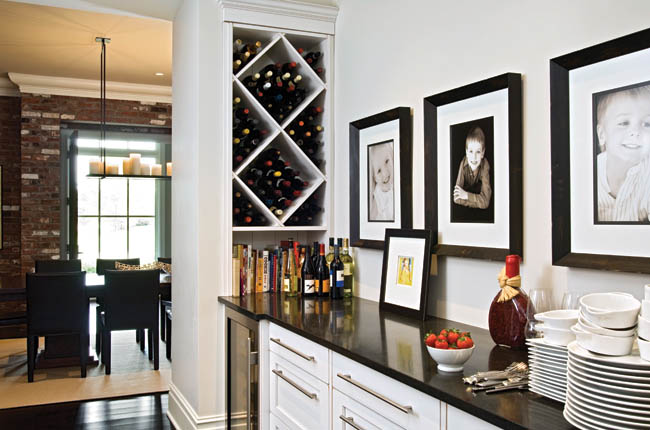 Working with designer Rob Klein from Conceptual Kitchens & Millwork, Pamela says she and Jeff had very definite ideas about what they wanted to do in the kitchen. After having a small bar sink in their previous home, they were willing to forgo that amenity in favor of additional counter space. They also wanted to use cool, neutral colors and natural stone combined with clean, simple lines and stainless steel appliances.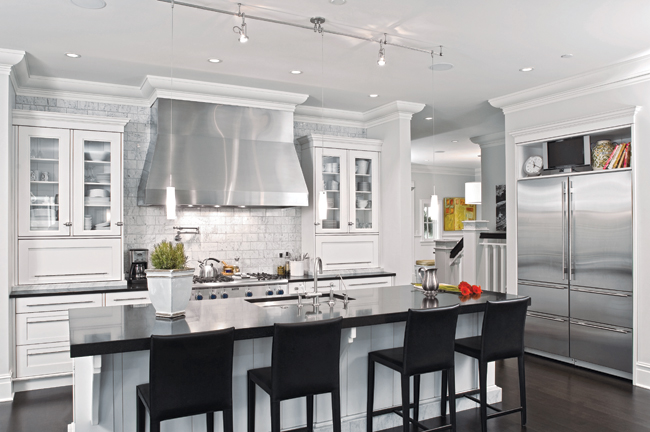 The couple got the stainless steel appliances they wanted, including a Sub-Zero refrigerator with double refrigerator and freezer drawers that are just perfect for the kids to get themselves an after school snack. The space has two Miele dishwashers and two Dacor ovens along with a warming drawer, a Thermador cooktop and a custom range hood that the homeowners, Klein, and the home's architectural designer, Gary Nance, planned together.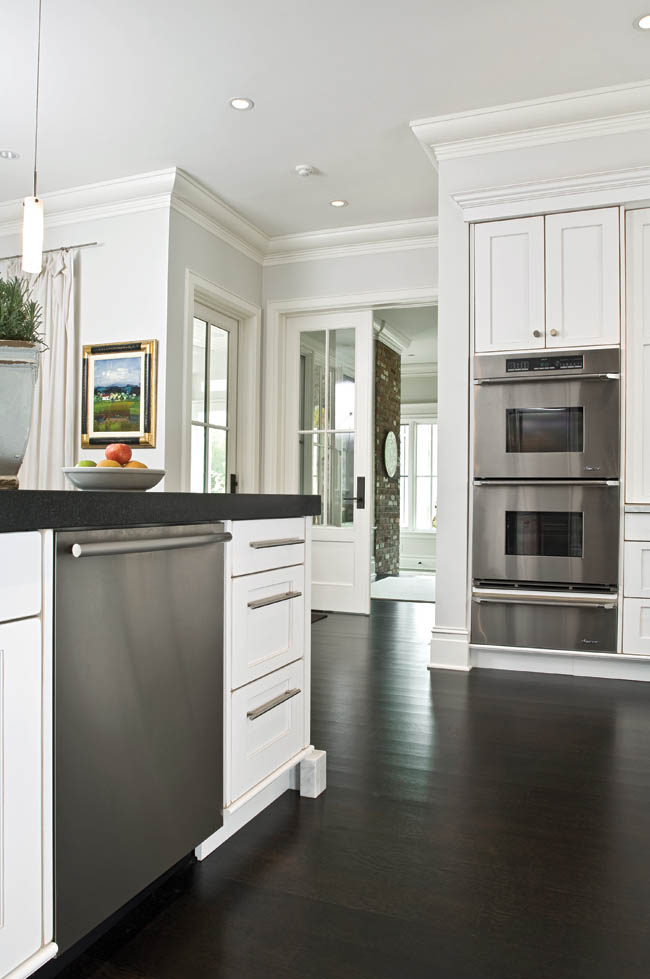 "I definitely like the look of stainless steel against the black floors," Pamela says. The floors, which were stained on site, have a black finish, but enough of the wood shows through to create a rich patina which allows brown accents to be occasionally mixed into the space.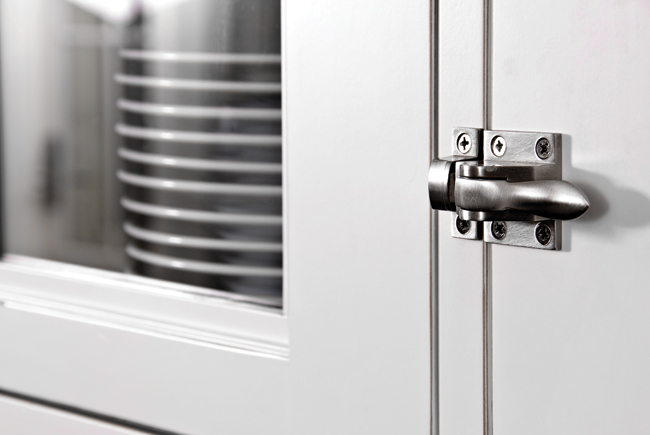 Brushed stainless steel drawer pulls and knobs accent the custom cabinetry. Latches for the china cabinets were discovered by the homeowner in Chicago.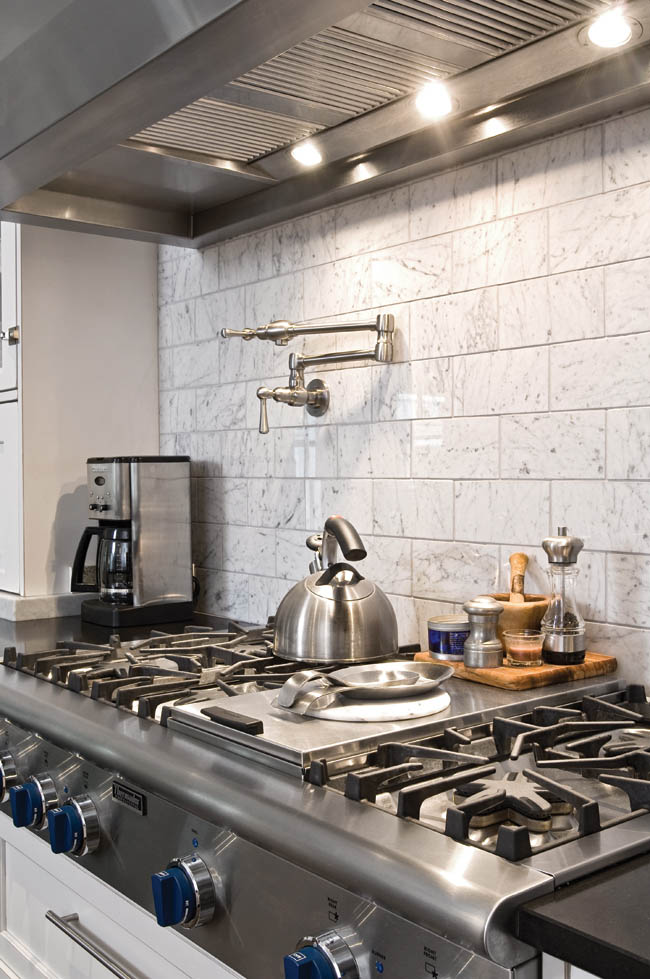 One thing Pamela wasn't quite certain about during the planning phase was the small appliance corrals beneath her overhead cabinetry, but now that she has them, she is happy with their function which enables her to keep her microwave and coffee grinder out of sight.
Pamela was certain, however, that a pot filler be installed over the cooktop—it's something she says she uses every day. "That is a definite must-have for me in any home I own from now on," she says.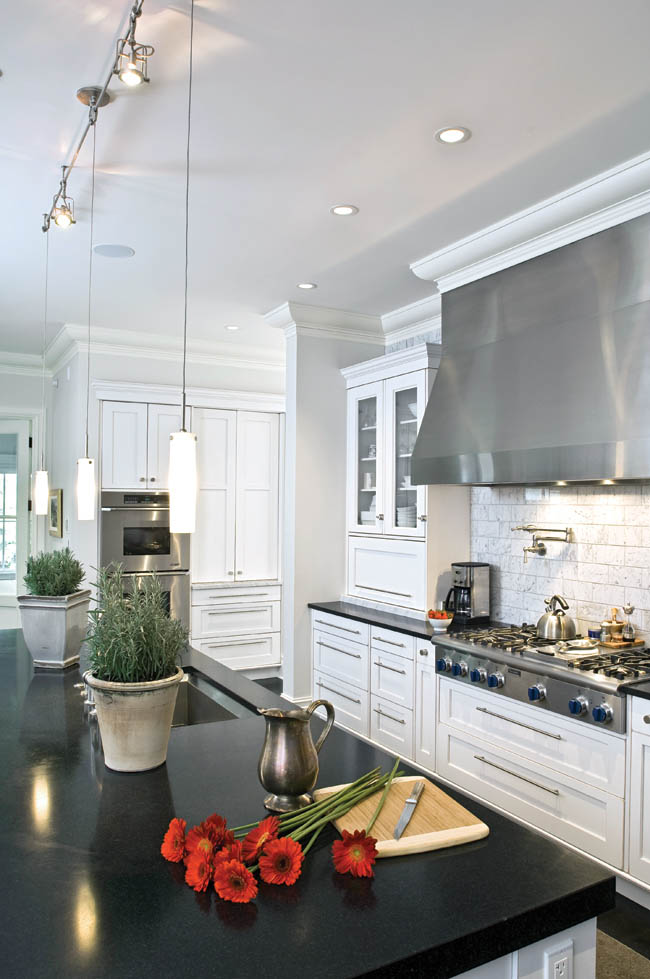 The couple entertains quite a bit in their home, so having plenty of counter space was also a priority for this kitchen. Surfaces are covered in a honed black granite that is thicker on the island than on the countertops. Playing against the granite is a slab of Carrera marble used on the backsplash and perimeter counters which give a natural stone look that the homeowner wanted. A six-burner cooktop, a generously-sized sideboard, and a built-in wine rack let Pamela know that when guests arrive and her kitchen is put to the test, the results will be favorable.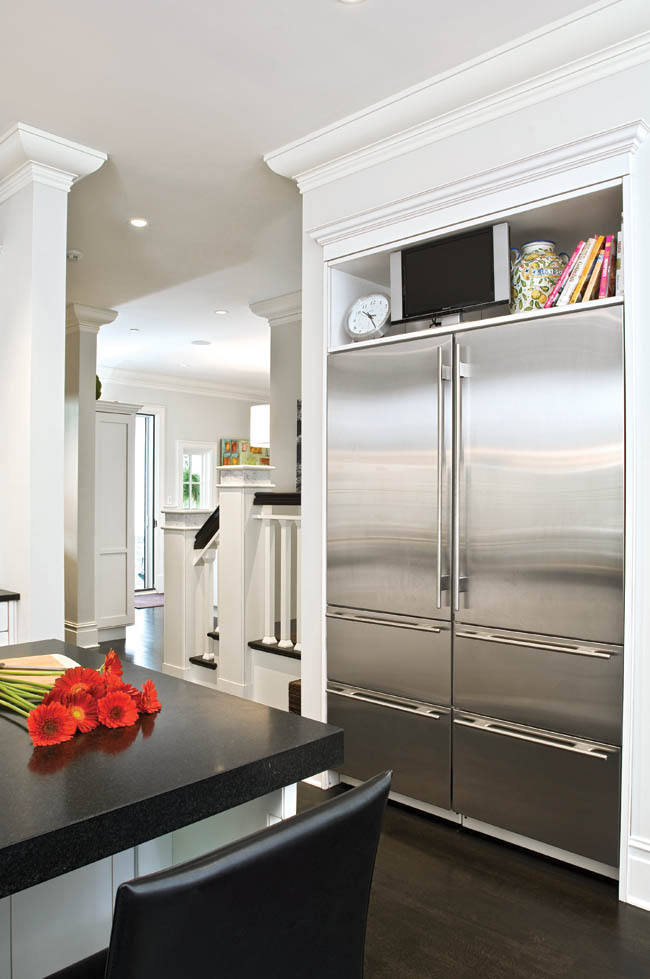 The Greenwalts are confident that their kitchen will remain a timeless area that will continue to meet the needs of their growing family for years to come.
"I really think this room is suitable for all ages," Pamela says, "and I cannot imagine a need that this kitchen could not meet."