Apparently, what works on the playing field, works in pool design as well. Tampa Bay Buccaneers running back Doug Martin knew exactly what he wanted when he decided to add a swimming pool to the new home he was building in North Tampa. During his free time, he had combed the Internet and magazines for the best ideas out there.
That's where all that on-the-job strategy training came into play. Armed with a dry erase board and colored markers, he sketched out all the features he wanted to be included in the design, complete with notations and arrows, and sent it off to Billy Barber of Landmark Pools to help turn his dreams into reality.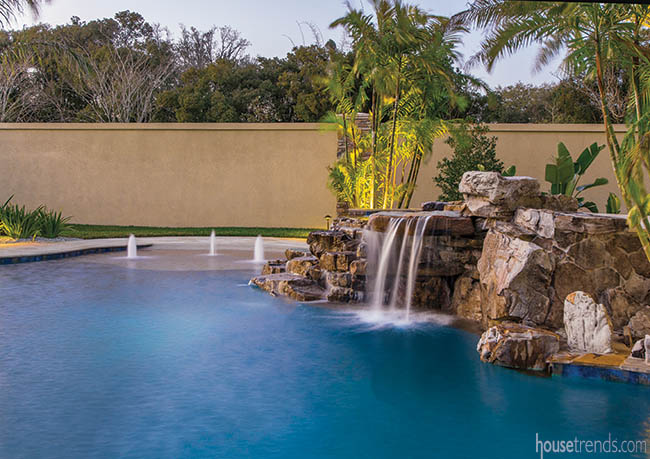 "I knew I really wanted a pool. I was living in an apartment while the house was being built and during that time, I used an app to look at pools and get ideas," says Doug. "I really liked the walk-in fire pit, I really liked the walk-in beach platform, and I really liked the spa and waterfall design.  Initially I wanted a waterslide but when I heard the cost, I said 'no thanks'. I added a basketball hoop at the end of the pool for fun."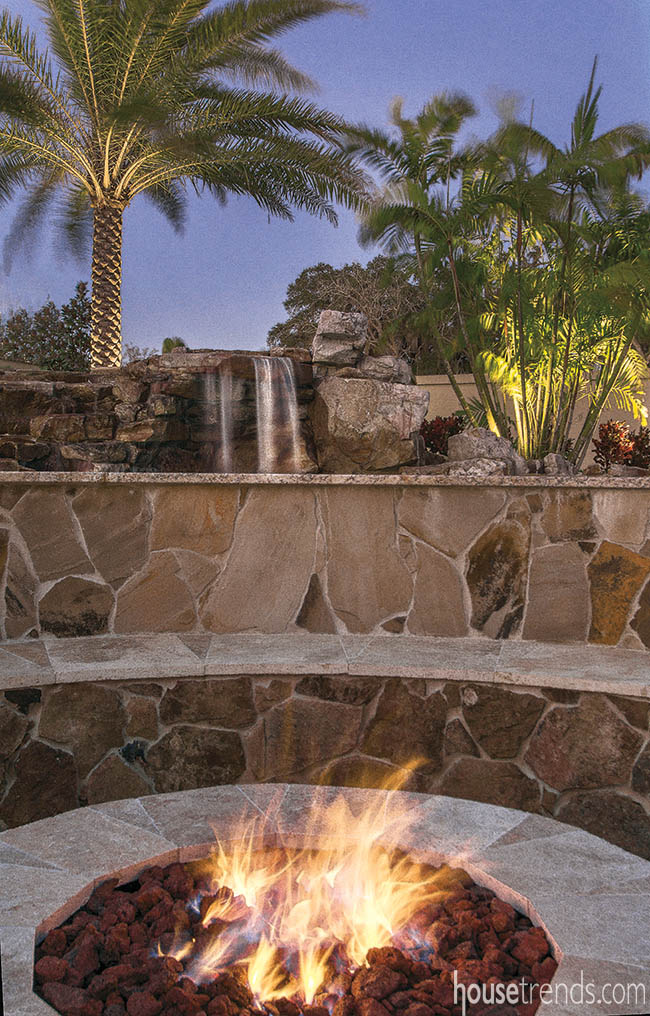 Using these ideas, Doug got to work. "I had a dry erase board, so I drew the design I wanted. Then I took a picture of it and sent it to Landmark Pools, who had been recommended by a family member. They took my scribbles, moved a few things around, and made it look professional," he says.
"Doug came to us wanting to upgrade his back yard.  He wanted a party pool," says Barber, a licensed landscape architect and pool designer with Landmark Pools, a 40-year-old design and build pool contractor. "He came to us with plan ideas and an image from Housetrends of an outdoor room with a sunken fire pit. This is an active pool with all the bells and whistles." Doug's clear vision gave them an excellent playbook to work from and the results are outstanding.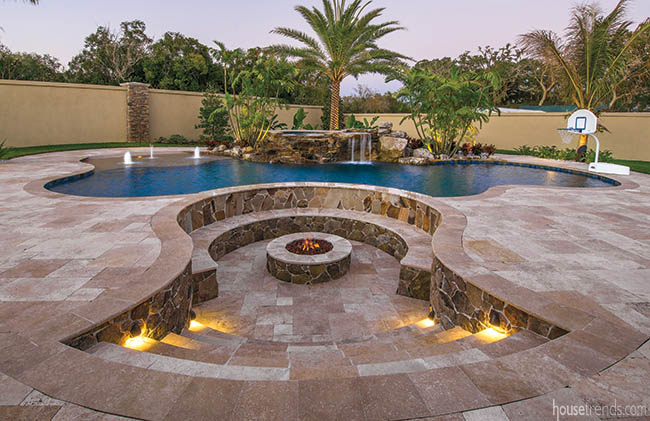 The pool is an integrated design feature of the home and is situated so that it is immediately visible upon entering the front door of the home. "When you walk in the house and look out through the lanai, you see straight across the fire pit and the water, to the waterfall," Barber says.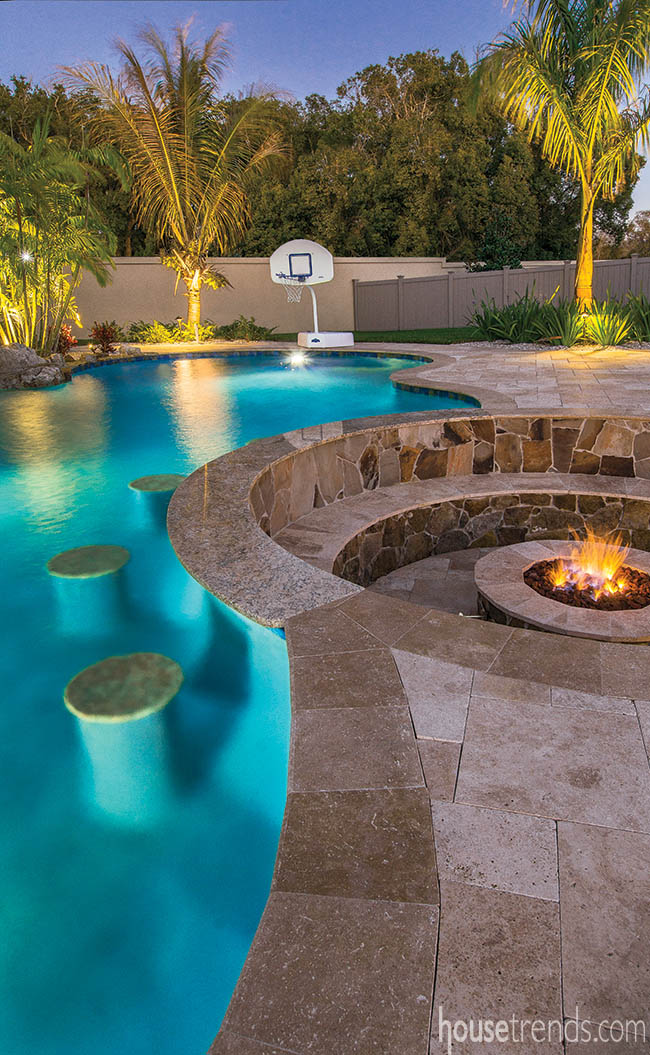 Based on Doug's initial sketches, Barber designed a natural lagoon pool with a rock grotto, raised spa and waterfall. The design also included a swim-up bar with underwater stools and sunken fire pit area with step lighting and built in seating.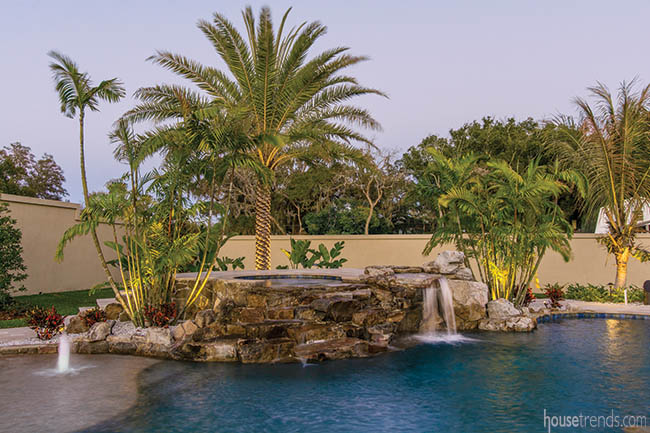 Roman Blend travertine pavers were chosen for the surrounding patio, with Tennessee fieldstone for the wall cladding of the fire pit area, the grotto and the spa. These gentle, natural colors create a more natural feel that ties in well with the stone work of the spa. The cascading rock waterfall connects the spa to the pool and is adjacent to the small rock grotto with a seating platform for a "double rock wall" effect. The water pours off over a large flat jump rock overhead so you can literally sit under the waterfall. "Each rock is a natural element so you get inspired when you get inside," Barber says.
"The rock installer did an awesome job. He made the stones all fit right and added the jump rock. He put it together like a puzzle," says Doug.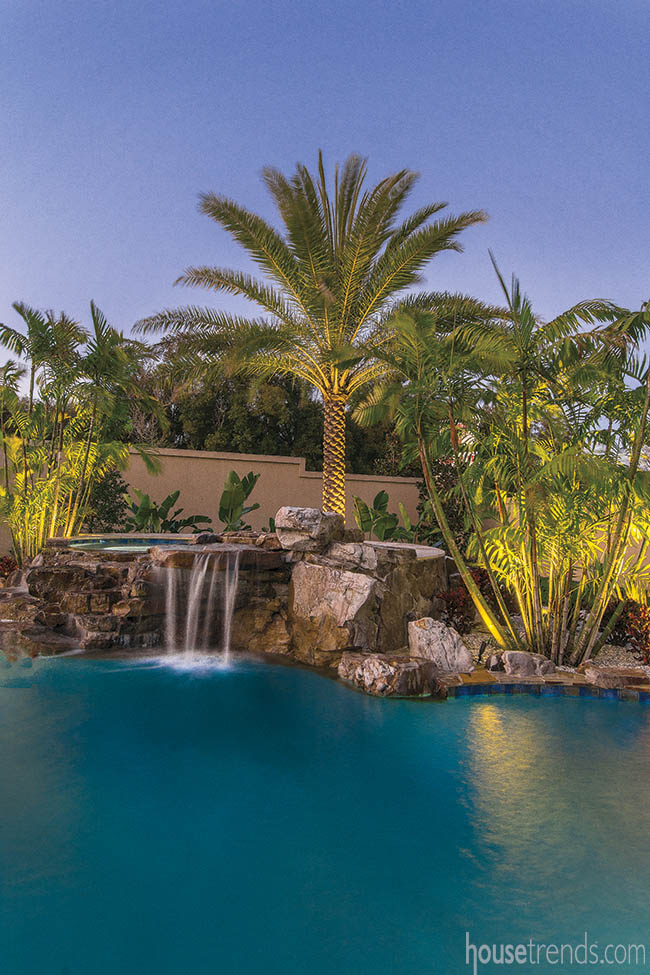 Before this pool came to life, it was just a big grass yard. "We had a big yard to work with," says Barber. Doug wanted large tropical palms for his pool so Bob Deegan from Belleair Palms, was brought in as part of the team to do the landscaping. Deegan supplied and installed the wide variety of palm trees, including Coconut Palms and Date Palms along with the landscaping. "I try to give people something unusual or different that you don't see every day," he says.
Fitting that bill are the slender, multi-trunk Tahiti Palms rising gracefully on either side of the spa.  "Tahiti Palms from Indonesia (also called Linnear Palms) are so rare that you probably can't even find them online," Deegan explains.
His choices were right on target.  "I love the trees. I wanted it to look really tropical. I love my Sylvester Palm and the Tahiti Palms!" Doug says with satisfaction.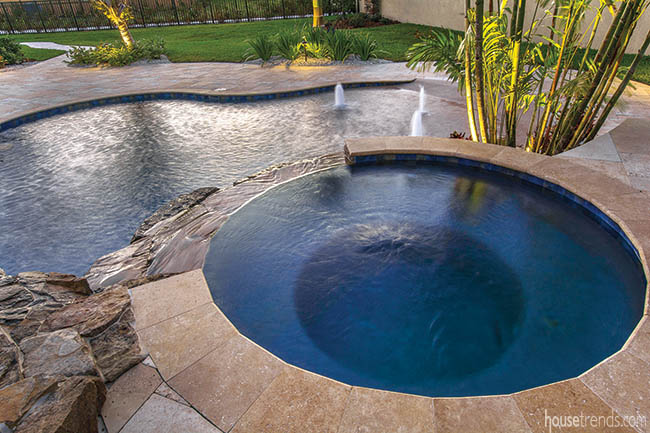 The pool holds roughly 30,000 gallons. Pebblesheen by Pebble Tec, in a rich "Alpine Blue" was chosen for the interior coating of the pool. The beach sunning platform, which features three small water bubblers, is coated in the same product but in "Desert Gold" to blend with the travertine and rock work. This pool, which took 10-12 weeks to complete, is 5-feet 6-inches deep at the deepest point and features color-changing LED lighting throughout.
The whole project was a success by reports of all involved and Doug could not be happier with the end result. His final words sum it up, "I want to thank Bob and Billy. Everyone did such a great job!"
Resources: Pool: Landmark Pools; Fire pit step lighting: Dynamark; Landscaping: Bob Deegan, Belleair Palms