The front landscape of this home features curving, flowing beds of low maintenance plantings.  A gentle berm raises the landscape to an attractive fence which separates the front of the home from the secure side and rear areas.  Plumed seagrasses are interspersed with ligustrum trees, ixora, variegated schefflera and other plantings for contrasting color and texture.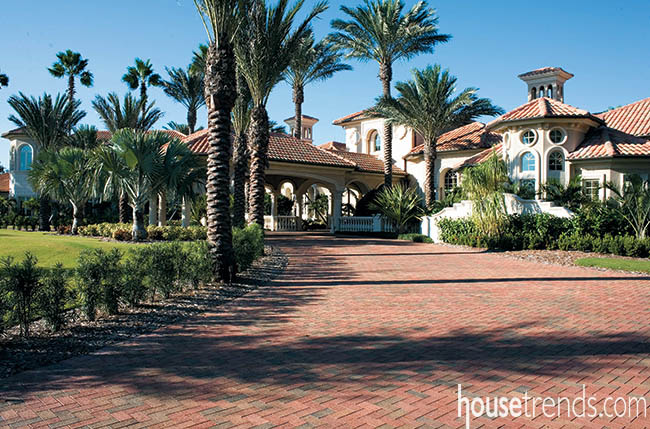 The soft, dense grass used in the front of the property is Paspalum grass, a special hybrid that owner Bill Baumgart found while researching on the Internet.  He saw that it had been used at an island resort so he called them to find out more information about it.  By coincidence, it is actually grown in Sebring, Florida and is used on golf courses all over Florida.  It is also used extensively in Las Vegas because it takes very little water; in fact, too much water will kill it.  This grass is also very salt tolerant so it is well suited to Florida's west coast.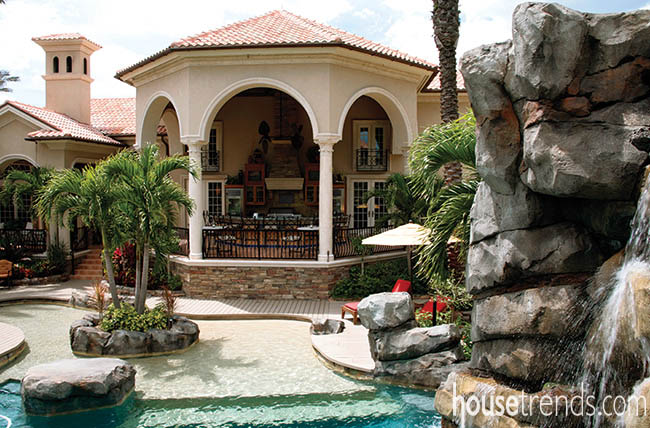 "Tom Levin with Ekistics Design Studio did the landscape design and the initial pool area design," says Jerry Glaser, owner and president of Glaser Homes. Jerry, the builder of this amazing home, also oversaw the building and construction of the pool area project.  It involved pulling together many specialists to put this puzzle together into one dramatic whole.  "The coordination was enormous!" Jerry exclaims.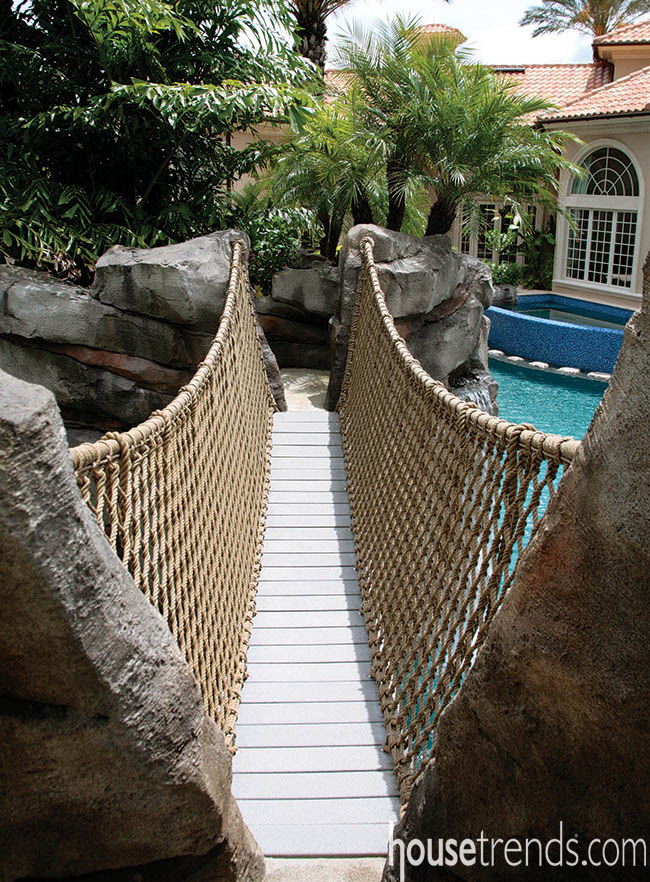 "I told Jerry I wanted two mountains connected by a rope bridge," Bill says with a grin. A glance out back shows he got that and more.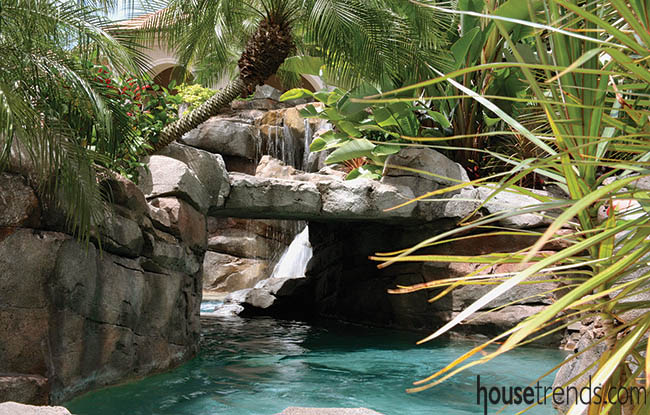 The massive pool complex, built by Landmark Pools, is purported to be the largest residential pool in Florida.  With approximately 200,000 gallons and a lazy river or "jungle cruise" as Patrick O'Connell, president of Landmark Pools calls it, this is easy to believe.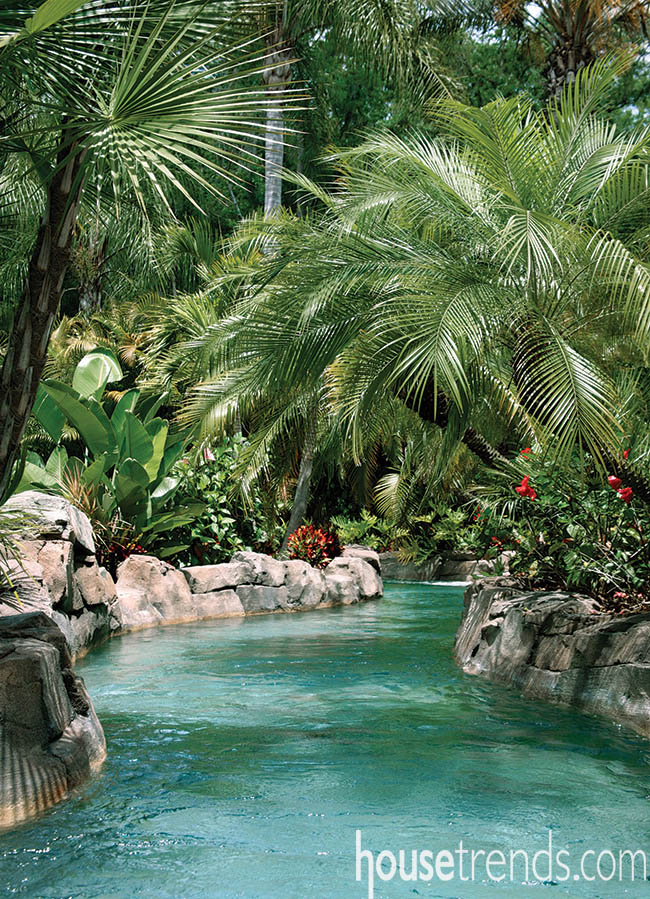 To get to the "volcano" hot tub, one takes a winding route leading down the mountainside and across the aforementioned rope bridge to another smaller rock island.  To complete the water adventure, a lazy river winds around the property for lazy lolling in the pool.  "The lazy river is everybody's favorite," Bill says.  "It takes five minutes to get all the way around it."  A carved tiki head peers down from a nook in the boulders while long vines trail down for a truly tropical island effect.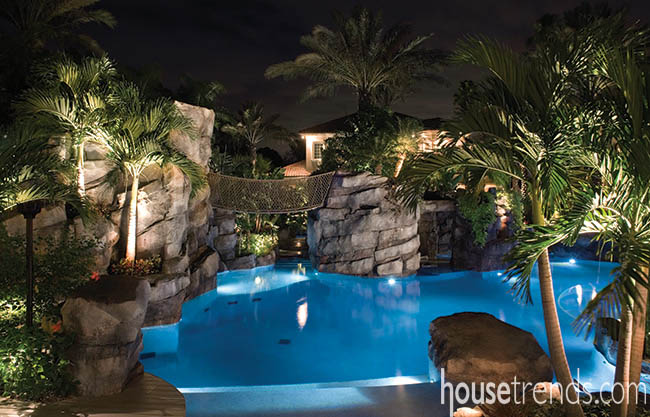 "I wanted the rocks to look like the Jurassic Park rocks at Islands of Adventure at Universal Studios," Bill says.  Jerry researched the options and found Valley Crest, the contractor who had actually did the work at that ride.  While primarily known for their commercial work, he found they did work on large residential projects as well.  The massive boulders, waterfalls and mountains were built out of wire, lathe and steel; then sprayed with a stucco slurry.  Finally, they were hand carved and hand painted right down to the "faux" moss in the waterfall overspray areas.
Planting the backyard area required some real creativity in regards to the larger trees and plants.  "Getting the trees in the back was a real challenge," Jerry explains, pointing to all the large palm trees and other mature plantings.  "They couldn't 'plant as they go' because it would be too hard to keep everything healthy with all the time involved in construction."  To handle this they brought in a crane to lift everything into place once the area was built.  One massive palm even had to be lifted by crane over the entire house.  "We never lost a plant," Jerry says proudly.
This property is so large that gardener Frank Lucas works full-time to maintain the property.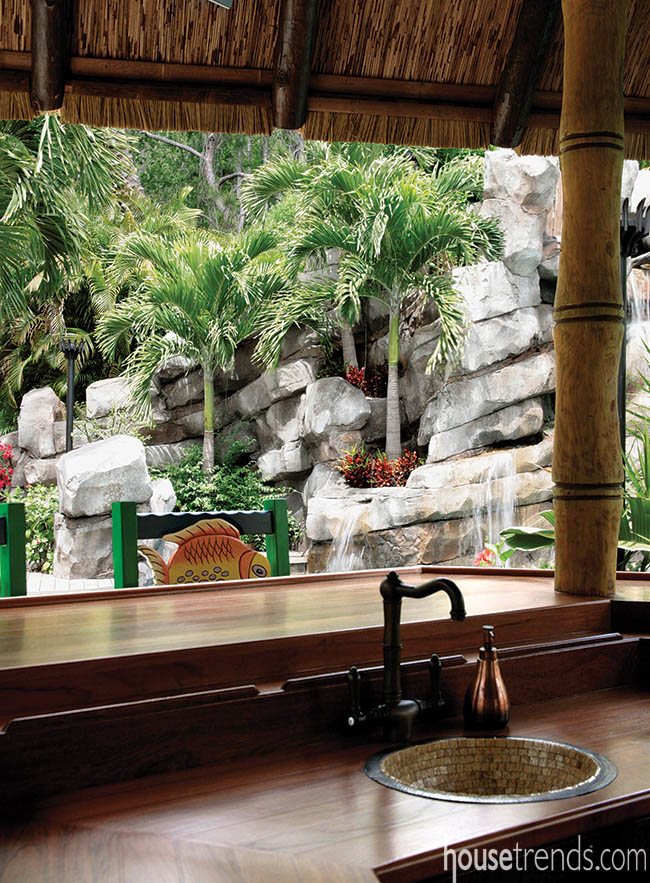 The rear of this home is a playground for kids of all ages.  Directly adjacent to the wall of the home, a small infinity edge pool pours down into the larger pool below.  Swimmers here can swim over to the thatched roof tiki hut, complete with hanging life-sized shark and sit on submerged stools while sipping a refreshing beer, straight off the tap.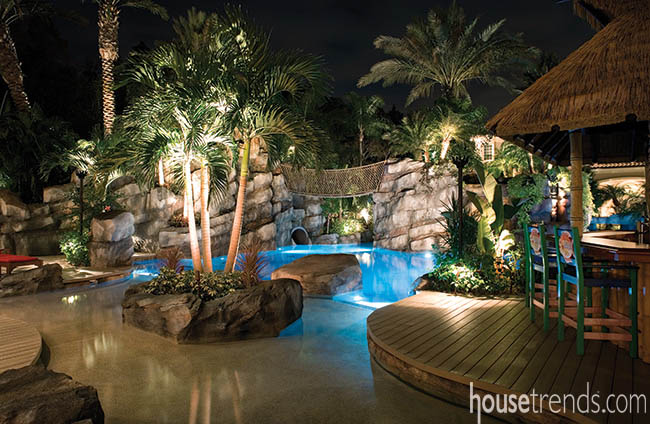 Or, they can walk across the submerged stepping stones the run just below the water's surface below the lip of the infinity pool.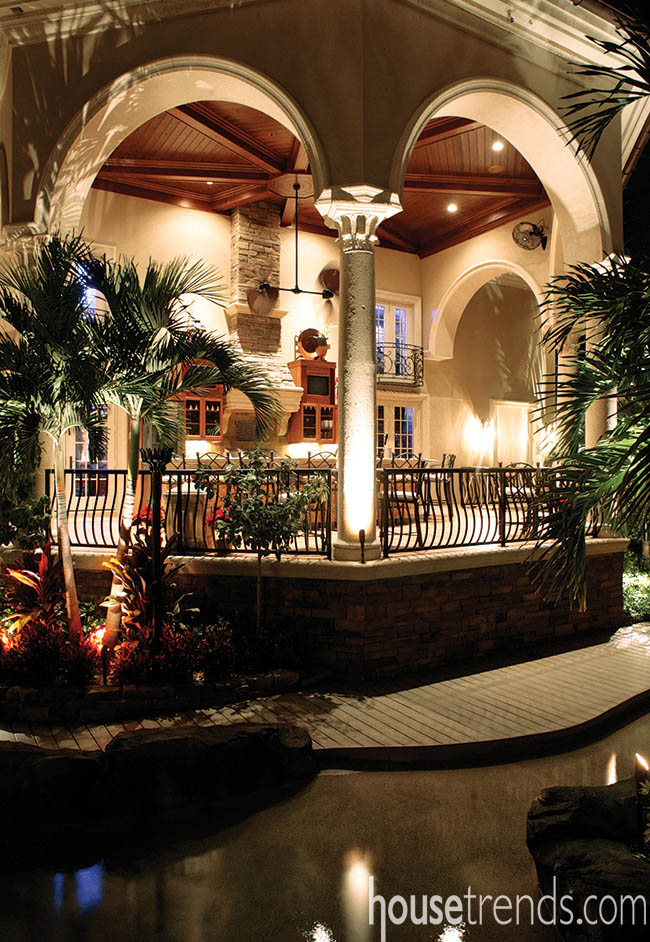 While one steps down to the tiki hut, the upper patio levels feature a more formal dining area, an outdoor living room with large fireplace and lounging chairs and an elegant outdoor kitchen.
The patio decking closest to the water is a "permanent wood" product—a composite made to look like wood but with a far longer lifespan.  Pavers in tan and peach colors help differentiate the stepped patio levels while 1×1-inch terracotta tiles make up the flooring of the outdoor kitchen and dining area.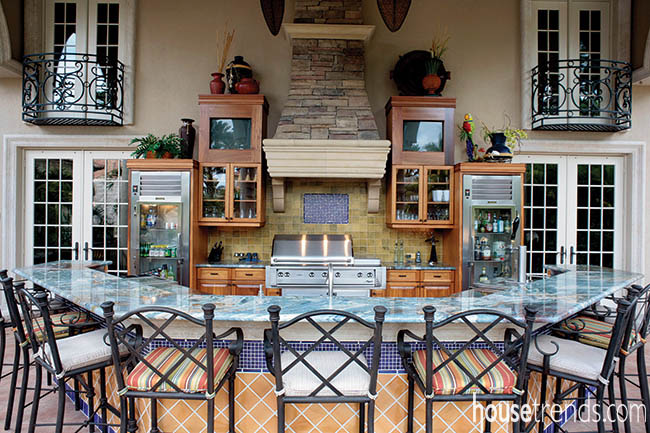 The outdoor kitchen, complete with dual Traulsen drink refrigerators, Alfresco gas grill, beer on tap and massive stone hood make outdoor cooking a treat.  Dramatic teal granite counters, rich wood cabinetry and glass backsplash tiles of blue and gold add an elegant islands touch.  "I have to give my wife Nancy a lot of credit.  She designed this whole area and it looks beautiful," Bill says.
His-and-her pool baths, identified by male and female tiki masks complete the picture and, to keep it comfortable, an all-natural insect repellent system using chrysanthemum oil spray, mists the pool area 3 times a day to keep biting insects at bay.  With a back yard like this, who ever needs to leave home?