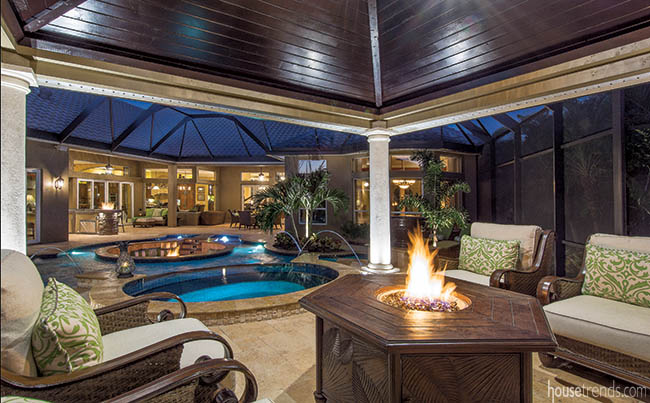 Written by: Lyla Haggard/Photos by: Johan Roetz
Harry and Leslie Michalek are thrilled with their newly replaced swimming pool. After three years in their Bayou Club home in Seminole, it was time for a fresh look for the back yard—not only for themselves, but for their whole family to enjoy.  The Michaleks utilized their experience as landscapers—and enlisted the creative minds of two other professionals to produce and install a beautiful and efficient resort-like atmosphere that encourages everyone to enjoy the great outdoors.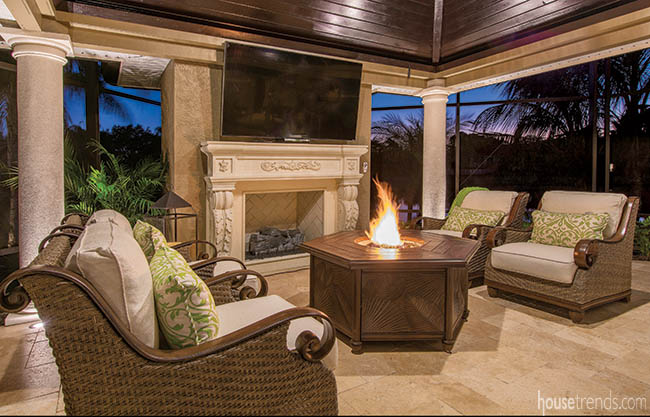 A polished design
Being expert landscapers and co-owners of Proturf Landscape, Inc., Harry and Leslie were aware of the latest trends and best plantings needed to surround a pool area. Another resource, Drew Copley, owner of Copley Design Associates, was called upon to design a pool area that was both functional and delightfully gorgeous, with a splash of glittery shine (a request from Leslie). Harry, a golfer, wanted to be able to sit in the spa and watch golf on a huge flat screen TV, in addition to checking out actual golfers' shots playing the adjoining golf course alongside the pool cage. Harry is also an avid swimmer and therefore wanted a swim lane for laps.  He got it, thanks to a 40×8 ½-foot lane in the center of the pool.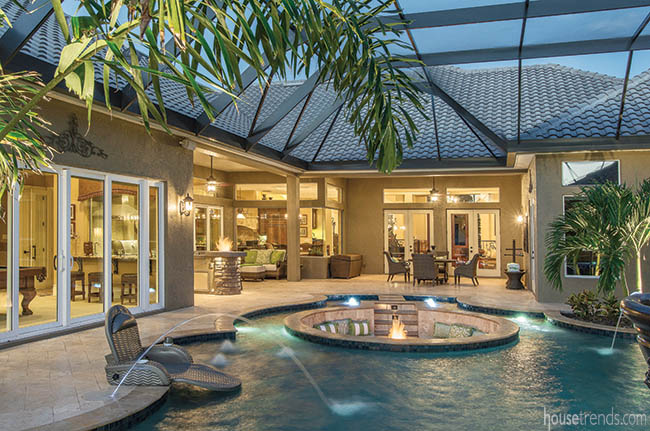 In addition, the couple has three adult daughters and five grandchildren ages four to ten. Since they are frequent visitors, Harry and Leslie made sure to include fun water features such as bubblers, jets, lion heads with water spouting out their mouths, and colored lights galore.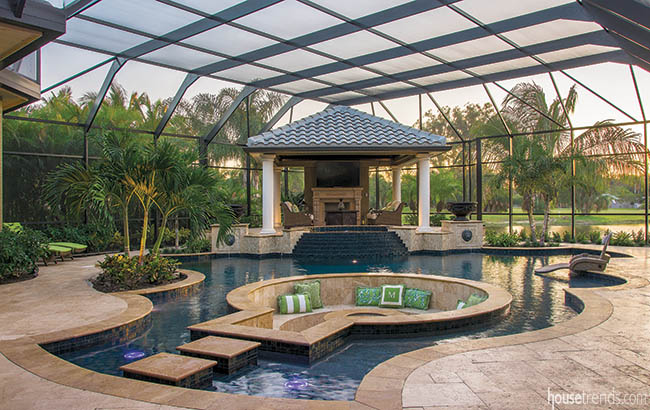 Recognizing the complexity of the numerous elements of this fabulous pool, Copley recommended Landmark Pools, Inc. to install his design. His recommendation was based on their years of experience, their ability to handle complex designs and their commitment to quality materials and installation. "The Michaleks were prepared—something they acquired during their years of landscaping—and they had a clear vision as to what they expected as a finished product," says Bart O'Connell, General Manager of Landmark Pools, Inc. "The excellent design from Drew also helped immensely."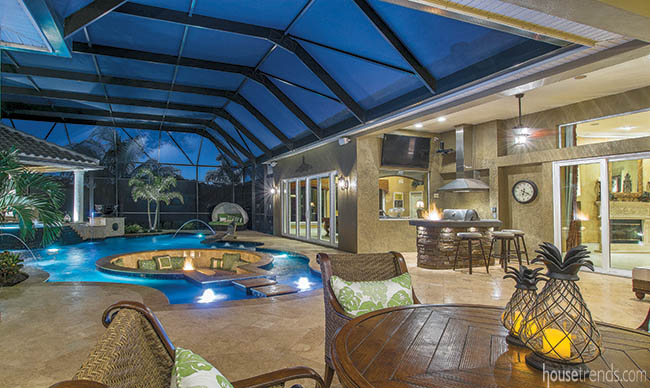 Both O'Connell and Copley observed the project from every window to ensure that each one had a great view. O'Connell also credits Billy Barber, on-site Landmark Project Manager, for his experience, hands-on approach and frequent communication with Harry and Leslie. "He has been with us for many years and is not easily 'overwhelmed' by challenging undertakings such as this one," says O'Connell.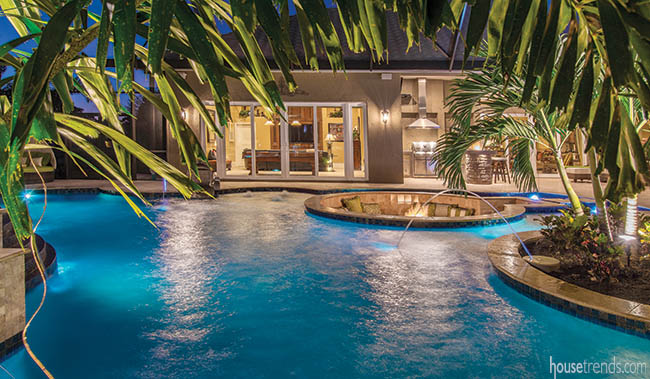 Basking in the glow
Numerous features give this back yard the aura of a true resort: first, a unique pool shape with nary a straight line. Encircling it is 1,600 square feet of gorgeous Travertine marble pavers that drain water away from the pool using "shower style" slits in the outer tiles that lead to a large underground pipe. Since the Bayou is a low-lying area, Landmark installed sump pumps and a channel drain to control any excess water. Next, a pool surface incorporating abalone and Pebble Sheen in Ocean Blue help to bring the refreshing water to life. Landmark also accommodated Leslie's request for a touch of sparkle by installing a border of shell and glass tiles along the water line and the spillover feature for the hot tub. "It's like diamonds all over the pool," says Leslie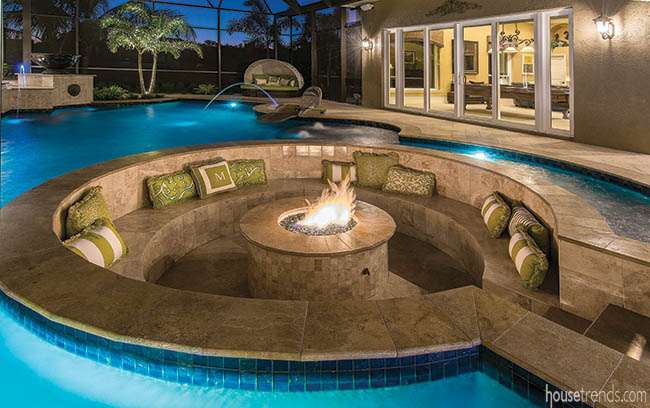 Colored laminar deck jets scattered throughout the space add glamour, while planters add color and a luscious feel to the area. The cocktail/conversation pit is one of two unique features added to the outdoor area. This travertine circular sunken conversation area is surrounded by the pool and offers a center fire pit. According to Leslie it has various uses: the ability to enjoy the pool without getting wet, which often suits guests and allows Leslie to get down to water level to chat and play with the grandkids at the spur of the moment; an unusual place for cocktails before dinner or dessert afterwards; and a place for calm isolation mid-pool. "Being at water level yet dry is an amazingly restful place to be," she says.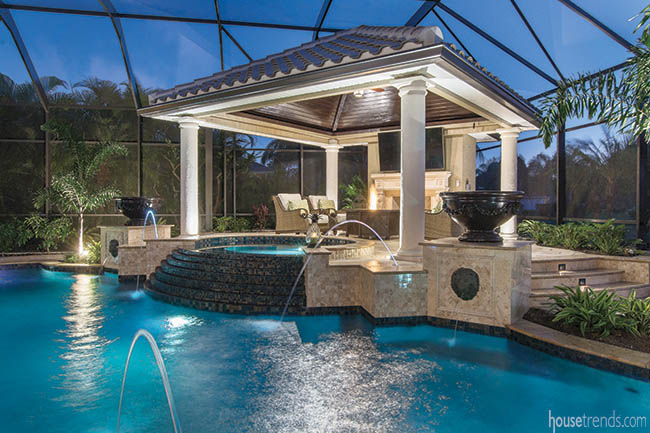 The second feature is Harry's hot tub, positioned precisely so that he can watch the TV inside the pergola above the fireplace while enjoying the bubbling water and relaxing after a day's work.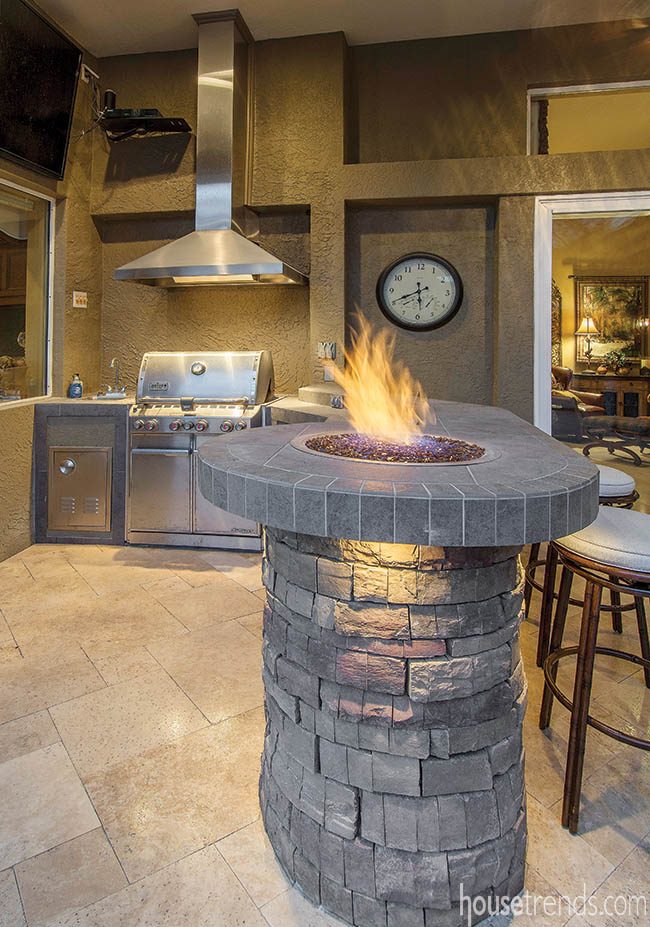 O'Connell also points out the added complexity of removing the original pool. "Many clients overlook the need to remove the existing pool in their excitement in designing the new one.  Removing a pool is no small task," he laughs. He adds that removal of existing pools is a new trend that is usually necessary in order to create a totally different atmosphere, which is what many homeowners now desire.
Thanks to their well-thought-out plan and Landmark's attention to details, the Michaleks couldn't be happier with their new outdoor living area and swimming pool.
Resources: Pool design: Copley Design Associates; Pool: Landmark Pools; Landscape: Proturf Landscape, Inc.