They love entertaining, French gardens, and Paris. They desired a new outdoor space for their home to offer them these pleasures, and complete the "small chateau" style of their residence. "We wanted to do something that would reflect our interest in French country style," explain these Upper Arlington homeowners. Their home had a nice terrace in back already, but not an exceptional one they said, so they started a journey to make it so.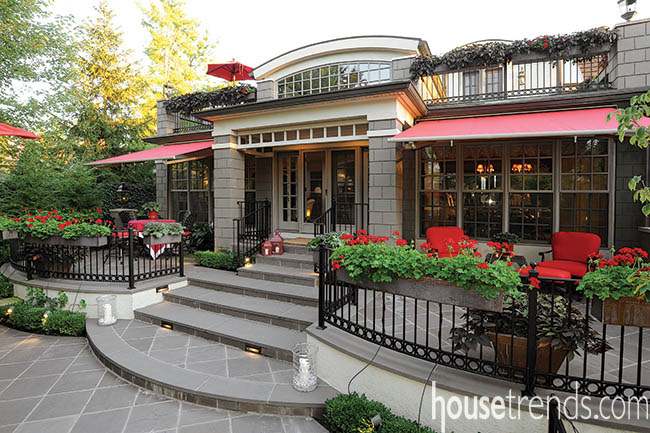 Their favorite place to stay in Paris—Hôtel Plaza Athénée, with its signature red awnings and geraniums—was the inspiration for a new back yard to give them the next best thing to being there. The homeowners chose to work with Jonathan Spayde of Landfare Ltd. whose design captured French garden influence in a vision of "something very unique." With multiple natural stone terraces and entertaining spaces surrounded by formal French-style parterre gardens, black wrought iron, striking red textiles, and a custom copper fountain, the space was transformed into a charming Parisian-inspired garden paradise.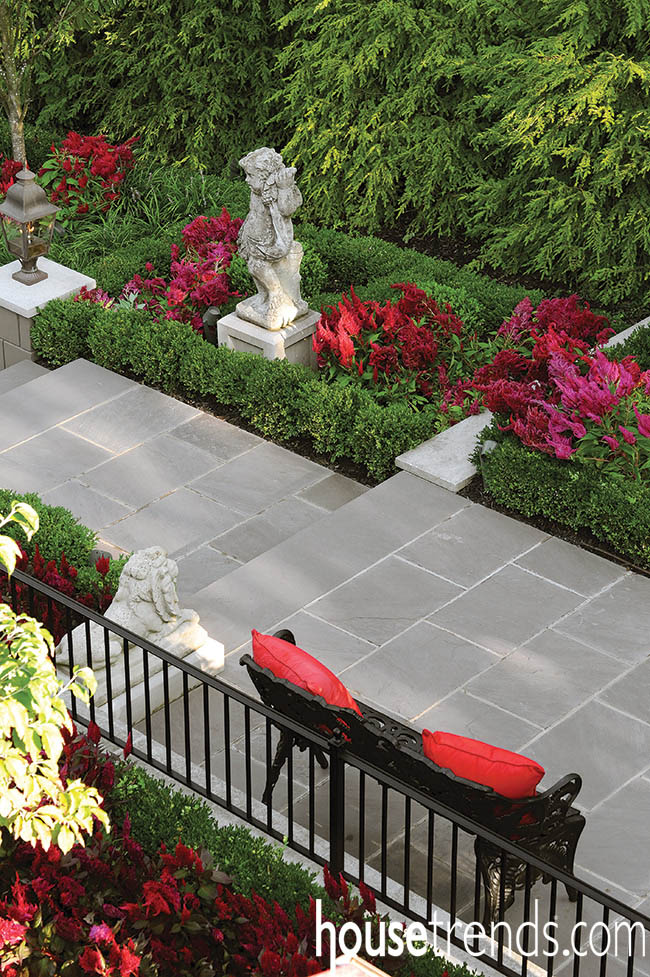 The foundation of the project, and evergreen aspect of the design, is natural blue stone used for the terraces, walkways and steps. The stone is a special "lilac version" of blue stone. According to Spayde, "It comprises about ten percent of the blue stone in the quarries. It has to be hand sorted to ensure the pieces are full-color lilac." Using a unique stone was key to the roots of the design since the stonework doesn't change and is considered the timeless component, while the landscaping is the living and ever-changing element.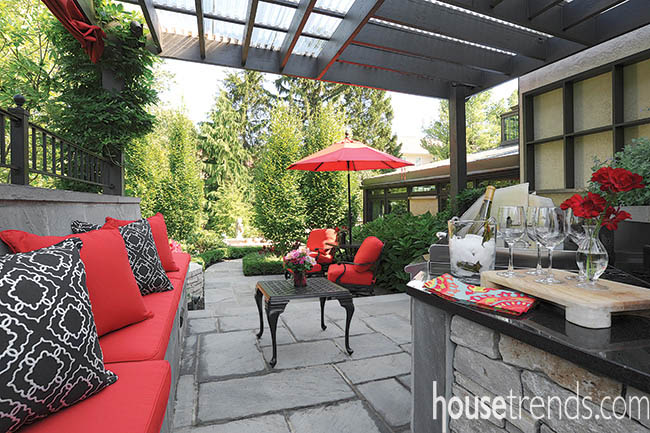 Different terrace levels were created to flow seamlessly into one another and offer a variety of dining, relaxing and entertaining experiences. "We wanted to capture the idea of multi-level entertaining space, like outdoor rooms," Spayde comments.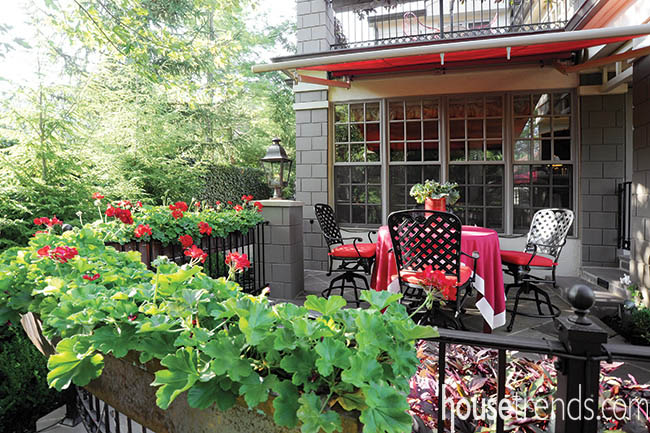 The upper terrace leads out from the main level of the home and offers both bistro and lounge seating areas. A few steps down leads to a dining terrace with table seating.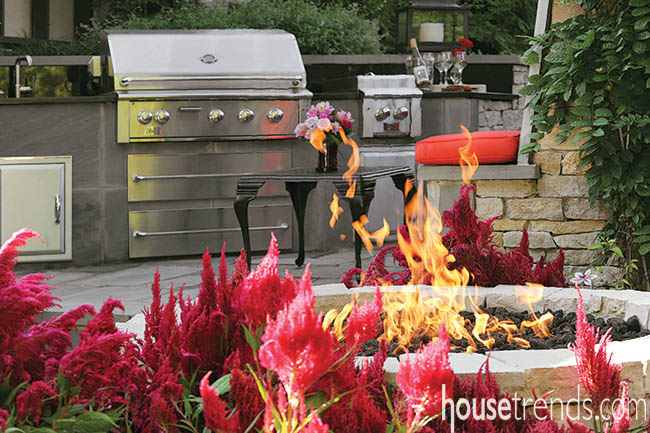 Just a short walk away leads to the cooking terrace outfitted with a bar, stone bench and imported Italian grill.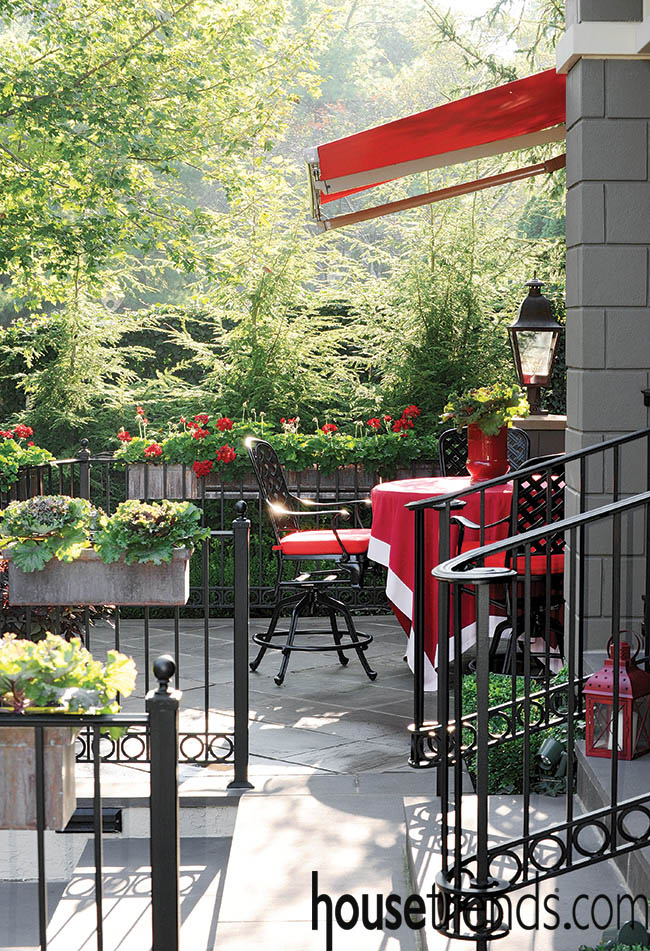 Red awnings and upholstery, wrought iron furniture and railings, and custom copper planters add the ambience of the homeowners' cherished hotel.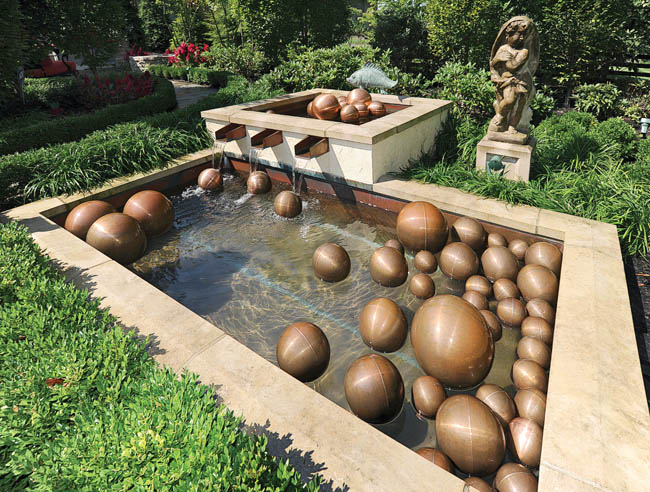 Journey down the blue-lilac stone steps to the lower level terrace. This terrace continues the ease of outdoor entertaining with its proximity to the home's second kitchen located just inside. The copper fountain, or "moon pool," on this terrace is a custom design that was inspired by Jonathan on a moonlit night when he was studying the outdoor space in evening light.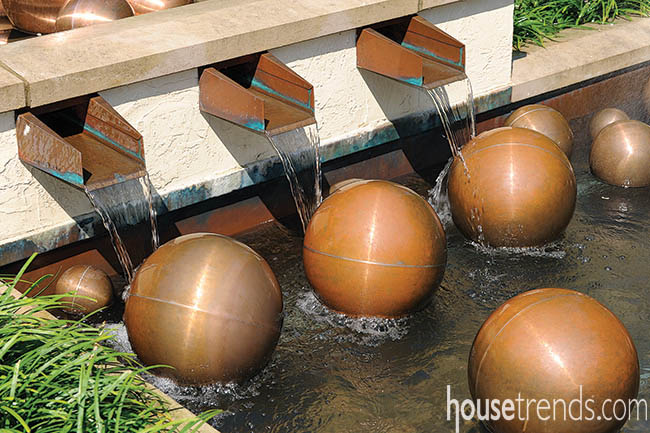 Capped with limestone and completely lined with copper, the two-tiered fountain trickles water from an upper level to a lower pool of floating balls that move freely about. The fountain is illuminated with under water lighting creating a sight to behold at night.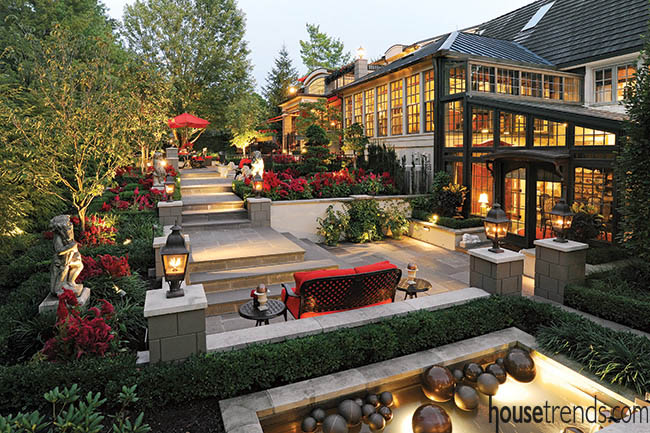 As day gives way to night, all of the walkways and terraces are enchantingly illuminated with custom French Quarter gas lanterns and 200 landscape lights. "It's a very special place to be at night," says Spayde.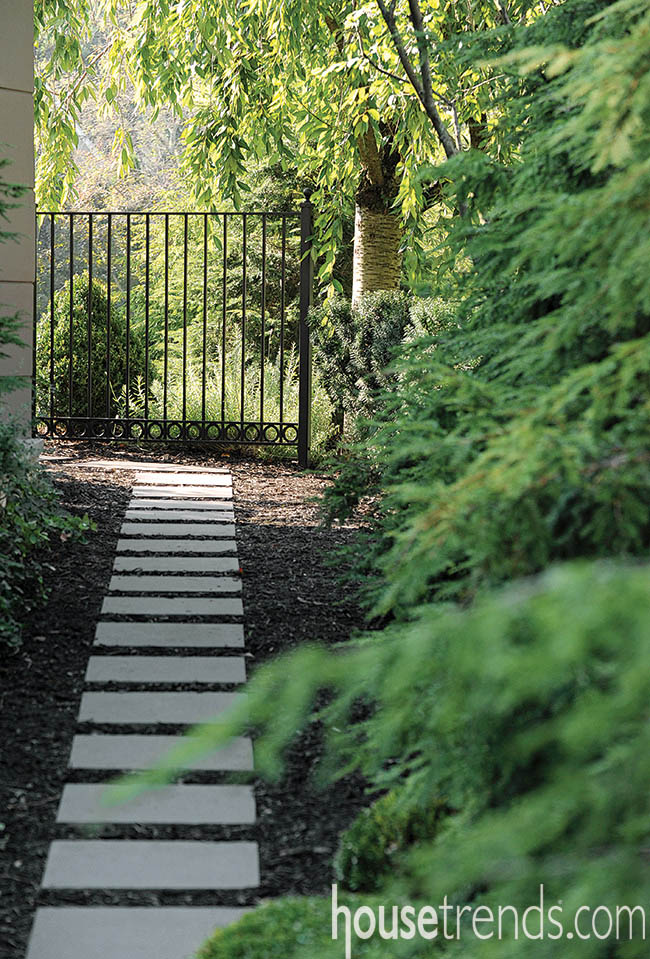 The landscaping is anchored by boxwoods that line the walkways and the gardens to define the planting beds—a characteristic of parterre gardens and French landscape architecture.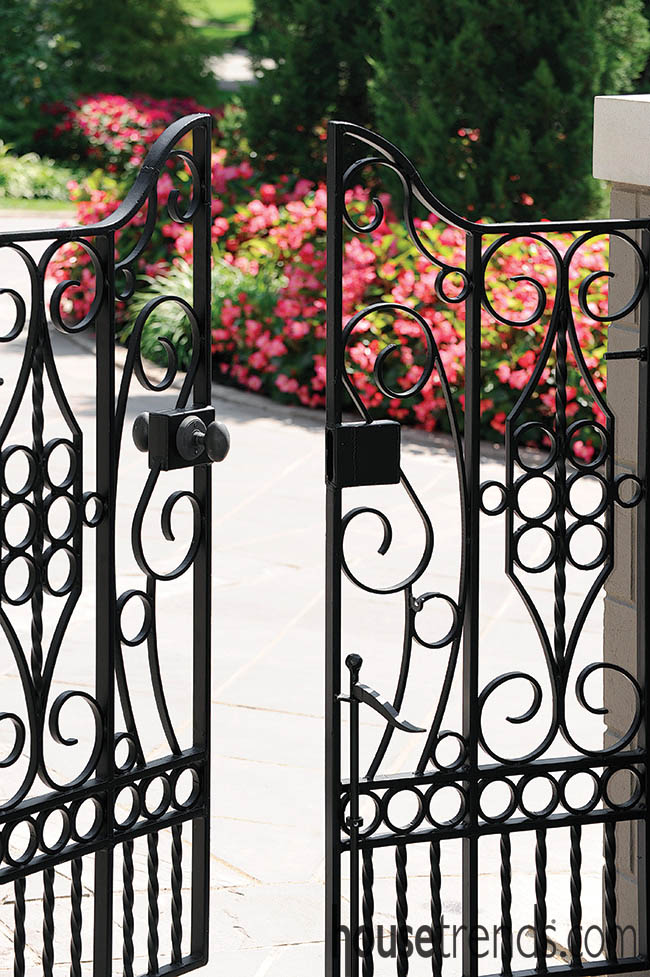 "The boxwoods establish a consistency of greenery that follows the stonework throughout the entire project," adds Spayde. "Flowers and different adornments are confined within those perimeters of boxwoods."
The gardens also provide the perfect showcase for the homeowners' antique statuary. "We love garden antiques," they remark. "And we love how they are used in the design."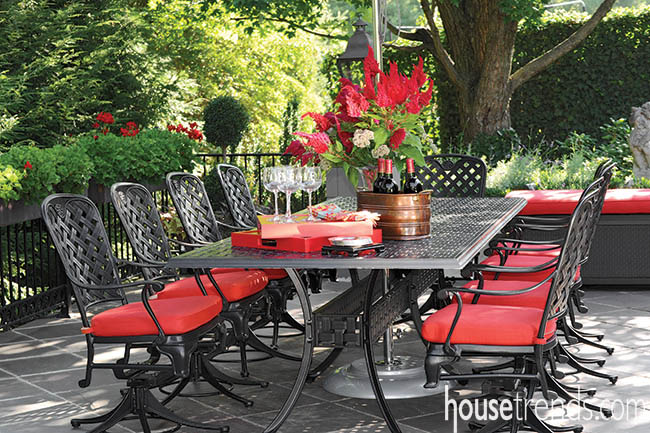 A variety of annuals and perennials tended throughout the season create an ever-changing choreography of color and vitality amongst the stately stone and trimmed boxwoods. When the red geraniums come into play, the Hôtel Plaza Athénée stage is in full bloom. With the feeling of Paris now as close as their back yard, the homeowners reflect, "This is the picture we wanted to capture."