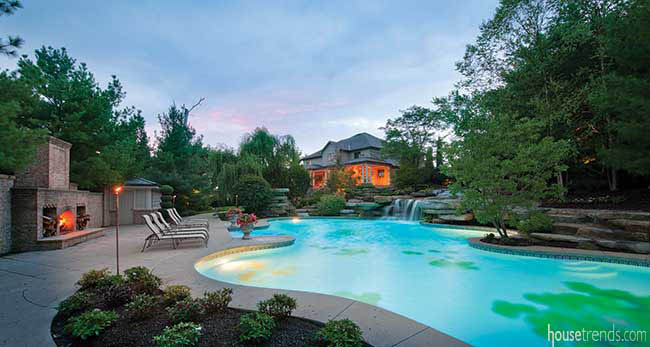 Most tradesmen have little time to create for themselves what they build for their customers. You've heard the tale of the shoemaker with the shoeless children right? Well, it took three years of hard work, but Mike Hodak, of Pools and Waterfalls by Mike Hodak, built his family a superb swimming hole.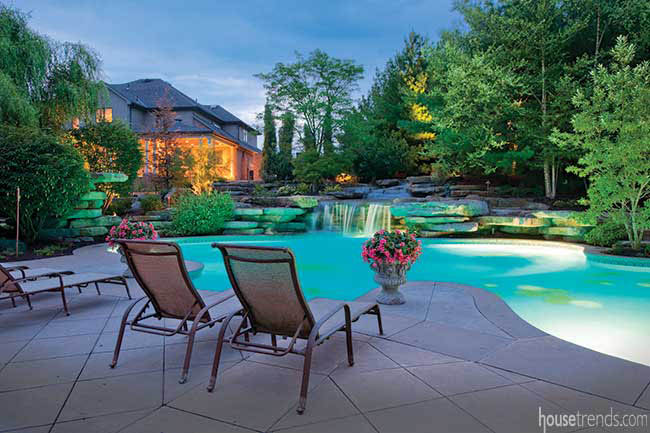 A dream materialized
Mike's wife Tammy learned that she enjoys the pool and its amenities from the perspective of a satisfied customer and as someone who is amazed by her husband's vision. When the pool was built, it sat near what was then the edge of a slope. She expressed her concern that the pool was so big there wouldn't be room for a patio. "Sure they'll be," said Mike. "I'll just put a rock wall here, a patio there, and pine trees behind it all to make it nice for us and the neighbors. You'll see," he said. "There's no way!" declared Tammy.
Mike saw the way, and Tammy is fast to admit, that after twenty-five years she still wishes she could envision some of the design ideas he comes up with. Unique ideas like the shallow pool rock ledge that Mike named the aqua patio. The last ledge in a waterfall series of drop pools, holds a few inches of water before the water descends about four feet into the swimming pool. It's large enough to place a few chaise lounges in the shallow water and lounge the day away, an ideal spot to stay cool, but dry, while the pleasing sound of flowing water surrounds you.
Depending on your preference, the waterway can be anything from a pleasant trickle to a rushing stream. And if you're feeling as energetic as a kid you can have fun climbing, playing and jumping from the rocks. The waterfall is a year-round feature. In the winter, the Hodaks keep the water flowing and enjoy viewing the icy shapes that form.
The aqua patio also forms the ceiling of a swimming pool grotto. Tucked behind the waterfall is a seating area with spa jets for both your back and feet. This underground oasis has a whimsically painted ceiling that adds to the enchantment.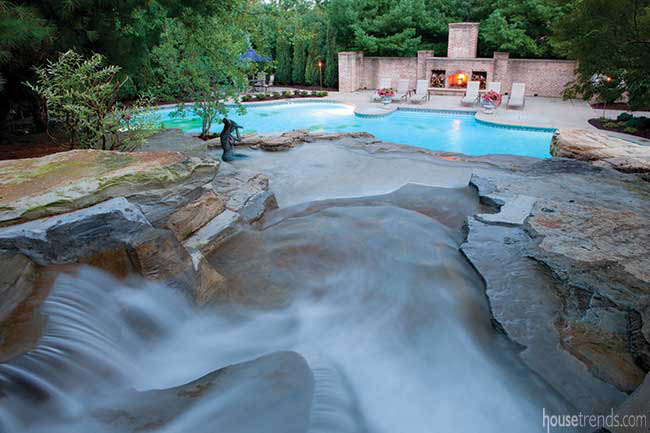 Live, laugh, love
The backyard retreat has been the hub of great fun with family and friends over the years. It holds great appeal to kids of all ages and it's still a draw to the Hodaks' children even though they are now young adults. Tammy thinks their outdoor space is great for entertaining intimate gatherings as well as large groups. They never know who's going to show up, but they love sharing their home.
And Tammy never knows what wild idea Mike will come up with next. One year, after allowing the chlorine to dissipate, Mike stocked the pool with trout (yes, live fish) for a fundraising contest. Families with kids came from all over the neighborhood for a chance to snag the golden trout and win a special prize. Fillet stations were set up for those interested in having the complete real fishing experience; others chose to catch and release. The proceeds went to the Watchful Shepherd organization.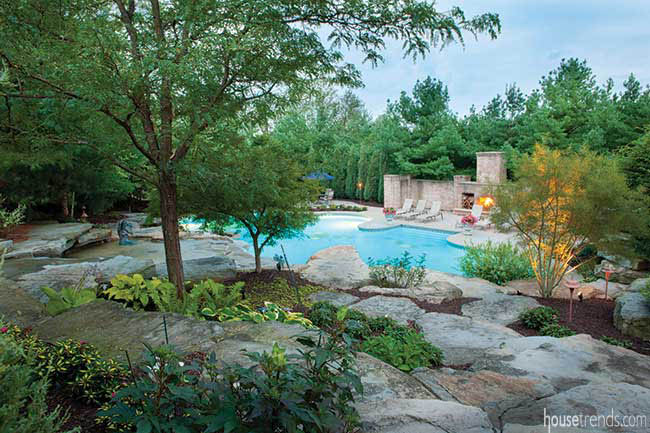 As for the garden
In his business, Mike works with Bruce Evanovich Landscape to create the ideal plant designs for his clients, and his home was no exception. Every job has a different plant palette, but the result is a naturalized setting that integrates the entire outdoor space.
When you enter the back yard in addition to being surprised by all that is back there you would be hard pressed to find evidence of nearby neighbors. The sloped lot has pine trees planted two and three deep along the border of the property to give the typical suburban lot a feeling of depth. It also provides privacy and a windbreak. Planted around the pool are hornbeam, curly willow, birch, sweet bay magnolia, honey locust and fernleaf buckthorn. A mix of perennials and annuals add summer color of the garden.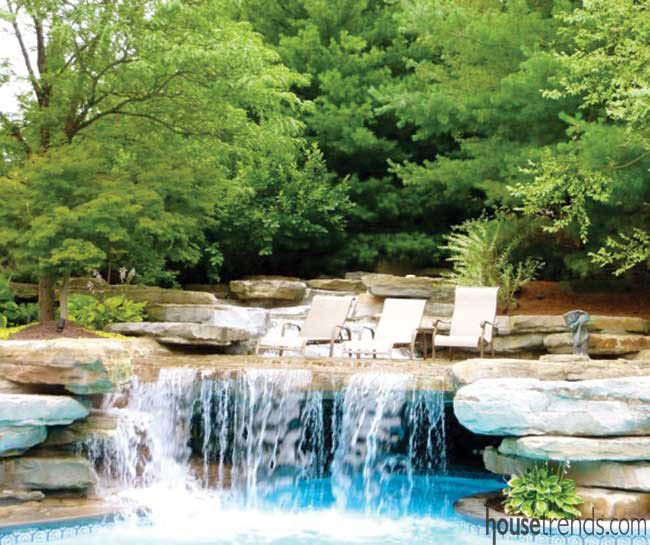 Mastering the good life
Overall, the Hodaks feel they get more enjoyment out of the pool and outdoor space than work they have to put into it. Having a pool with a garden and other amenities is a great lifestyle choice. Water is calming and allows you to escape the rigors and pressures of daily life. It can be a solitary pleasure or one experienced with family and close friends. Just being around water is a good thing—a natural invitation for enjoyment.
Resources:
Pools and Waterfalls by Mike Hodak;
Bruce Evanovich Landscape