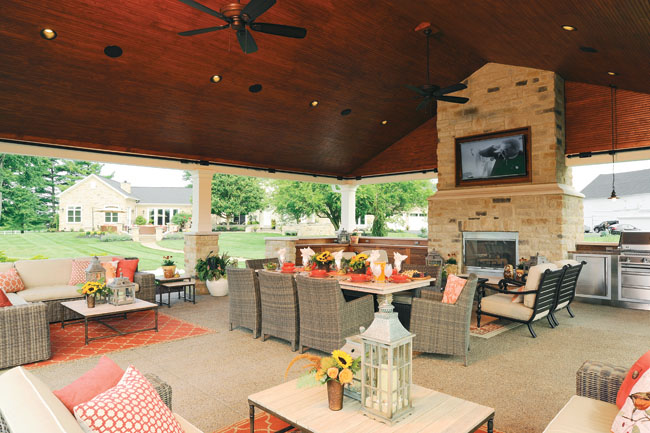 Warm, comfortable style sets the stage for the country retreat of John D. Clark's 29-acre property in central Ohio. Extensive renovations concluded last year convey a relaxed, easy feeling John and his girlfriend Gay, desired for their home. "We wanted a comfortable place that you don't have to go anywhere to just enjoy life," John says. With 6,000 square feet of additions to the existing 9,400 square feet, remodels to those earlier spaces, and construction of an outdoor pavilion, the property is a spacious, peaceful abode with classic flair and country spirit.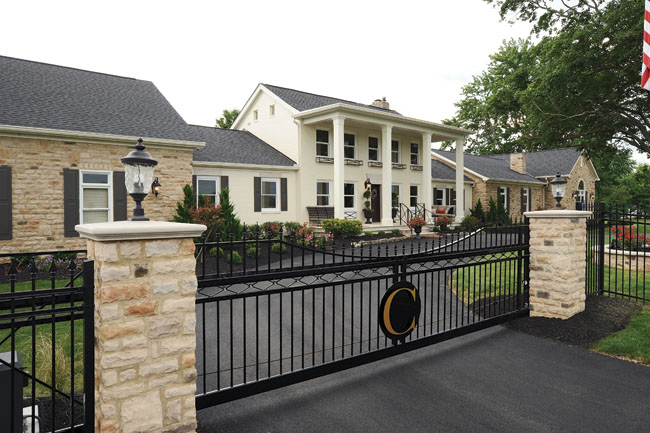 In 1978, John acquired the eight and a half-acre property with an 1842 farmhouse. "The house was very unique," he explains. "There was no insulation, just newspapers in the walls. All the beams were made of chestnut." John did a number of improvements early on including insulation, drywall, and central heating installations. Over time he purchased more acreage expanding the property to its current size. "I bought the land across the street, and then nine more acres next to me so I would have more privacy," he adds.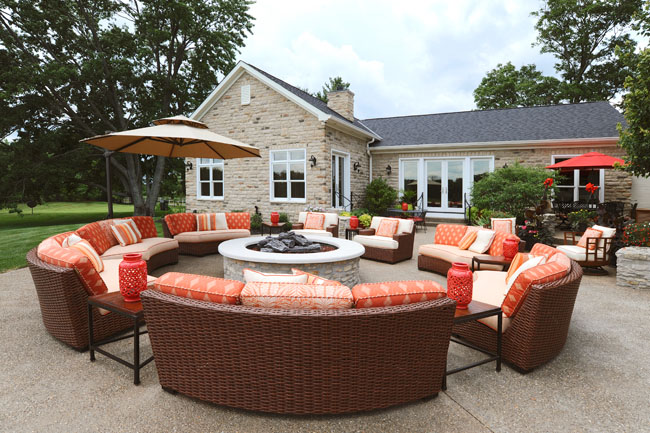 John's longtime friend and designer Anne Rogers of Anne Rogers Interiors, along with builder Danny Iulianelli of Iulianelli Custom Homes, brought to life John and Gay's vision for a comfortable family retreat and entertainment setting. "They didn't want to lose the country feel of this home and property, yet they didn't want it to be 'country,' but an elegant farmhouse instead," comments Anne. The end result intertwines warmth and classic comfort throughout the home's interior and exterior. An earthy color palette of cream, grey, soft green and copper ties in with natural materials they chose for flooring, walls and fixtures including limestone, slate, stone, hardwood, and iron.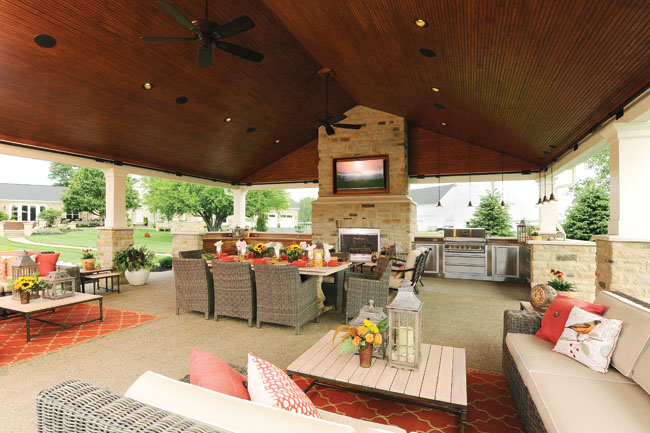 The crowning jewel of the recent construction is an outdoor pavilion of grand proportion.
John explains, "I wanted it like a resort, a comfortable space to enjoy with family and friends and to host events there." In an idyllic setting next to the one-acre lake, the 28-foot by 34-foot pavilion is an open air entertaining and relaxing paradise loaded with amenities and seating. Equipped with a 48" gas grill, refrigerator, icemaker, entertainment center, fireplace, and three separate seating areas, the space delivers indoor comforts with fresh air and beautiful country views. "Anything you could possibly want is out there," says Anne. For the pavilion design, the same architectural details from the house were carried through including the columns, and the limestone and fireplace stone materials.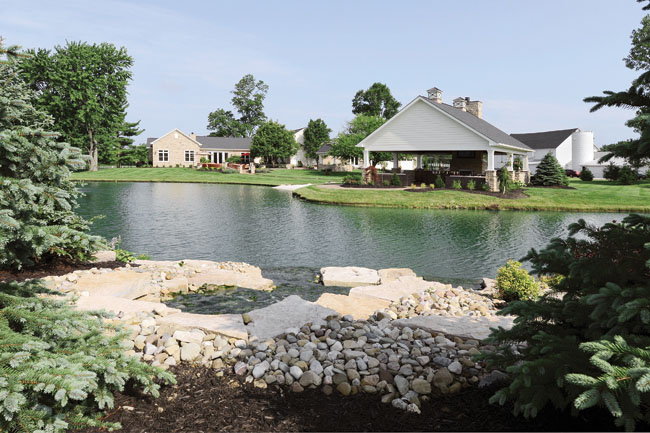 With the home's approachable style set in the serene countryside setting, it's an appealing combination John and Gay enjoy sharing, "Our grandkids love to come and play here, and adults do too." As far as how the design and renovation process went, John concludes, "Gay and I had the vision of what we wanted done, and they put it all together and made it happen. I love the way it all turned out. It's warm, and peaceful. It's phenomenal."