It's the little touches that can transform a kitchen from humdrum to inspiring. When it comes to kitchen cabinet hardware, the options are seemingly endless. With a multitude of shapes, sizes, finishes and designs at your beck and call, it may seem a little overwhelming.
"With open concept living spaces, the kitchen is now more aligned with the overall style of the home, creating a need for cabinet hardware that coordinates with lighting and home accessories in these same finishes. As more sleek and modern styles become more popular, the hardware finish is really important to make it pop off of the cabinet," says Tracey Amadio, vice president of brand marketing at Amerock.
From fun and funky pulls to ornate and sparkly knobs, kitchen hardware has stepped it up a notch in recent years, with the ability to breathe new life into an old space or dress up a new design.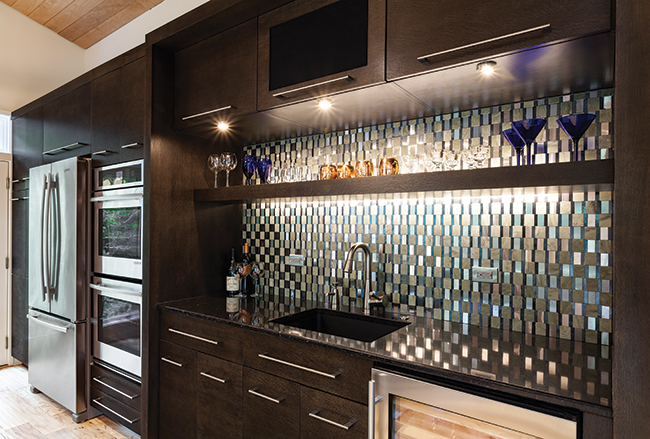 Transitional
Blend traditional with equal parts modern and the sum is transitional. Another way to describe transitional is classic with a contemporary twist. According to Christine Zimmer, product manager at Top Knobs, transitional styles are their bestsellers, and particularly trending are those in warmer finishes. "There is a focus on simple and minimalistic design, but also a movement towards metallic finishes, pops of color and incorporations of texture," she says.
Transitional hardware often lacks a lot of ornamentation or detailing. But it isn't super-angular; it's a softer look and is more contemporary without being hardcore modern.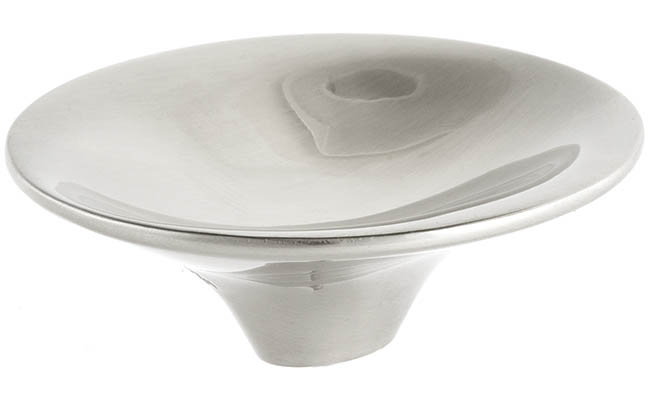 Lotus knob in satin nickel from Du Verre.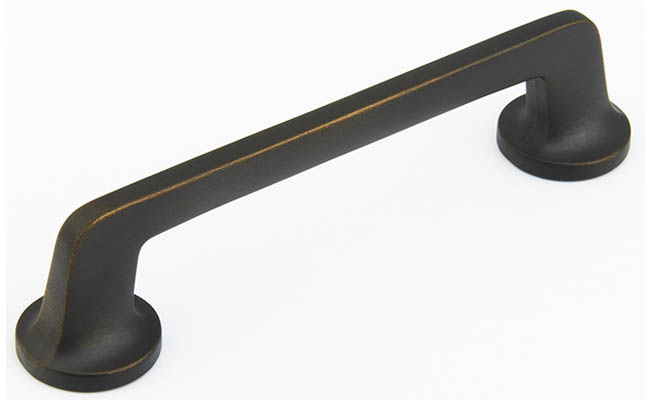 Northport in ancient bronze from Schaub & Company.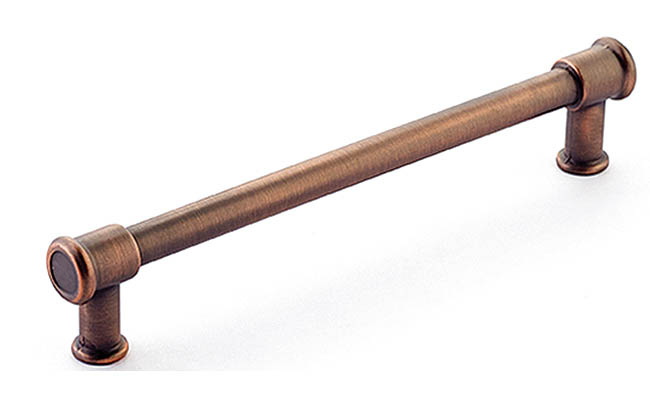 Steamworks pull in empire bronze from Schaub & Company.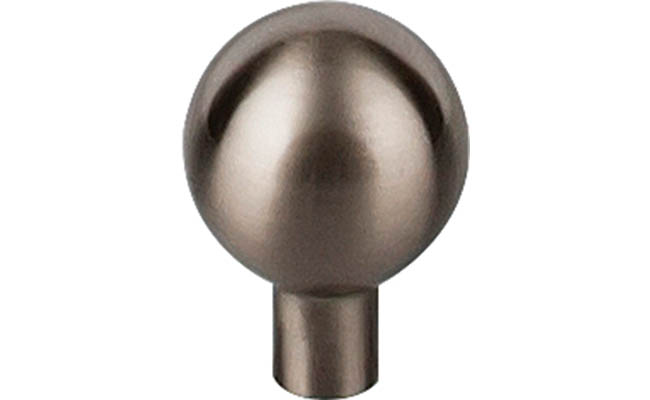 Barrington Brookline knob in satin nickel from Top Knobs.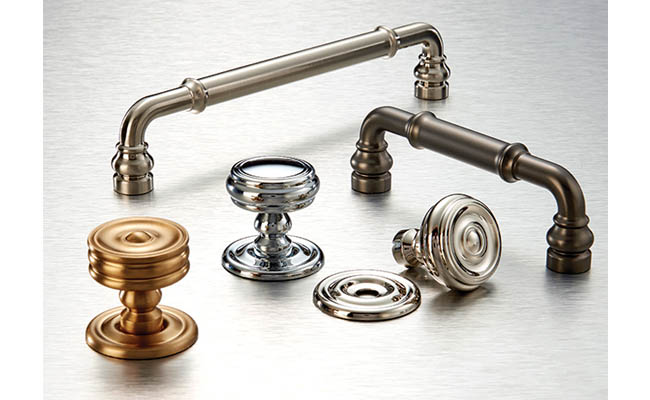 Devon Brixton collection from Top Knobs.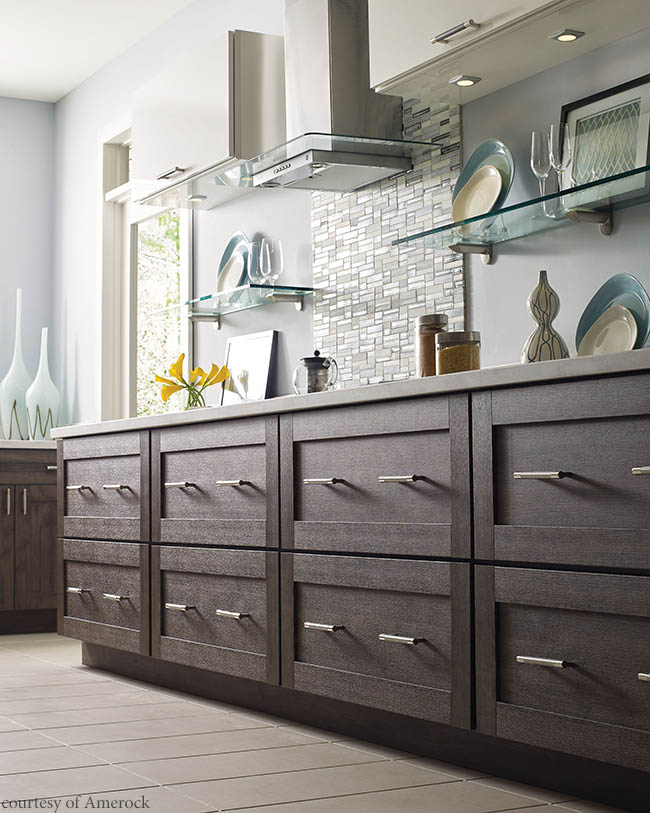 Contemporary
Style wise, a contemporary look in hardware can run the gamut, as there are very few design constraints. The contemporary genre is often bolder and even a bit daring; perhaps a little over-scaled, or perhaps a little more angular. But there's a place for a minimalist application too, with funky materials and colors that could make a statement.
Though Lucite and glass are familiar materials in a contemporary kitchen, metals are also common, which provide more options.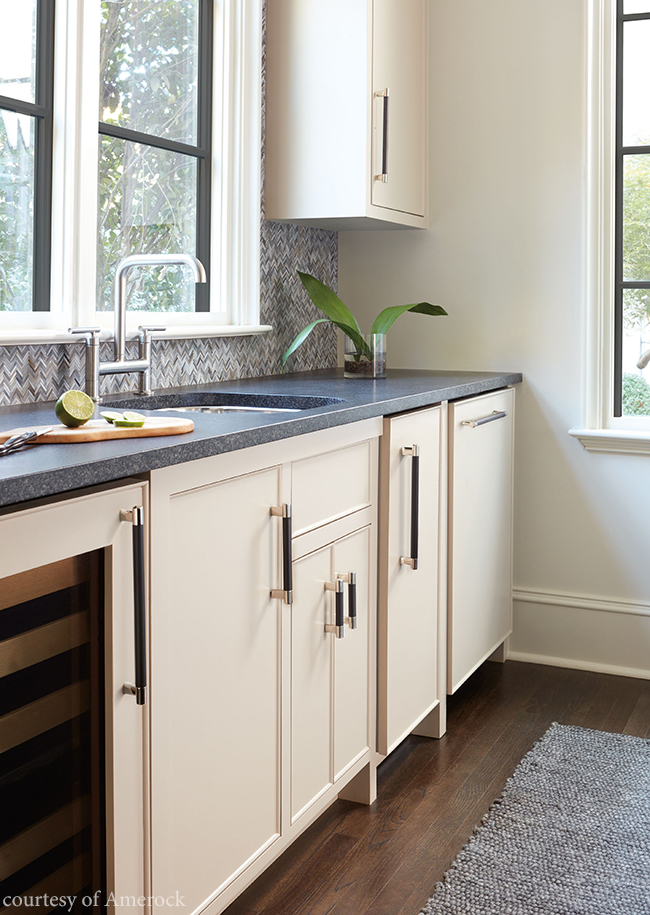 A contemporary look can also be achieved by tweaking how the pulls are aligned. Designers will often orient hardware horizontally on cabinet doors and the bottom of upper doors, which creates a linear, clean direction that stretches out and elongates the space with the eye.
Virtually all of Urban Metro's line can be classified as contemporary. Jenny Berberi, vice president of sales, says that she is surprised that people are looking for pieces with more intricate design elements on the ends, which may seem to be counterintuitive to what is traditionally considered to be contemporary. While all of the company's pulls are simple and clean, the ends are distinguished by a modern design element.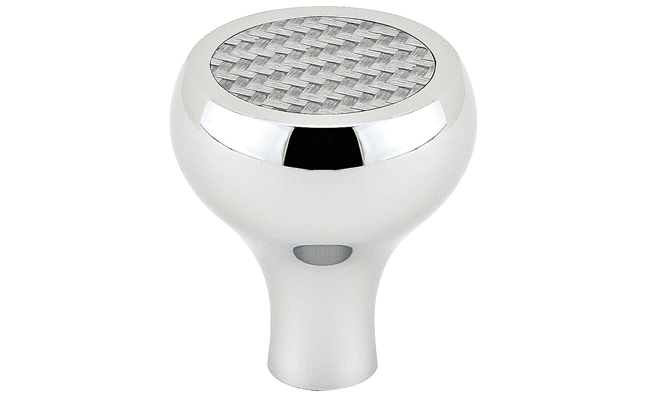 Carbon fiber knob in polished chrome from Emtek.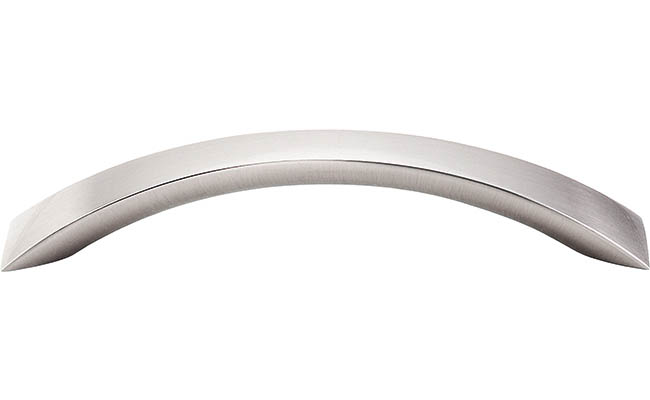 Nouveau III Crescent Flair pull in brushed satin nickel from Top Knobs.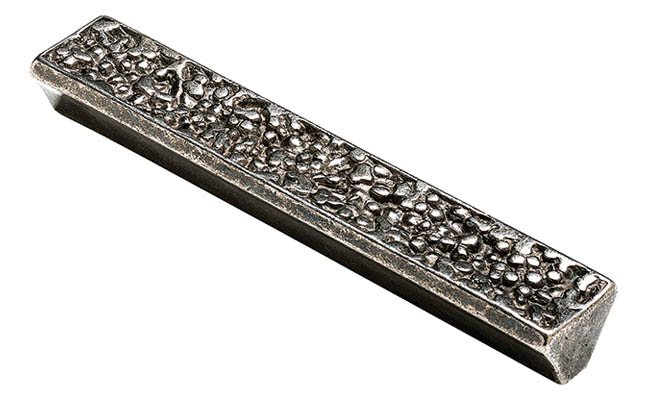 Trousdale pull in white bronze medium from Rocky Mountain Hardware.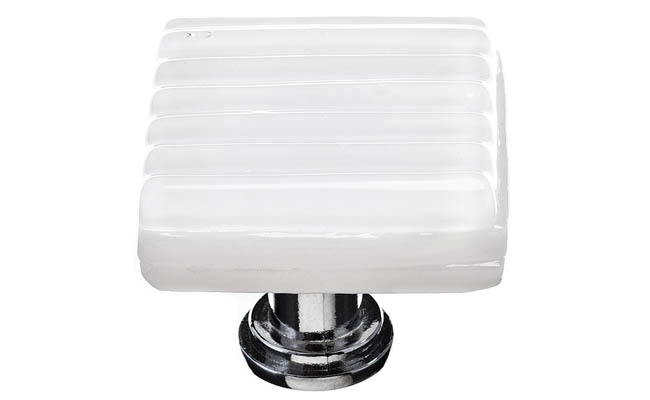 White Reed square knob from Sietto.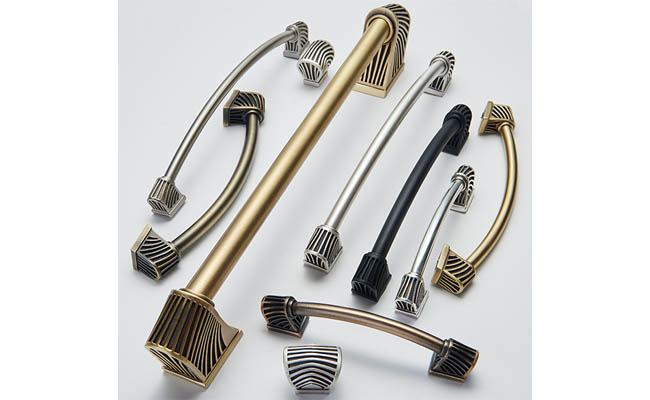 Kings Row collection from Urban Metro.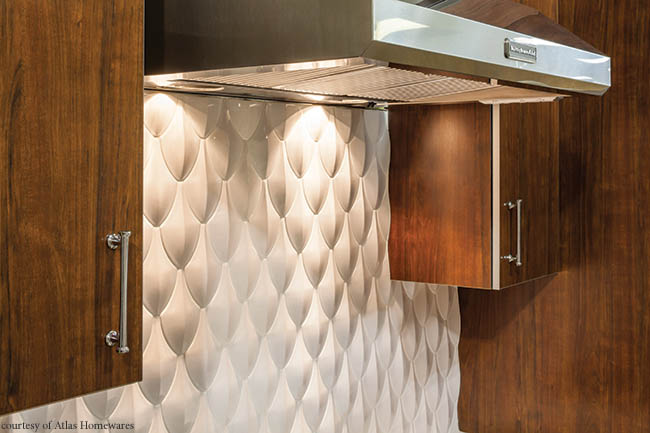 Craftsman/Traditional
Nothing says "classic" like Craftsman or traditional styles. One telltale feature of Craftsman style is the incorporation of a mortise and tenon joint, which incorporates the construction of the hardware into the design. Another common feature is the hammered look, such as squared off knobs.
Common colors in this look include natural bronzes and coppers, which bring out the wood grain in cabinetry. Since Arts and Crafts is a subdued design style, designers often scale back the number of hardware pieces used on cabinetry in order to avoid too much ornamentation.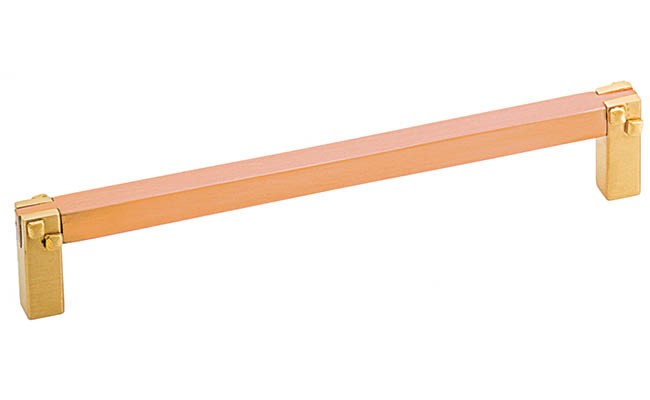 Mortise & Tenon pull in satin brass from Emtek.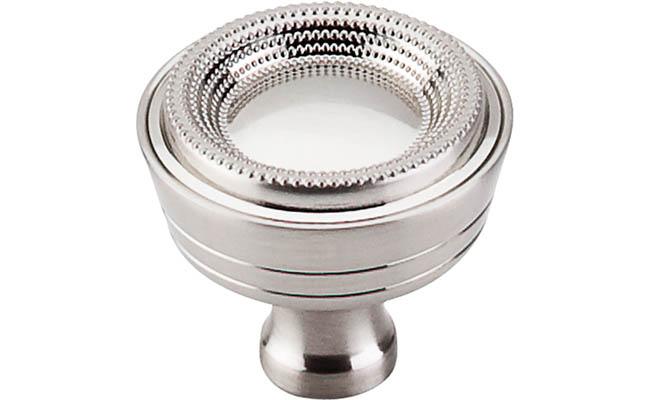 Edwardian beaded knob in polished chrome from Top Knobs.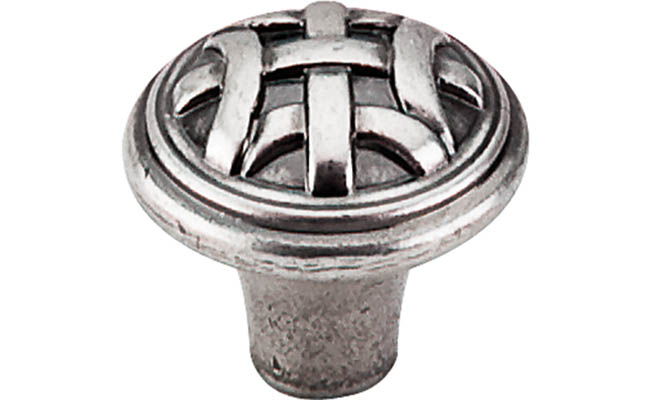 Tuscany Celtic small knob in pewter antique from Top Knobs.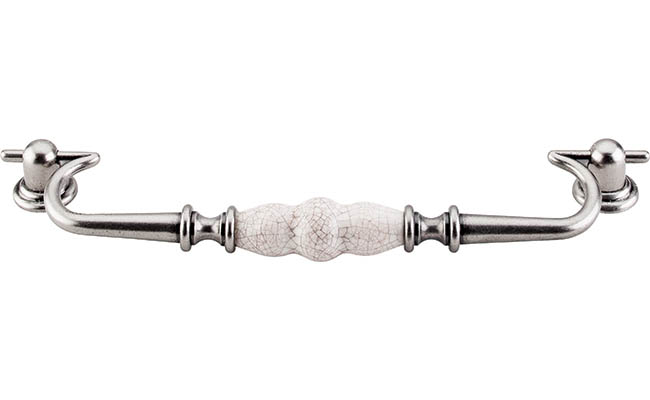 Tuscany ceramic drop pull from Top Knobs.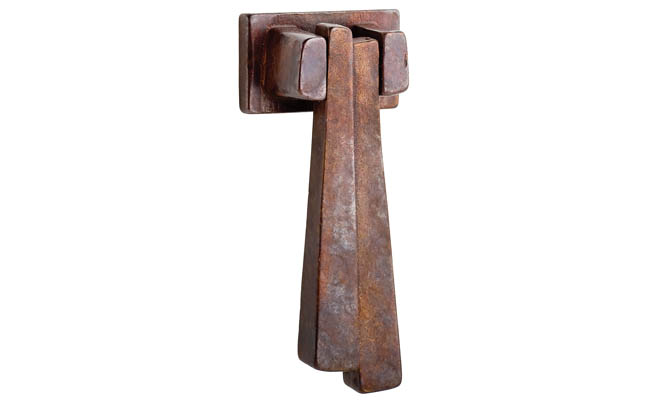 Shift pendant in silicon bronze rust from Rocky Mountain Hardware.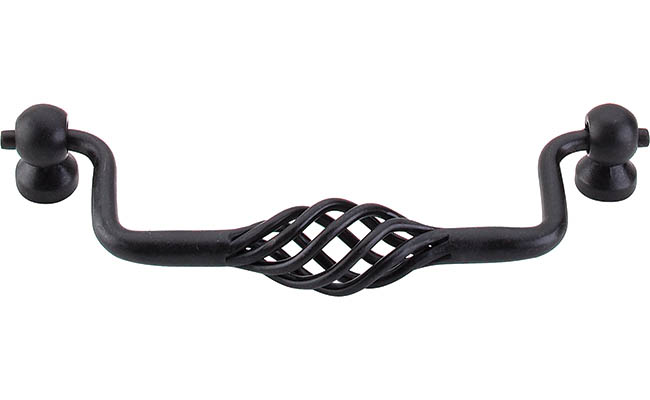 Normandy Twisted Wire drop in patina black from Top Knobs.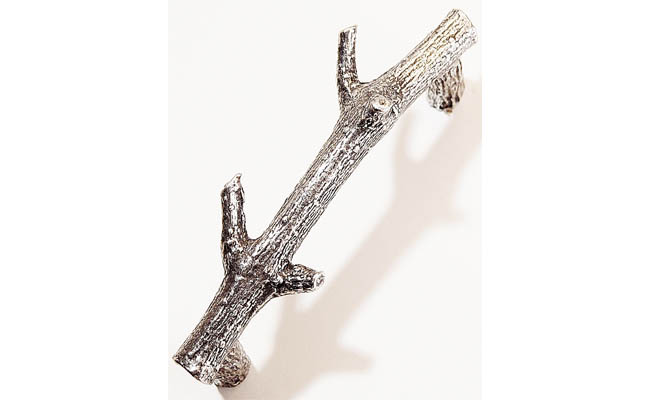 Twig pull in polished pewter from Modern Objects.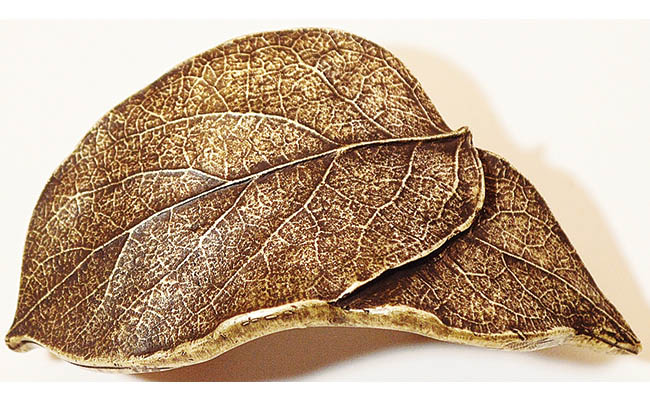 Lilac bin pull in antique brass from Modern Objects.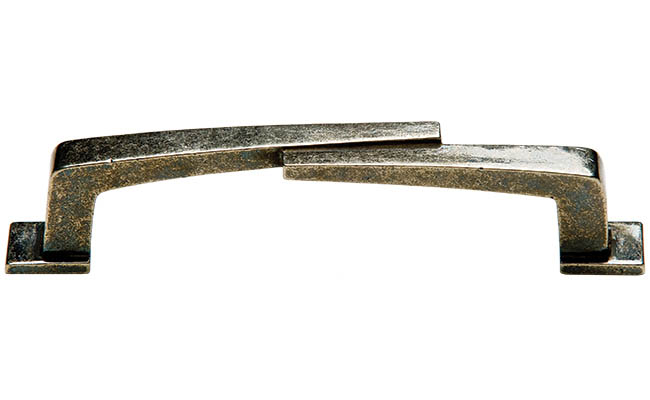 Shift pull in white bronze brushed from Rocky Mountain Hardware.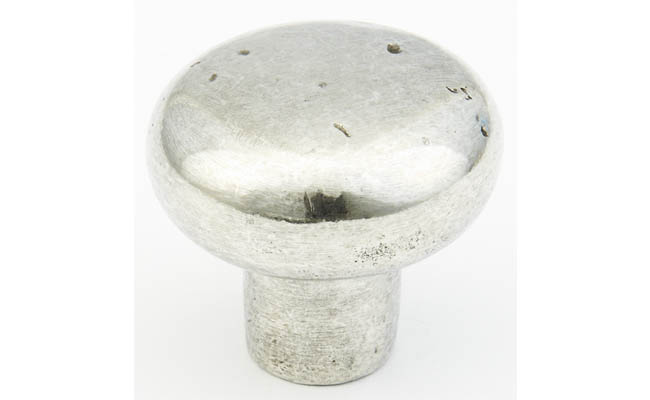 Britannium Artifex knob in natural finish from Schaub & Company.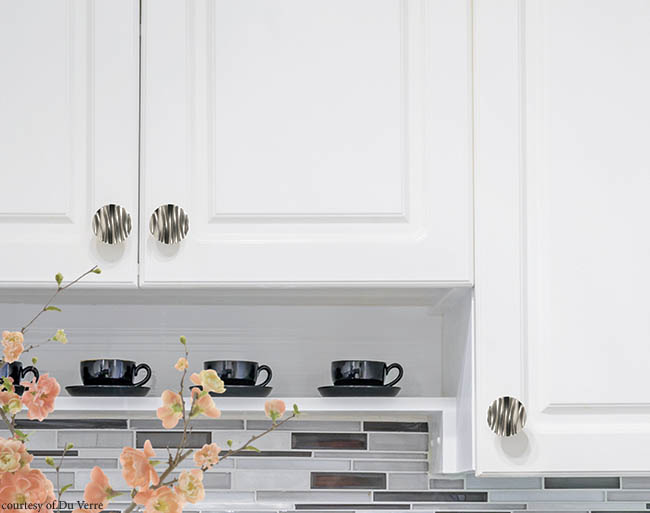 Decorative
Almost anything goes when it comes to decorative hardware. Call it fun, cute, kitschy or whimsical, the versatility of decorative hardware makes it the perfect accent piece for any kitchen.
The choices run the gamut, limited only by the number of drawers and cabinets in your kitchen. This eclectic category is one that allows for personal expression. Decorative hardware ranges from thematic all the way to uber-glitzy.
Jewel-encrusted knobs, for example, can add that little touch of bling to an otherwise ordinary space.  And there are knobs for every interest, from sports to animals and more.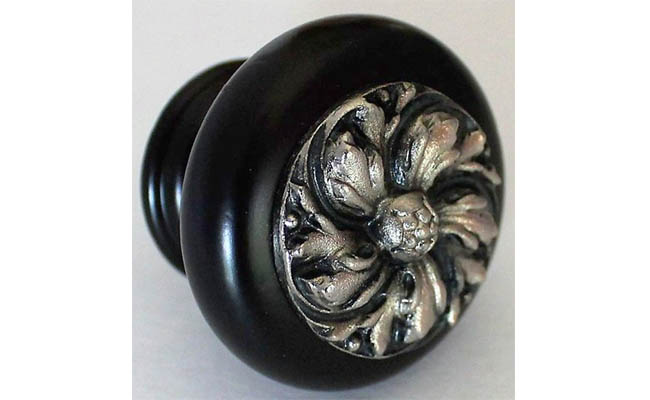 Chrysanthemum in satin nickel/dark walnut from Notting Hill.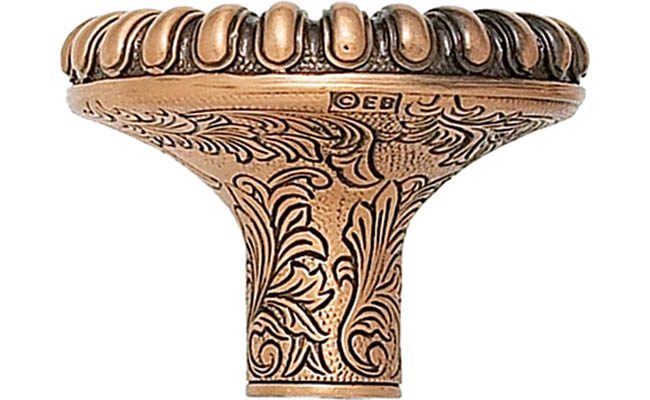 Nantucket knob in artisan copper from Edgar Berebi.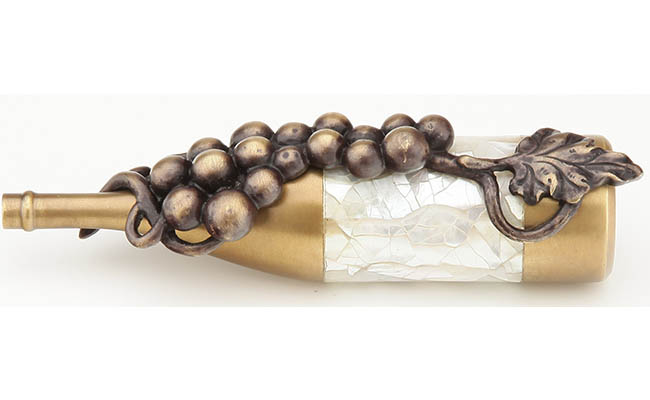 Solid brass Symphony Wine Themes Wine Bottle with Grapes pull from Schaub & Company.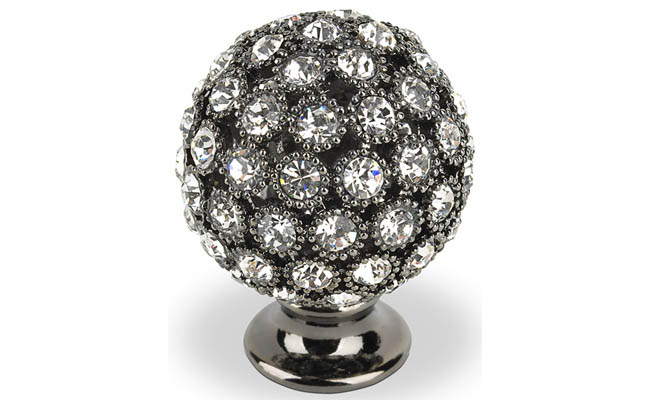 Crystal All That Glitters round knob in black and blue nickel from Topex Design.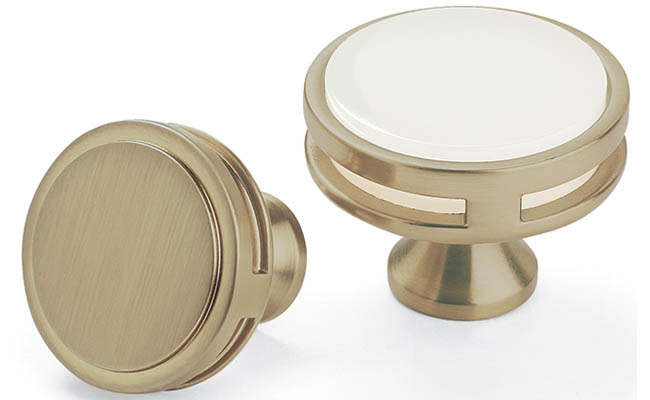 Finishes
Though some finishes are universally seen in a variety of kitchen designs, others align more closely with the overall style of the kitchen.
"The finishes that are most requested are golden champagne, black bronze and gunmetal. We're also seeing a trend toward a modern vintage black and gold palette," says Amadio.
A big trend in contemporary hardware is taking those linear shapes and using different finishes, such as muted gold, stained brass and pewter.
Reflective of the millennial influence, many of who are doing industrial-style kitchens, Berberi notes that bronze and brass tones are frequent choices. "Whiter finishes, burnished silver plate, satin nickel, matte silver plate, polished rhodium—those have been on the upswing the last few years," she adds.
"While silver finishes such as polished nickel and polished chrome remain the most popular in the market, designers and homeowners are now willing to experiment with warmer finishes. We expect to see more black, gold and rose gold in 2017," says Zimmer.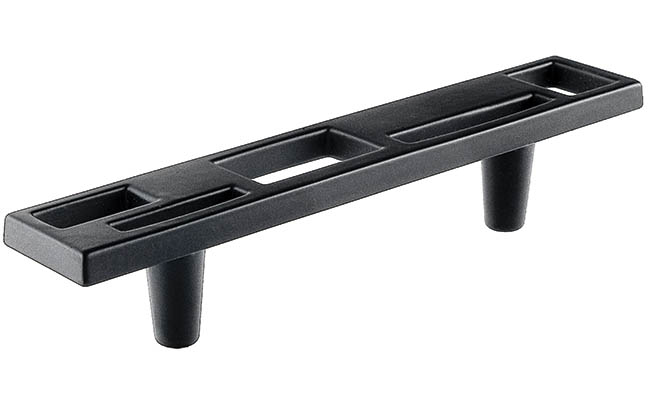 Marcel pull in black matte from Du Verre.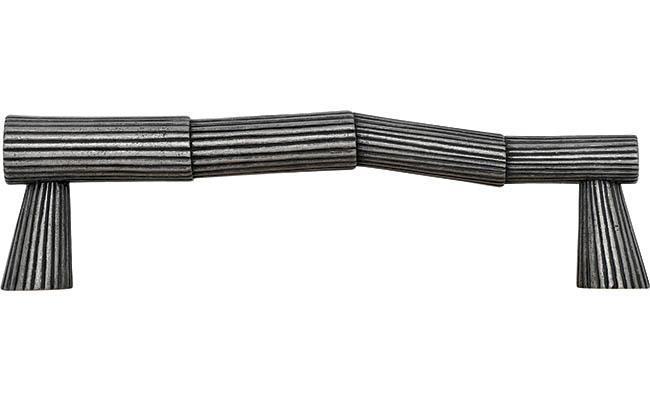 Oberlin cabinet pull in artisan pewter from Edgar Berebi.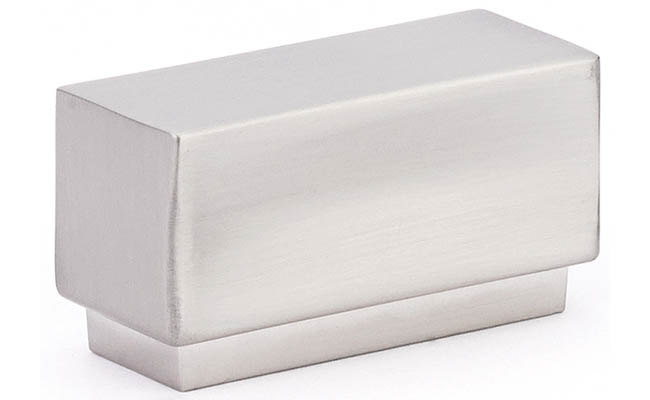 Urban Modern Cinder knob in satin nickel from Emtek.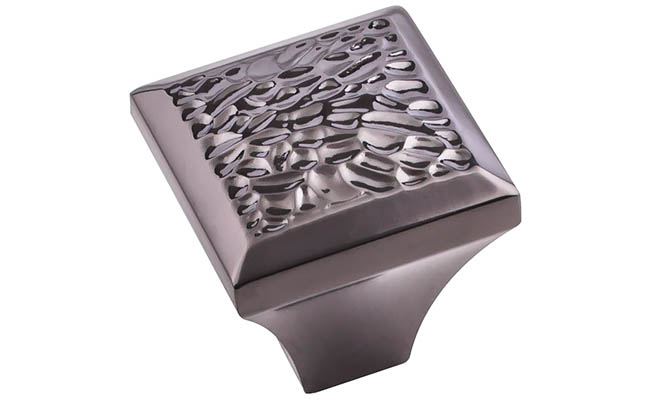 Solana knob in black nickel from Jeffrey Alexander.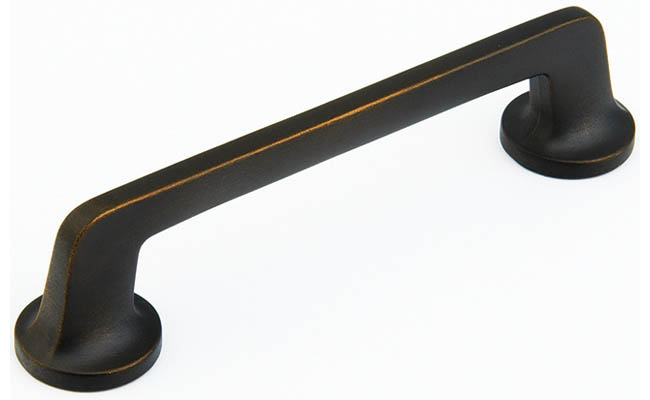 Northport in ancient bronze from Schaub & Company.