The popularity of contemporary décor has some people reinventing their spaces to capture the latest styles, but Joy and Joel Campbell were content to carry on with a traditional décor when remodeling their master bathroom. "Our home is, and always has been, traditional. We love the classic, comfortable feel of the traditional style," says Joy.
The existing color palette of soft blue and cream in the Campbells' master bedroom was continued into their remodeled master bath in order to create continuity and to evoke a sense of serenity and sophistication. The timeless style of the master bath is punctuated by the cabinetry, mirror frames, crown molding and paneled bathtub all finished in heirloom white with an espresso glaze. Choices were made carefully and collectively by the design team which includes: contractor Paul Bauscher, interior designer Karen Lied and cabinetry designer Jay Messner.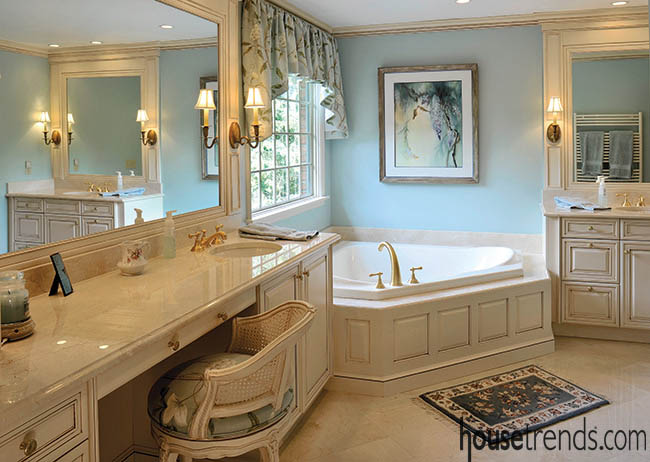 Joy loves the additional storage her new cabinetry provides as it keeps all the counter surfaces free and clear of typical bathroom clutter. Complementing the light finish on the cabinetry is the rich, yet understated Creama Marfil marble on the countertops, floor and shower walls.
What really warms up the space literally, however, is the heated floor and towel radiator, both of which are programmable. The towel radiator not only warms your bath towel, but dries your wet towels almost immediately. Having a warm, dry towel at hand is important when you spend a lot of time in a Pure Air Jacuzzi tub—Joy's favorite element in the new space. These tranquil tubs release a gentle burst of millions of air bubbles that fill the bath from top to bottom, and can be enjoyed while using bath salts or aromatic oils.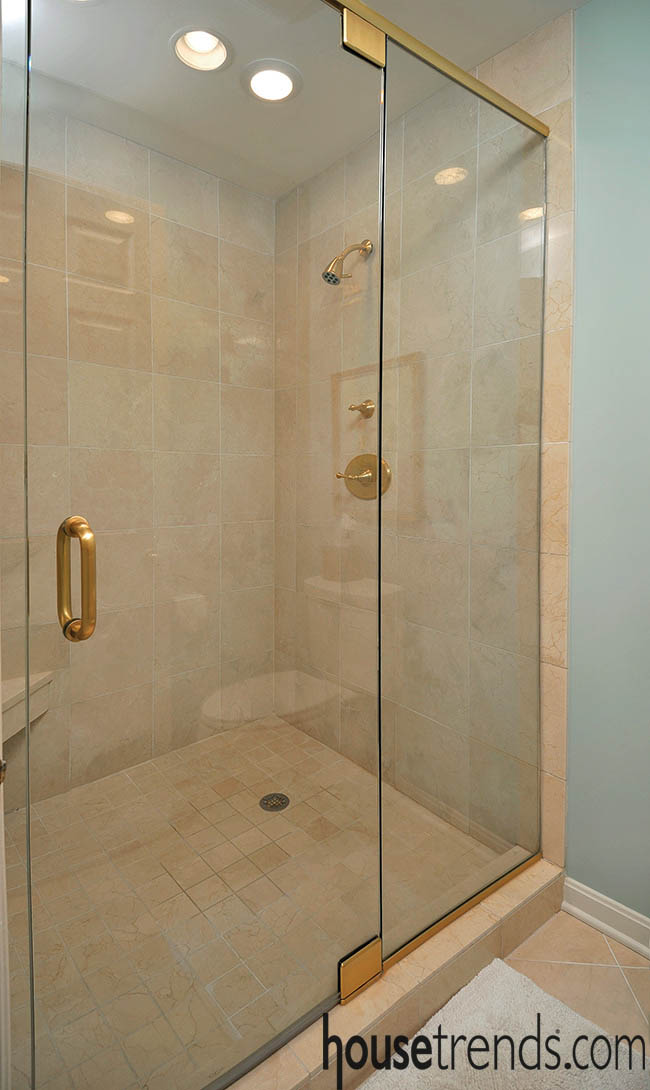 As for Joel, his favorite aspect of the new bath is the enlarged shower and oversized handheld showerhead.
Joy and Joel aren't the only ones who like the new master bath. "Since it has doubled in size, our kids like to sneak in and use the new shower," Joy says. "And our painter commented that the room is so quiet and sophisticated, he feels like he's walking into the Greenbrier Hotel." The Campbells don't mind at all having their new master bath compared to a prominent, five-star luxury resort.