Built only sixteen years ago, this home had an attractive kitchen that was just beginning to look a bit dated when floor repairs in the family room offered an opportunity to bring it up to match the rest of the house, which had been modernized room by room over the years. As kitchen designer and founder of Park Avenue Designs in Tampa, George Gobes' challenge for these homeowners was to establish a new workflow by changing the footprint of the kitchen while still integrating it into the existing décor of the remainder of the residence.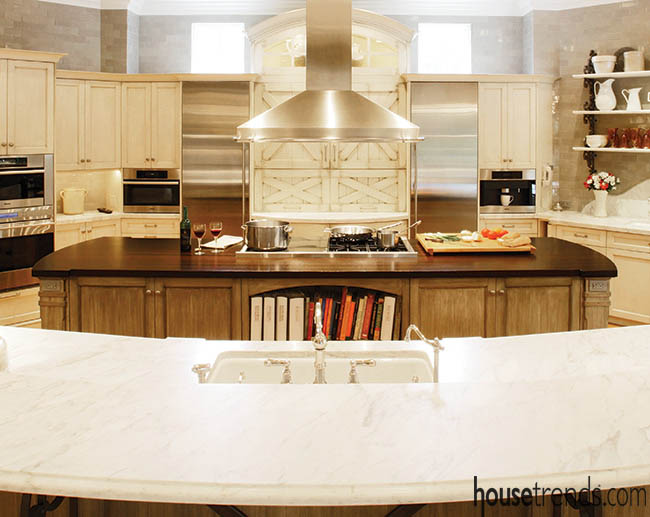 Working with interior designer Gail Levine, who has overseen the changes in the home for the last eight years, Gobes created a hybrid of textures and finishes that combined the homeowners' love of antiques with a more modern feel and increased efficiency.
Dark wenge wood, soapstone and white Carrera marble countertops team up for an interesting, eclectic look. The paneling design and gray brush strokes on the cream cabinetry on either side of the work island give an antique barn effect.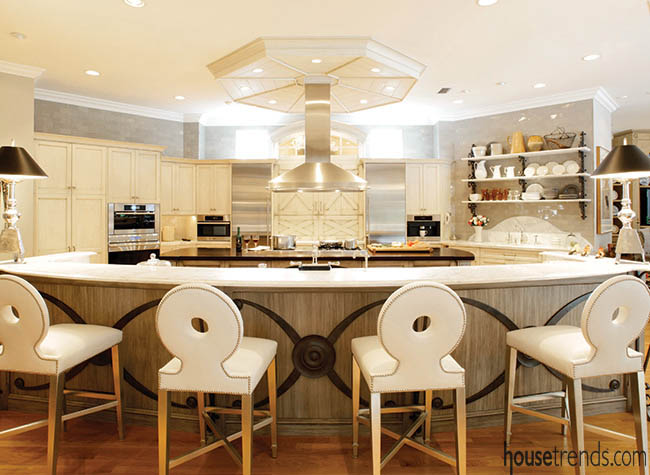 The stainless steel exhaust hood becomes a major design element thanks to its location over the cooktop in the center of the room. Attached to a ceiling beam, it gives a more casual, almost cabana-like feel to the island below.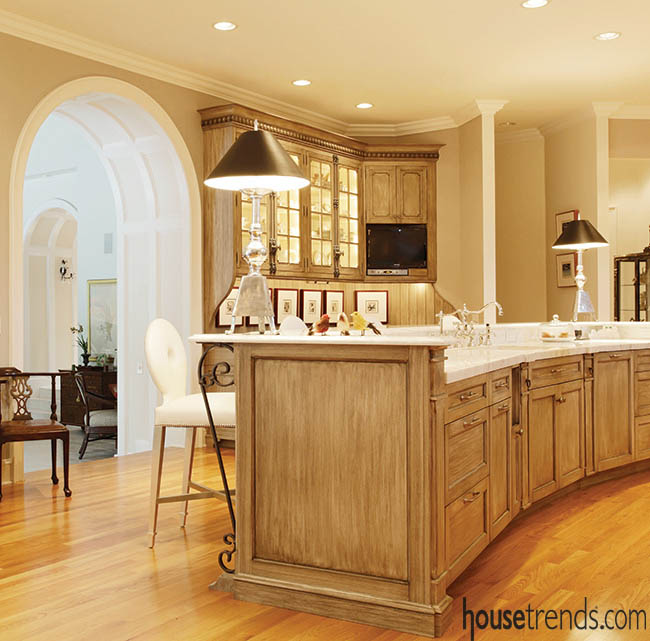 A sophisticated lighting system allows a wide variety of settings at the press of a button, anything from bright light for cooking to a soft glow while entertaining. Even spotlights are on the system to emphasize artwork on the walls and in display cabinetry.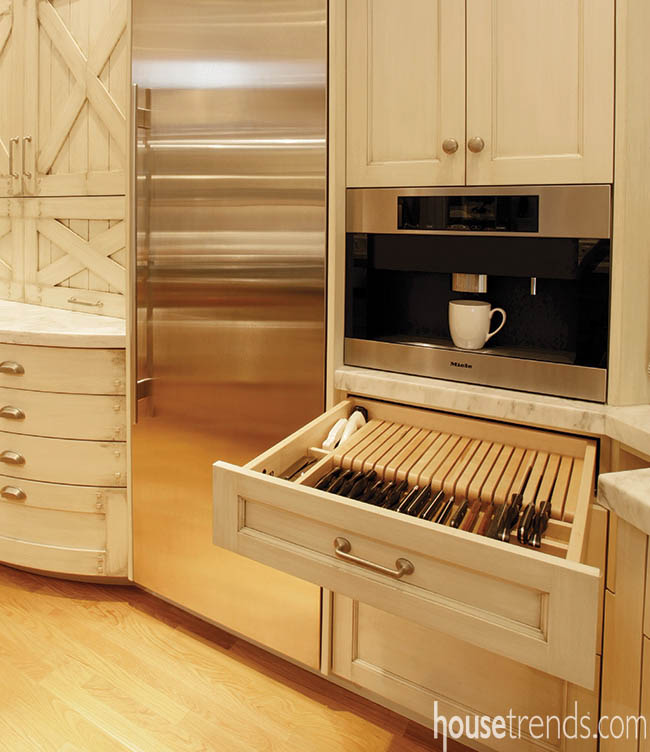 Listening to the homeowners' needs, Gobes added many special conveniences not found in traditional kitchens. Supplementing the new appliances, which include a Wolf cooktop and Miele steamer and coffee system, he created hand-crafted wood dividers for knife and spice drawers.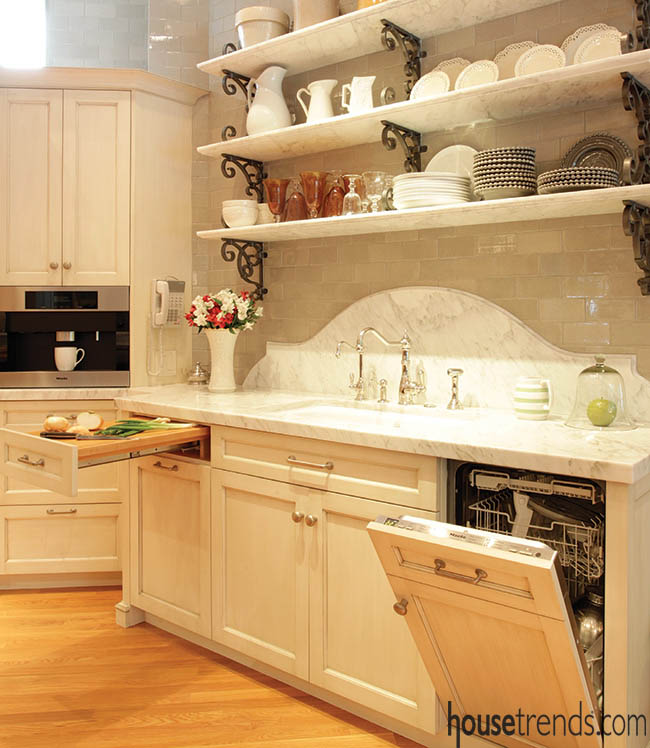 Also included are pull-out work surfaces, an appliance garage, a special drawer for silverware, hands-free trash bins that the homeowners lightly kick to open, a cookbook station and two out-of-view niches for paper towel holders, a homeowner favorite.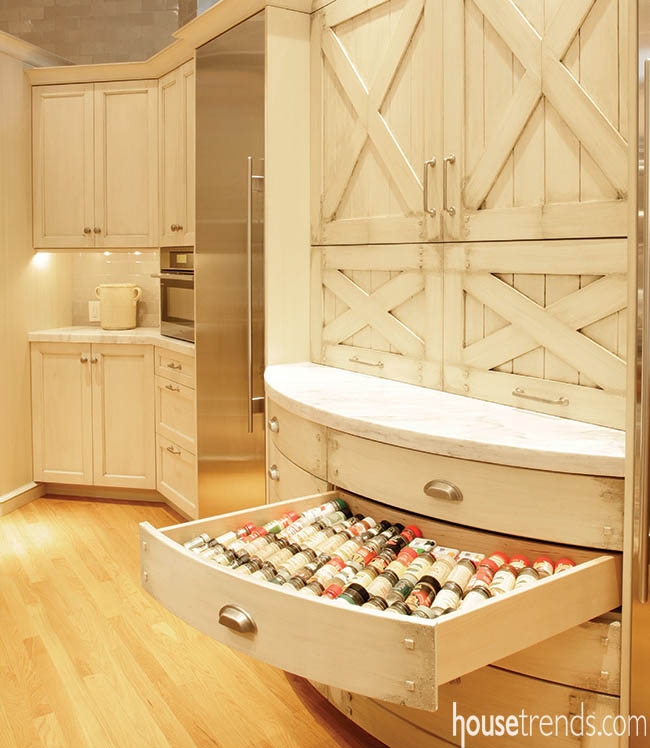 "This kitchen is all about convenience and design," Gobes says. "It showcases the homeowners' individual personalities perfectly."
Resources:
Kitchen designer: George Gobes, Park Avenue Designs
Interior designer: Gail Levine
Cabinetry: Superior Wood Products