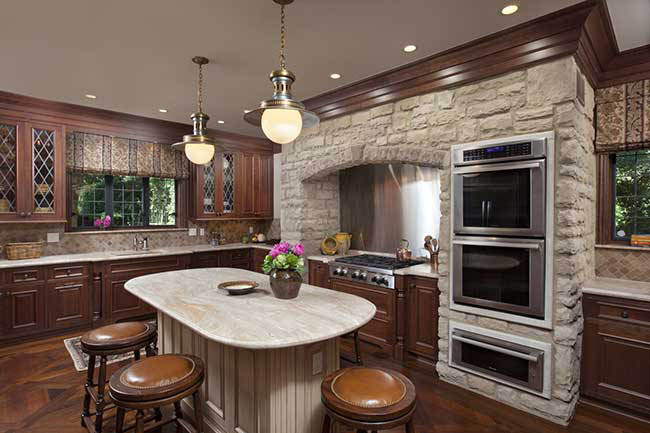 Kitchen Kraft is a full home design/remodeling firm located in the historical German Village area of downtown Columbus, Ohio. We have specialized in kitchen remodeling/design and bathroom remodeling since our beginnings in 1995. We are now one of the largest and most notable kitchen design firms in Columbus, Ohio.
Our goal is to make home remodeling convenient. Kitchen Kraft is your one-stop shop for kitchen or bathroom design/remodeling needs. Demolition, framing, plumbing, electrical, drywall, carpentry, and flooring, we handle it all. There is no need to hire multiple contractors.  The Kitchen Kraft methodology makes the design process much more convenient and cost-effective.
Testimonials
"We had a fantastic experience remodeling our master bath with Kitchen Kraft this summer. Jim was very attentive and kept us on schedule designing our layout and selecting finishes. Workmanship was outstanding – they were very professional, kept on schedule and were very clean and respectful. I would not hesitate using them again and will recommend them to friends."
-Kate
---
"From the time we met Barbara, the designer, to talk about a kitchen remodel, we were nothing but impressed! We had no idea exactly what we wanted, but she helped us figure it out. Then we met Justin, our job Foreman, who was extremely concerned with making sure we knew exactly what was going on and when it was happening. Mike, our head carpenter, did fantastic work daily! The entire experience far exceeded our expectations and every day we say – WE LOVE OUR KITCHEN! We had lived with our old kitchen for 30 years and knew this would be our only remodel so we got what we wanted. Kitchen Kraft gave us more than what we knew we wanted."
-Greg
---
"Kitchen Kraft has done two remodeling jobs for our home. Each time we worked with Jim Deen who provided guidance and great design, as well as respecting our budget. Jim and his team do a great job and we would recommend them to anyone looking to do remodeling of their kitchen and/or bathroom."
-Karen
---
"We have done two projects with Kitchen Kraft; the first one was a complete kitchen remodel including removing walls. Jim Deen provided personal attention throughout the process. Work was done efficiently and expertly. My dream kitchen would not have become a reality without Kitchen Kraft. Jim Deen and his crew have the experience and expertise to handle any remodel project from beginning to end."
-Kay
---
"We went to Kitchen Kraft for a kitchen and laundry/mudroom overhaul and wow did they deliver! The Kitchen Kraft team (Trish, Chris, Justin and Rita) are true professionals and worked with us on every aspect from design to build completion to service requests.
Our kitchen was redesigned based upon our many conversations and design working sessions of our needs, wants and must-haves. Among the redesign was building in lockers, storage and a much-needed wash area (mini walk-in shower) for the dogs and a growing family. Every cabinet, drawer and pullout was discussed for placement and usage. They provided the needed guidance and support upon selecting the right materials and colors for each space.
They not only gave us a truly amazing kitchen and laundry/mudroom, but functional spaces that fit our living perfectly. I would work with this team any day and every day. Thank you Kitchen Kraft!!!!"
-Dana