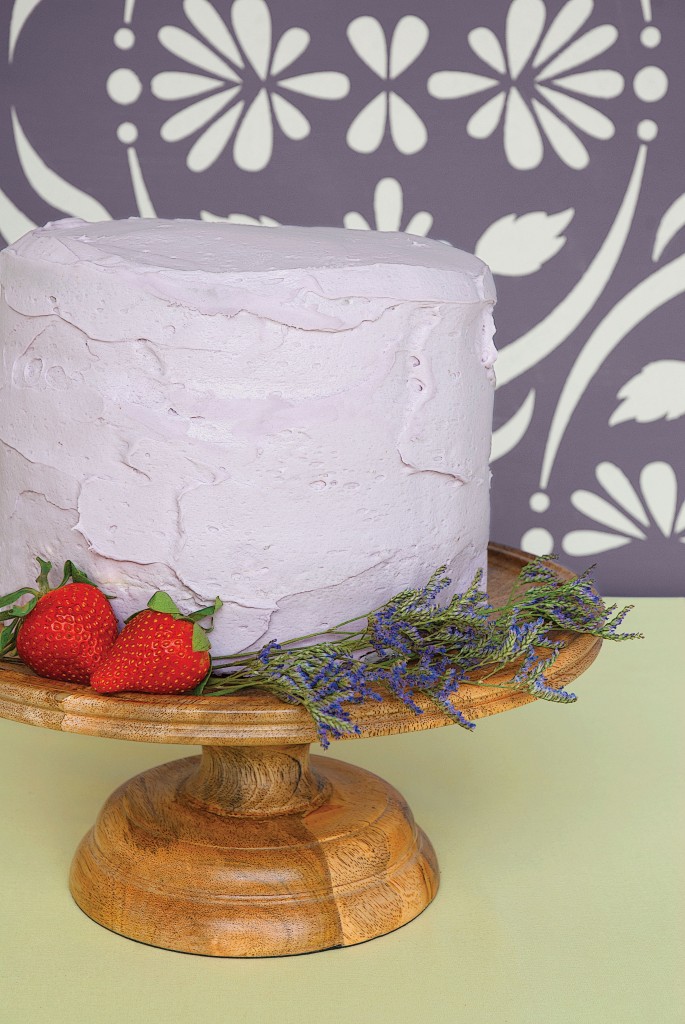 Yield: One 3-layer, 8-inch round cake
Serving Size: 10-12
3 layers of moist, fluffy buttermilk cake filled with vanilla whipped cream & strawberry-lavender compote, and frosted with creamy, whipped lavender frosting.
Ingredients
For the Buttermilk Cake:
4 whole eggs, room temperature
2 egg yolks, room temperature
1-1/4 cups (297 ml) buttermilk, shaken
2 teaspoons (10 ml) pure vanilla extract OR Princess Bakery Emulsion
3 cups (345 g) cake flour, sifted
2 cups (400 g) sugar
1 tablespoon plus 1/2 teaspoon (17 g) baking powder
1 teaspoon (5 g) baking soda
1/2 teaspoon (4 g) salt
1 cup (227 g) unsalted butter, cold and cut into small even pieces
For the Strawberry-Lavender Compote:
2 cups fresh strawberries, washed, hulled and sliced
1/2 cup (100 g) sugar
1 tablespoon (15 ml) lemon juice
1 teaspoon dried culinary lavender
Pinch of salt
For the Vanilla Whipped Cream Filling:
2 tablespoons (30 ml) cold water
2 teaspoons (10 ml) unflavoured gelatin (such as Knox brand)
1-3/4 cups (420 ml) whipping cream (35-37% fat), cold, divided
1/4 cup (30 g) icing/confectioners' sugar
1 teaspoon (5 ml) pure vanilla extract
Pinch of salt
For the Whipped Lavender Frosting:
1/4 cup (59 ml) whole milk
1 teaspoon dried culinary lavender
3 sticks + 2 tablespoons (375 g) unsalted butter, softened and cut into cubes
4 cups (500 g) icing/confectioners' sugar, sifted
1 teaspoon (5 ml) pure vanilla extract
Pinch of salt
Few drops purple gel colour
You will also need:
Medium or Large Pastry Bag fitted with plain round tip (a resealable Ziploc bag will do in a pinch)
Small Offset Spatula
Instructions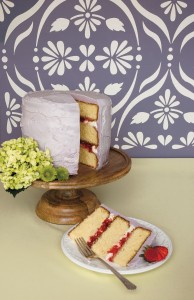 For the Buttermilk Cake:
Preheat the oven to 350° F. Butter the bottoms and sides of three 8-inch round cake pans, line bottoms with parchment round, butter the rounds and dust with flour.
In a large measuring cup with a spout, lightly whisk the eggs, yolks, 1/4 cup of the buttermilk and the vanilla. Set aside.
In the bowl of an electric mixer fitted with the paddle attachment, whisk together the flour, sugar, baking powder, baking soda and salt. With the mixer set to low speed, add the cold butter one piece at a time, about 10 seconds apart. Continue mixing on low speed until all of the butter has been blended and there are no clumps. Mixture should have a fine crumbly, cornmeal-like texture.
Add the remaining 1 cup buttermilk to these dry ingredients, and mix on medium speed for 4 minutes. Scrape the sides and bottom of the bowl to ensure all of the ingredients are well incorporated. Reduce the speed to low and gradually add the egg mixture; once the mixture has been added, increase speed to medium and beat for 1 minute, but no more. Gently fold batter once or twice (but no more) to ensure the egg mixture has all been incorporated.
Divide batter evenly among the 3 prepared pans (use a kitchen scale to ensure 3 even layers). Place two of the cake pans on a baking sheet and bake until a cake tester or wooden toothpick inserted into the center comes out with a few crumbs but no batter, about 28 minutes. Repeat with the final layer. Let the layers cool in the pans for 10 minutes, then loosen sides with thin metal spatula or knife, and carefully turn out onto wire racks, peel of the paper liners, and let cool completely.
For the Strawberry-Lavender Compote:
In a small saucepan over medium heat, combine 1 cup of the strawberries, sugar, lemon juice, lavender and salt until the berries start to break down, stirring often, about 10 minutes.
Lower the heat and simmer until compote coats a spoon, about 15-20 minutes.
Remove from heat and let cool down slightly. Using an immersion blender (carefully) and pulse a few times, or use a handheld masher. Stir in remaining fresh strawberries. Keep covered and chilled for up to 3 days. (Be sure it has completely chilled before using to fill cake.)
For the Vanilla Whipped Cream Filling:
In a small stainless steel bowl, place the cold water and sprinkle with the gelatin. Let sit for at least 10 minutes. In a small saucepan, bring 1/3 cup of the cream just to a simmer, then stir into the gelatin mixture until the gelatin has dissolved. Refrigerate, stirring frequently, until cool but not set, about 8 minutes. (Be careful to keep your eye on it, or you'll end up with Panna Cotta!)
In a chilled stainless steel mixer bowl with a chilled whisk attachment, beat the remaining whipping cream, icing/confectioners' sugar, vanillla and salt until it thickens just slightly and soft peaks begin to form, about 1 minute. Very gradually add the gelatin mixture and continue beating until medium-firm peaks form (should be thick enough to spread). Keep covered and chilled until ready to use.
For the Whipped Lavender Frosting:
Add the lavender blossoms to 1/4 cup (59 ml) whole milk, cover, and refrigerate overnight (or at least several hours). Strain into clean bowl/glass.
In the bowl of an electric mixer fitted with the paddle attachment, whip butter for 8 minutes on medium speed (I use "4″ on my KitchenAid). Butter will become very pale & creamy.
Add sifted icing sugar, vanilla, salt and lavender milk, and mix on low speed for 1 minute, then on medium for 6 minutes. Frosting will be very light, creamy and fluffy. Tint with a few drops of purple gel colour.
Assembly of the Strawberry-Lavender Buttermilk Cake:
Trim any dark edges or crust from cake layers with a very sharp serrated knife. Place your first cake layer, face-up, onto a cake stand, plate or 8-inch round foil cake board. Fill your pastry bag with about 1-1/2 cups of the Whipped Vanilla Frosting and pipe a dam around the perimeter of the cake layer (this will keep our compote and Vanilla Whipped Cream Filling in place). Spread about 1 cup of the cream filling on top of the cake layer and spoon a few tablespoons of the compote and berries inside of the dam. Gently spread the filling using a small offset spatula.
Repeat until you come to your final cake layer, which you will place face-down. If you find the cake too soft and unstable, put in refrigerator for a few moments to firm it up, then resume. If you see any spots where the compote is peeking through or starting to ooze out (ahh!), use your piping bag to squeeze more frosting over it, between the layers. Use your clean offset spatula to carefully smooth the frosting so it's flat against the cake.
Cover the entire cake gently with plastic wrap (I like Press n' Seal), and then, once covered, use your hands to carefully ensure the cake is lined up straight and flattening any lumps or bumps of frosting. Chill for at least 30 minutes.
Once cake is stable and chilled, apply an even layer of lavender frosting to the entire cake, to seal in crumbs. Chill again until frosting is firm, about 30 minutes.
Place cake plate/board with cake onto a turntable, if possible. Be sure your remaining frosting is smooth and fluffy, working it with a rubber spatula for a few moments. You can even warm in microwave for a few seconds to soften it up. Apply a final layer of frosting to the cake. Top with fresh non-toxic flowers, strawberries, or decoration of your choice.
Keep cake refrigerated for up to 2 days, but serve at room temperature. Remove flowers before eating.
Housetrends notes;
This recipe originated on the Sweetapolita's blog: http://sweetapolita.com/2013/05/strawberry-lavender-buttermilk-cake/
Nina, our Housetrends baker, used used 1 TSP  LAVENDER EXTRACT instead of dried culinary lavender
in the Strawberry Lavender Compote; and In the Whipped Lavender Frosting she used 1 TSP LAVENDER EXTRACT instead of dried culinary lavender
Sweetapolita's notes:
Buttermilk cake recipe adapted from the book Sky High: Irresistible Triple-Layer Cakes.
I used this Princess Bakery Flavor for the buttermilk cake, which is an amazing emulsion that gives the cake a vanilla-almond sort of flavour and doesn't lose taste when baked. You can simply use vanilla if you can't find this.
You can buy Culinary French Lavender online or or in gourmet food shops.
I use this MAC Knife for all of my cake layering and trimming. It's super sharp and makes clean cake layers, ideal for building not-so-crumby layer cakes.
To achieve the lavender shade on this cake, I used 3:1 ratio Electric Purple and Violet. It will darken once it's on the cake, so be careful to not over-tint.
For added richness, you can fold in 1/3 cup mascarpone cheese to the vanilla whipped cream filling (as the very last step).
You can bake the cake layers the day before needed, keeping them wrapped tightly in plastic wrap and at room temperature.
You can make the compote the day before needed, and keep it covered and refrigerated.
You'll want to keep this cake in the fridge between servings for up to 2 days, but it's best served at room temperature and day 1.
Good luck & enjoy!