Breakfast on the run seems to be the new norm. Smoothies slurped during the bumper-to-bumper morning commute. A gooey egg-stuffed breakfast sandwich precariously picked apart in front of the glow of a computer screen. As time marches forward, it has become less of an enjoyable meal and more of a begrudged start to the day. But we—and several of our featured homeowners—are trying to change that stereotype. These 11 breakfast nooks are some absolutely perfect places to settle in—whether you're in bunny slippers or a power suit—and truly enjoy the most important meal of the day.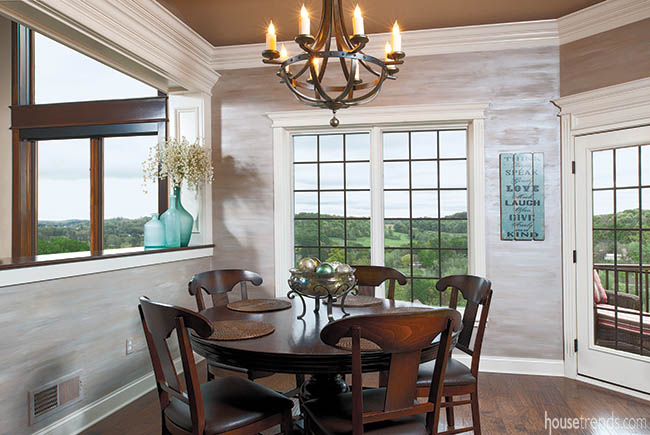 Neutral and natural. This breakfast nook embraces the simple things in life; things like early-morning sunlight streaming on a family breakfast with the smell of cinnamon rolls in the air.
See more of this Southern-inspired home.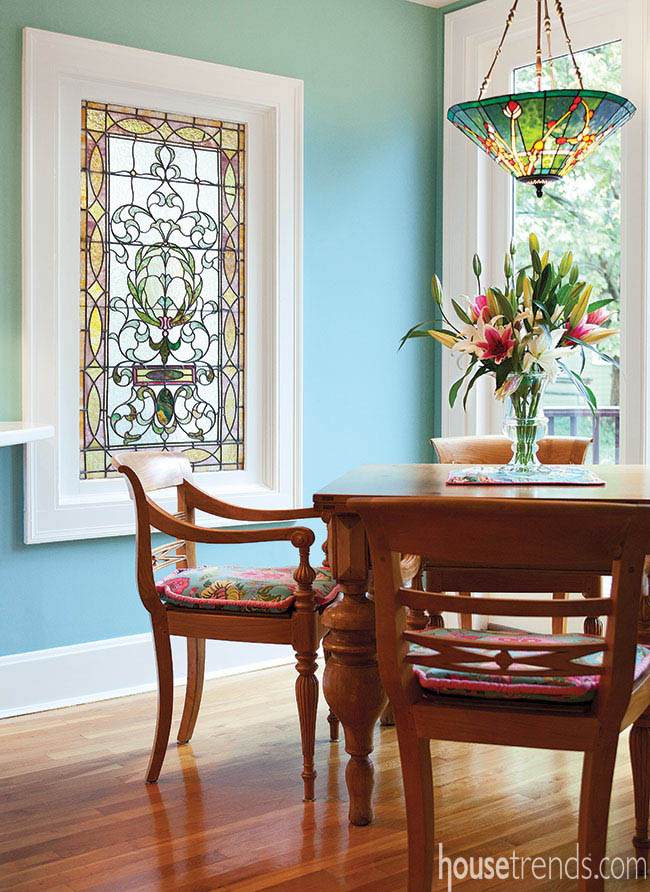 Whether the sun is just starting to peek over the horizon or sleek raindrops are falling from a dark sky, this stained glass window and accompanying chandelier offer a bright start to any day. Add in the patterned chair cushions and you'll find your family lingering to chat in this bright space long after the last bite of cereal has been finished.
See more of this colorful home.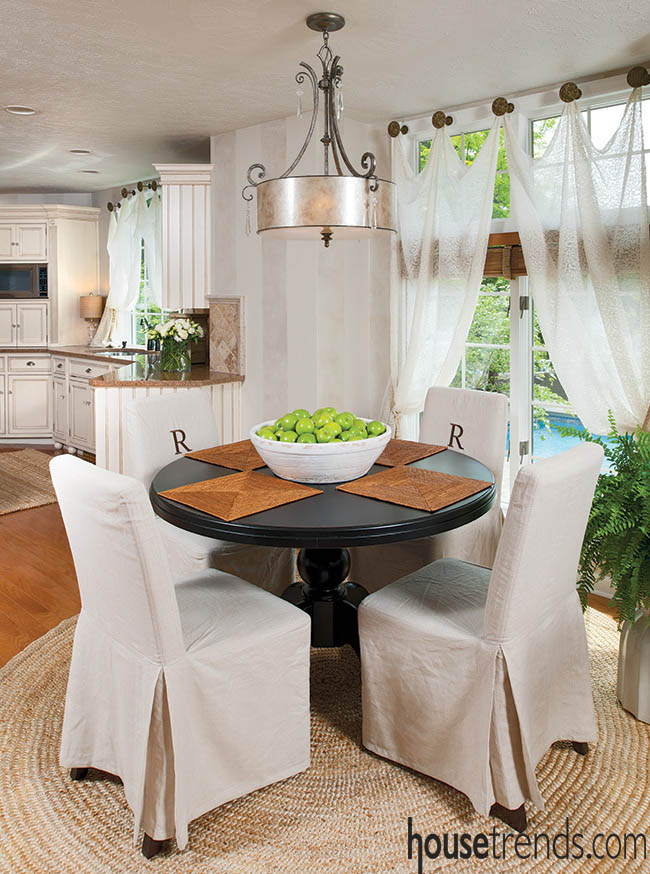 Soft and whimsical, this breakfast nook looks like it just came out of a vacation scene from a classy beach-themed movie. Dreamy sheer curtains soften the windows, while still allowing for a view of the lush back yard greenery and pool.
See more of this home.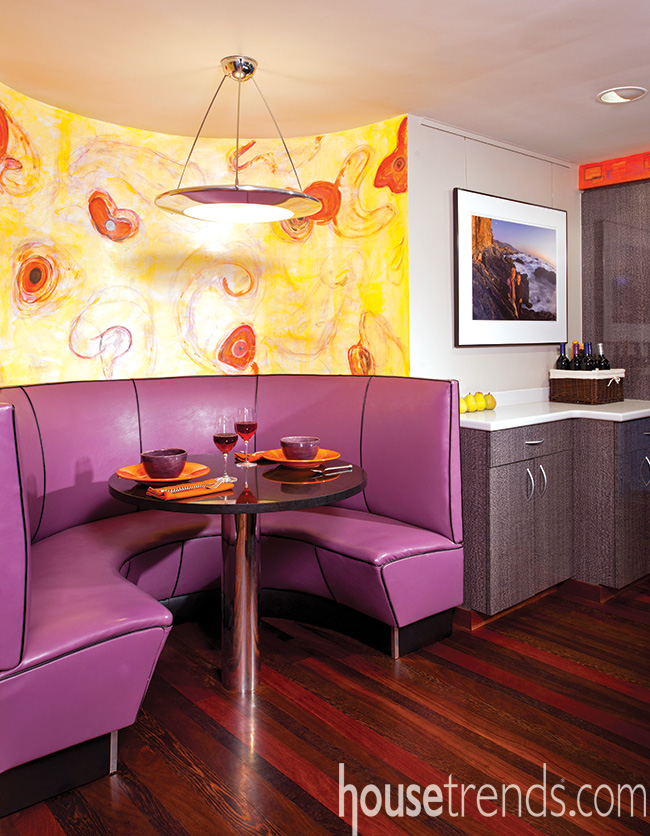 Sporting a retro design with a daring purple banquette and complementing yellow and orange wall mural, this funky breakfast nook offers a fun, colorful wake up call.
See more of this home.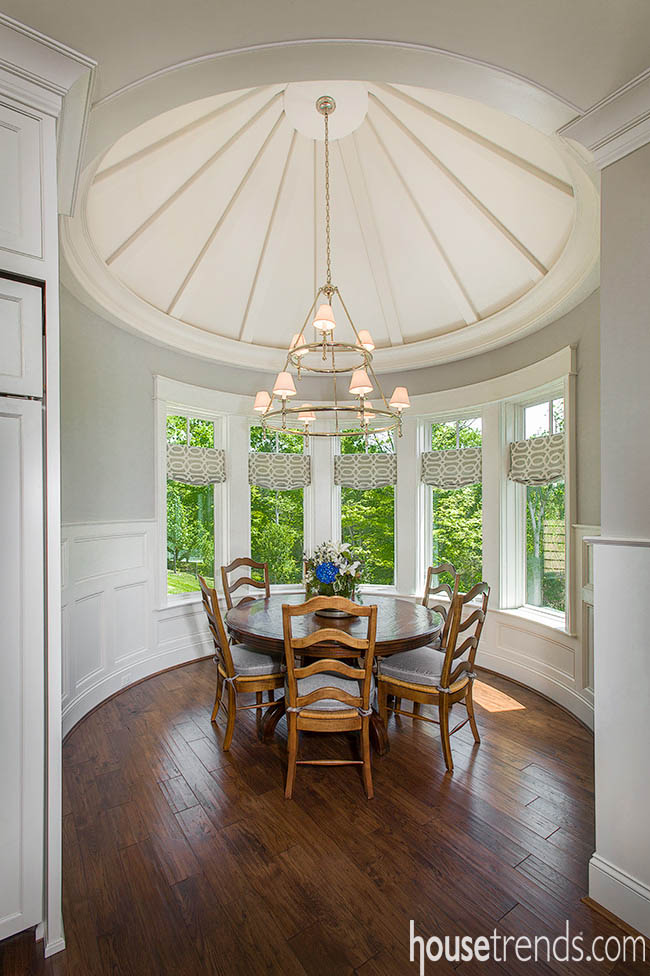 Located in a light-filled turret, simple elegance oozes from this circular breakfast nook. Keeping theme with the rest of the room, a circular table allows for easy breakfast conversation.
See more of this stunningly gorgeous home.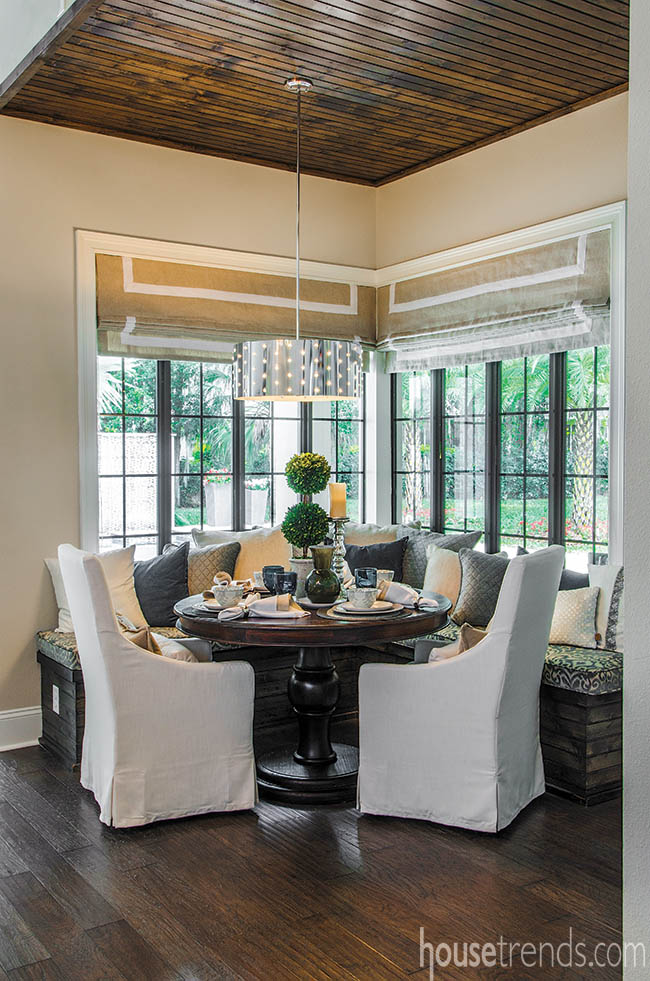 Throw pillows add a little bit of texture and a lot of interest to this breakfast nook. Roman shades covering the windows can be raised or lowered accordingly.
See more of this one-of-a-kind home.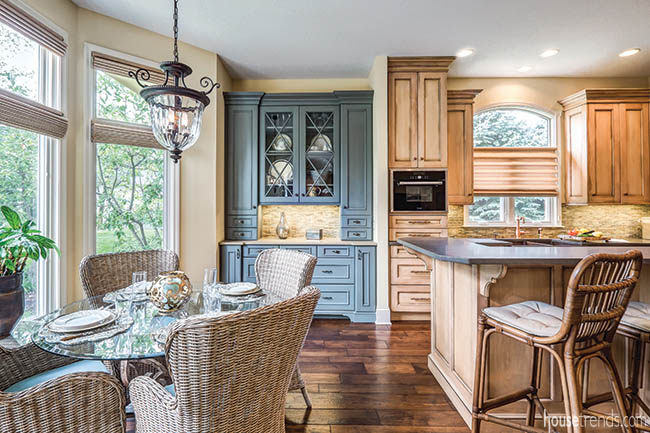 Located just steps from the prep area, this breakfast nook is close enough to easily ferry food from the stove to the table, but far enough away that diners feel as if they are in a designated spot that says "This is where we gather to start the day." Other meals can be eaten on the run, or on your own at the counter, but this table carves out a spot—and time—devoted to family.
See more of this kitchen.