Located on three acres in Odessa, this home was designed by architect Leon Goldenberg and constructed by Tampa builder Ron Martinez. Going off a friend's recommendation, Susan, and her husband Mark, contacted designer Gail Levine to help her update the interior. Today, Levine and Susan are best friends, more than designer and client.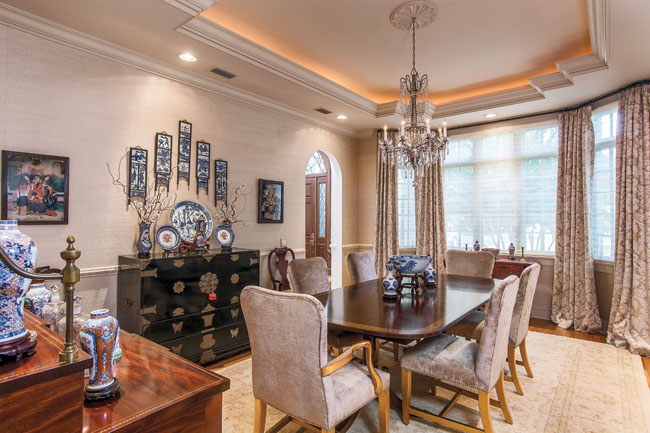 Because both women are on the same wavelength artistically, they easily communicate when planning room layouts, selecting colors, and—especially—searching out remarkable artwork. These homeowners have a large collection of contemporary art from USF Graphics Studio alongside gorgeous oils and watercolors produced by Mark's mother and delicate antique porcelain collections Susan inherited from her mother. It was up to Levine to take on the challenge of balancing these various art pieces in such a way that each receives the attention it deserves.
Lining one wall of the room, linen damask fabric curtains with sparkles of gold thread by Nancy Corzine cover shades from Conrad Shades to filter light.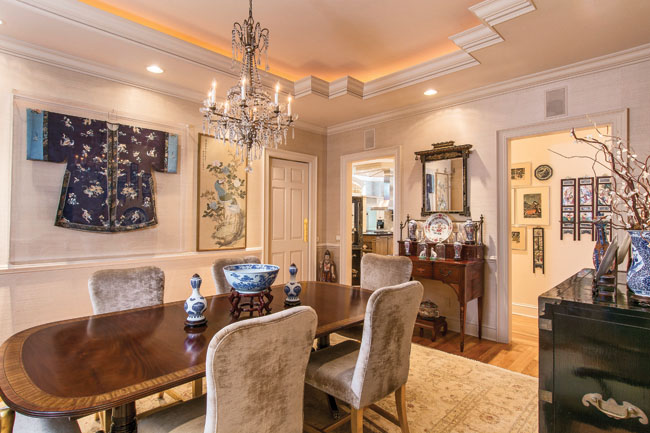 To the left, at the foot of the winding staircase, the dining room includes a gorgeous table from Mayfair Antiques in South Tampa surrounded by custom chairs covered in pale champagne silk velvet seats with gold leaf accented arms.
Dramatically displayed on the far wall is an Empress' kimono inherited from Susan's mother.
Susan couldn't be happier with the end result, but she's even more excited with the friendship that has developed over the years. "I'm so dependent on Gail after all these years of working together that I can't even pick out my own towels!"