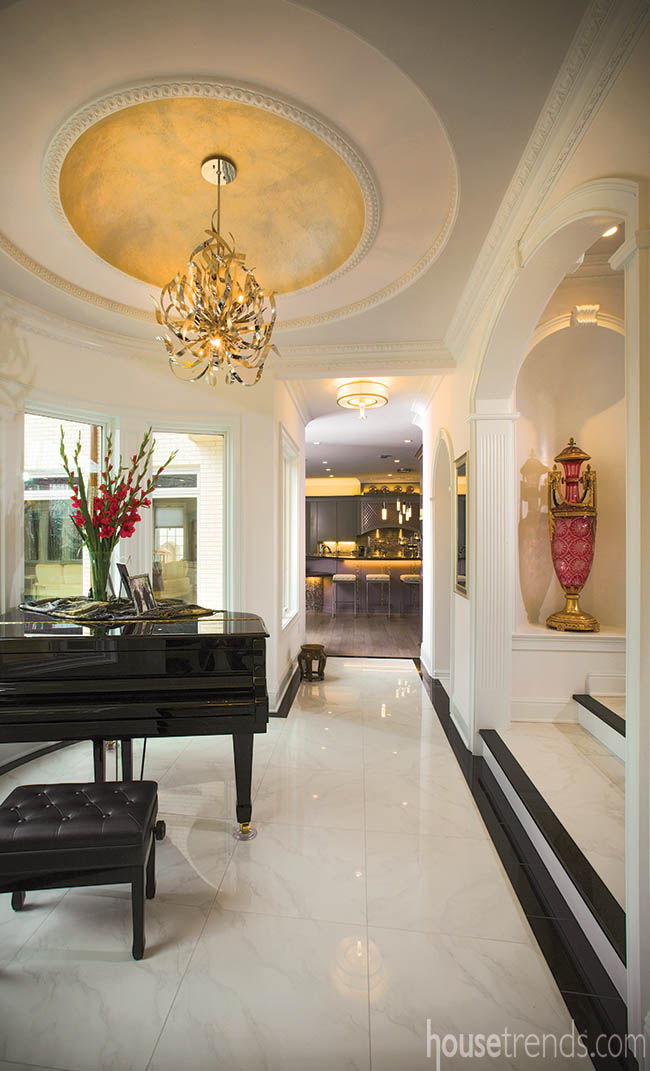 Written by: Amy Howell Hirt/Photos by: Robin Victor Goetz
There is a unifying thread that runs through David and Darlene Barnes' custom home in Villa Hills.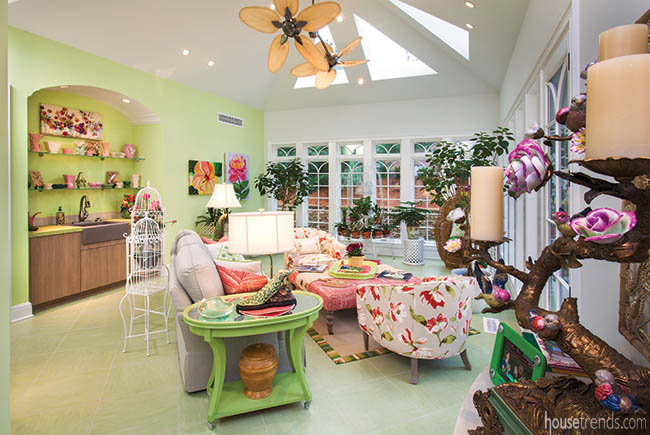 From an English-style conservatory to a Grand Canyon-flavored entertaining area, the spaces in this 16,000-square-foot home are connected by something much more powerful: a lifetime of cherished memories and acquired interests.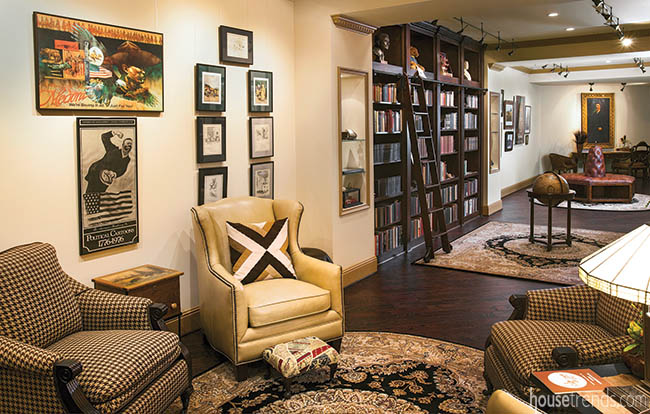 "We've traveled all around the world and wanted to enjoy what we've collected. That's why we ended up with themed rooms," Darlene says. "Now we can go through the rooms and say, 'Remember when we got that?'"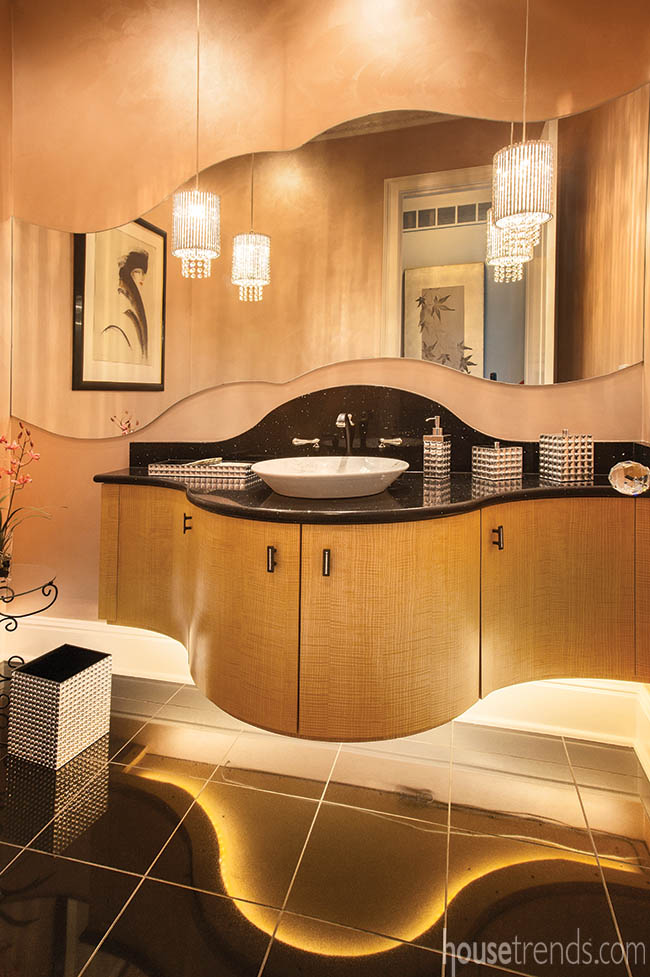 Personal pursuits and cherished collections
Having lived in England and owned companies around the world, the couple has cultivated a diverse aesthetic.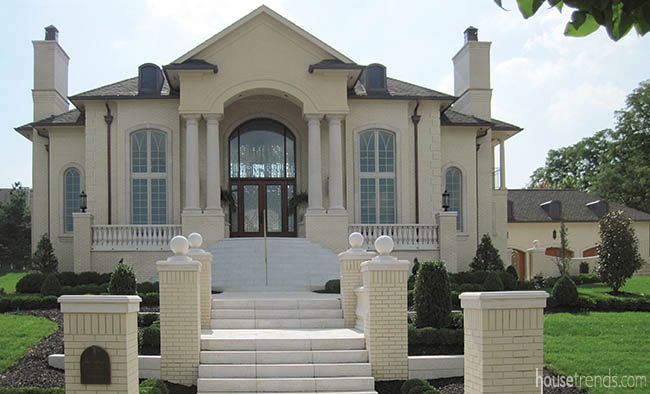 So when they decided to move from Hebron to Villa Hills to be closer to their daughter and her family, they weren't surprised to find that none of the existing homes fit their unique vision.
Instead, they created their own, starting with just a small photo torn from a magazine.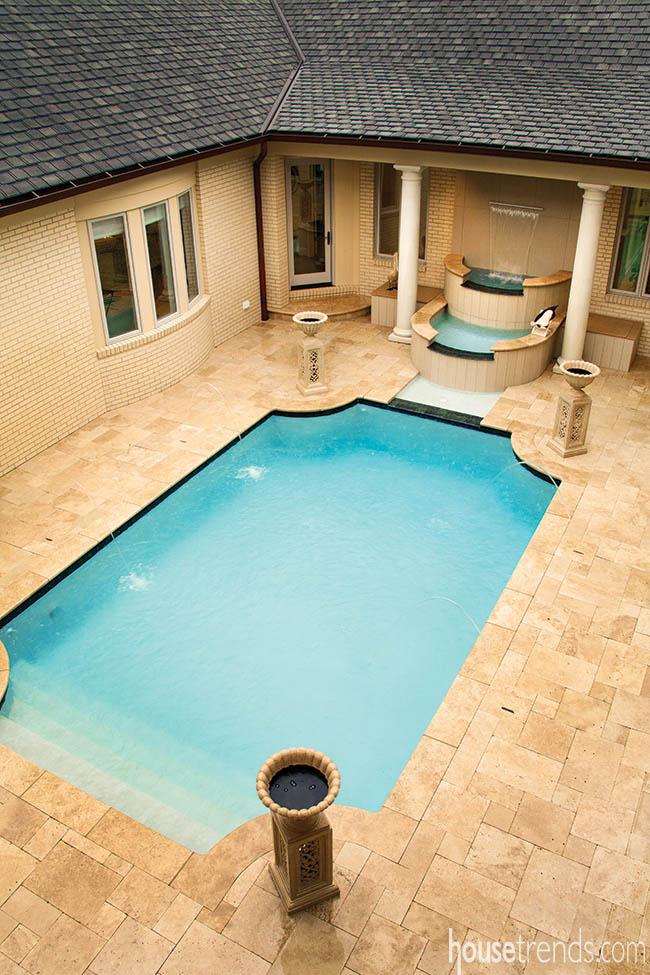 It took six months to reshape the footprint of a Florida-style plan—retaining the focus on a reflecting pool, located in a central courtyard, but adding a basement and the conservatory.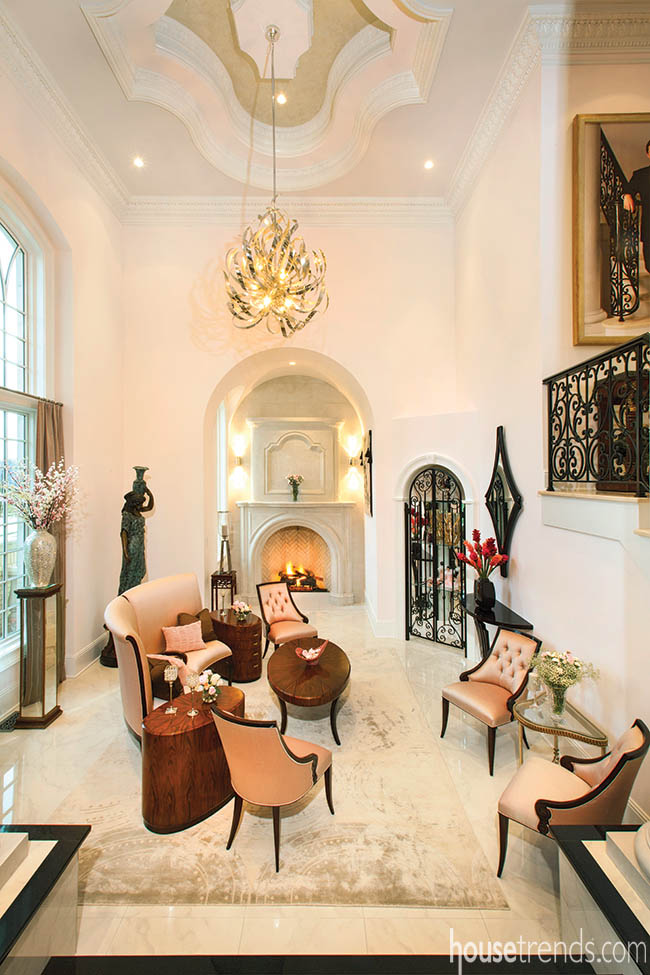 "It evolved literally room by room," David says of the home, which they moved into last June.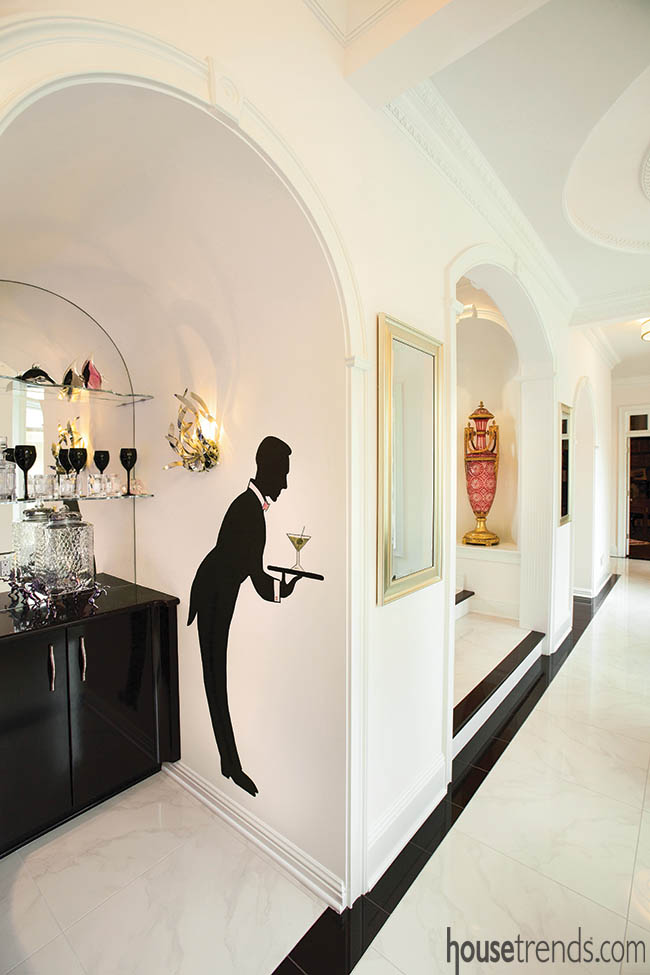 Walking through those rooms is like taking a global tour of the places and memories the couple holds dear.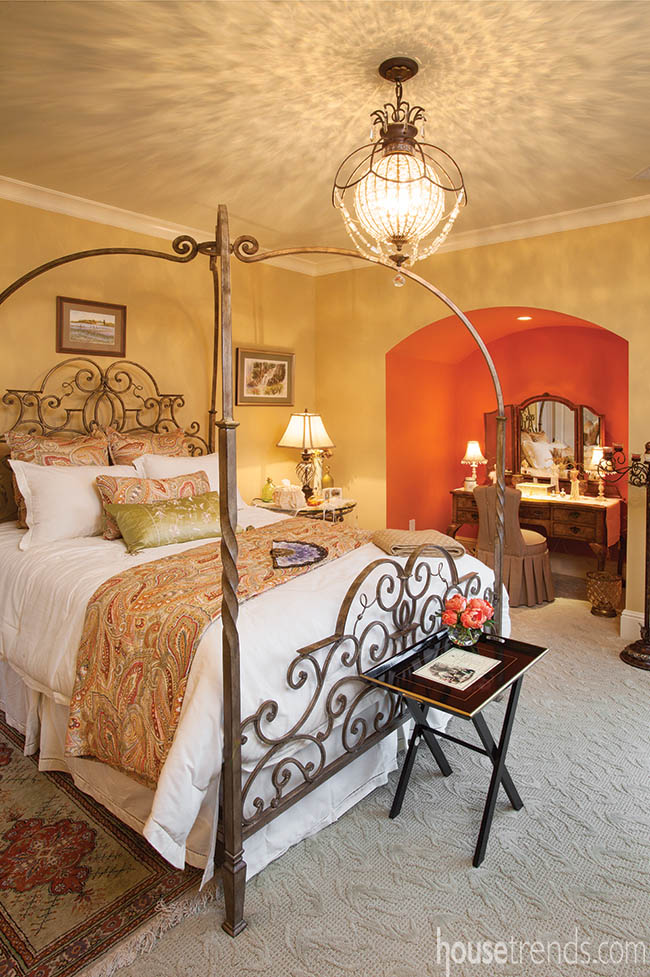 An Asia-themed bedroom, for example, displays a medicine chest from Korea and vases from Taiwan that they received as gifts. An English bedroom is furnished with a refined antique vanity and a painting of English hares, while a pool bath provides an appropriate space to display ocean-themed accessories discovered during island trips.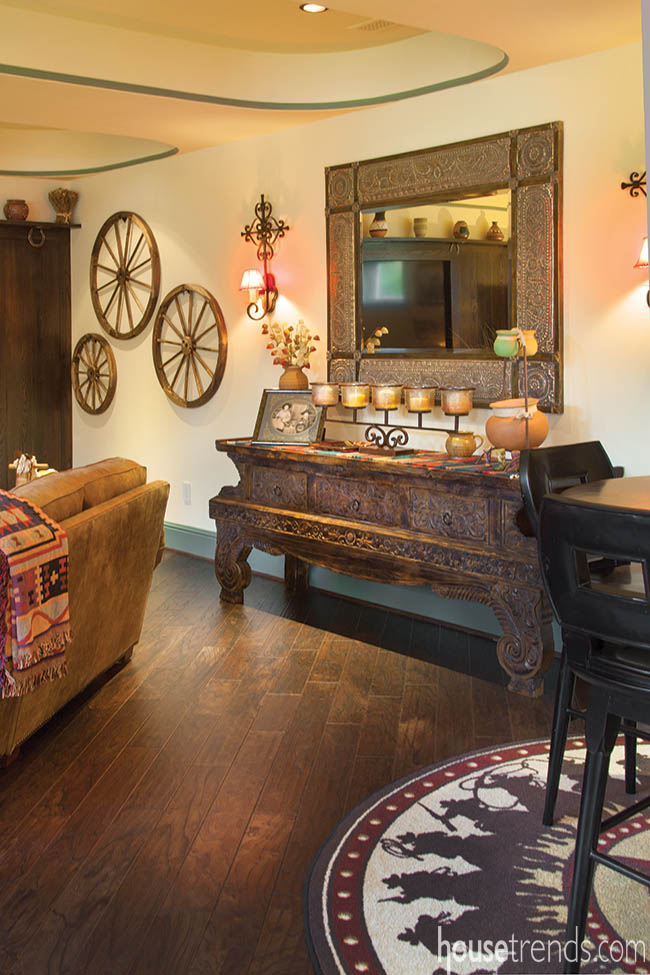 The lower level in particular is a celebration of the couple's interests, focusing on the Grand Canyon—one of their favorite destinations—and Southwestern culture. In the entertainment area, family vacation photos mix with gallery-quality artwork, including Navajo ceremonial pieces and paintings by acclaimed artist Charlie Russell.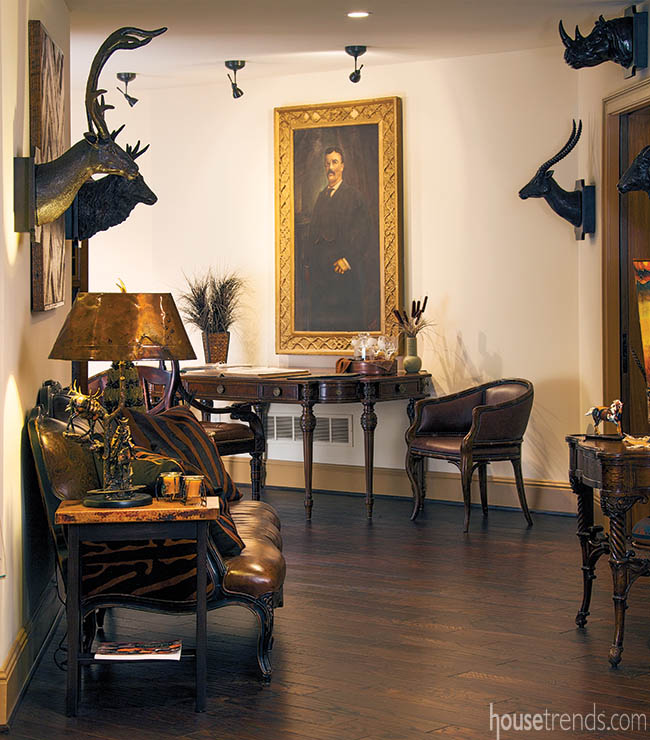 Just off this space, David's Theodore Roosevelt gallery complements this Western theme in a more reserved, museum style. Built-in bookshelves, display tables and a gallery wall system create a sophisticated backdrop for an array of portraits and artifacts, which David believes is likely one of the largest private collections in the country.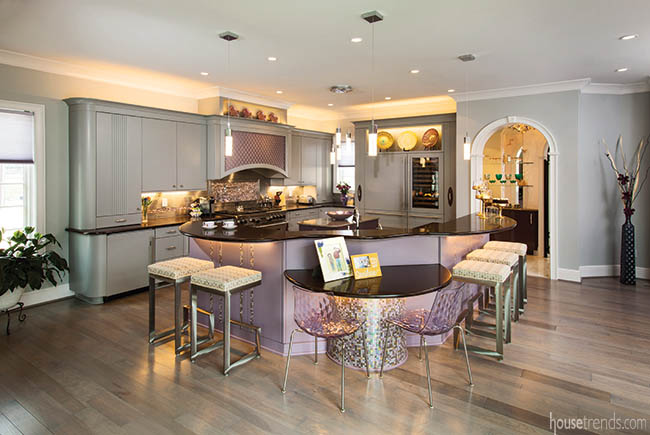 Hand-picked finishes and creative details
But the custom nature of this home goes far beyond themed artwork. From the exact shades of purple cabinetry in the contemporary kitchen to the tub in the master bath that fills from the ceiling, there are no builder-standard amenities or stock finishes here.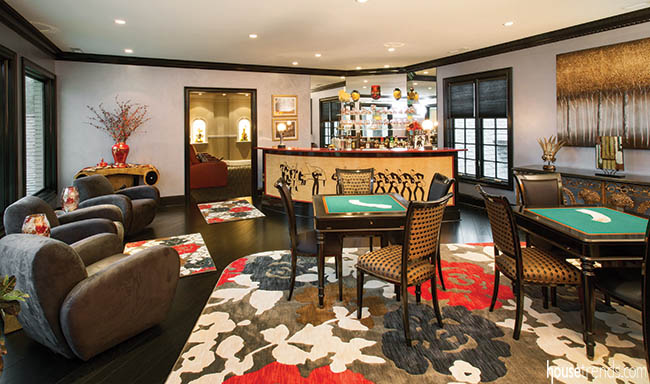 In the game room, a red quartz-topped bar is decorated with the jazz-themed cartoon characters from the opening credits of "Jeeves and Wooster"—one of the couple's favorite English TV shows. Just off this space, a Disney-themed theater room bears a starry fiberoptic ceiling display that slowly changes to highlight constellations of Mickey Mouse and other beloved characters.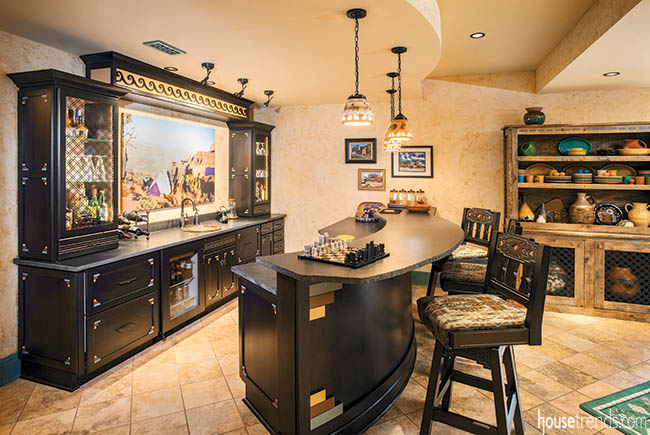 In the lower-level entertaining area, a stucco technique used on the walls was created specifically for this project, and cabinetry in the bar area was designed to match the pattern on hand-carved wood stools.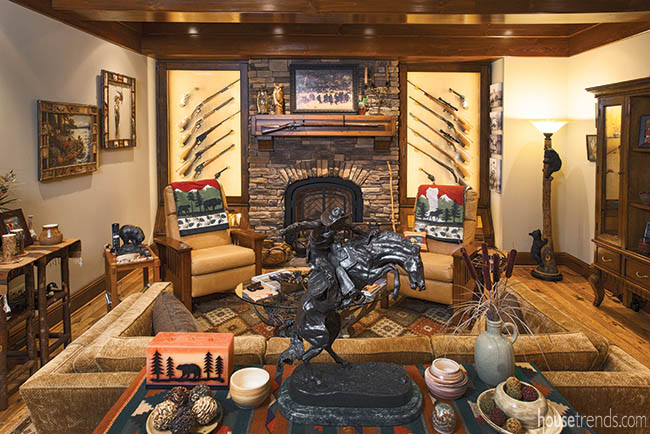 Lovingly labored
For the various contractors working on the home, the couple's unique vision presented some functional and artistic challenges, with David's lower-level shooting range ranking No. 1, Toebben says.
Because there was no such thing as a permit for a residential shooting range in Villa Hills, the chief of police had to review and approve plans for the room—which is wrapped in steel, Kevlar and soundproofing, and outfitted with its own ventilation system.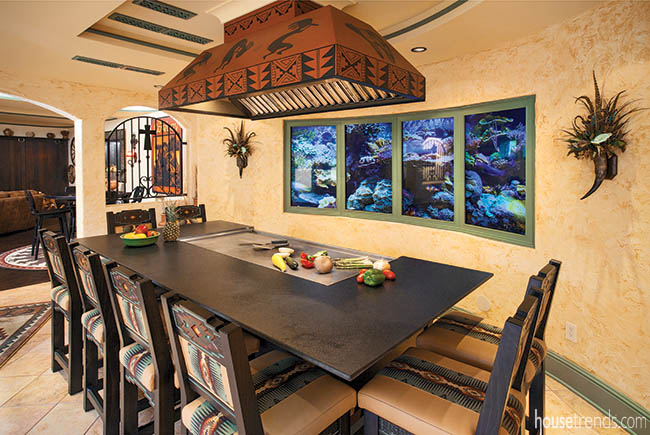 David's desire for a commercial-size hibachi grill—housed in the entertaining area—also required Toebben to acquire special exceptions and enlist the help of local heating and cooling experts to create a custom system that draws 20,000 cubic feet of air per minute and then replaces it with fresh air.
In the foyer, dining room and sitting room, the dramatic formality of stately columns, a sweeping limestone-clad staircase and Inglenook fireplaces is juxtaposed with contemporary sconce lighting and chandeliers with flame-like metal swirls—rather than the expected crystal.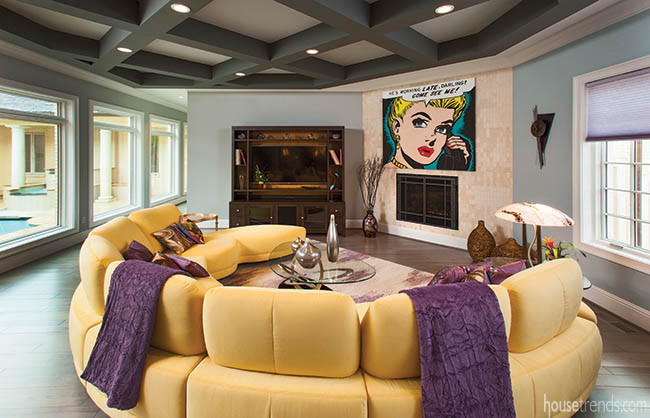 Turn the corner, and the refined ambiance abruptly gives way to the playful nature of the hearth room—which features a cheerful, modern sofa and spunky pop art-style painting over the fireplace.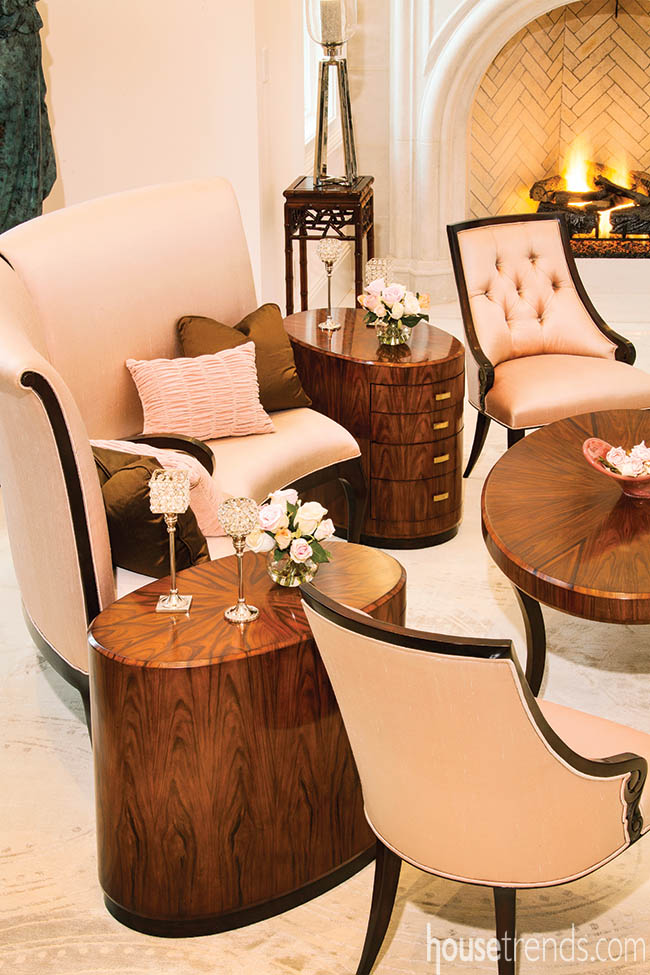 Just like the home's themed rooms, this intentional celebration of the unexpected is merely a reflection of the adventurous attitude that the couple embraces, and shares.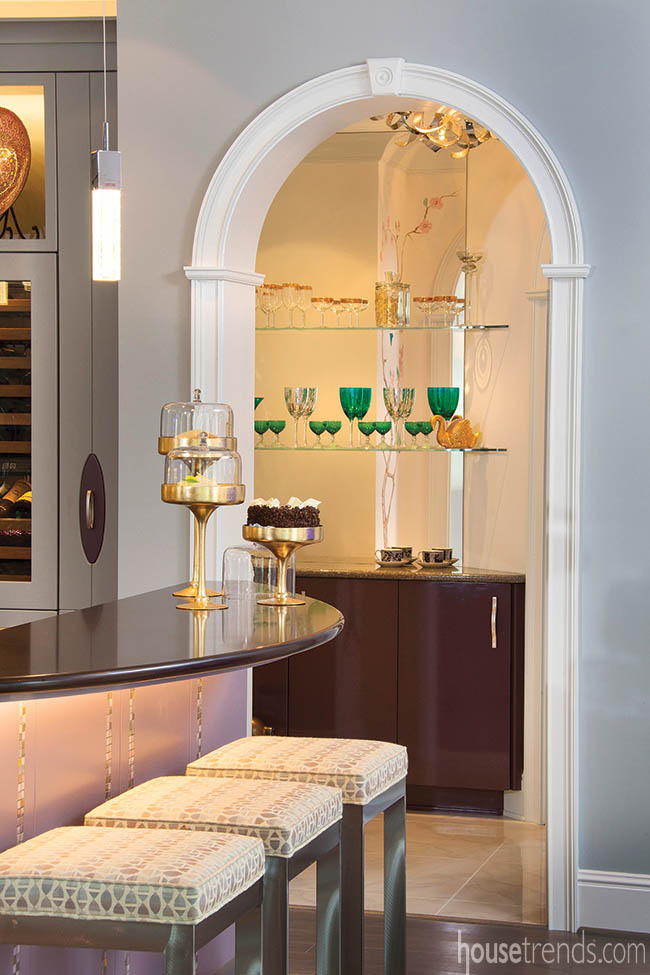 "When our grandson was young, I would take him to the store and sing this song—'There's always something new around the corner,'" Darlene says. "And I think our home is kind of like that."
Resources: Builder: Toebben Builders; Residential designer: Mike Studer; Interior designer: Henry Vittetoe Interior Design; Kitchen cabinetry: Kinsella; Kitchen countertops: Helmart; Kitchen backsplash: Ohio Tile; Kitchen sinks and faucets: Ferguson; Kitchen appliances: Custom Distributors; Bathroom cabinetry: Kinsella; Bathroom countertops: Helmart; Bathroom sinks and faucets: Ferguson; Lighting: Lighting EFX; Flooring: Mansion Hill; General Faux Finishing: Robin Harrison; Southwest Stucco Wall Faux Finishing: Janice Bosko; Bookcases and built-in furniture in office: Sims-Lohman; Custom Bookcases for Roosevelt Gallery: TLC Furniture Restoration; Antique Furniture Refinishing throughout: TLC Furniture Restoration; Furnishings: Furnitureland South; Coral Reef Aquarium System: Aquatics and Exotics; Pool: Kramer Pools; Landscape Design and Implementation: British Gardens; Lawn Sprinkler System: A Sprinkle Above; Windows: Pella; Entry doors: Stain Glass Overlay; Gun Range Systems: Meggitt Training Systems, Inc.; Security, automation and audio-video systems: Masterpiece Audio, Video and Automation; Lighting Control Systems: Custom Electronic Design