Within the ancient city of Fez, Morocco, are thousands of narrow alleyways teeming with life and the art of ancient bargaining. A world away, Betsy Nichol enjoys the exquisite beauty of her home in Centerville, including the imported Moroccan cabinet that graces her dining room. "As soon as I saw it in an antique store in Fez, I knew I had to have it," she says. "I started bargaining for it right away."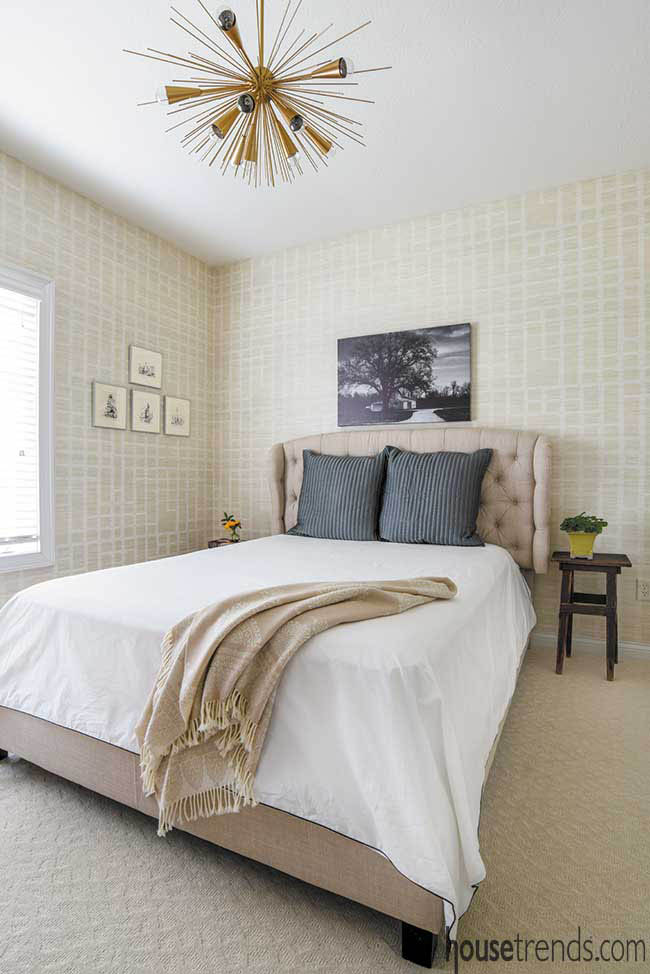 Mid-century modern influences
In addition to the cabinet, Betsy's home is filled with all manner of antique furniture from overseas, including Italy and Turkey, two of her other favorite destinations. Betsy has an eye for such treasures, a skill she perfected during her 25 years working as an interior designer in New York City and the Hamptons. When she and her husband, renowned photographer Gary Beeber, moved to the Dayton suburb a year-and-a-half ago, they were delighted to find their unique 5,500 square-foot home, built in 2003 and characterized by its Italianate architecture.
As she approached the design process for the interior, Betsy's goals were to start with a neutral color palette and incorporate pops of color; to convey an eclectic design with contemporary attributes; and to utilize global influences in every room. She also wanted to incorporate mid-century modern furniture, particularly of the European variety.
"It's a national trend to use mid-century modern accents," Betsy explains. "My take on it is eclectic and includes things from all over the world. Mid-century modern accents are very sculptural and add a lot of sophistication."
While Betsy believes beauty and sophistication are important, she places equal weight on functionality and comfort, particularly in terms of seating. "Every seat should be comfortable for the number of people who inhabit the space," she says. "Very modern furniture, for instance, is low to the ground and deep. It's pretty to look at but not as comfortable, and I believe that a homeowner's needs should be met in terms of comfort."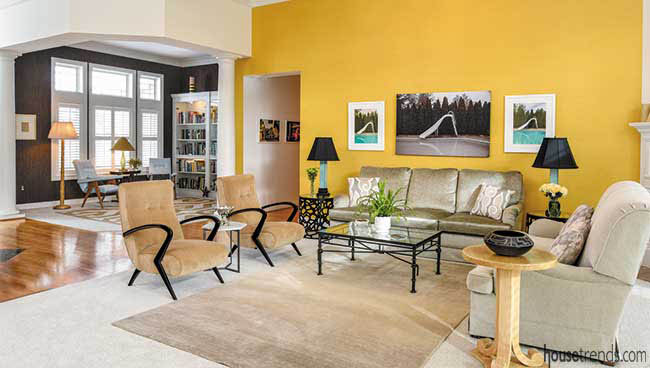 Artistic and comfortable
In her own living room, Betsy certainly adheres to this philosophy. The inherently comfortable sofa and loveseat, custom pieces from Stark Fine Furniture, are covered in contemporary Romo fabric, which is renowned for its diverse and elegant designs. These are offset by a pair of mid-century modern Italian armchairs of moleskin fabric, imported from a London gallery via 1stdibs, an online marketplace. "I love the chairs—they are very comfortable," says Betsy. "Also, they are very sculptural in this space. This room combines straight lines with curved lines."
Other highlights include the gold wallpaper from Elitis of France; a pair of custom turquoise lamps, uniquely created from the downspouts of a home that was about to be demolished; and the series of eye-catching photos above the sofa. Betsy explains that the photos are part of her husband's prize-winning "Suburbia" series, comprised of three pictures of a pool slide taken at three different times of a day and within different seasons of the year.
Moving into the dining room, one finds the aforementioned Moroccan cabinet, a beautiful piece of goat leather-covered wood, filled with treasured pieces. "This room is very light and bright," explains Betsy. "It was originally brown, including the furniture and carpet. I was so horrified by the darkness and dreariness, so I compensated by putting in the turquoise wallpaper and white tile floor."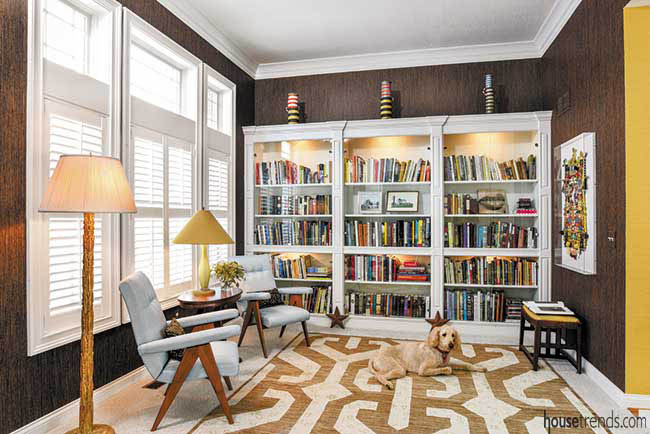 A minimalistic approach
With her decades of experience, Betsy is adept at designing for anyone's personal choices or style, from traditional to transitional and contemporary. "I love making beautiful homes for people and making them happy," she says.
For her own home, she focused on a minimalistic approach. "My own personal choice is not to be too cluttered," she explains. "Otherwise everyone looks around at all the stuff versus concentrating on each other."
The distinctive Phillip Jeffries wallpaper in the reading room is dark brown with gold stripes, but the room is still light and bright, much like the dining room. The pair of Italian mid-century modern reclining chairs is covered in a soothing blue Romo fabric and says "welcome" to all who enter.
"I wanted the room to be cozy," says Betsy, "a place to sit and read a book, or to have a drink and chat." Books about architecture, interior design, history and art, as well as watercolors by Gary himself, adorn the bookcases.
The brown hues that originally defined the breakfast room meant that it, too, needed a makeover. Betsy freshened it up with blue grasscloth wallpaper from Phillip Jeffries; an imported Slamp chandelier with a rose-inspired design; and bronze sheers from Rodolph. The room's 1960s-era burled wood table is supported by a brass base and designed by Zographos.
Betsy carried her same philosophy into the guest bedroom. The neutral retreat features a natural color scheme accented with subtle wallpaper from Elitis. The end result is an airy and bright space, one that is magnificent yet minimalist all at once.