With a gorgeous view like this, it's not hard to see why most homeowners would opt to spend their morning lounging on one of the padded chairs on the deck, steaming cup of coffee settled on the low table just a lazy reach away.
Well, not Barbara Wilson.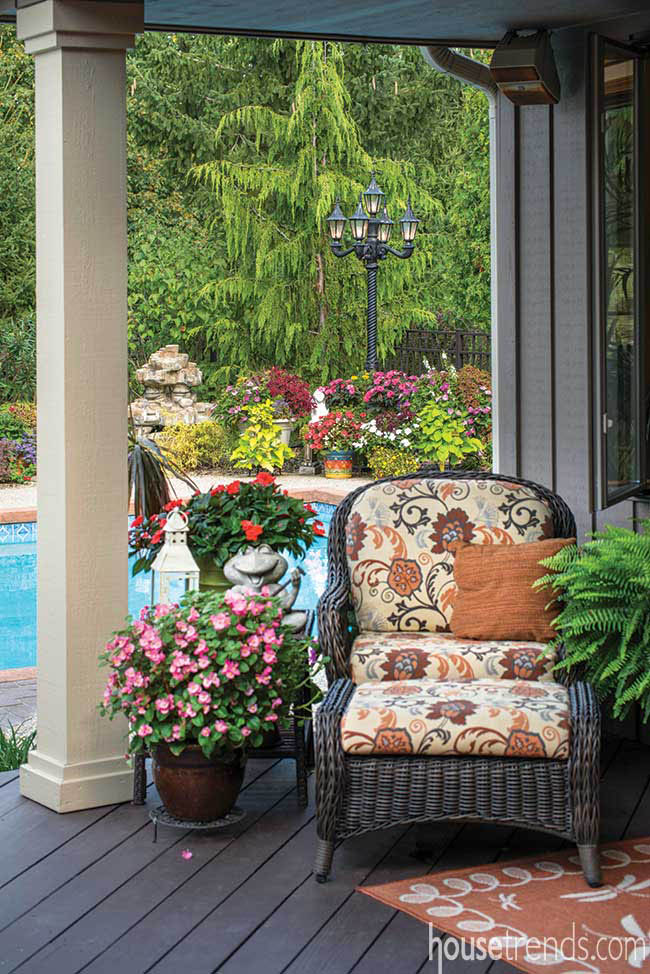 You might find her catching a peaceful moment with her favorite cup of joe, but more likely than not she'll be up and moving before you know it, gliding from one plant to another as she prunes, deadheads and adjusts her beloved flowers in the morning dew. "I work normally, at least, a 12-hour day at my job," says Barbara. "So I go out in the morning and try to get a little bit done before I go to work."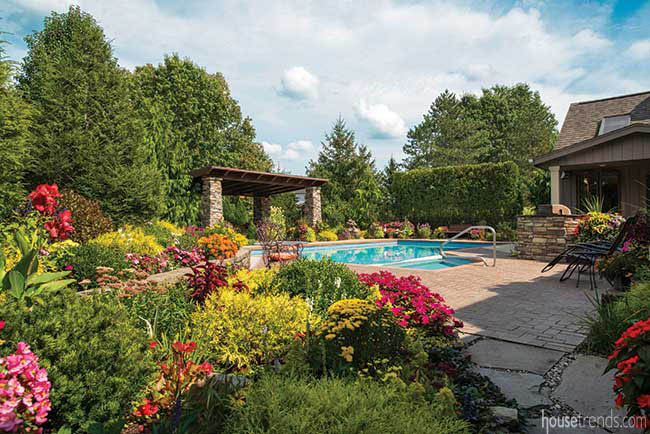 Barbara and Bill Wilson moved to their Medina property a good 20 years ago and began their landscaping journey right away. Tall pine trees—some of the only plants in the back yard that were installed by professionals—arch toward the sky, giving this corner lot the illusion of seclusion. "I wanted to create a very private resort feel," says Barbara as she describes the wide variety of plants seen throughout the one-acre yard. And quite a variety it is: shrubs bubbling over the low stone walls, flowers trailing past the rims of hanging baskets, potted plants placed wherever there's room—this back yard is devoted to all things green.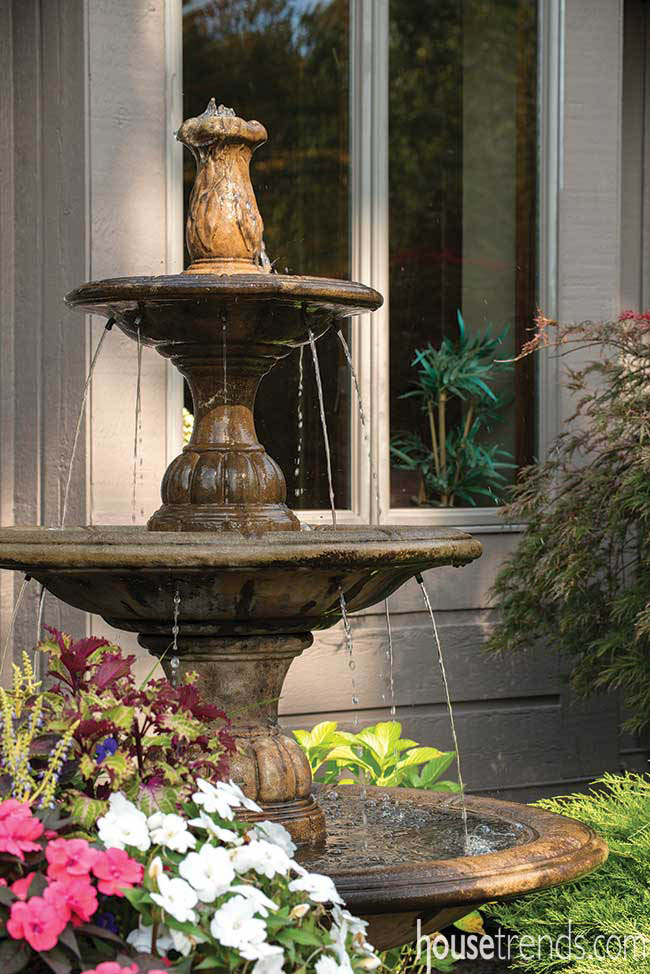 True gardening enthusiasts, Barbara and Bill re-plant and maintain their back yard on their own every year.  "It takes two and a half to three weeks to get everything started," says Barbara. "At least 100 hours to get things where I want it to be."
Rather than frequent just a single nursery, Barbara patronizes any business selling plants. "I'll never pass a nursery without stopping," she laughs, explaining a habit that resulted in her driving a large vehicle so there's always plenty of room for her to cart flowers home.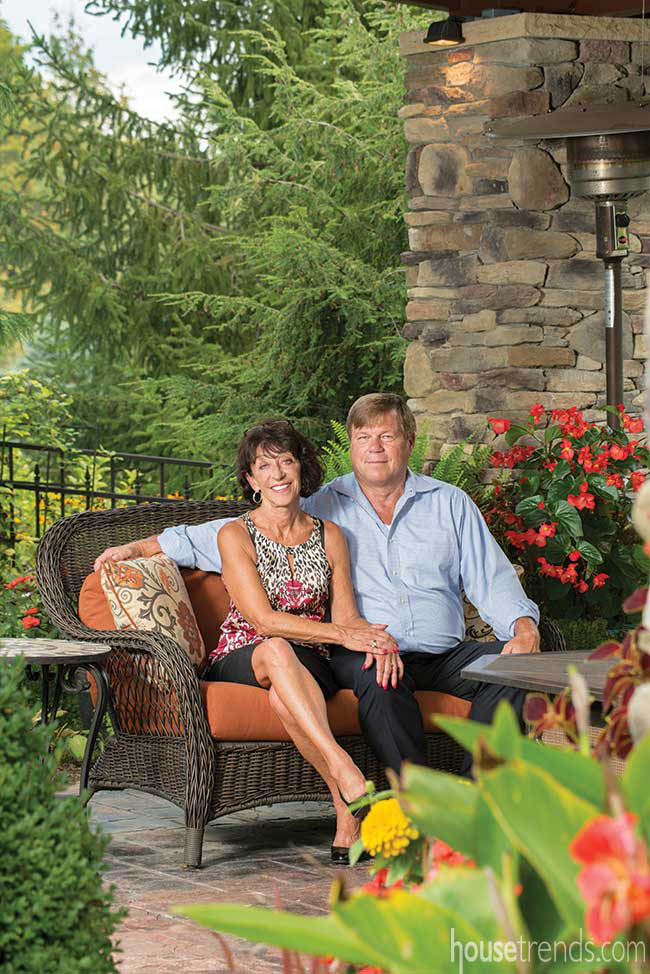 Crazy about color
Both of these busy homeowners crave as much color as possible for their outdoor space, and they keep that in mind when selecting their plants each year. "The main goal," Barbara admits, "is plants with the maximum amount of color with the least amount of maintenance." With these requirements in mind, and hoping to keep their back yard blooming as long as possible, the owners drift toward flowers and shrubs that thrive from May to October, a list that typically includes begonias and sunpatiens.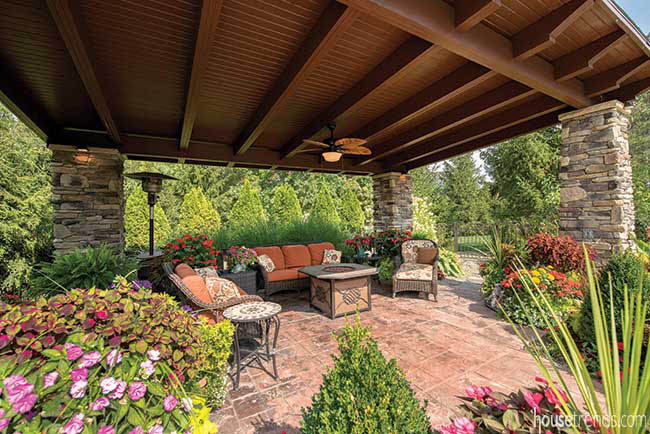 Learning through trial and error, Barbara often rearranges the plants in her yard, though she refuses to throw anything away, insisting instead that it just needs another home with different qualities, either somewhere else in her yard or a friend's. Always on the hunt for fresh ideas, they go to home and flower shows every year, sometimes leaving with wheels churning and a new project on the brain. Although, some of her favorite arrangements, Barbara says, she does snap a picture of so she can try to replicate it the next year.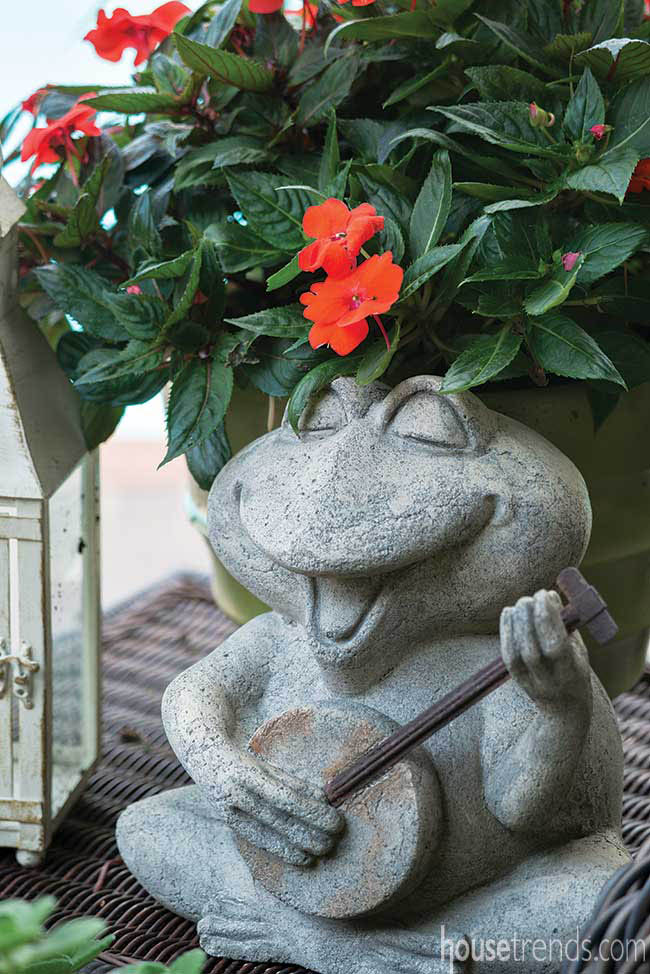 Labor of love
Barbara isn't shy about admitting how much time she and Bill devote to their landscape, slipping in working hours between, well, their other working hours. Both real estate professionals, long days are a common occurrence, so they tend to get creative with their time. Many an early morning finds Barbara meandering through the yard, pruning this here, moving a potted plant there. During the drier days, she might stop off during her lunch break, navigating the lawn in her heels and a dress as she waters any plants necessary.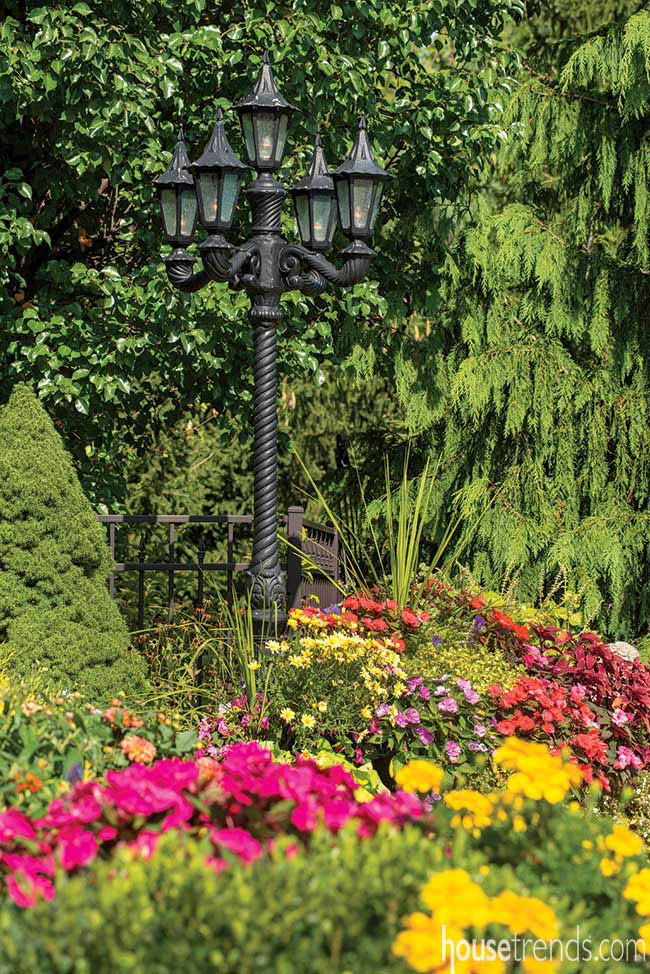 The cool of the evening finds them both back at it, with her trimming and pruning and him cleaning and clearing the debris.  An assortment of light fixtures, Barbara says, allow her to work late into the evening. "Most of the work is done in the evening, and then I'll put the planters in the garage and I can work until midnight or 1:00 a.m. planting."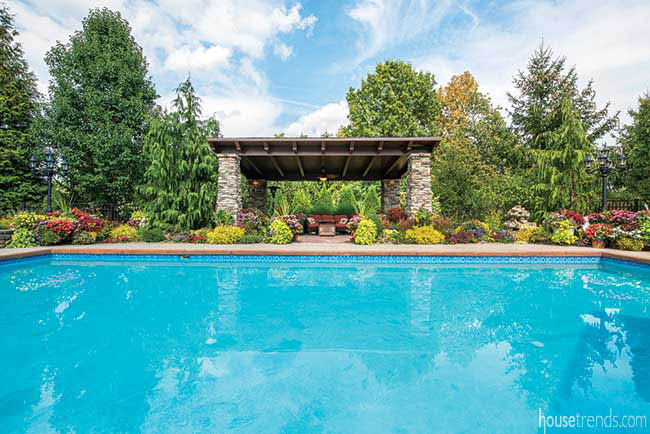 Work and play
It might seem as if the maintenance is the only thing this couple does with their back yard, but Barbara easily assures that it sees plenty of fun as well. A shimmering 20×40-foot swimming pool anchors the whole area and is easily accessible from any of the various seating areas. The saltwater pool sees almost daily use in the warmer weather as Bill takes a dip after work, and a little more rambunctious use when their four grandsons come to visit.
It was these visits—and their affinity for outdoor entertaining—that led them to craft a pool bath. A quaint space complete with bathroom and changing areas, it's a remedy to keeping wet feet and bathing suits from dripping on the floors indoors.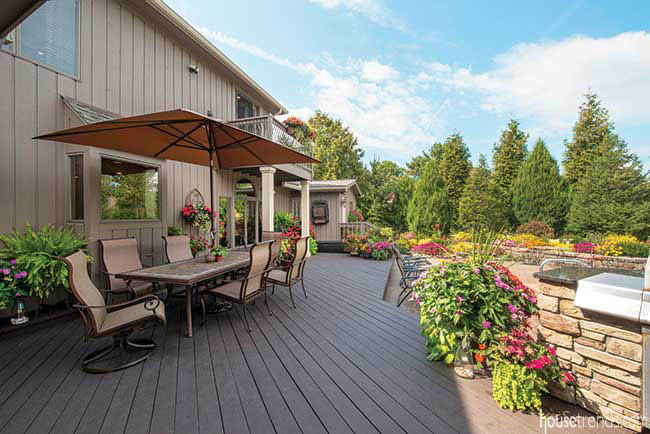 The rectangular umbrella-shaded table gets its fair share of usage as outdoor meals are a regular occurrence in this home. "We eat outside every night that it's feasible," says Barbara. "Even if we have to put coats on in the fall."
Clearly not averse to the chillier weather, this couple had the foresight to install a heater and fire pit in their pavilion, allowing them to enjoy reclining on the cushioned furniture while sipping a glass of wine far into the colder months. It is from this cozy spot that Barbara most enjoys taking in the view of her yard, constantly running through new arrangements and ideas, because as she says happily, "everything's always a possibility."