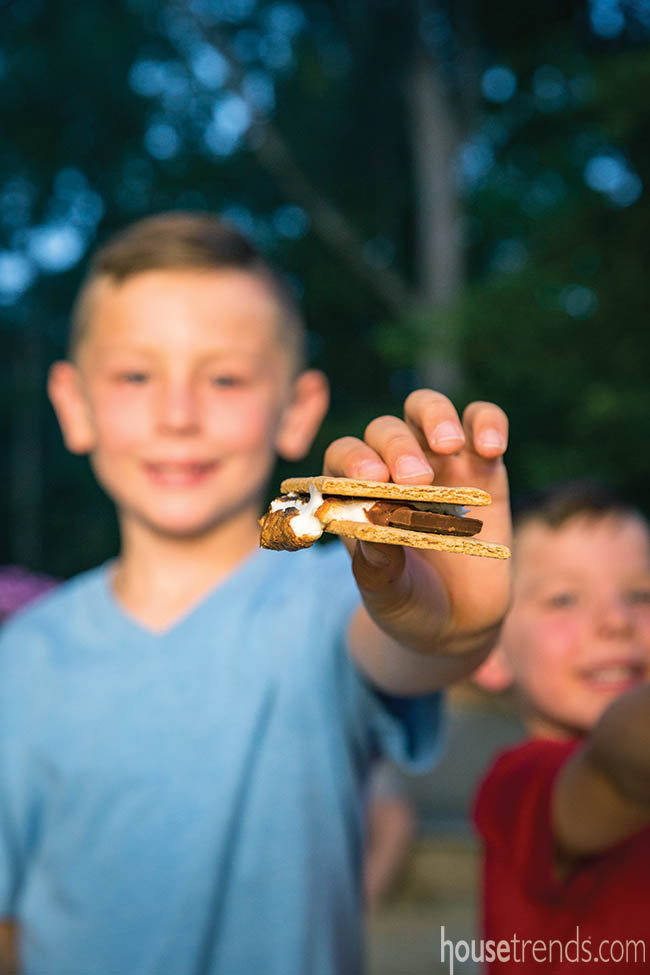 When there are 13 kids waiting with your son at your street's bus stop in the morning, it's a strong sign that you are in a neighborhood that is a good fit for a young family.
That boy, whose name is Gavin, was just a one year old, when his parents, Ryan and Hailee Hoffman, decided they had outgrown their Hyde Park starter home. As Hailee puts it, it was time to "get serious about moving to the 'burbs."
The couple settled on a traditional two-story in the Ivy Hills community in Anderson Township with a cul-de-sac location and a heavily wooded 1-1/2-acre lot.  After moving to their new home in 2010, the family of three quickly discovered they'd made the right decision when they met their neighbors.
"We've met great people here," Hailee says, "and there are lots of kids."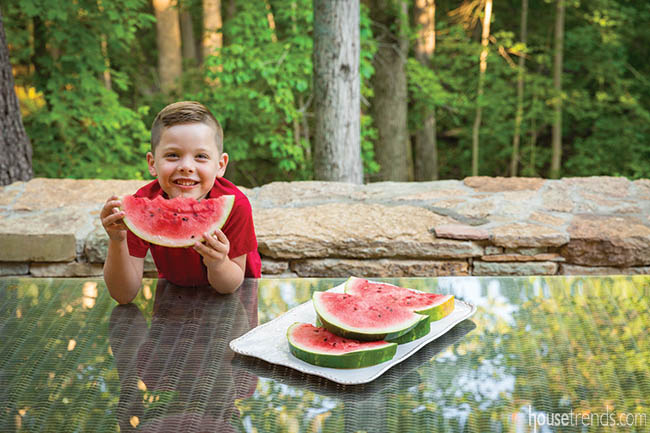 Not too long after that, Hailee and Ryan added another child to the count on the street when they gave birth to a son, Landon. A couple of years later they wanted to carve more usable space, including a flat area for a play set, out of their sloping, tree-filled back yard.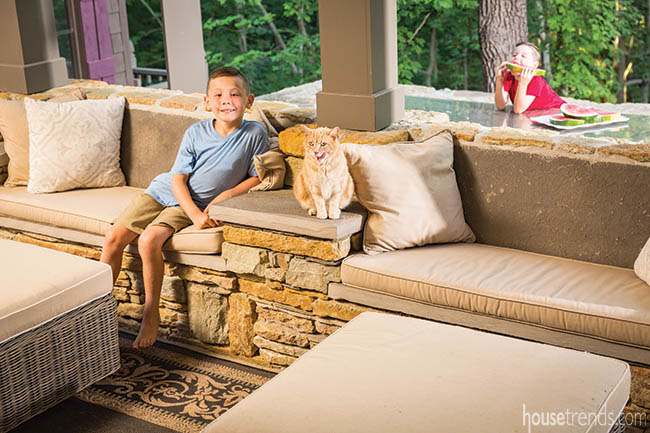 Taking cover
The launching point for the renovation was the area off the walk-out basement, that was sheltered beneath a first floor deck.
"We figured we could do a lot of cool things under this deck," Ryan says, "So we decided to make it into a gathering space."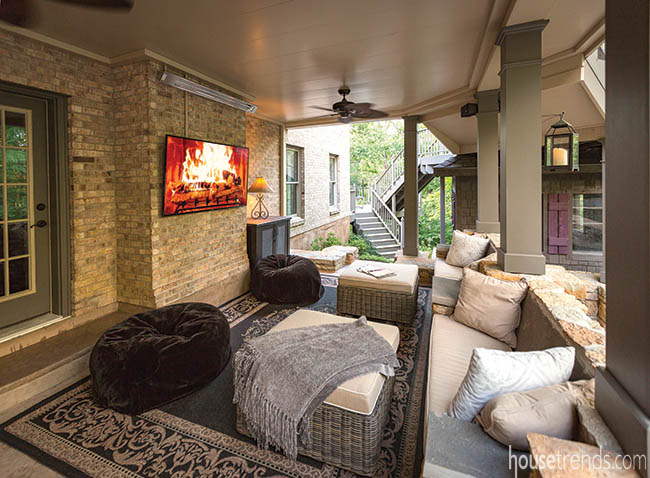 The company the Hoffmans initially hired to install an underdecking system ended up creating problems rather than solutions. At that point, the couple contacted Alex Rutherford of Undercover Systems. In addition to the underdecking, Rutherford ultimately installed the electrical elements and did the carpentry work for the bar and sitting areas.
"Alex came in like a white knight and fixed everything," Ryan says.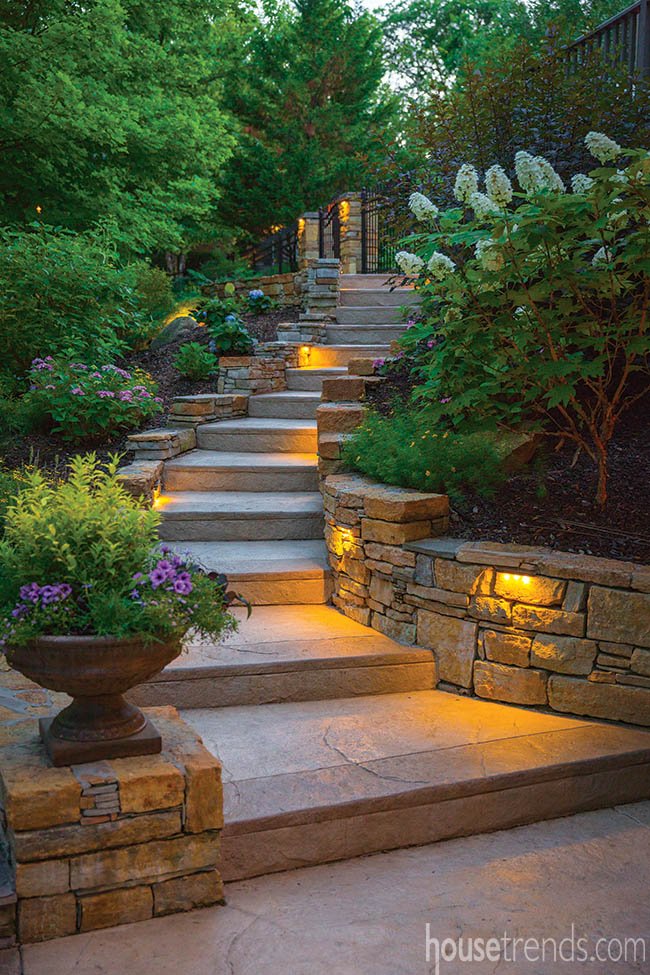 The great beyond
To expand the uncovered outdoor living area, the couple called upon the talents of landscape designer Adam Erbaugh of TowneScapes.
"We were looking for ideas. We talked with Adam about just adding a plain retaining wall to give us space for a flat patch of grass," Ryan says. "But we decided it would be better to invest that money in creating a space that was an extension of the living room. Adam had a great design, great concept, a strong sense of materials and colors and a lot of experience," Ryan says.
Erbaugh created the plan which included a living area and bar area under the deck, stone steps leading from the driveway, and lush landscape beds.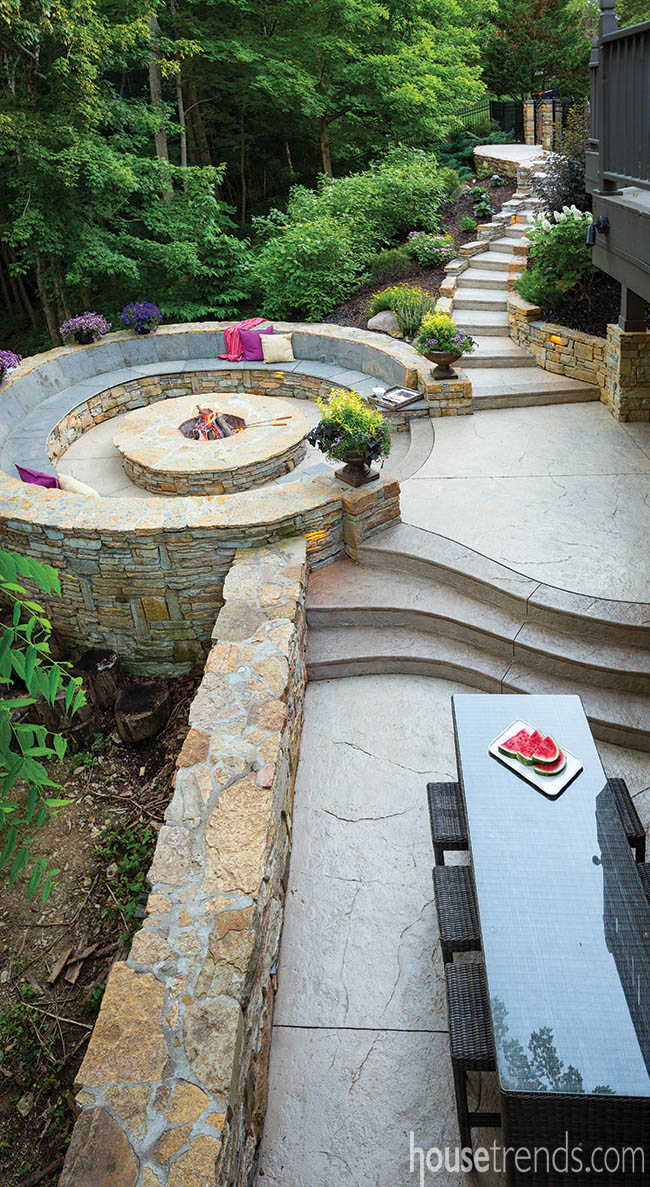 "The design directive was to designate spaces by function while simultaneously creating a cohesive and permeable outdoor living space overall, " Erbaugh says.
A major focus of the project was a large fire pit and seating area that would be placed on the edge of the woods. This particular hardscape feature required the skills of TowneScapes' talented stone mason, Bill Canter.
"We had three people look at the plans," Ryan says. "The others wanted to use paver blocks, Bill was the only one who wanted to use natural stone. He had a good vision for what to do with this space."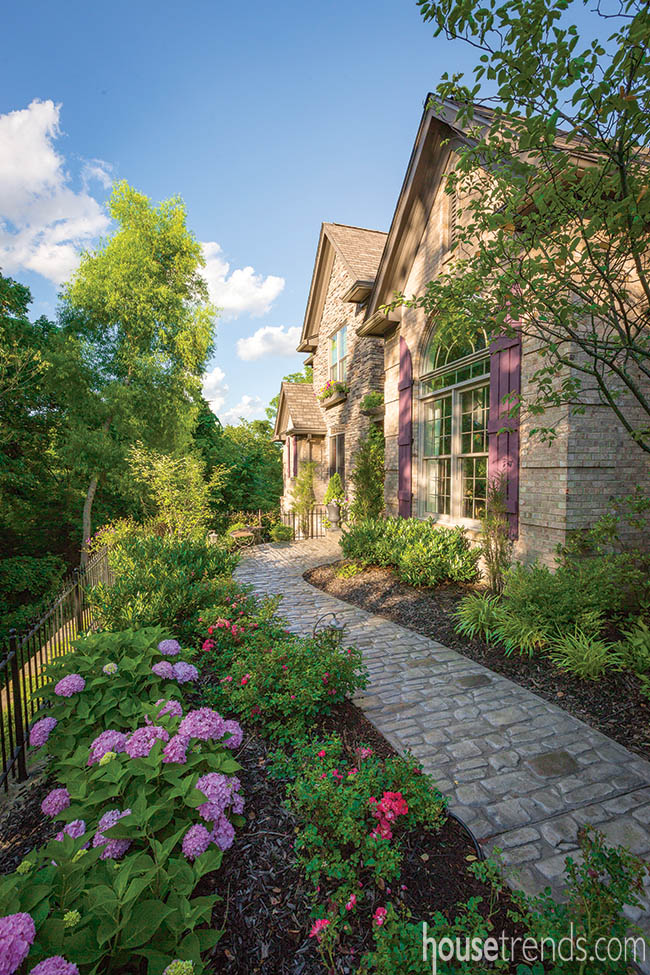 Along with Canter's vision came a serious amount of hard work and perseverance.
Getting heavy equipment back to the site was impossible, so Canter dug out a massive hole with just a shovel, and cut the rocks for the fire pit, seating benches and retaining walls with a hand saw.
"Bill worked his tail off," Ryan says.
Canter also installed deep concrete piers and chevrons which anchor the stone structure into the hillside. The entire construction process took over two years.
"He was part of our family for a while," adds Hailee.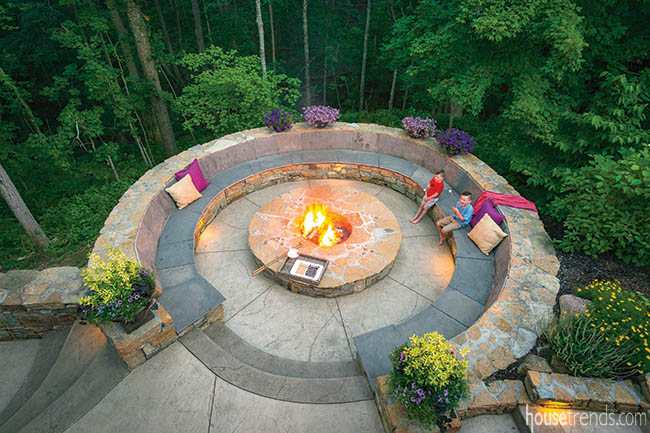 Seating for 16
The immense size of the fire pit area was a surprise—even to the homeowners. One morning, Ryan stepped outside on the covered patio and saw Canter doing his regular digging and he said, "Bill, I think it would be better if this area was bigger—meaning the bar area. Bill thought I meant the fire pit area," Ryan says.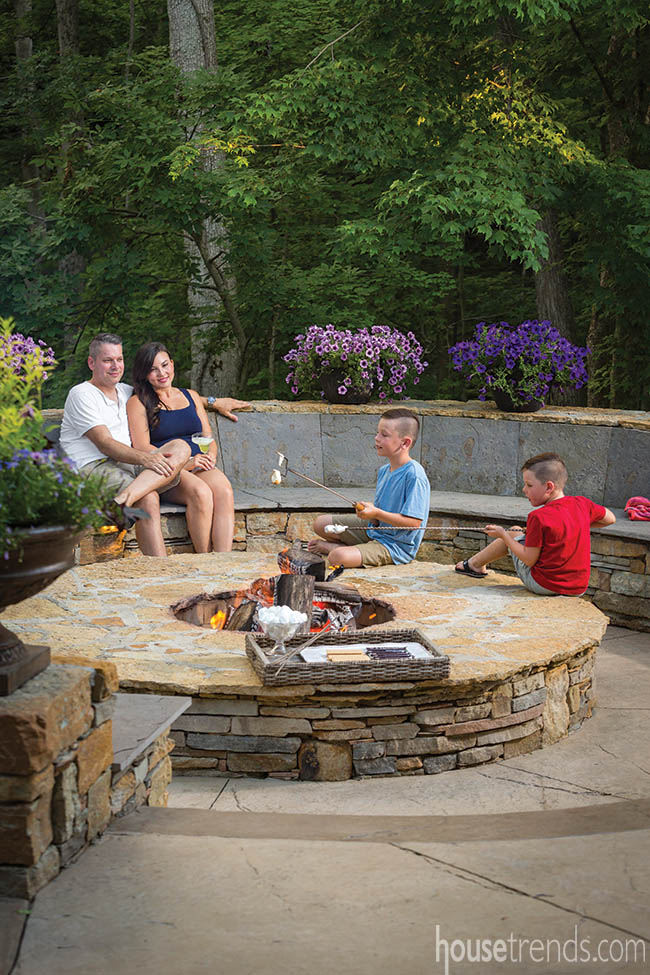 Ultimately, the Hoffmans decided that since they were planning on hosting frequent neighborhood gatherings, it would make sense that the space should be large enough for a crowd.
"You can see the fire pit from space," Hailee says.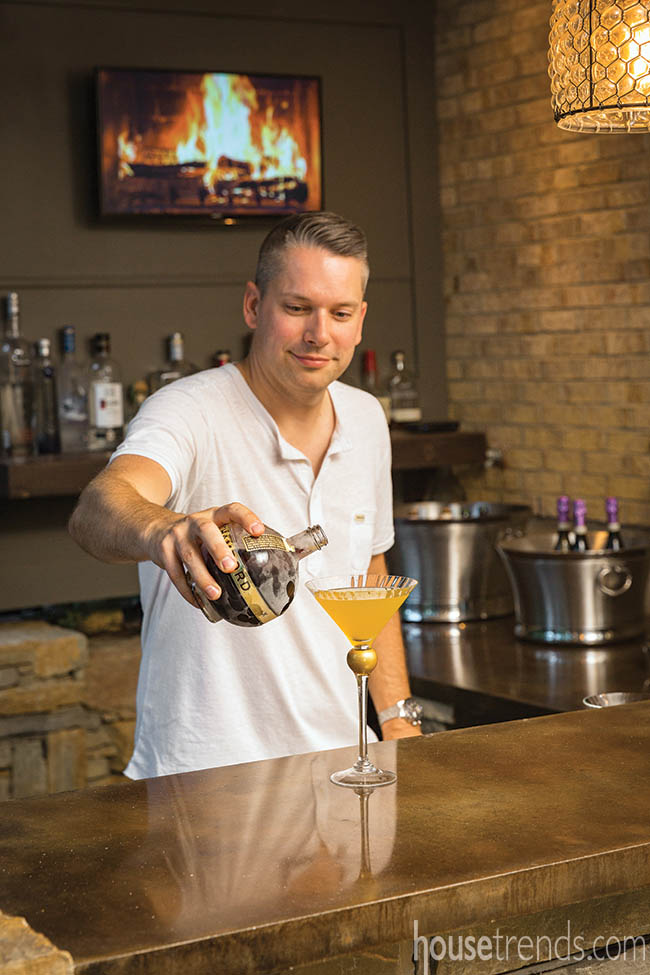 The place to be
The Hoffmans host a lot of get-togethers with neighborhood families. "Everyone brings their kids," Hailee says. "We get the music going and it's just an evening of drinking and hanging out."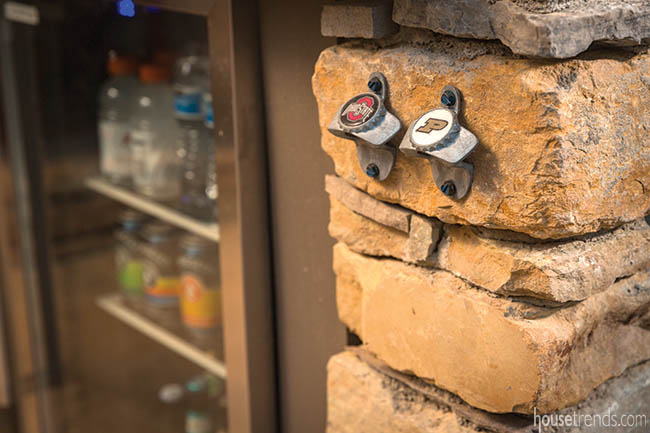 When asked what they love about their new outdoor space, each of the family members has a different answer. Hailee likes movie nights and says they happen all of the time. Ryan claims Hailee's favorite backyard activity is napping, but he likes to serve as bartender mixing up signature drinks like a Sunset Martini. Eight-year-old Gavin loves having his friends over and roasting marshmallows and 5-1/2-year old Landon just likes "running around."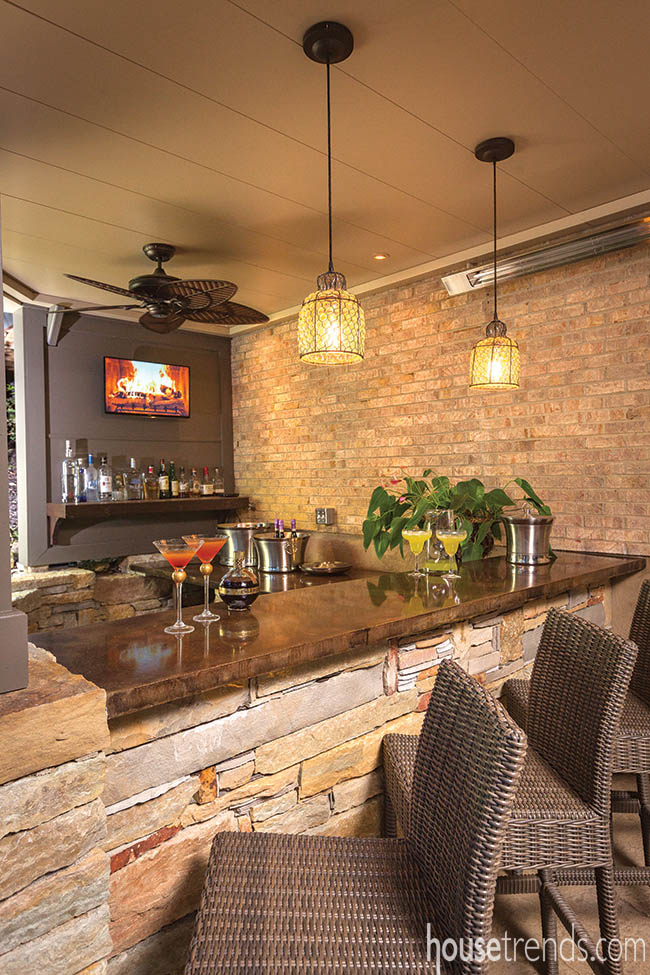 But the whole gang loved gathering outside on their new covered patio to watch this year's NBA finals and the family's favorite team, the Cleveland Cavaliers—for all but one game. On that occasion they were in Cleveland watching their team in person. As luck would have it, Gavin and Landon were selected out of the crowd to have a bit of face time with the players.
"I love the Cavs. I love LeBron" says Gavin. "I got to high five LeBron and all of the Cavs!"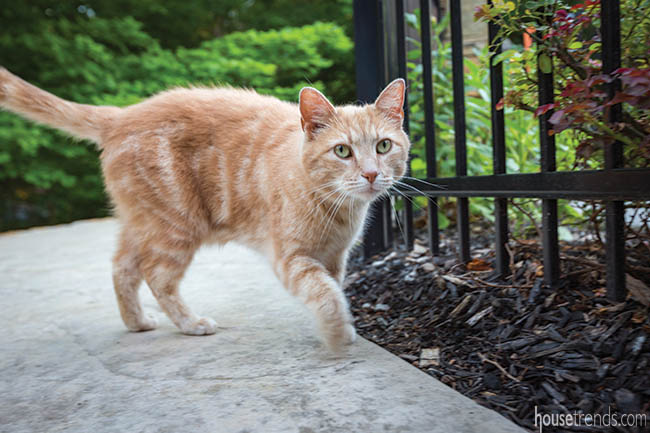 Right around that same time, the Hoffmans found a stray cat in their cul-de-sac. While they tried to find his family, they fed him and took him to a vet.
"We bought him a whole entire bag full of food," Landon says.
When no one came to claim the cat, the Hoffmans gave him a home, and named him—you guessed it—LeBron.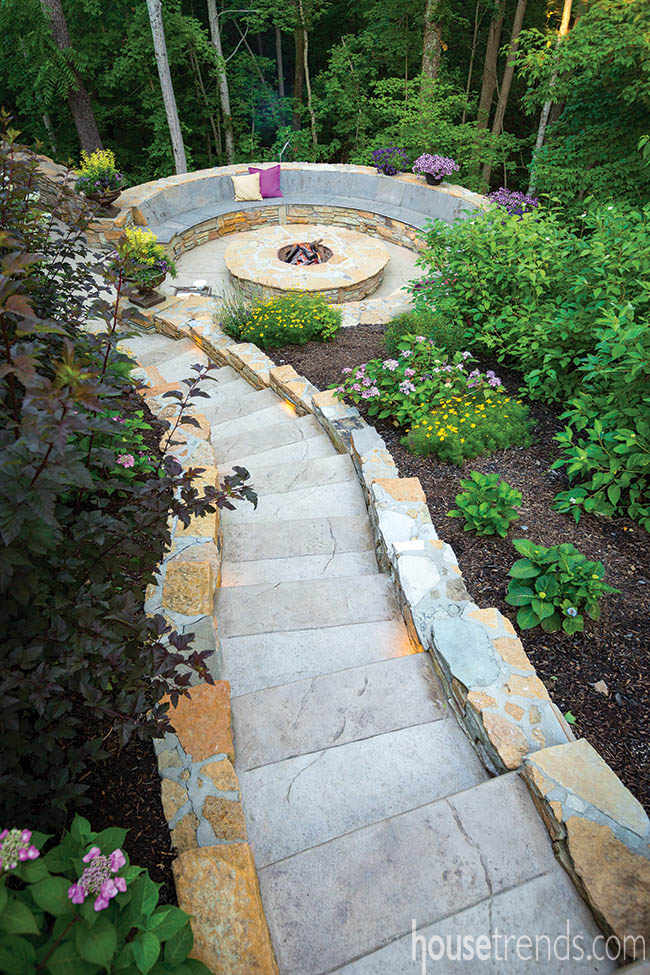 But wait, there's more!
Clearly there is a lot of living going on in a space that the Hoffmans virtually ignored just a few years ago. An outdoor oasis was carefully carved out of a significantly slanting hillside. The engineering expertise involved is immediately evident to a visitor's eye.
That's why it comes as quite a surprise when Ryan says, "We're thinking about putting a pool in."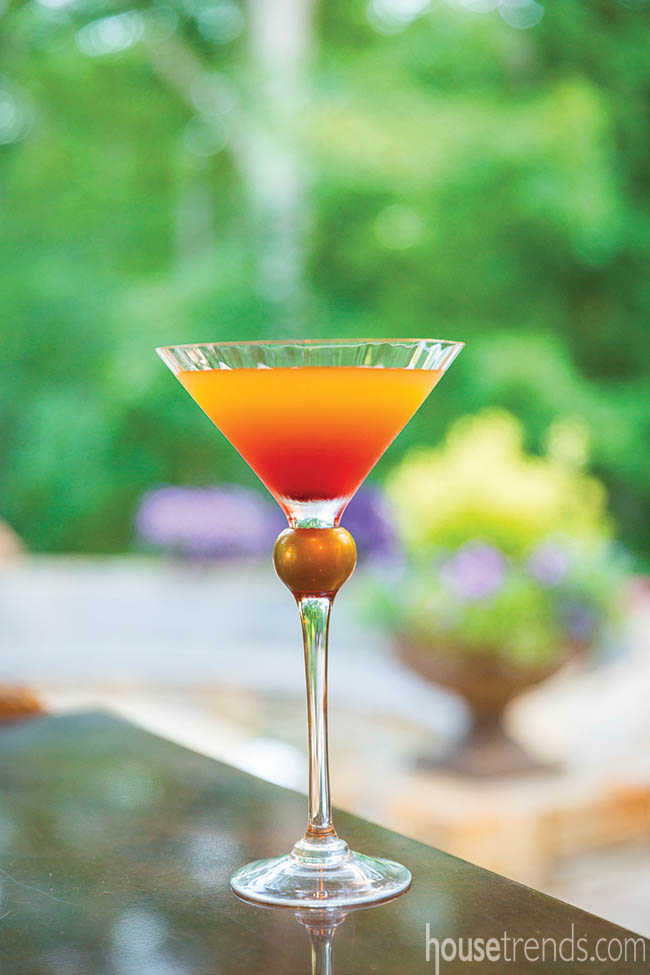 Ryan's Sunset Martini
Serves 2
1 bottle IZZE: Sparkling Clementine
2 shots of vodka
1 TBS key lime juice
1 shot of Triple Sec
Combine all of the above ingredients, then add a splash of Chambord (which Ryan stores in the freezer). The Chambord will create a red layer at the bottom of the glass.
Resources: Landscape design, hardscapes, plant materials, and installation: TowneScapes; Carpentry, underdecking, electrical: Undercover Systems