With undulating terrain, spectacular views all around and water features of every description, the Wadsworth property of Joe and Linda Gingo resembles an exclusive resort as much as a private home. Described as a dream project by designer and project manager Domenic Lauria of Vizmeg Landscape, the property includes many individual attributes visually linked by the combination of stone, earth and water, and offers a menu of diversions that ensure enjoyment of the space for all who visit.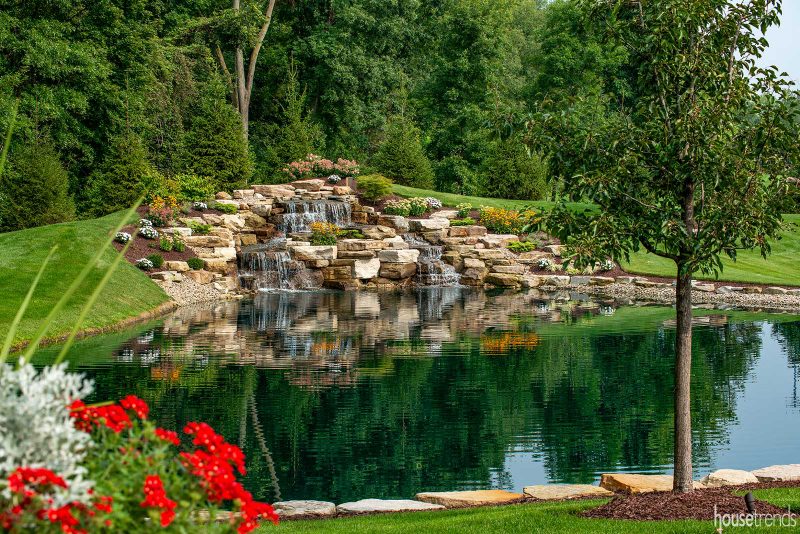 As the builder constructed the home, he assembled a team that included Vizmeg Landscape, a frequent collaborator. Vizmeg's job was to design an outdoor space for Joe and Linda worthy of the spectacular home that was rising from the foundation. "As much as possible, we got the living spaces in the back yard installed prior to the move in, so when they moved in they could enjoy the outdoor spaces right away," Lauria explains.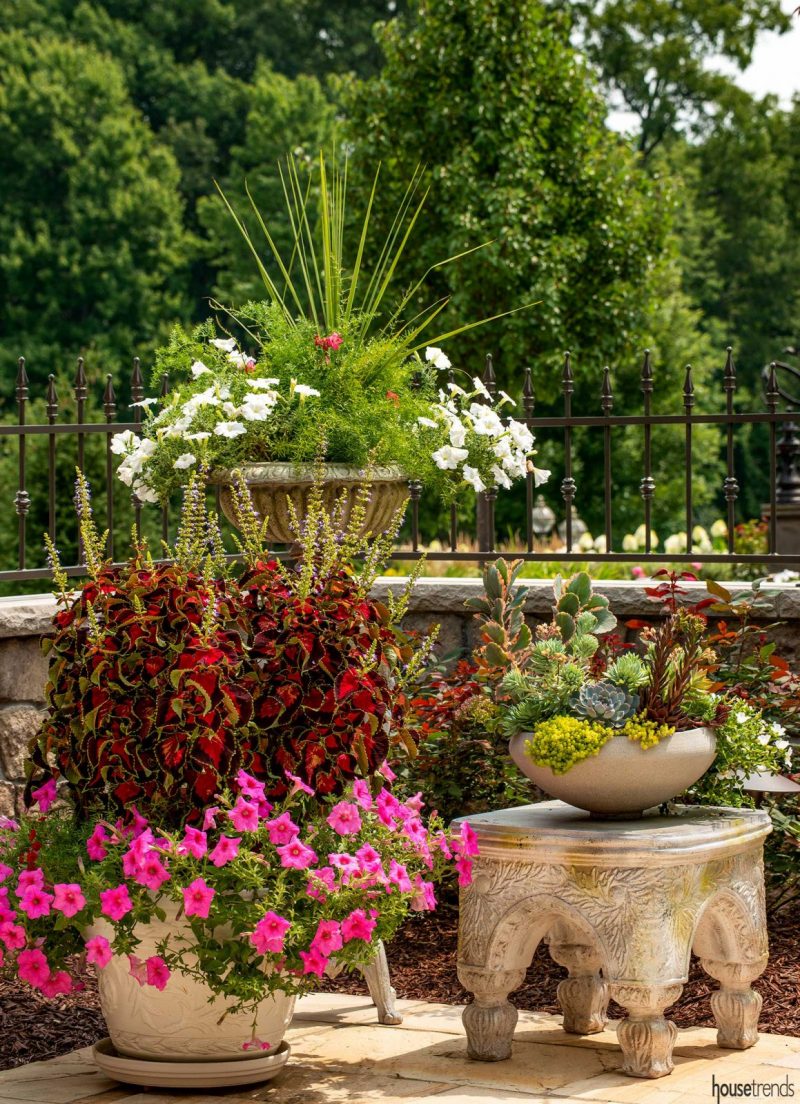 As she envisioned what she wanted for her home's property, Linda says, "I didn't want to look like everyone else. I always loved flowers. I wanted to make sure I had ample beds for flowers and annuals." As for trees, she didn't want all evergreens. "I wanted different colors," she adds.
"I didn't want it to look flat. I wanted rolling hills in the front and back," Linda says. Referring to the back of the home, which is nearly all windows, she says, "We wanted to make sure from every room we could see the waterfall."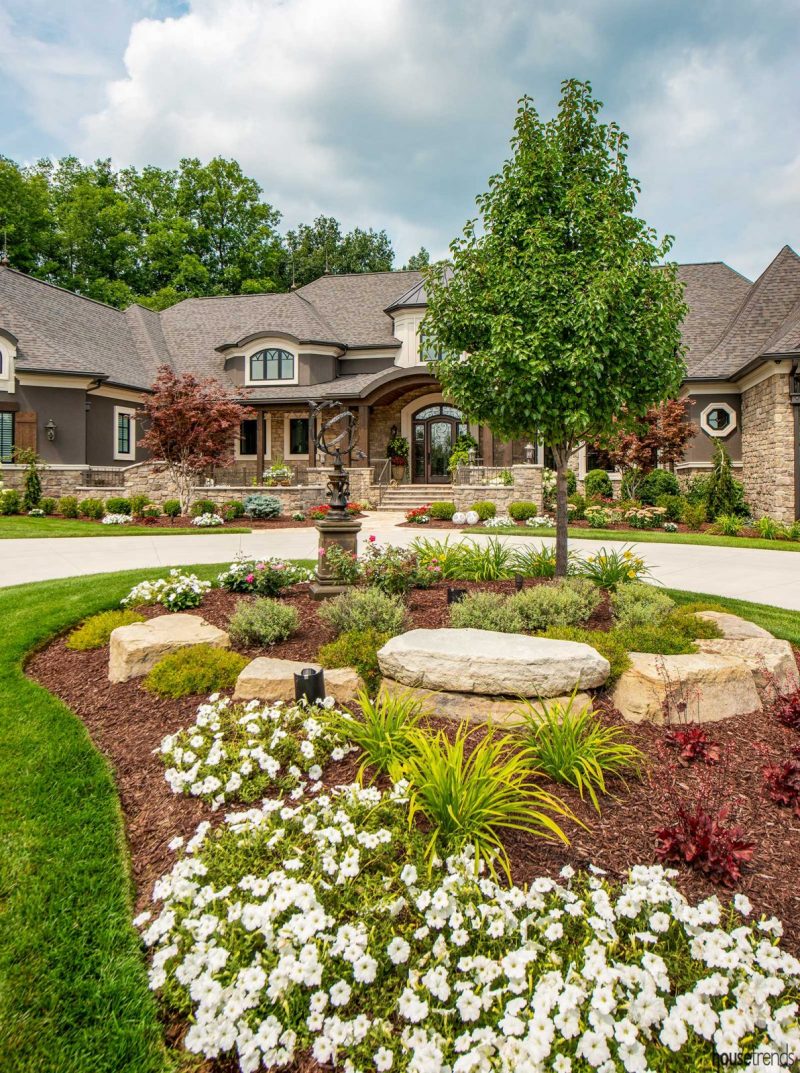 The right approach
From the front, a sweeping driveway, flanked by generously proportioned curved stone walls, creates an enticing welcome. The view is enhanced by a beautiful courtyard, stately lanterns, glorious flowerbeds and additional stylish landscaping across the entire front of the Tudor-influenced home. There is something lovely to see at every turn, and careful consideration was given to the importance of catching the eye at every level. Scan the scene from the ground up and you'll be delighted as your gaze moves from low-growing flowers to boulders big enough to sit on to tall grasses to urns and planters placed on high pedestals to ornamental trees, fence rails, columns and more.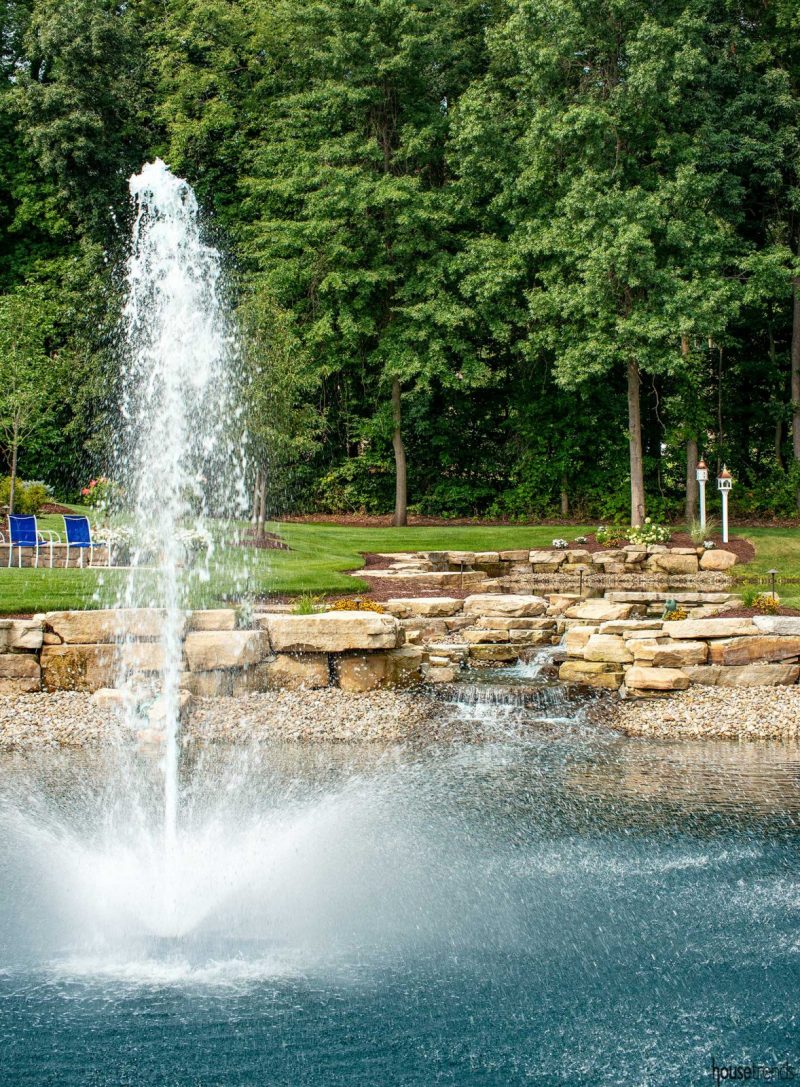 That artistic touch is every bit as prevalent in the back yard, where two ponds, waterfalls, a fountain, a pergola, a fire pit, a hot tub, walking paths and an outdoor kitchen create a true oasis for the homeowners and their guests.
Joe explains there is a game table, pool table and large theater room in the lower level of the home where there is a walkout to the hot tub and fire pit area under the pergola, all of which are favorites among the teenaged members of Joe and Linda's extended family.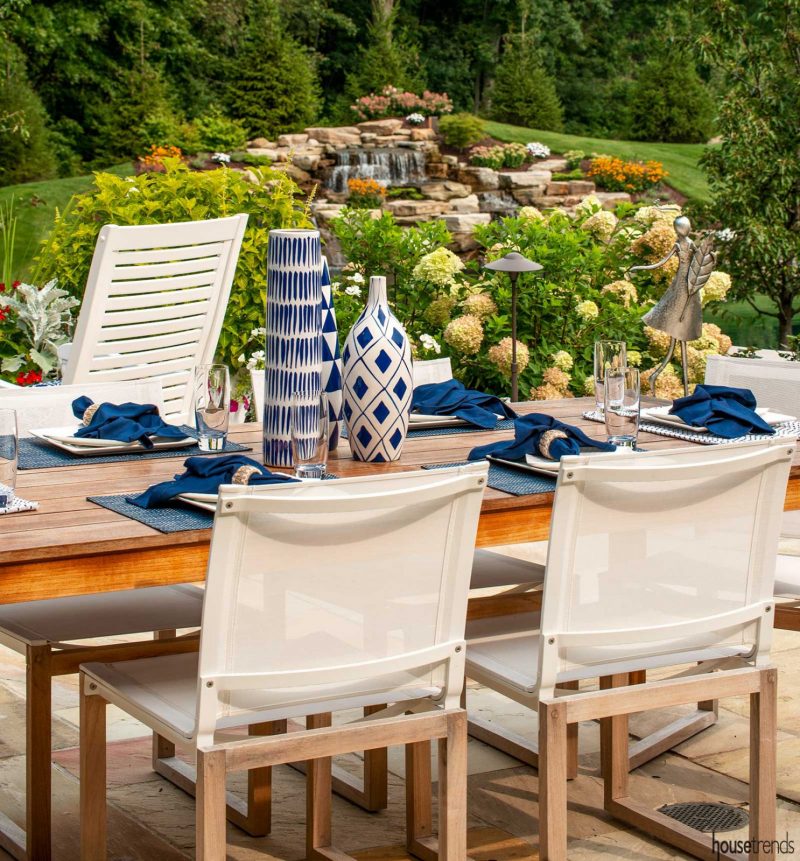 In the beginning
Even though everything on the property looks as though it was always there and simply meant to be that way, it did, of course, require a huge human effort to create.
For instance, to honor Linda and Joe's desire for a rolling terrain, Vizmeg used the dirt excavated from the ponds to create mounds on the land that was otherwise flat. "The builder's site-work excavator moved all the dirt," Lauria says. "Vizmeg finish-graded all the mounds and lawn areas."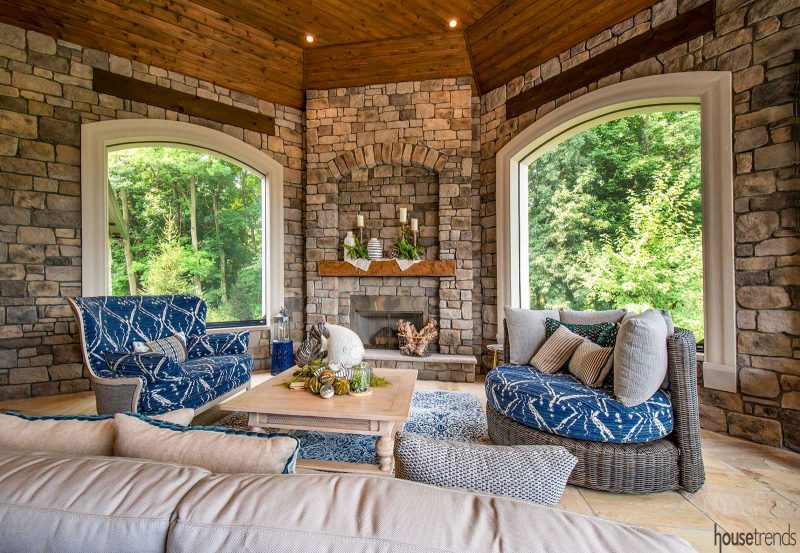 For the walls, walkways, patio areas, steps and everything else that required stone, Joe and Linda wanted only natural materials, and Lauria agreed that was the way to go. "It's more elegant," he says. "Anytime you can use natural, it's the best way to do it. It lasts longer. It doesn't fade.
"Every rock I hand-picked at a quarry (in Painesville, Ohio)," Lauria says. "It seems like every week I was there." The imported patio stones also are a natural material with color that complements the stone of the house and occasional delicate leaf fossils that add interest.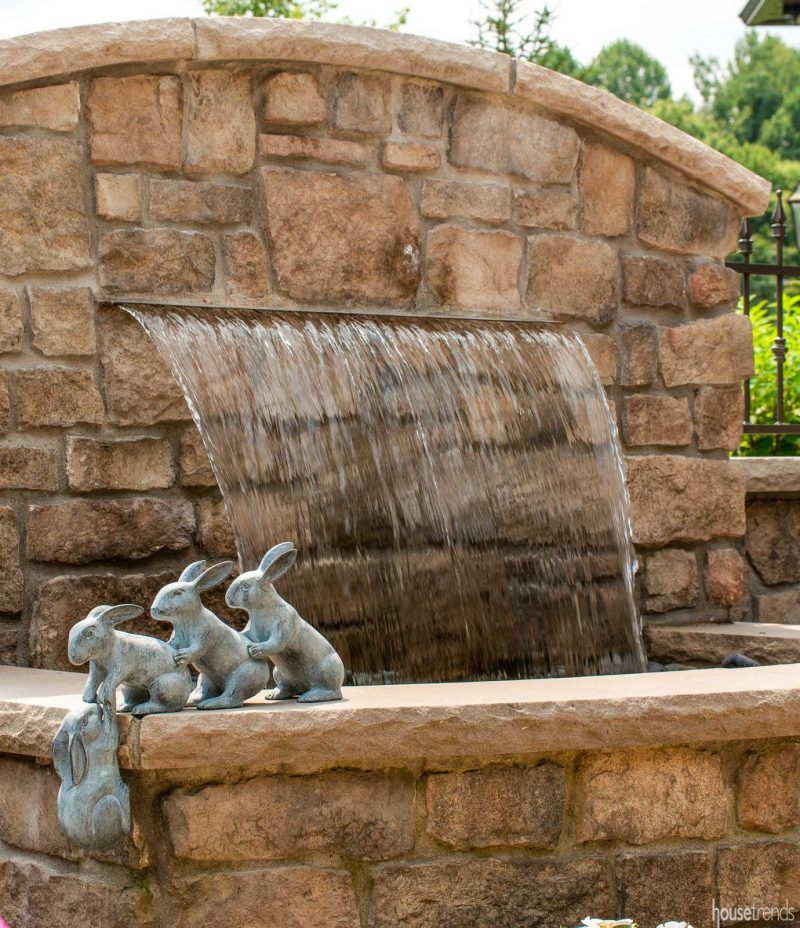 Please be seated
Joe and Linda incorporated plenty of seating options that invite visitors to stick around. Stone walls and ledges offer visual impact and also the convenience of being able to take a seat practically anywhere. Casual chairs in bright blue and white are gathered around the large rectangular gas fire pit filled with black lava rock. The blue and white scheme is repeated in the sofa, loveseats and rug in the outdoor kitchen area near the stone fireplace that is flanked by towering views of the woods just beyond.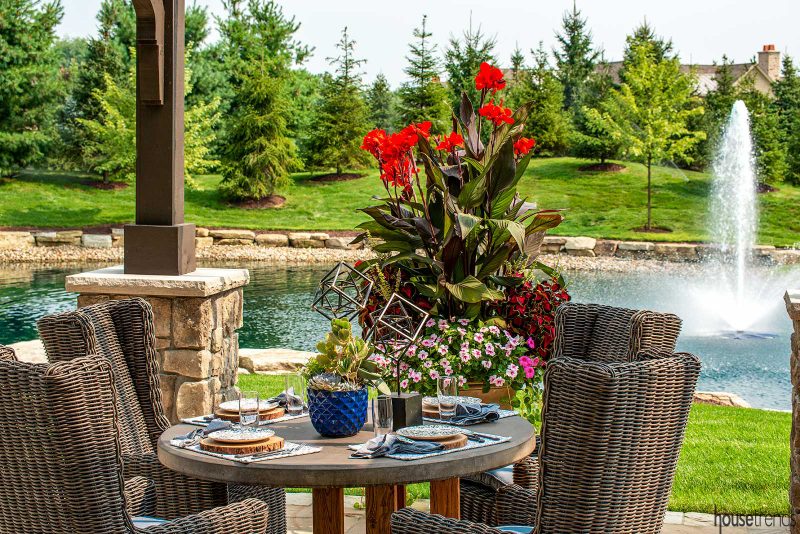 Four wicker wingbacks surround a small round table to form an intimate dining spot with a premium view of the fountain. A dining table on the patio calls to sun worshippers, while several rockers offer the promise of some leisure time. An additional dining table is available on the outdoor kitchen patio. Plush armchairs here and there provide even more seating choices, as do a pair of delicate bistro chairs at a concrete table cast with elaborate swirls and curves. A collection of stylish low tables throughout the property offers a spot to perch a beverage or plate.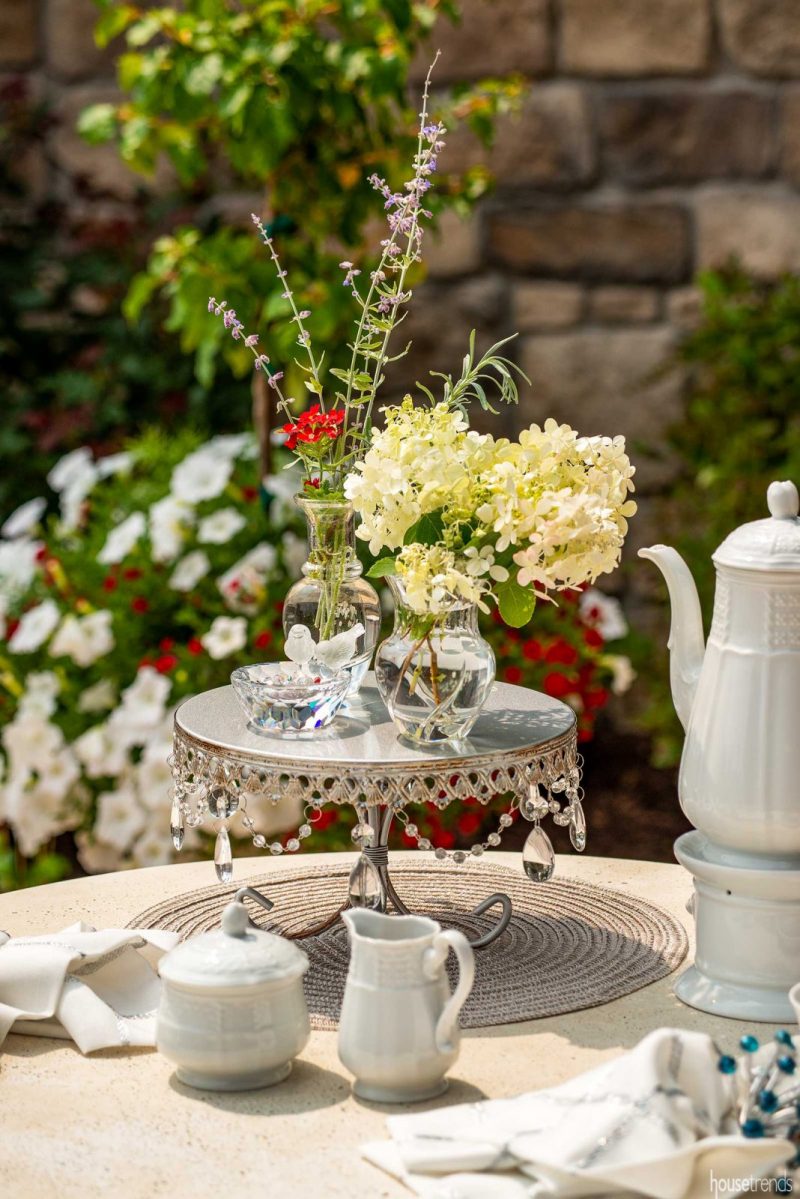 Who let the frogs out?
Despite the elegance and refinement of what Vizmeg created, the space also is brimming with joy and whimsy. Joe and Linda placed a small army of endearing frog statuary, along with several mischievous bunnies, a few birds and some dancing human figures among the flowers and trees to bring extra smiles. Two copper-topped birdhouses on tall white posts invite real wildlife to visit.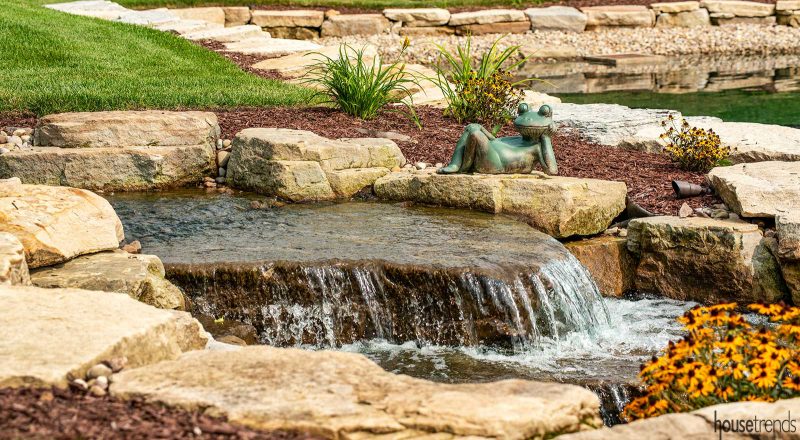 Live fish also have been invited to the party, as Linda and Joe recently stocked the pond, which should earn them five-star ratings from any visitors who possibly could have thought of anything that was lacking here.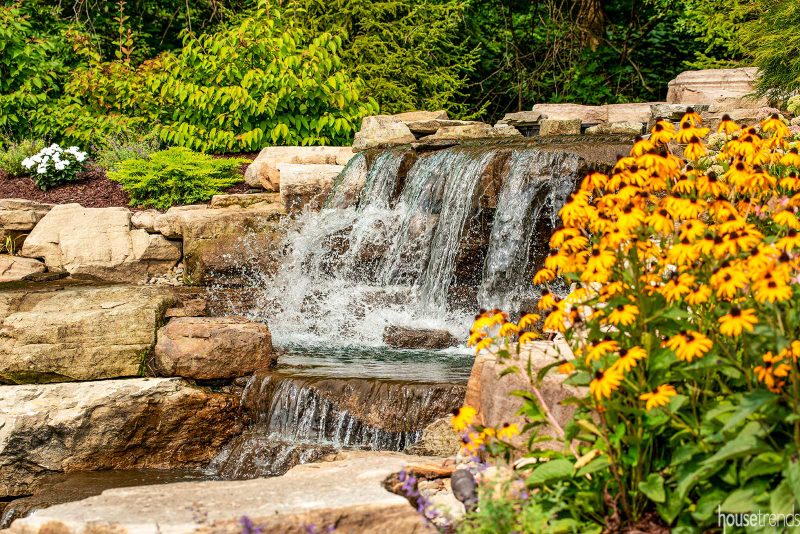 RESOURCES Landscape architect Domenic Lauria, Vizmeg Landscape; Landscape developer, hardscapes and flooring Vizmeg Landscape; Plant installation Lynnette Horn, Passion Flower Gardener; Plant/Flower supplier Niki Earnest, Springtime Flowers; Pond maintenance Ponds Beautiful; Furnishings Judy Sicker, Design 4 U; Home builder Mark Michaels, Elite Developers
Article by Lauri Gross/Photos by Thom Sivo
Article appeared in Housetrends Cleveland – May/June 2019