When it came to creating a master bedroom closet addition to their home, no detail was too small for a Solon couple. And while they had every item planned out for their new space, they needed to connect with professionals to make it happen.
"They wanted more space and something very special," says Beth Patrick, with Closet Factory Cleveland, the firm that would bring the dream project to fruition.
"They were very specific on their needs. They wanted everything to be noted and have a specific spot," the designer says. "So it is thought out from the inside of every drawer to the corner of every closet to behind mirrors, everything. It is very detailed."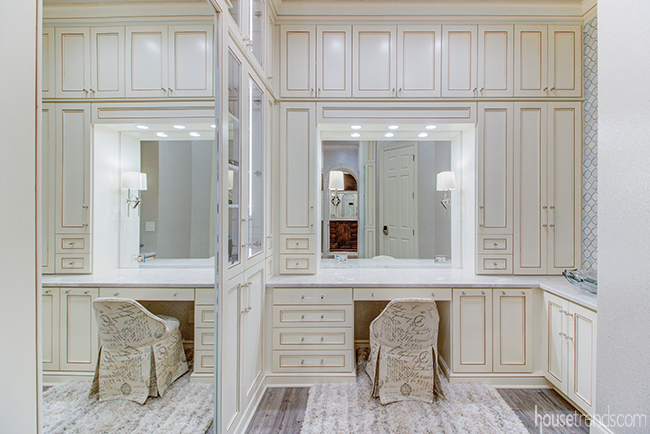 To keep with the look of the rest of the house, wood – that was painted and glazed with a color to match the stained island – was used for nearly everything in the closet.
All the bells and whistles are in the new space, including a window and window seat, a large island with a multitude of drawers, a pair of gorgeous chandeliers, a washer and dryer and a mini-bar.
"They had specific wants," Patrick says. "We just had to locate and find spots where those things would work best."
Perhaps nothing illustrates this better than a section of the closet with multiple compartments that look like a locker.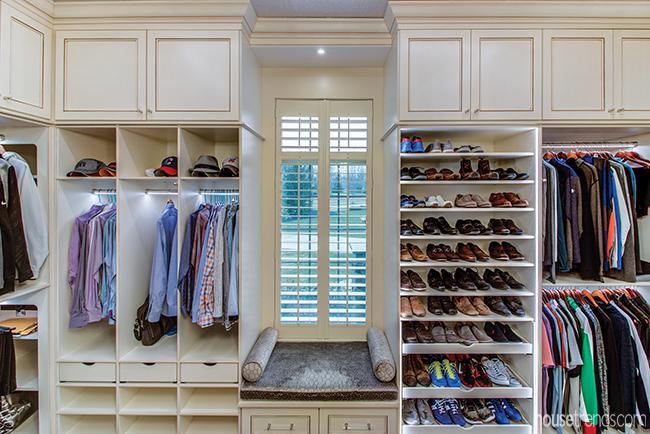 "That is designated for travel," says the designer. "So when they are preparing to travel, they hang all of their clothes for the trip there, and below is a drawer for all of the accessories and all of the shoes that are going on the trip." The homeowners couldn't be happier with their new space and all it has to offer.
"They love it. They absolutely love it," Patrick says. "It was executed to a 'T,' and I think the results were seamless. It's breathtaking."
RESOURCES  Designer Beth Patrick, Closet Factory Cleveland; Builder, chandeliers and island countertop Otero Signature Homes; Cabinetry and cabinetry lighting Closet Factory Cleveland; Hardware Schaub & Company, Lumiere Collection

Article appeared in Housetrends Cleveland – December 2018