Nestled along the historic High Street of quaint downtown Dublin, Mike and Janice's lovely home with its wrap around porch seems as though it is one of the few century-old homes on the street. "I am not sure why this home reminds us of New England," says Janice. "Yet this is why we love it so much." Agreeably, there is an inviting warmth about the home coupled with it being tucked partially out-of-site by a broad line of mature trees that reminds visitors of Northeastern American scenes.  The foyer is open and welcoming with large windows and a fanciful design of an eight-point compass shaped out of multi-colored inlaid wood in the center of the space. Used as a sitting room, the entryway captivates its visitors with a decorated sense of playfulness, modern austerity, and comfort. In addition to carefully detailed wood trim throughout, high ceilings and abundant sunlight provide a sense of freedom and happiness.

Colorful lives
"The challenge was to create a finished product that was sensitive to the age of the home while incorporating the colorful personalities of the homeowners," says Bryan Hamilton, owner of Hamilton Contractors, the firm who worked with the couple on their recent home renovation, which included a new front porch, a kitchen overhaul as well as refinished floors, fresh paint inside and out, and new wallpaper.

"Mike and Janice are full of fun and life," says Erin Bennett from Hamilton's team.
Janice explains that she and her husband have been on many adventures together. A few years ago, Janice rode her bike across the United States from California to Massachusetts in a mere 52 days. One cannot help but think that the vibrant color choice for the kitchen cabinetry is a reflection of their adventurous nature.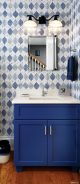 "I couldn't stand the idea of renovating my kitchen in such a way that it would be various shades of neutral," says Janice. "I wanted to do something different, something happy and bold. Why can't we make bold choices about our home and stop worrying about what colors and materials would be good for resale?"


Much to be applauded, Janice's thoughts about her home echo statements made by architect and writer Sarah Susanka of the Small House book series. Susanka is adamant that homeowners build, renovate, and design their homes for the current family who lives there and for their most present and immediate needs as homeowners.

Keep the faith
"After I chose a bold turquoise color in my kitchen, several people were astonished and thought they would like to change my mind," says Janice. "But, I stuck to my guns. After the cabinetry, countertops, and backsplash were installed, they all became quite enthusiastic. Some even decided to imitate my kitchen design in their own homes."

No matter the aesthetic theme, good design is always appreciated. Susanka seems to agree with Janice, as illustrated in her quote, "Once you make the unequivocal internal commitment to do something—when you know this is the time and place to act—the world around you will shift in all sorts of apparently miraculous ways to make it happen."

Janice describes her kitchen almost as if she took a leap of faith, "I was looking through all the examples of colors that Daso Cabinetry could provide for me, and when I saw our turquoise color, I just knew it was the perfect color for our kitchen. I love it."
"While we were making decisions about the renovation, we would go for walks with her dogs, meet at our office, meet in Janice's home, and even occasionally go out for lunch to discuss the project," says Bennett.

"Janice and Mike were great customers to work for," says Hamilton. "Problems arise with every project—from discovering issues inside walls to a delay of materials—and they stood right beside us while trying to find a solution. When we have customers like that it makes our job much easier and enjoyable."
It is evident that both Janice and the Hamilton crew were a great team that relished the design-build experience from start to finish. "I have not only thoroughly enjoyed working with Janice on helping her redesign her home's interior, but I have also gained a friend," says Bennett.

Backyard bonus
The crowning touch to this New England-style home is the diverting, intricate train set upon which electronic trains travel throughout the back yard. Mike took on this hobby and built every item in his spare time. The bridges, in particular, seem to bear thousands of small structural members. This landscape is both entertaining and relaxing with the interest of the train tracks, the bubbling water, tall trees, lovely flowerbeds, and two boisterous dogs prancing about.

From High Street, one might not have an idea about how full of energy the house is from the entryway to the fantastical back yard. Every which way a visitor turns about the property, the home speaks a story about this couple, their love of adventure, and appreciation for all the great things they have in life. Janice says enthusiastically, "I didn't want to renovate my home to mimic current trends. I wanted to take a risk and create a home that is immensely colorful and happy. I am so pleased with the new renovation."

RESOURCES Contractor Hamilton Contractors; Cabinetry Daso Custom Cabinetry; Countertops Island in Brittanica; Perimeter in Weybourne; both in matte finish, from Cambria; Backsplash Chevron Weave Thassos with Bianco Carrara strips, Florida Tile; Stainless steel sink Cambria; Faucet set Addison, Worly Plumbing Supply; Cooktop Wolf Contemporary Induction; Paint and wallpaper Sherwin-Williams; Island fixtures Feiss, Panic Lighting
Article by Stephanie Aurora Lewis/Photos by Daniel Feldkamp
Article originally appeared in Housetrends Columbus – October/November 2019