What Wendy Berry wanted was a welcoming place where her family-immediate and extended-would be comfortable. When she first saw the Cleveland home, she wasn't too set on it. Originally it had a lot of small, chopped up formal spaces, but using her interior design knowledge, Berry was able to transform it entirely. The most astonishing transition, perhaps, is that of the kitchen, dining space and living room. What was once multiple rooms is now one big open space that the family loves.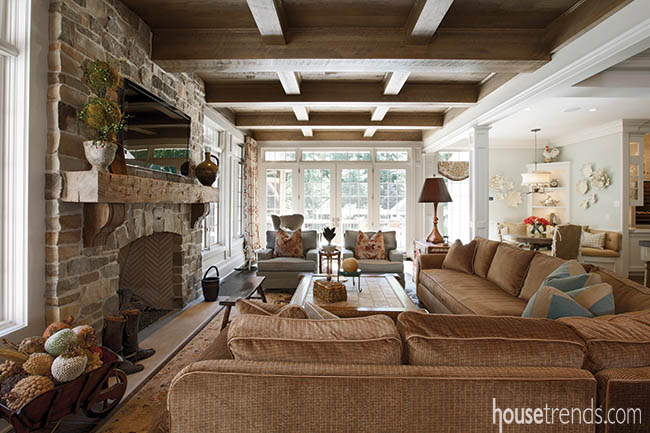 Picking up the same warm stain of the island, the family room ceiling is coffered with thick interwoven beams. "We hadn't planned on the architect requiring such a large steel beam to replace the wall we removed," explains Brown. "Once it was framed in, it was now over 12 inches wide right through the middle of the space. We got together and came up with staggering the heights of the beam. It is magnificent having all these different depths, but you would never have planned that on paper. It all worked out so beautifully." A large brown sectional curves around a rectangular coffee table with a tiled stone top that looks more than capable to withstand a bevy of teenage feet.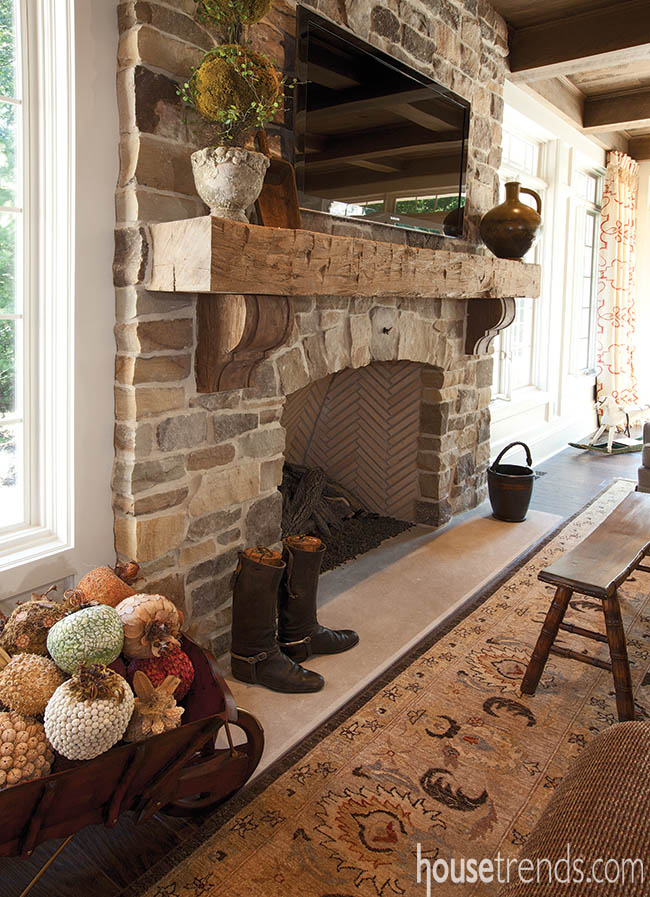 A pair of upholstered blue chairs offers a more upright view of the TV over the natural stone fireplace's rough hewn beam mantel.
"There are places where we can all be together and enjoy each other's company without being crowded, like the living room," says Berry. "Or everyone can have their space and not feel like they're stepping on each other's toes. Every space, indoor or out, feels like it was created just for the people enjoying it. It's like Suster said, 'It's a great transformation from a home purchased to a home personalized.'"