Being happy—and making others happy—is important to Montgomery resident Jennifer McGuire. It's the very basic premise of her thriving home-based, hand-made greeting card business. Cards she's posted all around her cheerful home office, with inspirational messages like "Work like a captain, Play like a pirate," and "Hugs Hugs Hugs," make that abundantly clear.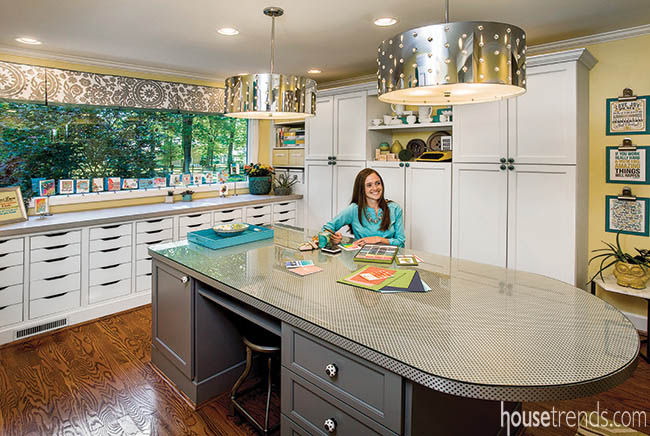 Educated as a mechanical engineer, Jennifer left her job at P&G to spend more time on what, up till then, had been a hobby. The pastime converted to a business after she wrote scrapbooking and card making idea books for the crafting industry. Those works led to a considerable amount of traveling and teaching in destinations as far away as Australia.
When Jennifer and her husband Ken decided to add to their family, which included Ken's two teenage daughters from a previous marriage, that decision was all the encouragement Jennifer needed to build up her blog audience and begin teaching from a home office.
Several years later, Jennifer's business, jennifermcguireink.com, an online venture focused on sharing card making techniques, has 100,000 followers on YouTube plus a highly-successful blog, and five employees. A second business, onlinecardclasses.com, that offers online card making coursework, was launched four years ago with a Utah-based partner.
It's a huge community of the most incredible people," Jennifer says.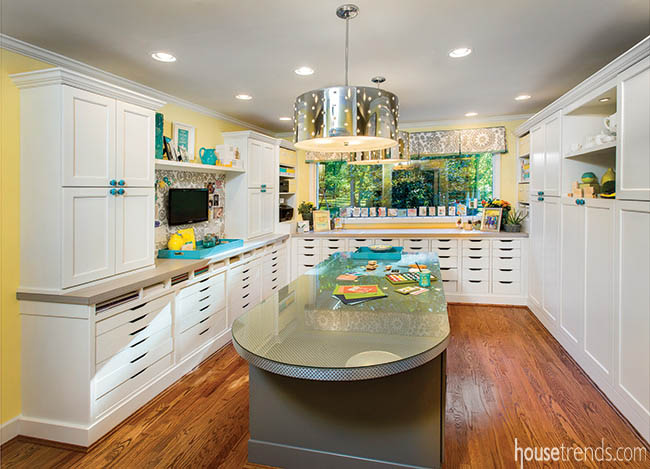 Room to gather and room to create
When they were expecting their second child together, the couple decided they needed more space to accommodate their growing family, so they enlisted the help of interior designer Michele Neiter of Arbor Living and Connie Hampton, designer with Neal's Design-Remodel.
The original thought was to add a second floor bedroom and bath. But after sharing their needs for the future with Alan Hendy, project consultant with Neal's, it became clear that what the McGuires really needed was a larger gathering area that included an expanded kitchen and great room space. An added bonus was bringing the laundry room and Jennifer's home office, which were in the basement, up to the first floor.
"Neal's completely changed our minds entirely about the addition," Jennifer says, "And they were absolutely right."
The team transformed what was a seldom-used dining room into a sun-filled studio for Jennifer. Even though the new space was half the size of the room in the basement, she saw the benefits immediately. "Having too much stuff was overwhelming," she says. "Once I moved upstairs, my productivity doubled. I was happier, too."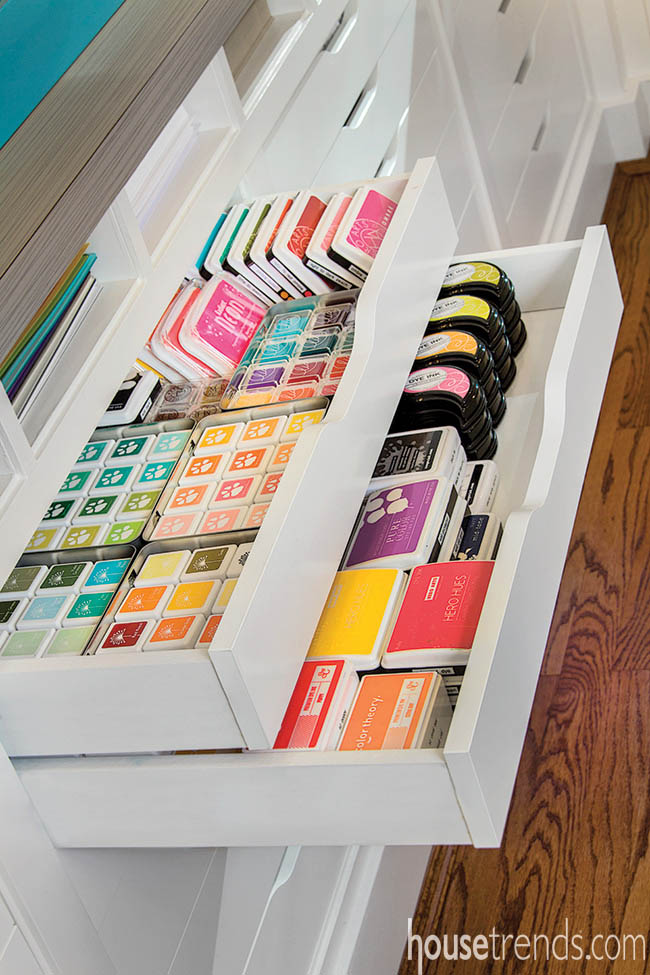 Custom built shelves, an abundance of drawers, and plenty of counter space gave her the tools and space she needed to organize her supplies. Plus, thanks to meticulous planning by Hampton, outlets inside the cabinets allow Jennifer to keep ungainly equipment, including a die cutter and a sewing machine, concealed but handy to use when needed.
Hampton spent a large amount of time talking with Jennifer about how she worked and saw exactly what she needed to make the space as efficient as possible. One look at the walls of shelving and drawers—which fit the precise measurements of Jennifer's card stock and stamp—make this attention to detail evident.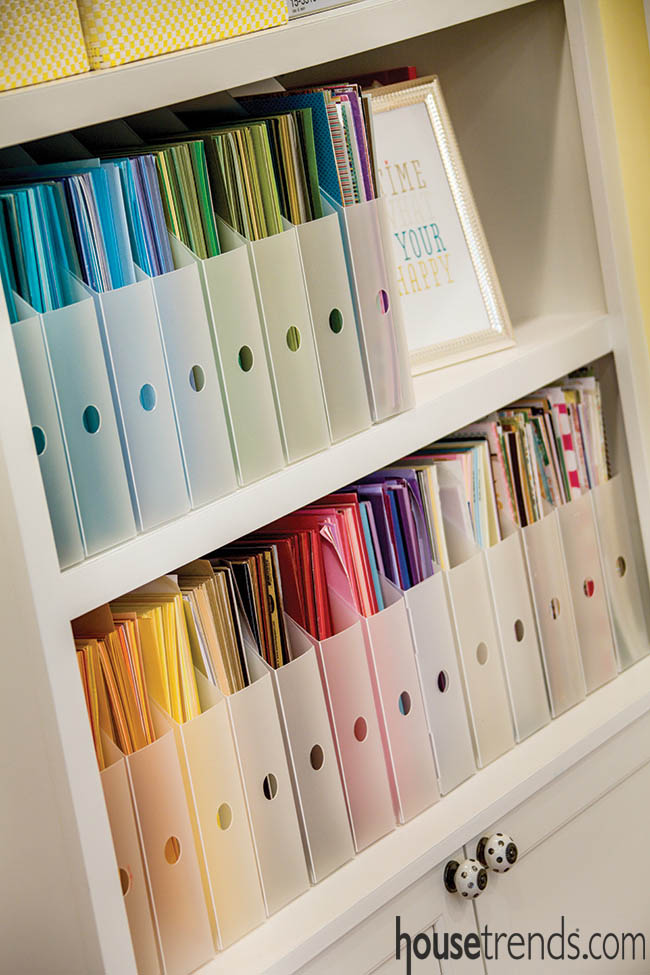 "Jennifer did have specific needs for the storage of all her supplies," says Hampton. "I could easily understand that!  Before ordering anything we agreed on just how to do it, and the way it looked and functioned."
"Connie was extremely knowledgeable and helpful," Jennifer says.  She also has high praise for Neiter who was instrumental in selecting the colors, countertops, finishes, fixtures and accessories for this room and the rest of the home's updated spaces.
Michele's become a mind reader," she says. "I can't function without her. She knows exactly what the space needs but she doesn't go overboard."
What's amazing is despite the fact that their major house remodel began at precisely the same time Jennifer arrived home with newborn Lila, she has nothing but happy thoughts about the process.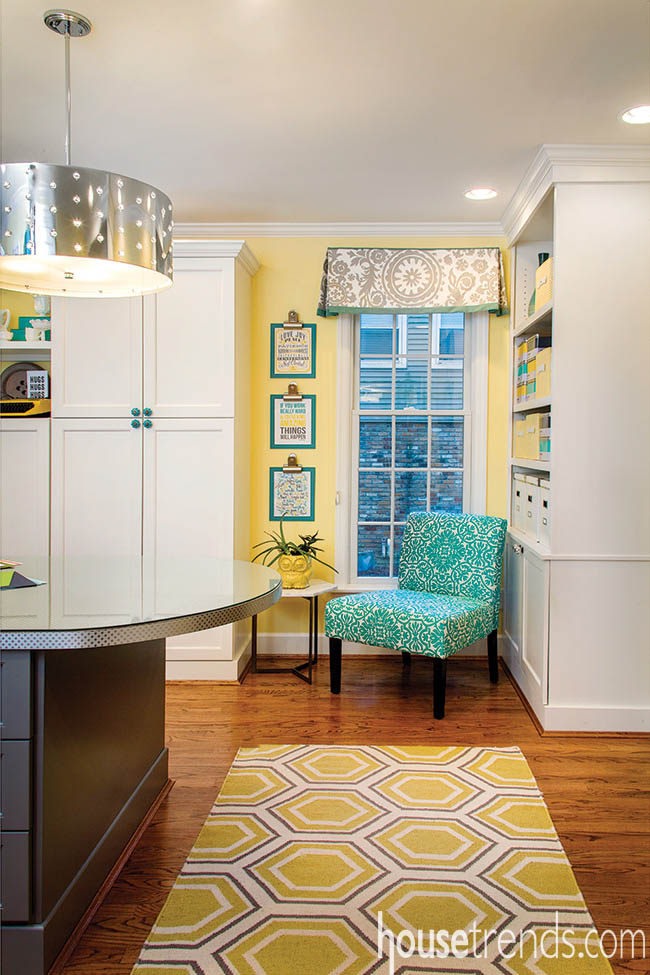 "It was the most incredible experience," she says. "It was divine to have the two–the Neal's team and Michele—work together."
It was Hampton's idea to eliminate any sharp corners by rounding the edge of the island workstation so that the McGuire children, now 9-year-old Colin and 3-year-old Lila, could pull up a stool and join their mother for occasional craft time.
"They're in that room as much as I am," Jennifer says.
In fact, not too long ago, when Colin was asked what he wanted to be when he grew up, his answer was "either a major league baseball player or a card maker."
Clearly he sees the enjoyment and creative fulfillment that happens in his mom's studio.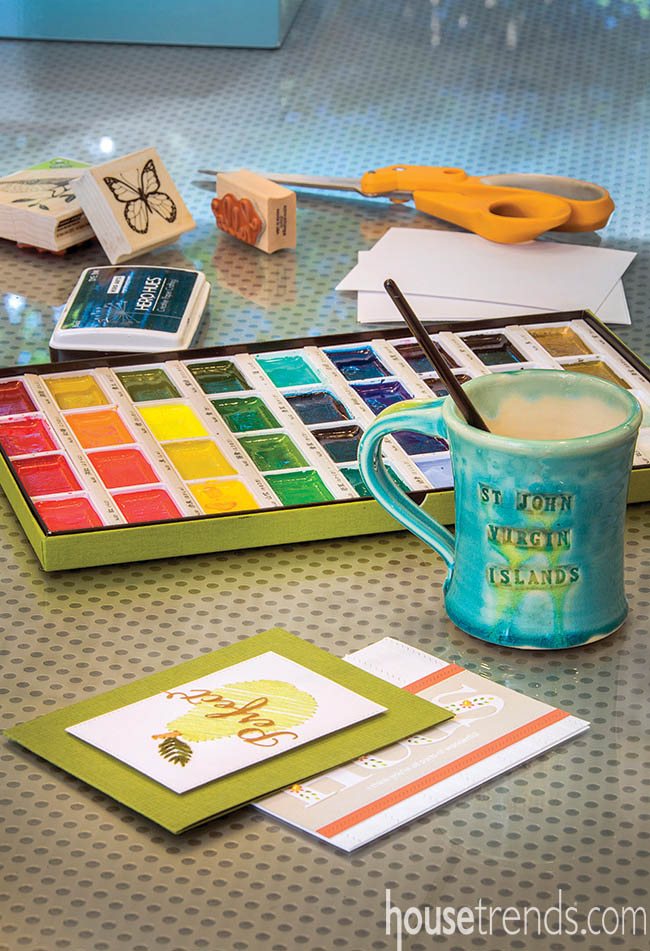 "I create between taking care of the kids," she says. "Sometimes it gets hectic. I am constantly calling my husband and saying, 'What the heck are we doing?' But it is worth it. It is good for the kids to see their parents loving the work they do."
Fortunately, Ken, who is happily employed at P&G as an engineer, is very involved and supportive, which allows Jennifer to have the time to do what needs to be done to keep her business healthy.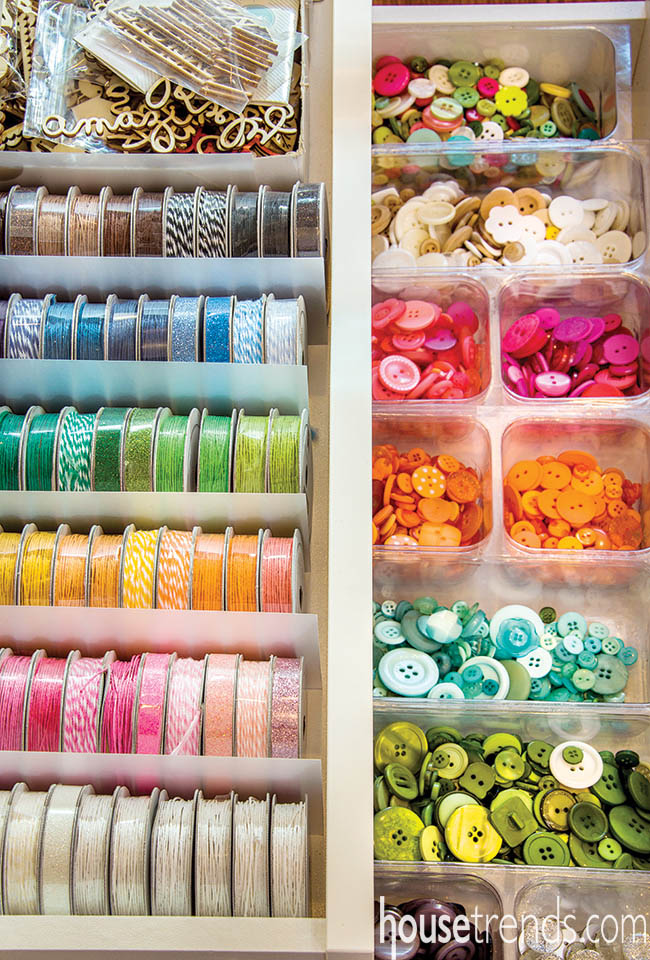 She makes about eight cards a week, working each morning while the kids are at school and during the afternoon when Lila takes a (four-hour!) nap.
Jennifer doesn't hang on to any of her creations—she hands or mails all of them out. "Half of the joy is in creating," she says. "But the other half is in giving."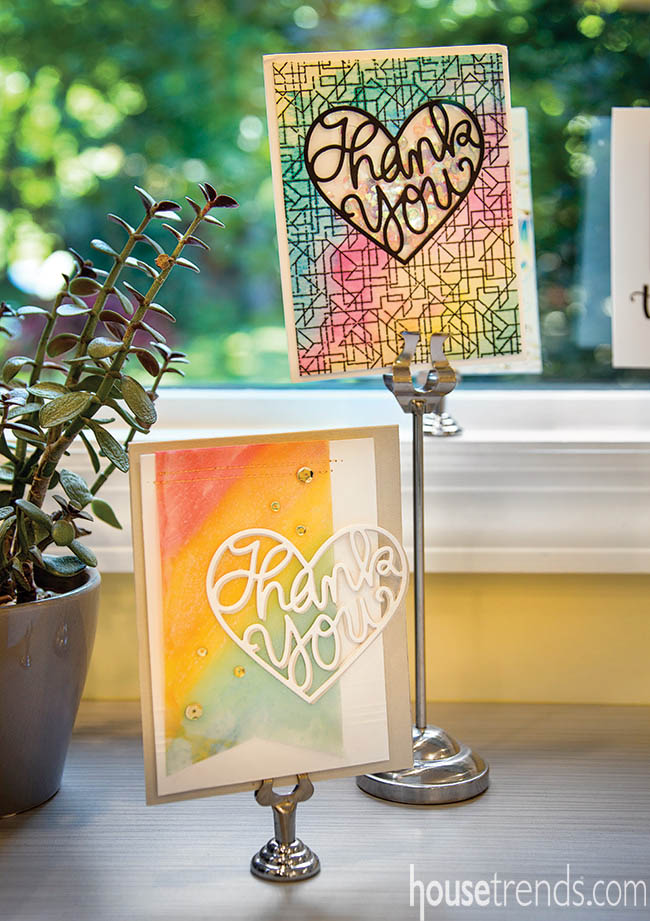 Her favorite card to make is a thank you card. The card she makes least is a birthday card. "That's because they are so expected," the artist says. "I actually miss my friends' birthdays all the time. But I send them lots of cards throughout the year!"