Before this lower level was turned into an entertaining haven for parents with a basement bar and a media and children with a colorful playroom, it had developed one purpose. "It had become 2,400 square feet of toys," Shannon Ruby says with a laugh.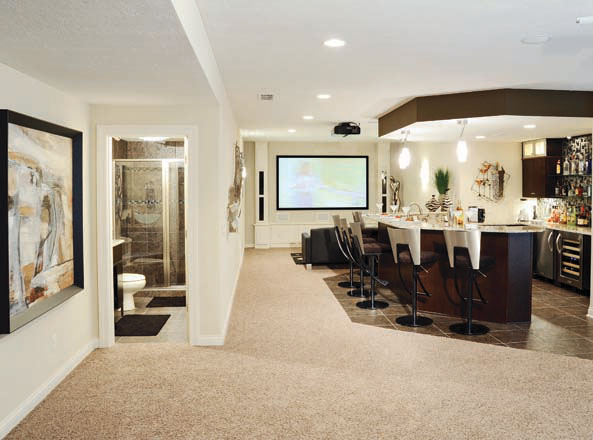 Soon after the homeowners moved into their new Beavercreek Township home in 2007, which was built by HBS Development (Homes by Bill Simms), they decided they wanted and needed more living space. During construction of the house, the couple knew at some point they would finish the lower level. They made sure Ruby, designer for HBS and project manager for Simms Custom Remodeling, divided the basement into several areas. The space was also prepped for both a bar and a full bathroom. Electrical work was also pre-installed.
By June of 2008, the homeowners hired Simms Custom Remodeling, a division of HBS Development, to finish the space. "They were expecting a second child so they needed a playroom," Ruby says. But, as avid entertainers, they also needed the lower level to serve multiple purposes.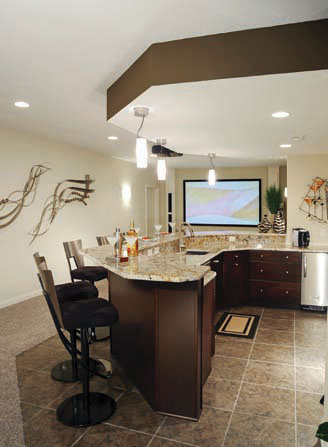 Initially the homeowners envisioned a media room as the focal point of the renovation, then decided they would get more use out of the bar area. But they desired something different than a traditional straight-lined serving counter. "We wanted to angle the bar so you could see the TV and everyone could mingle and the guys could watch sports and have a drink," says the homeowner.
They do utilize counter seating but, thanks to the unique U-shaped configuration, they have room for seven chairs. Each seat provides an unobstructed view of the adjacent media room, which boasts an 8-foot projection screen. An existing music system was extended into the basement as well.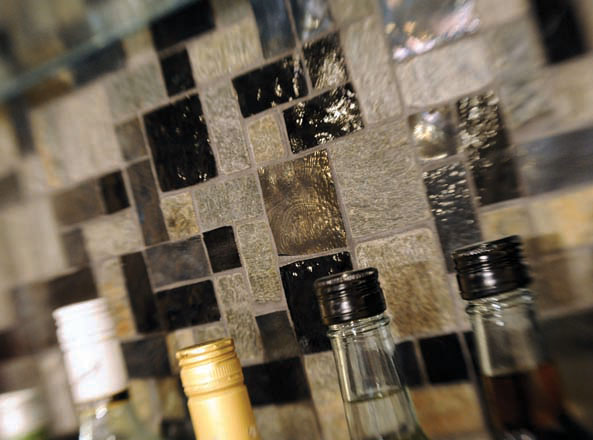 In shopping around for items that would catch attention, the homeowners found the perfect glass tile for the backsplash, which is highlighted with low-hanging contemporary lighting they discovered online.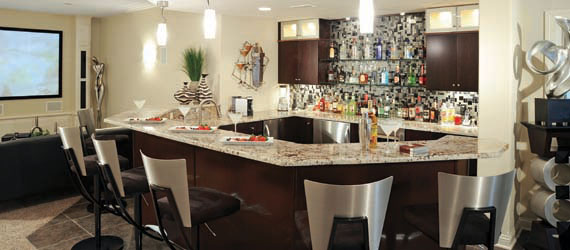 The bar itself features the same cabinetry found in the upstairs kitchen, but in a darker color for more dramatic flair.
The homeowners also found the perfect granite countertop through Dark Star Marble & Granite. "It's beige, black and brown with gray swirls in it. We've gotten so many compliments from friends regarding the granite's interesting pattern," says the homeowner.
The new living space has worked out perfectly for the family. The homeowners have tested the space several times with both large and small gatherings. They especially love the fact that they can invite others with kids and everyone can have a good time on the same level. "Now it's where we spend the majority of our time."