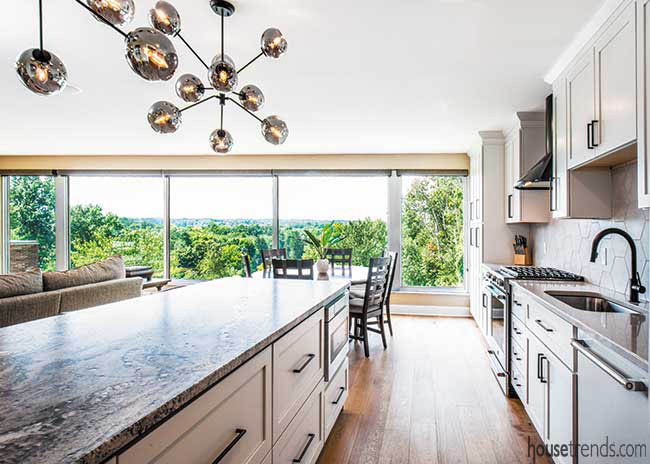 Perched high atop the Chagrin Valley, a recently remodeled condo rewards its occupants with a stunning view that changes with the seasons. "The view is incredible," says the homeowner. "It's nice because you don't expect it. You pull up to an older building and go upstairs and everybody that walks in is like 'oh, that's awesome!'"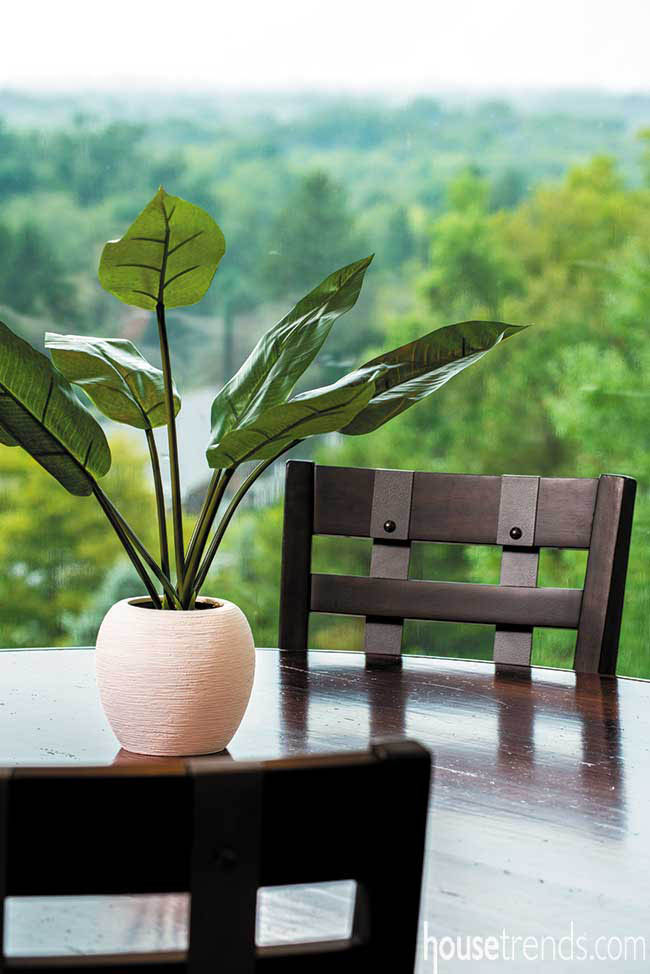 Complete serendipity
With its picturesque views, the owner has always had an eye on this particular condo. Turn back the clock 25 years to when he first stepped foot in this home—then, as a guest at a party. This is when he initially saw that stunning view that he now appreciates daily. The party ended and time traipsed on, until ten years ago he found himself back again in that same building, this time doing work for a client. Drawing that client aside he let her know of his interest in the unit. "I was in there measuring another unit and said 'hey, if that unit ever becomes available will you let me know?' And it worked out well."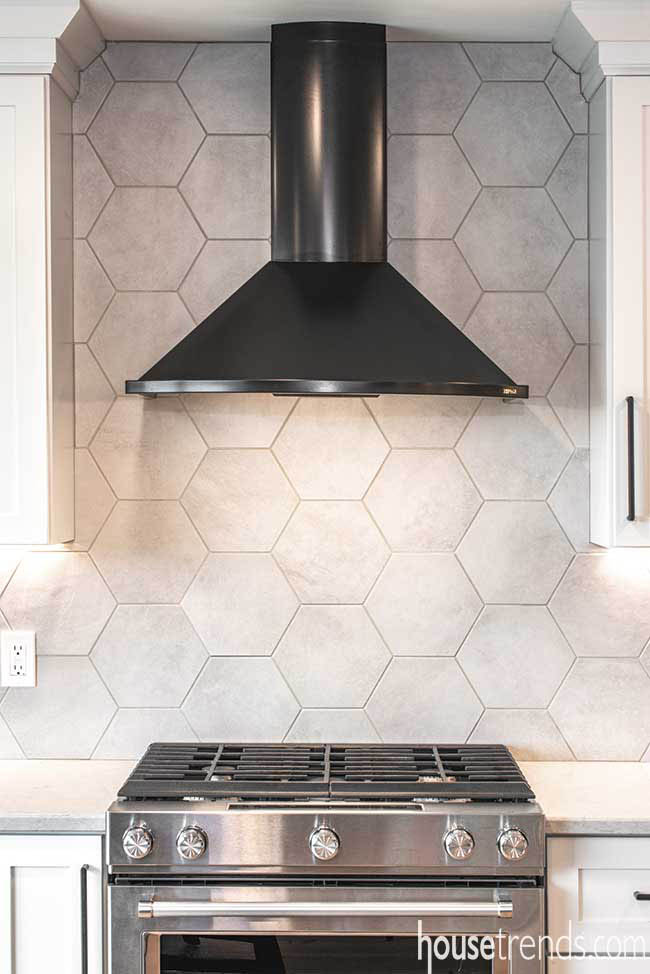 Three years ago, and in the middle of his own search for a new home, he received the long-awaited call: the condo was now available…was he still interested? He jumped at the opportunity and happily settled in to the long-admired space. A rather recent occupant compared to when he first saw the condo, the owner decided that after three years of residency, it was time to make some changes. "It hadn't been touched since the original build, which I believe was around 1960," he says. "It had a small galley kitchen and the dining room and great room were pretty big sized, but they were off by themselves, so we just knocked everything down and made it one." Working with designer Taylor Lavigna of Calvetta Brothers, the condo was transformed from a dated, choppy look into a chic space with an open floor plan that suits the owner's fondness for entertaining.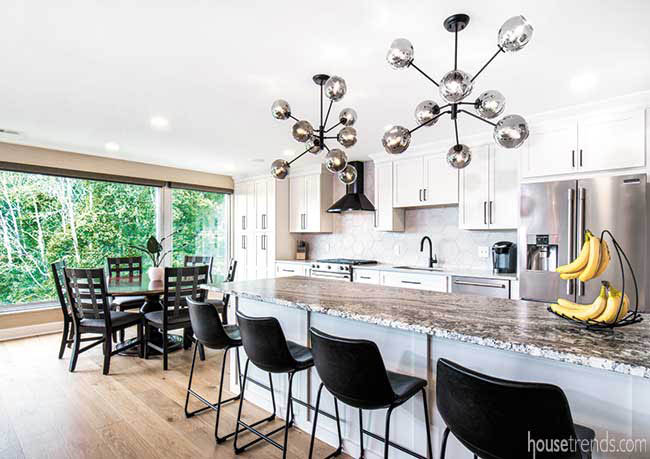 Free rein
Having seen her work over the years and trusting her completely, the owner made a bold decision to let Taylor handle almost every aspect of the remodel. "All he requested was white cabinetry," she laughs. "The rest was up to me."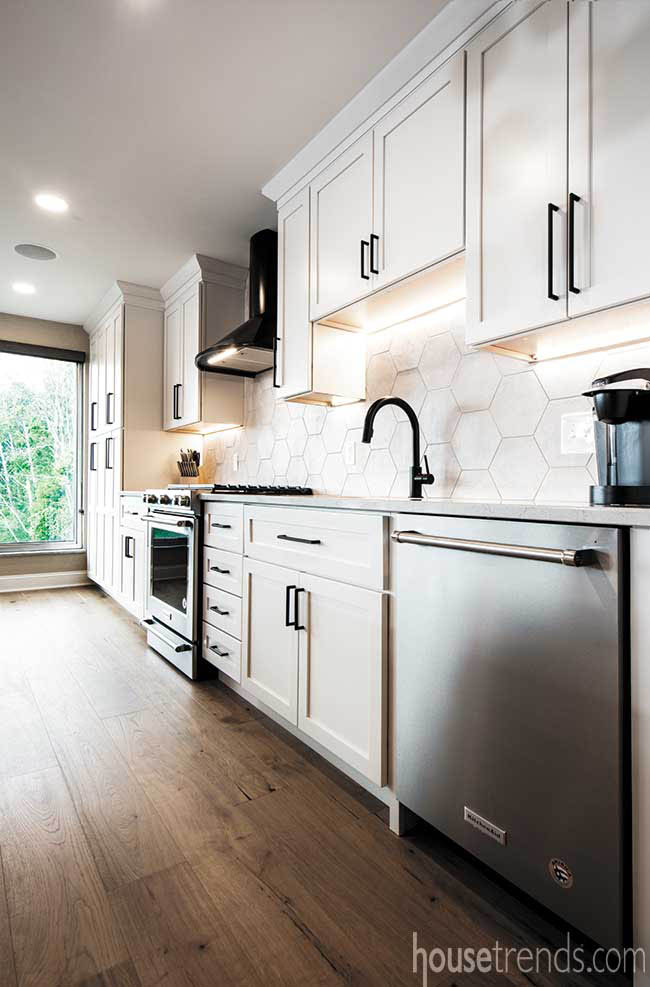 Taylor set out with a vision in mind: an open space with a masculine vibe. To that effect, a matte black faucet and matching hardware pop out against the bright cabinetry. The striking black hood, Taylor says, was selected to balance out the large granite countertop that covers the island.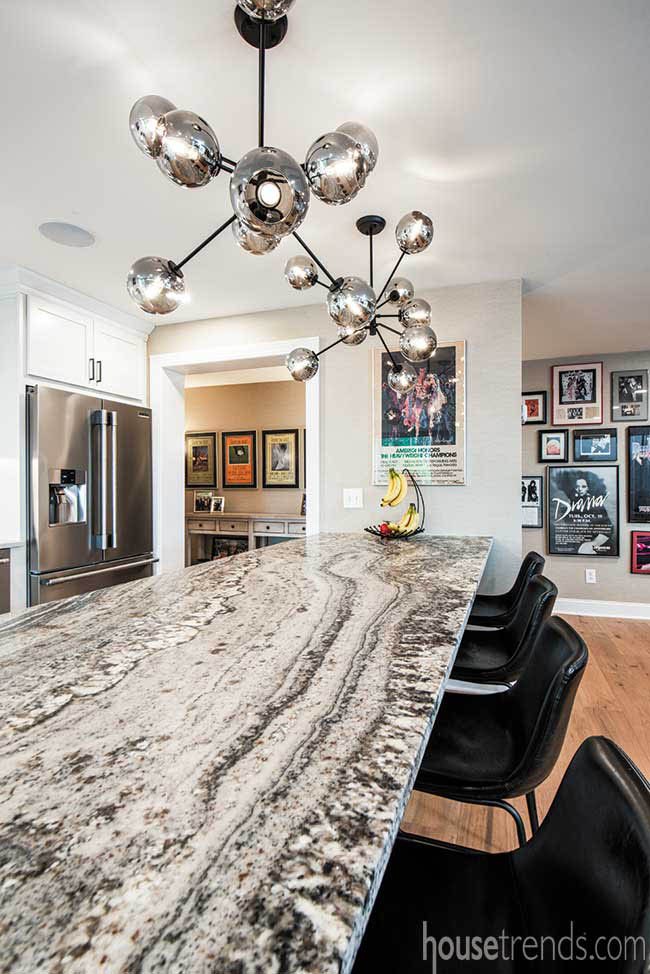 Called Sand Cove Leather and supplied by Granex, the expansive piece was so large and cumbersome that they had to rent a crane to bring it in through the nearby sliding patio doors. But the effort was worth it. A standout piece, the beauty of the granite is in the movement and subtle shifts of color. Overhead, a pair of smoky light fixtures illuminates the island area and adds a touch of drama.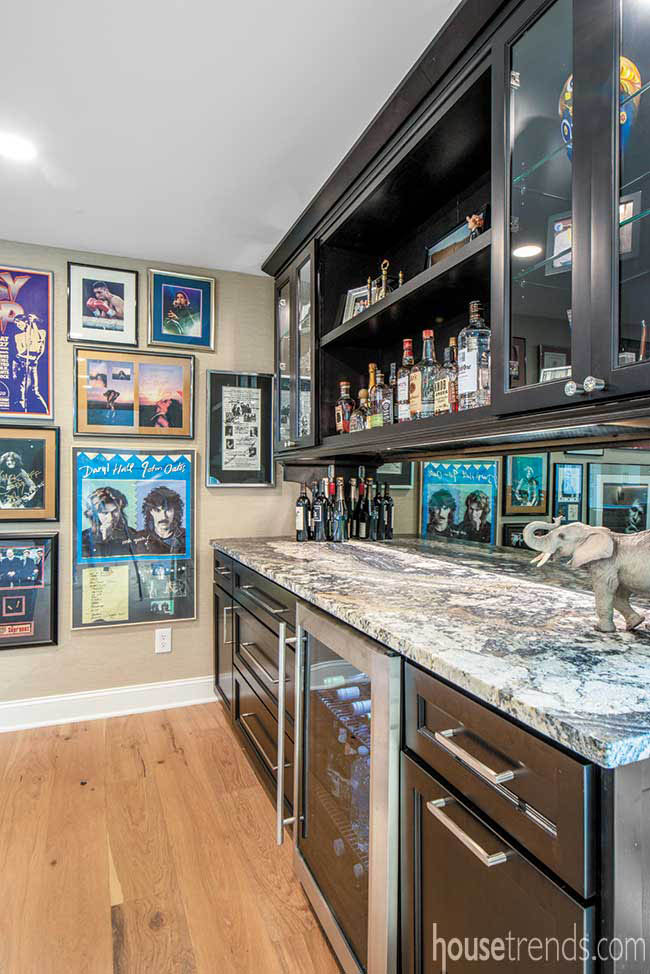 Music man
A rather impressive collection of memorabilia—including items like original concert posters and Madonna's original "A League of Their Own" script, signed—lines the wall that leads from the kitchen to the new bar area. "I showed Taylor my collection and I came home one day and it was on the wall," he laughs.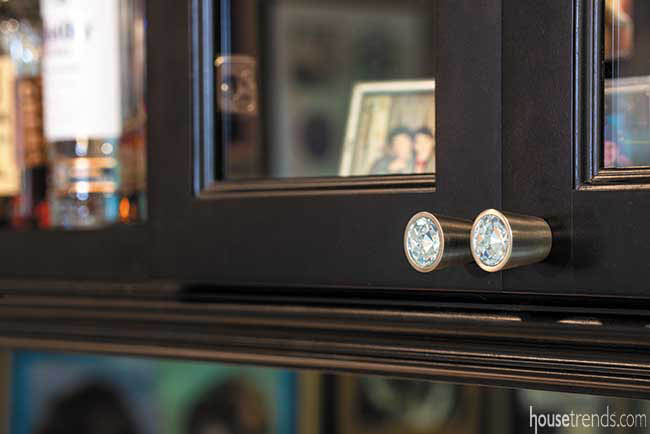 The bar itself is completely new to the home. Taylor thought that the dark piece—so different from the white kitchen cabinetry—would suit the owner's lifestyle perfectly. The bar counter sports the same kind of granite as the island, just on a smaller scale. The mirrored backsplash plays tricks on the eyes, reflecting back the different colors and shapes of the room, depending on the viewer's angle. More than just a pretty face, the bar is exceptionally functional with a double trash pullout, plenty of storage space for glasses and display space for favored bottles, and a small fridge underneath that's perfect for chilling select beverages. Taylor used a little bling to help carefully counteract the masculine piece in the form of sparkly knobs that catch and throw the light just so, completing the perfectly balanced design. Openly a fan of glitzy hardware and light fixtures of all kinds, Taylor admits that these are actually not the best parts of this remodel.  She, like everyone else, has fallen for what's on the outside. "The kitchen and the bar are amazing," she says. "But the view is the best."
Resources: Designer: Taylor Lavigna; Contractor: Calvetta Brothers; Cabinetry: White shaker, Choice Cabinet; Flooring: European White Oak, Calvetta Brothers; Island and bar countertops: Sand Cove Leather, Granex; Kitchen backsplash: Concrete Hex, Calvetta Brothers; Sink: Stainless undermount; Faucet: Delta Trinsic in matte black, Edelman; Dishwasher and range: KitchenAid; Wall covering: Faux grasscloth, Thibaut; Lighting: Charcoal glass Proton chandelier; Hood: Matte black, Zephyr; Cabinet hardware: Edelman; Bar backsplash: Custom charcoal glass, Castle Glass