A once-outdated condo with an outstanding view is now a sleek, modern marvel on Clearwater's Sand Key. Enjoyed since 1995 as Joan and Bill Kistner's second home, the 18th-floor condo was built in 1992 and reflected the decade's decor. "We have wraparound balconies with views of the mainland, Clearwater Beach, the Gulf of Mexico and some of the Intracoastal Waterway, so the views are really fantastic," says Joan, who lives part-time with her husband in Chicago. "The condo was very dated. We knew, as we got close to retirement and spending the majority of our time there, we definitely wanted to upgrade it and bring it into the 21st century."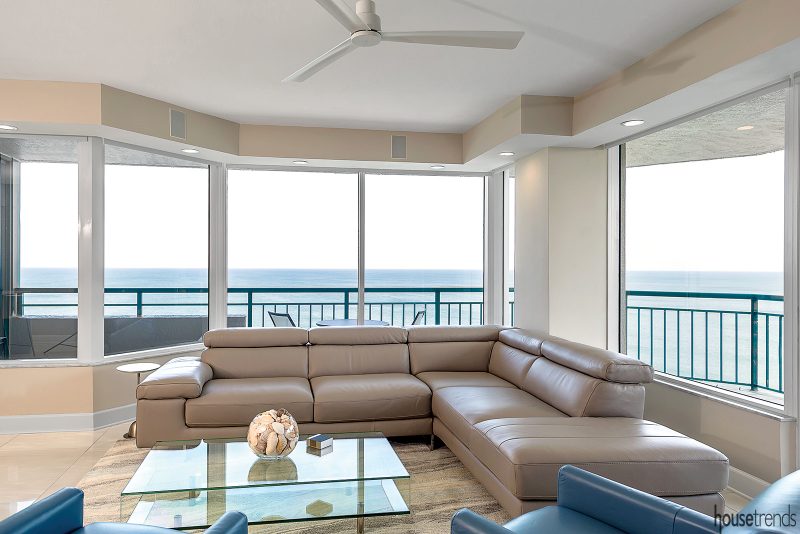 A more modern aesthetic
The Kistners turned to Nelson Construction and Renovations, Inc. to help them update the condo. To Greg Nelson, the president of Nelson Construction and Renovations, Inc., the 1,950 square-foot space, with its three bedrooms, two full bathrooms and one half bathroom, was a thrilling challenge to revamp.
"We've done maybe 50 to 100 condos over the last 15 years, from St. Pete Beach to Ozona," says Nelson, whose Clearwater-based, design-build company was founded in 2006. "It's so rewarding to take these condos and update them."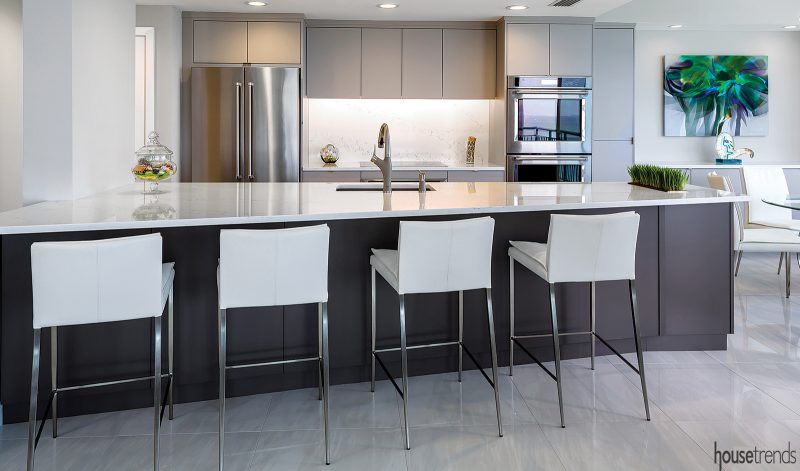 A major focus of the redo was the kitchen, which was originally a closed-off galley type of space that did not look out onto the coveted scenery. Now it is Joan's cooking sanctuary.
"My favorite room now is definitely the kitchen. I wanted something very sleek, minimal and modern. I didn't want a lot of things to dust, and I didn't want too much going on that you'd lose the view," she says. "I love to cook, being Italian, and we're hoping to do more entertaining. I have a double oven now, which I never had, and a lot of counter space. At the end of the peninsula in the kitchen, there is even an ice sink so you can pack bottles of wine while you're entertaining."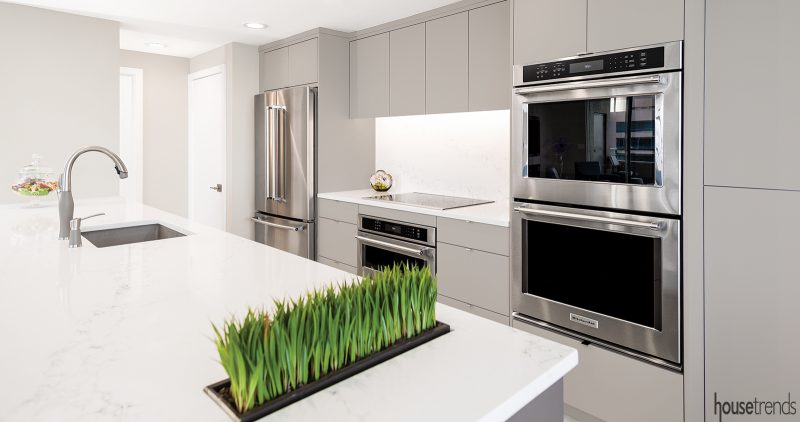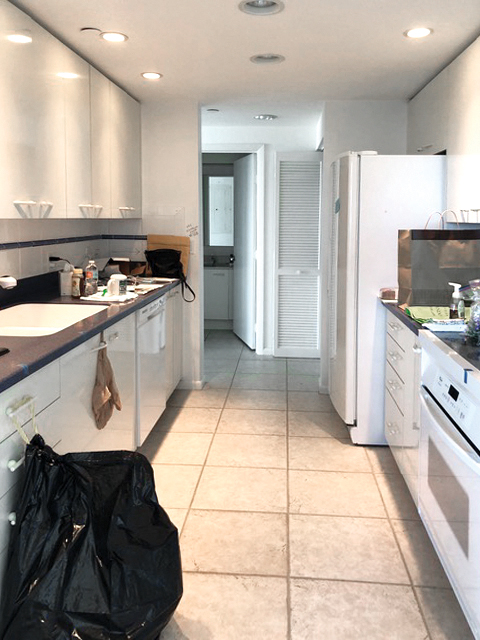 Maximizing available space
For the master suite and especially the adjacent master spa, space maximization was key.
"We were able to enlarge the closet in there. Where the shower is now was this oversized, humungous tub, which was worthless," Joan says. "We were able to rip all of that out and extend the closet, and yet still put in an approximately 5×5-foot shower. And the drain is actually a tile—it's just camouflaged. The space feels so much bigger now."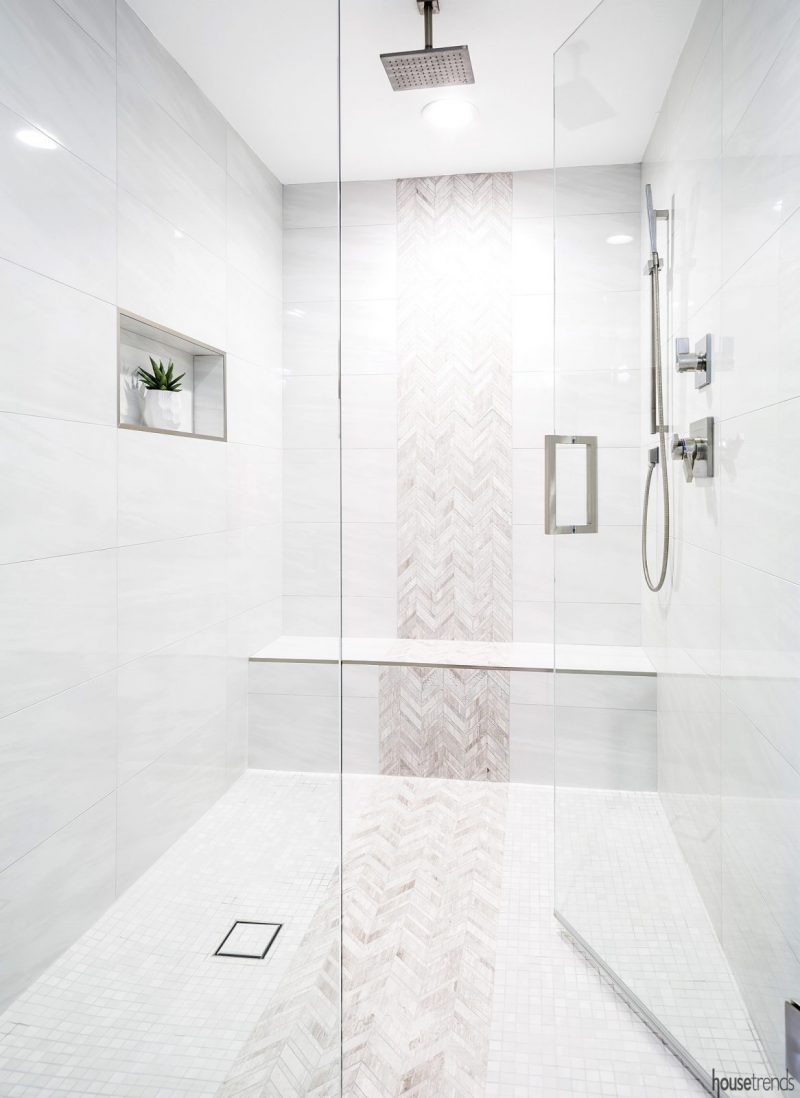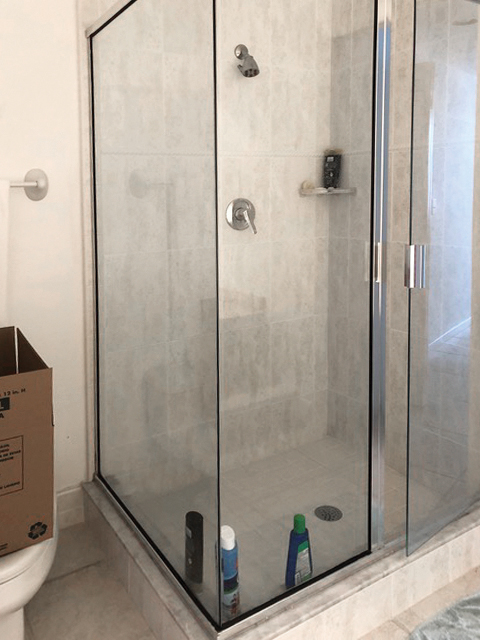 Some of the condo's furnishings were shipped in from Chicago and all of the Kistners' artwork was incorporated into the design. Throughout the home is 24×24-inch porcelain floor tile with a high gloss finish and light gray veining. The predominant wall color is Agreeable Gray by Sherwin-Williams, while the two accent walls feature the Elephant Ear hue.
"Besides the panoramic view, I wanted our artwork to pop in the unit, with nothing else on the walls being too busy or too colorful," Joan says. "Now, when I walk in the door, I just take a deep breath and say 'Ahhh.' It looks so serene, so peaceful, with no clutter. It's the perfect space for retirement."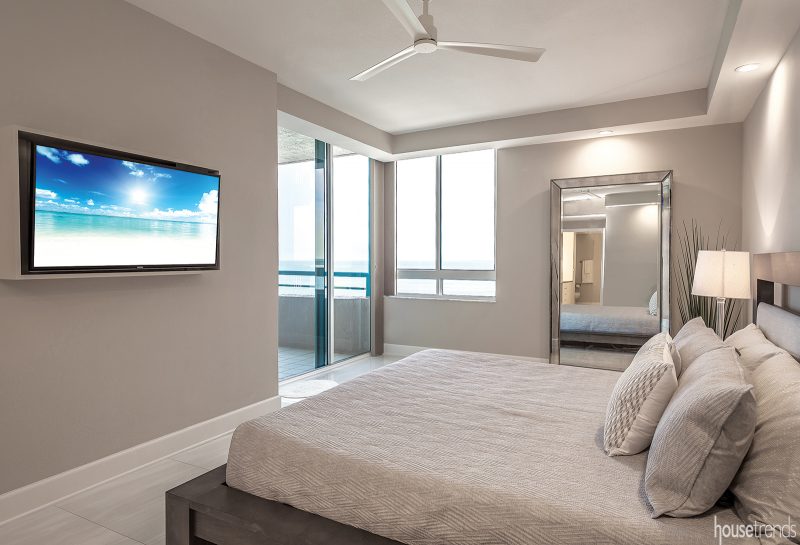 Becoming "perfect," however, required quite a bit of behind-the-curtain wizardry, which Nelson was well-equipped to tackle. "A lot of outdated condos we see are really closed-in but have these beautiful views that aren't showcased," Nelson says. "I personally really like working on them."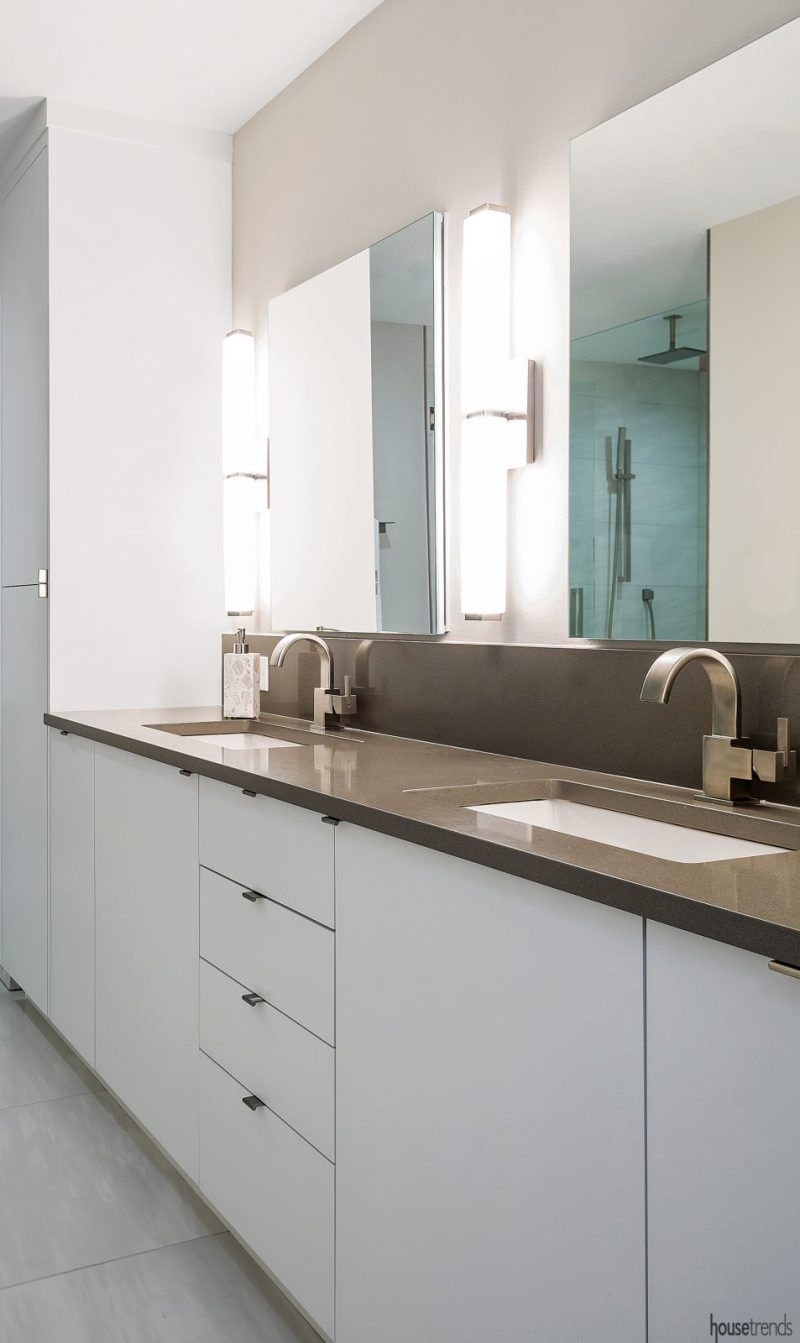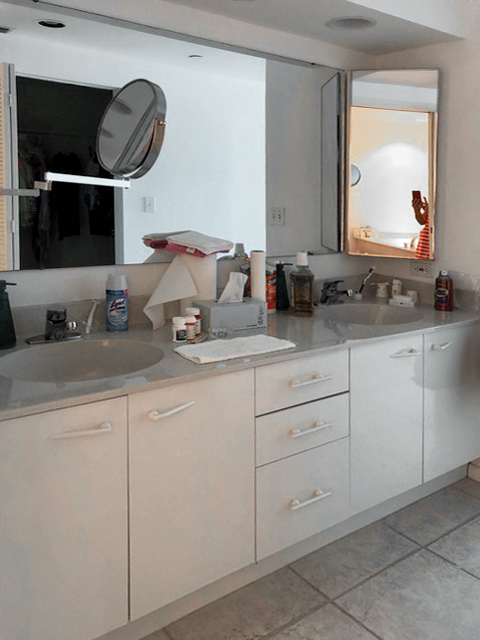 Making friends along the way
Some parts of the updating process are more than simply aesthetic. This particular condo was rife with mold and other electrical issues, so Nelson's team promptly replaced large sections of the drywall and rewired the unit. Nelson even had his in-house millwork warehouse handle the construction of custom cabinets and he installed tailored features like motorized shades and valance systems.
"Nelson and his team delivered exactly what they promised. We also enjoyed each other's company," Joan says. "After the project was over, I missed them because they became family."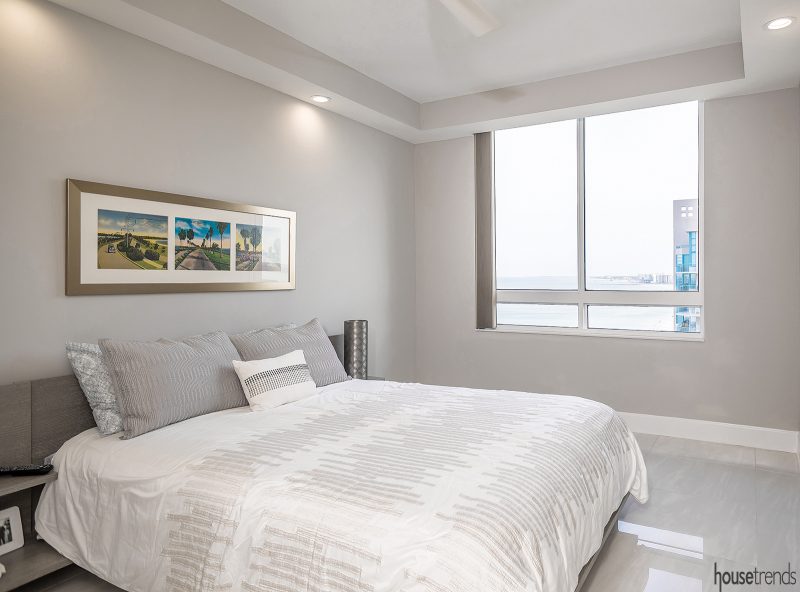 The feeling was mutual for Nelson. The most rewarding aspect of his profession is listening to and fully accommodating his clients. "We really try to listen to them. We have a long list of questions for them and try to find out what they like," he says. "We took a lot of information from Joan on this one. I'm going to say that about 40% of the design was all her. She was very involved every step of the way and we appreciated that."
"It's a family business and I like making friends. I love having someone come in and fully trust us," Nelson says. "Then I get to see the smile on their face when I'm done, and I add them to my list of good friends."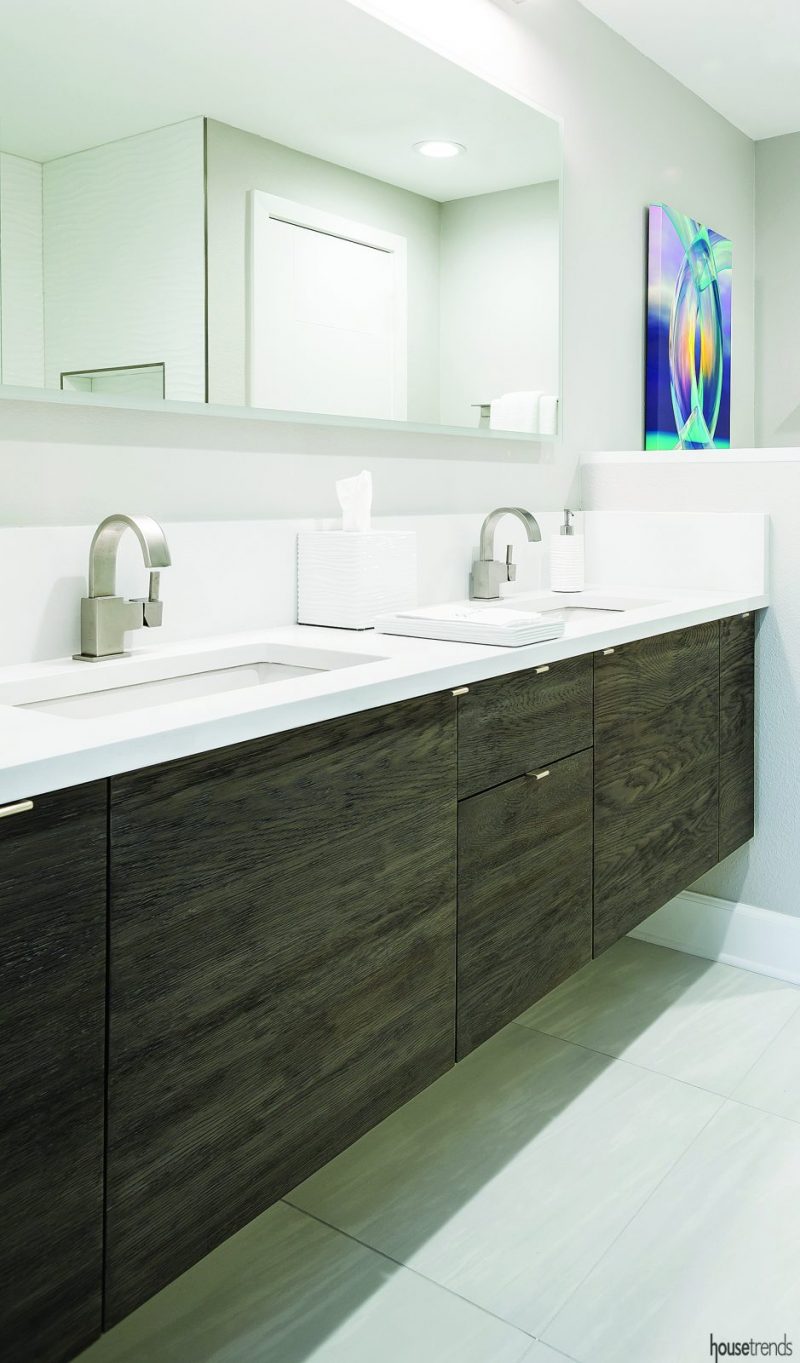 RESOURCES Contractor Nelson Construction & Renovations, Inc.; Paint Sherwin-Williams; Flooring Happy Floors Dolomite Polished White; Window tinting Vista Window Film; Fireplace Napoleon Allura Vision 50-inch Slimline; Countertops Pompeii Quartz; Kitchen sink Blanco 27-inch Truffle; Appliances KitchenAid; Dining room chandelier Vonn Creative Innovations; Ice sink Kohler stainless steel 22-inch single basin; Bathroom faucets Delta; Master bathroom sconces Modern Forms Vogue LED Bath Bar; Window treatments Hunter Douglas PowerView
Article appeared in Housetrends Tampa Bay – September/October 2019
Article by Abby Weingarten/Photos by Russell Missonis
To see another Tampa Bay condo with amazing views, search: Retreat in the sky