When they first drove past a parcel of land tucked away on an unassuming country road in Loveland—Eric and Lisa Kattus knew it was the place for them. The 12-acre site with a pond and about six acres of manicured grounds was a compelling setting for the couple, regardless of the non-descript 1960s ranch house that sat on the site.
"We didn't care about the house," says Lisa. "We knew we wanted to renovate."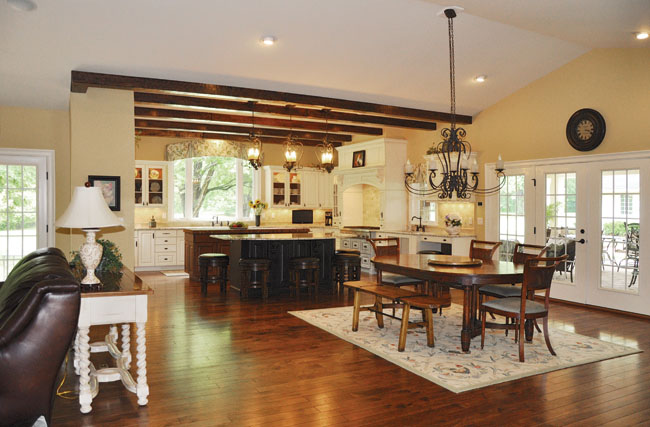 The whole process took a year, with the family moving out for nine months, and the result is a completely new space. In fact, the kitchen is all new construction.
"Lisa initially came with a fat binder of pictures of her dream kitchen that she had collected over the years," says kitchen designer Cathy Osborne with Auer Kitchens.
"The outdoor veranda is my husband's space," Lisa says. "The kitchen is my thing. I wanted a nice, big kitchen."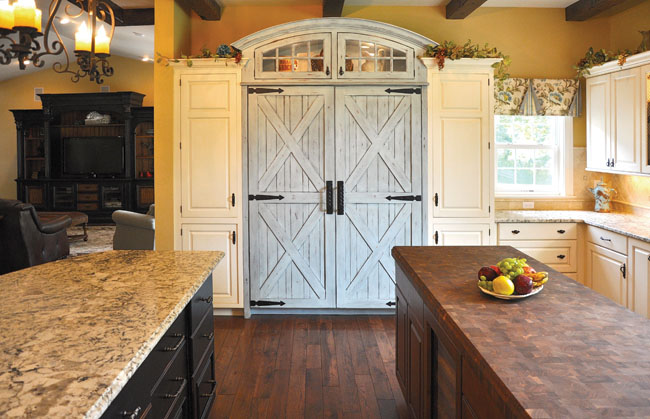 The statement piece in the room is definitely the refrigerator that takes its inspiration from a picture Lisa had of a pantry with a barn door. She and Osborne decided to use that concept on the 48-inch wide refrigerator. "It turned out to be a lot more complicated than we thought it would be," says Lisa. But the fridge with its lighted display cabinets above is absolutely a favorite for the homeowners.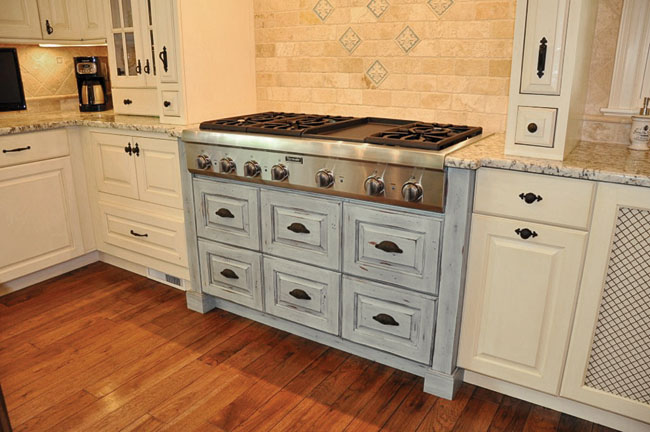 The custom color started with Benjamin Moore Fantasy Blue, which was then rubbed and distressed. "We used blue as an accent," Lisa says, "because I didn't want my kitchen to look like every other white kitchen."