Kirit and Pratibha Patel, both natives of Gujarat, wanted to bring a little bit of India to their newly-built home in Lutz. The entrepreneurial couple and their two daughters, 28-year-old Swati and 23-year-old Priyanka, all envisioned the property as a modern take on traditional South Asian style.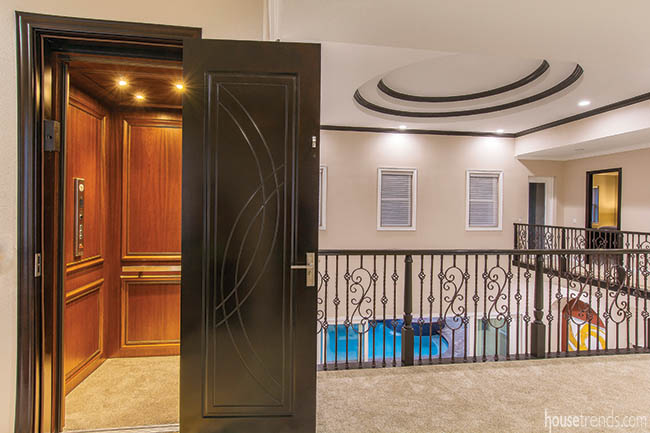 "My parents moved to the United States in 1987 from India, so they still wanted that Indian look, but they wanted the home design to be more modern and homey," Swati says. "My parents really like open spaces and high ceilings; it reminds them of home. And they were definitely going for a more contemporary style."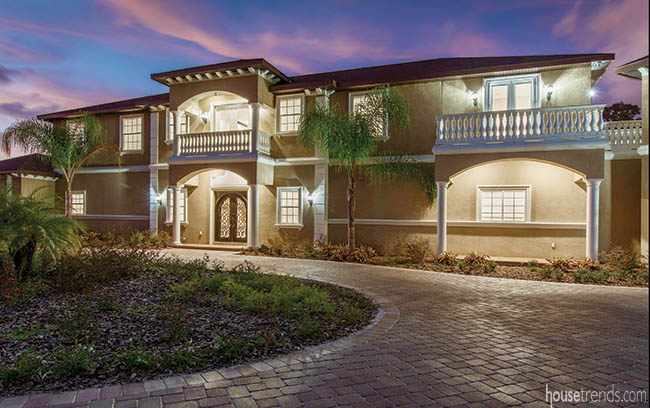 An energy-efficient design
With the aid of custom home builder Khamir Patel, the owner of KHP Custom Homes & Developers in Wesley Chapel and no relation to the homeowners, the family got what they craved: a blend of east and west, and an undeniably chic yet ultra-comfortable home.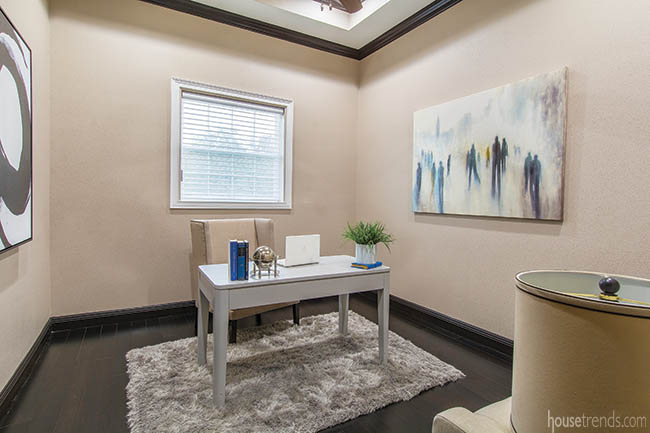 The building of the approximately 7,500-square-foot, five-bedroom, five-bathroom, two-story residence began in 2014 and was completed in late 2016. It was designed to accommodate the lifestyles of all of the family members and is located within a gated community on a large lot with plenty of privacy and space between neighbors.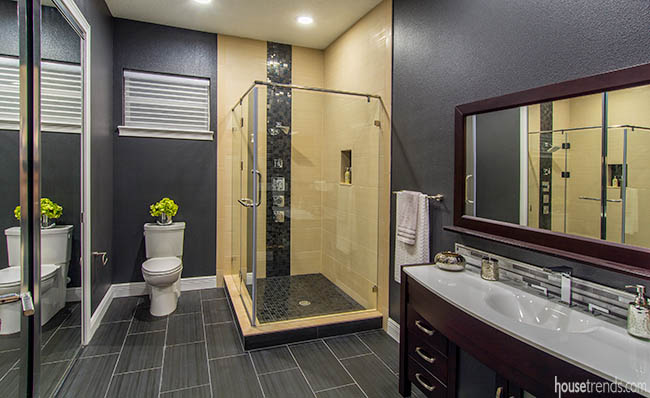 Khamir focused on the uber-modern aspects of the construction. His 2009-founded company specializes in building steel Structural Insulated Panel (SIP) homes that are hurricane, termite and mold-resistant. These custom structures are eco-friendly, provide the healthiest possible indoor air quality, and can save homeowners 30 to 50% in energy costs.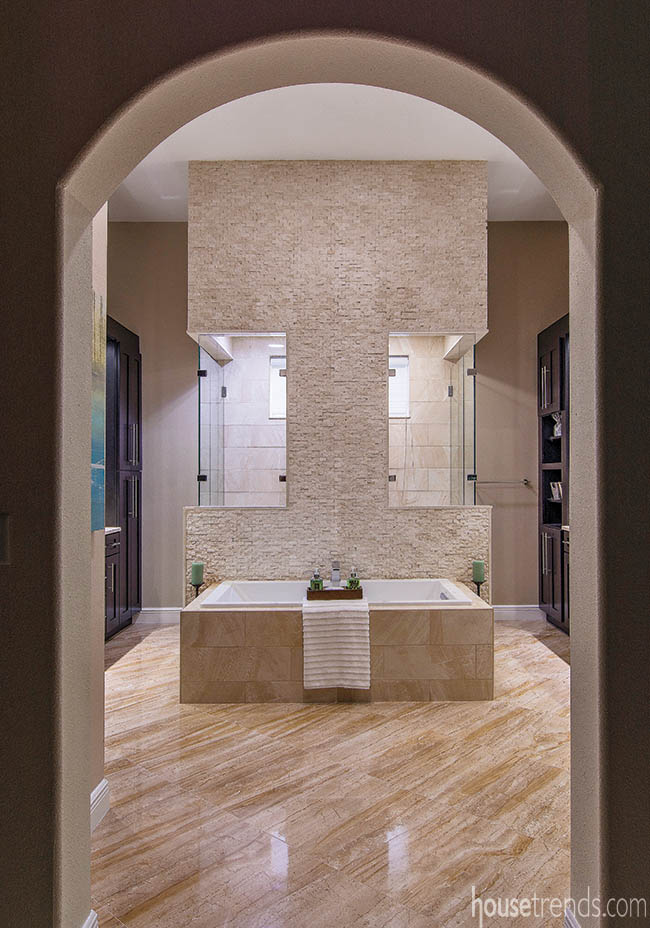 "This is an example of totally green construction, with recyclable steel panels and spray-foam insulation. Everything inside the house is steel frame and only the roof is wooden frame," Khamir says.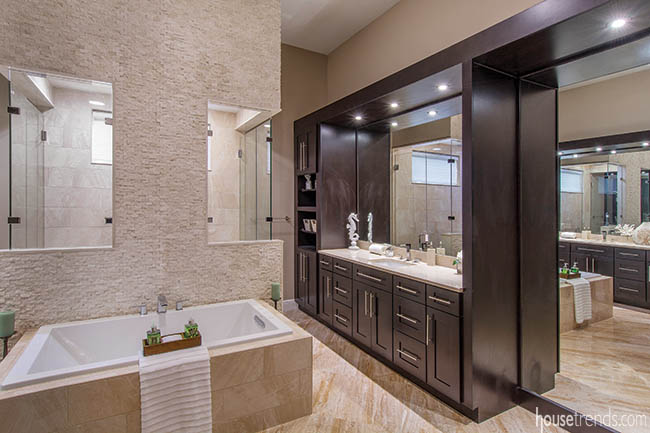 "The whole house is sealed from top to bottom so fresh air is always circulating. The interior does not need to be cooled or heated as much because it's so airtight, and the air conditioning required is almost half of what it would be in other homes. We also have LED lights in all the fixtures and they have 20-year lifespans."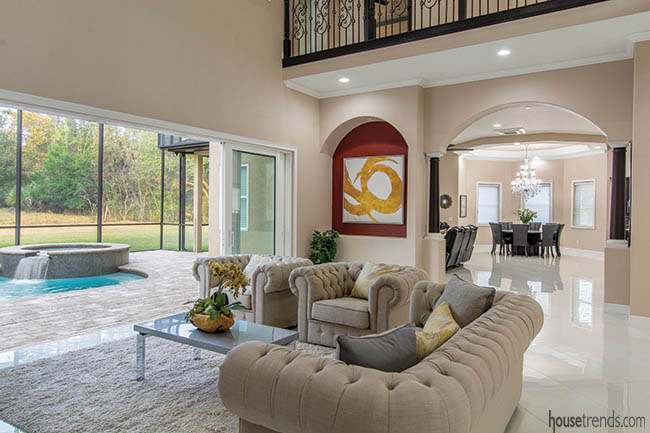 Elegant interior finishes
The interior design was also important to the family. To accommodate the tall ceilings and open floor plan, the homeowners incorporated unique details such as elegant light fixtures and bright splashes of color. In the great room, a pair of niches housing artwork was painted a deep red for dramatic effect, while dark blue walls are featured in a guest bedroom and the home theatre.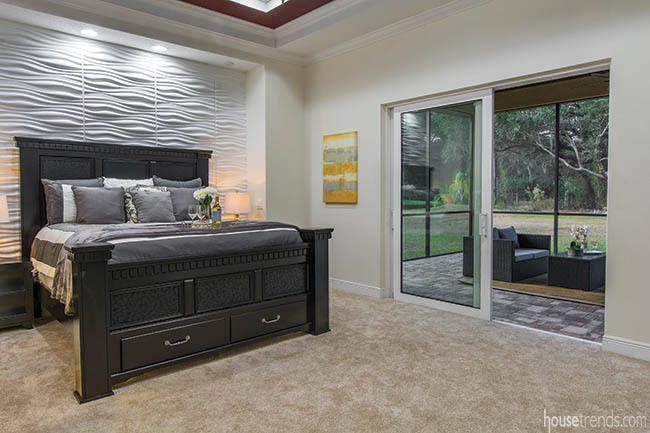 A variety of tile was also used throughout the house for visual interest. The master suite incorporates an accent wall covered in wavy, textured white tile, while the master bathroom features tile flooring laid on a diagonal, drawing eyes into the impressive spa-inspired retreat. There are also decorative finishes on the custom interior doors built by Khamir's carpenters.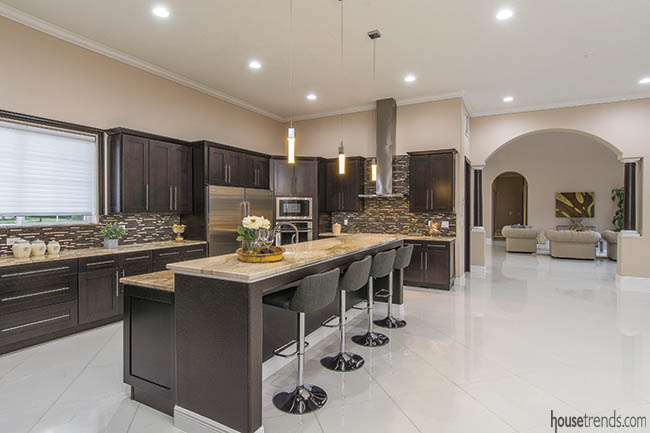 The kitchen is one of the main entertaining hubs in the home, where relatives gather to celebrate Indian holidays and feast on the family's cuisine. "My dad is one of eight brothers and their kids have kids of their own, so we always have kids running around our house. We wanted to build a bigger house because we have so many people in our family and we wanted to have a much more comfortable space for everyone," Swati says. "Every year, we celebrate Diwali and we always bring family over for that. As for the cooking, it's usually my mom making a lot of Indian dishes. The kitchen is definitely the heart of our home."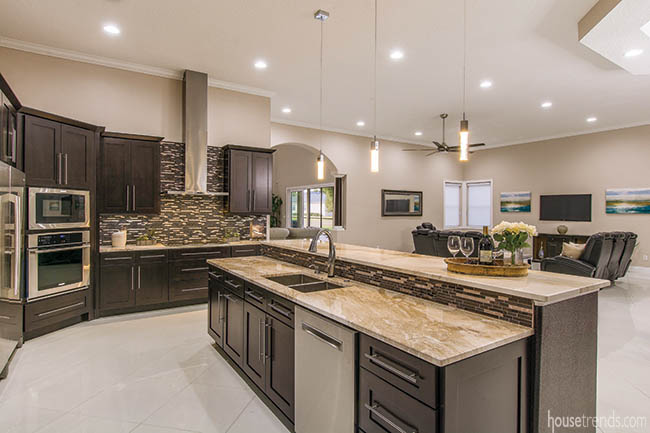 Dark Shaker-style cabinets, creamy marble counters accented by a linear mosaic tile backsplash, and sleek stainless steel appliances establish the modern look in the kitchen.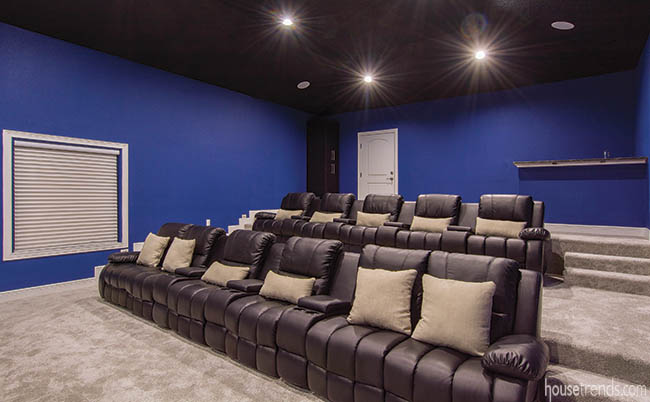 The living room, the home theater room and the outdoor pool area are family-centric, too, especially on the weekends. "The theater room sits about 11 people and we have a projector that projects movies or football games onto the wall. We do like to watch Bucs football games every Sunday together," Priyanka says.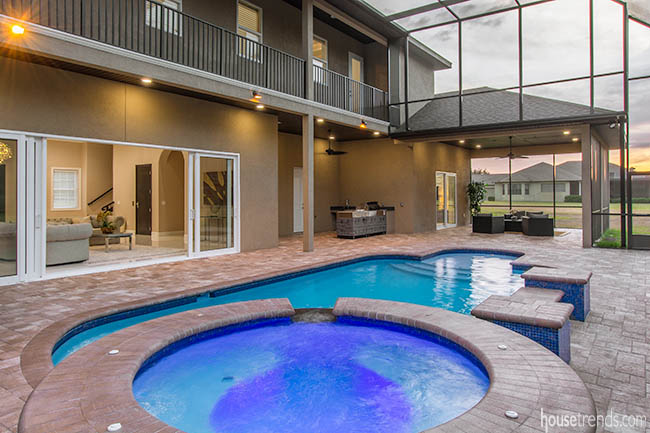 "We also have a pool and it's great for entertaining. We have an outdoor kitchen where you can grill and barbecue. And we have a big area in the back for people to sit outside and hang out."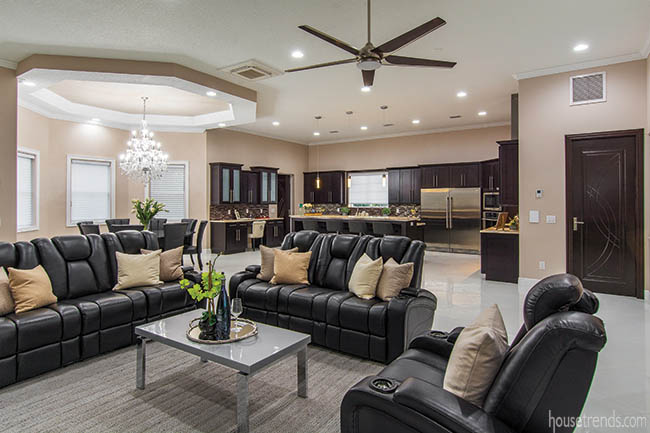 Comfort and style
All of these spaces in the Lutz home started as simple ideas, Swati says. It was Khamir who was able to make them materialize beautifully. "We try to be very accommodating, and we strove to make the house look beautiful and meet the family's needs," he says. "I want a home to work for each and every one of my customers."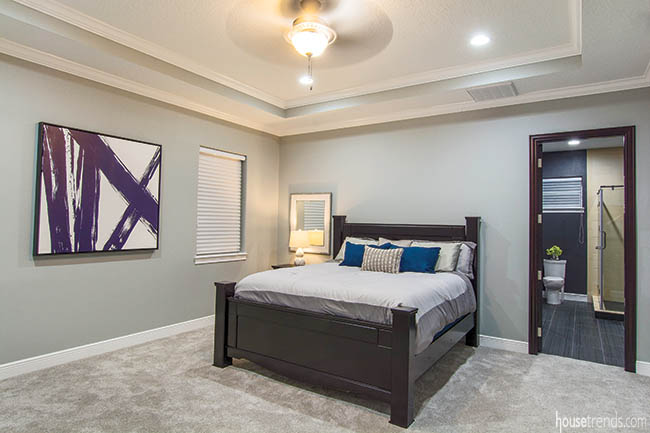 The Patel family couldn't agree more. "When we finally walked in, when it was all finished, we were very satisfied with the decisions we had made and how Khamir had listened to all of our needs and desires," Swati says. "It came out just the way we wanted. We wouldn't have wanted anything any other way."
Resources: Builder: Khamir Patel, KHP Custom Homes & Developers; Cabinetry: Forevermark; Countertops: KB Factory Outlet; Appliances: Famous Tate; Brick pavers: Brothers Brick Pavers; Tile installation: Roggers Flooring Co; Plumbing fixtures: Broedell Plumbing; Carpet: Curt's Carpet Warehouse; Paint: Sherwin-Williams; Landscaping: Plant Adoptions; Windows: MI and PGT; Doors: BHI; Lumber: 84 Lumber; Home Theater: System Synergy