In Kentucky, the first weekend in May is all about watching the horses run…but here in Cincinnati, we like to watch the pigs fly.
This year marked the 18th anniversary of the Cincinnati Flying Pig Marathon, where over 39,000 runners competed in one of the weekend's races. Of those people, only 4,737 were brave enough to attempt the full marathon… a 26.2-mile route exploring some of the city's most beautiful neighborhoods.
And of those, Mariemont is always a favorite among the runners. The neighborhood shuts down for the day as spectators line the streets to cheer, hand out food (runners will find bacon during this stretch of the race), and offer support on one of the most mentally challenging legs of the race.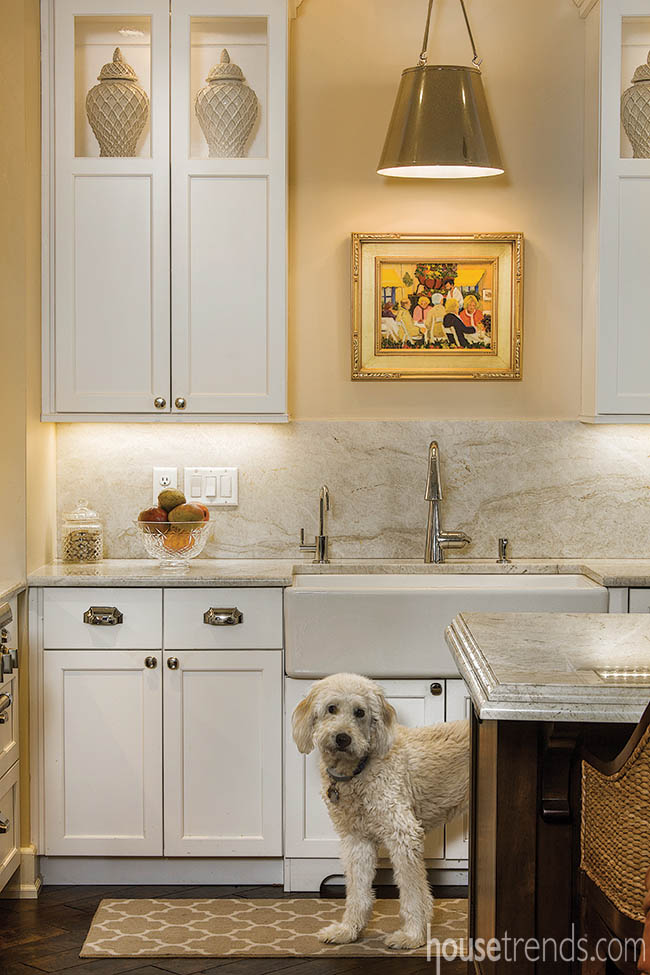 Dale and Cindy, who moved into their Mariemont condominium almost two years ago, live right on the full-marathon course and have embraced the event at their new neighborhood's annual block-party.
"We love watching the runners come through town," Cindy says. "We always have water to hand out, and sometimes we even see people we know. It's a lot of fun."
And the runners have enjoyed watching the village of Mariemont evolve over the last several years as Rick Greiwe, of Greiwe Development, has planned and constructed an upscale condominium community that is within walking distance of everything Mariemont has to offer.
"Mariemont is unique, because it has a hotel, a movie theatre, restaurants and shopping," Greiwe explains. "We've found that our audience of prospective homeowners are seeking an engaging lifestyle and want to be within walking distance of all these amenities."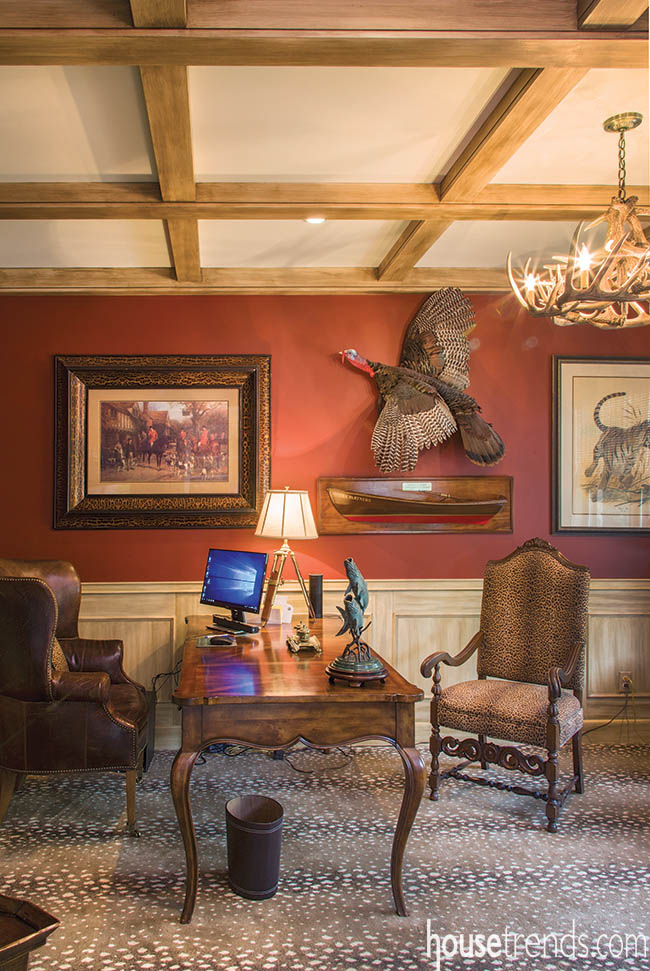 Cincinnati has long been known as "Porkopolis" because of the meat industry and large number of stockyards occupying the city in the 1800s. Cincinnatians have embraced the pig emblem, including the iconic flying pig statues that decorate the streets.
Cindy was driving to her gym about three years ago when she saw a new painting in the window of a local studio. It was a portrait of a pig, and Cindy had to have it for her collection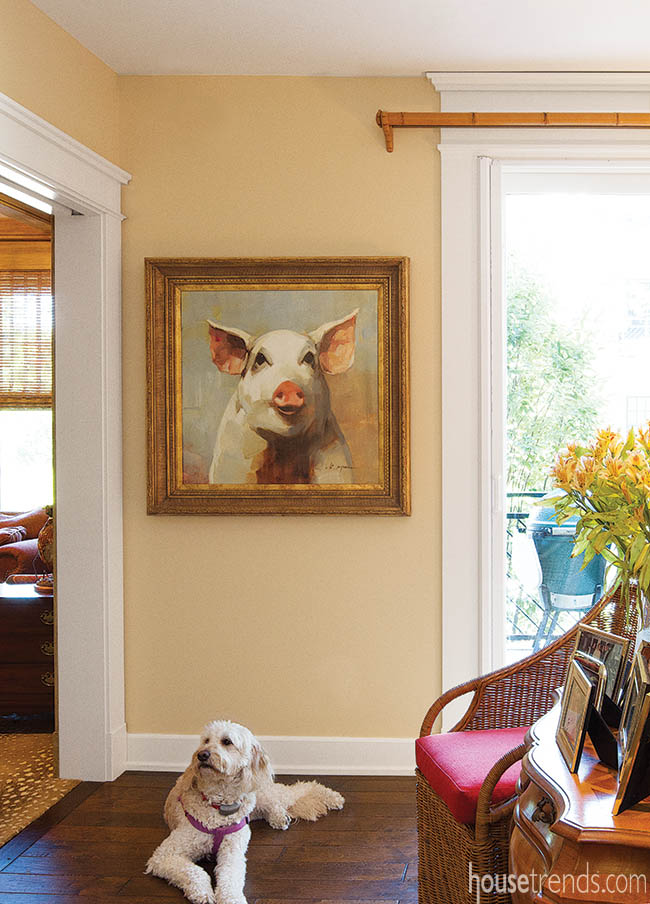 "She had such a twinkle in her eye," Cindy recalls. "I went in to inquire about the piece and was informed that a husband had bought it as a surprise for his wife.
"Well… I was sure Dale had bought it for me," Cindy remembers with a laugh. "I called the store and they told me it wasn't Dale, which I thought was part of the joke. Dale even told me it wasn't him."
Cindy was finally convinced when she discovered during a dental appointment that the painting was purchased by her dentist's husband as a gift for his wife. Fortunately, the artist, Ray Simonini, learned of Cindy's love of the piece and created a very similar pig painting that now hangs in her living room. "She has the same twinkle in her eye."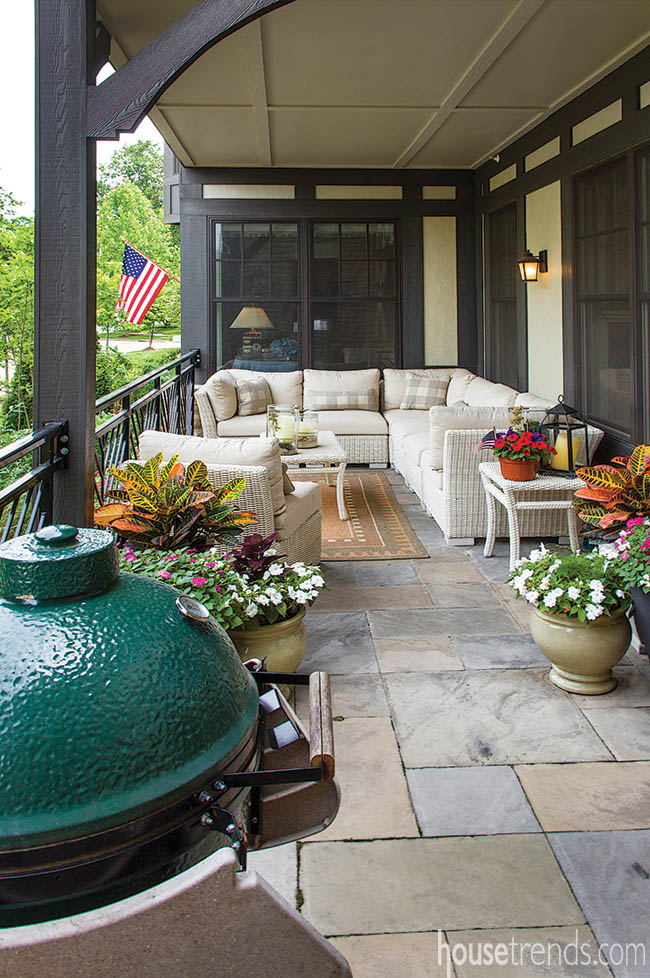 Dale and Cindy made their move to Mariemont from their French Country home in Indian Hill. "We joke that we just rolled down the hill," Cindy laughs. "One of the reasons we chose a condominium community was because I retired to play more golf, not do yard-work."
Cindy loves that her unit has three terrace areas where she can enjoy the outdoors and her beloved flowers without all of the maintenance. Dale also loves to barbeque, and it was essential that their unit included an open terrace for Dale's grills.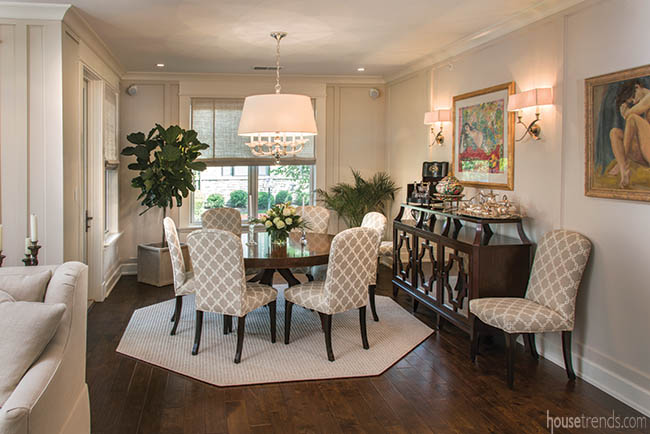 When it came to the interior must-haves, Cindy knew she wanted a change from her French Country style. "It just ran its course," she says. "I wanted transitional style with a mix of contemporary."
Cindy partnered with interior designer, Judy Holland of Greiwe Interiors to bring her design desires to fruition. "I'm a frustrated interior designer, so Judy knew she was just going to keep me on course. She was a great resource."
"This was a lifestyle change for Dale and Cindy," Holland explains. "It gave them an opportunity to get away from the traditional and add a freshness to their style."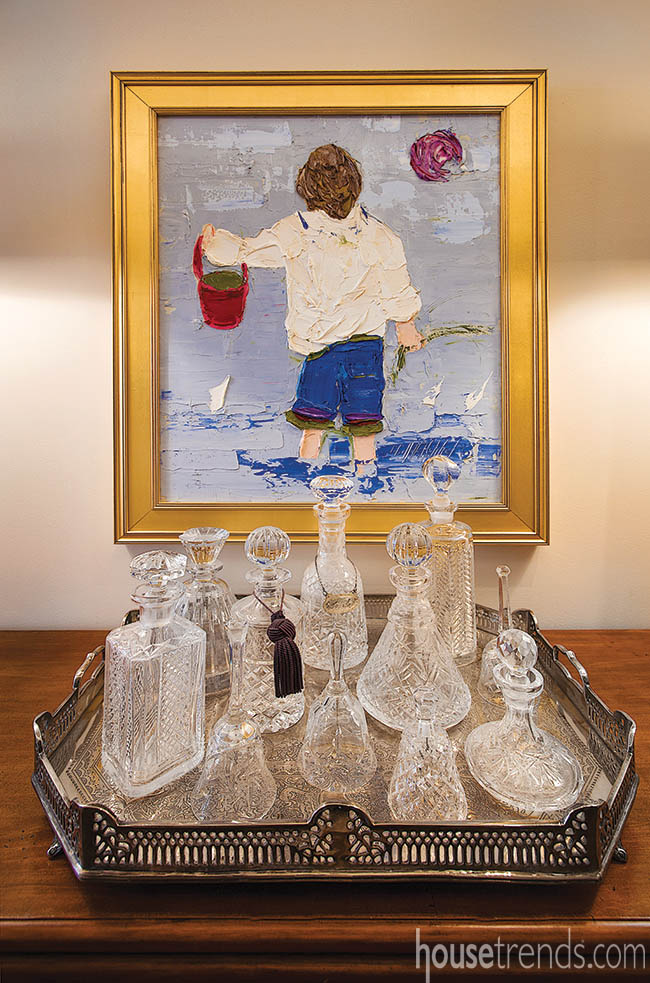 Upon entering the home, it is apparent that every inch of its 3,200 square feet was well planned and designed. A formal entry, displaying some of Cindy's lovely art collection, leads guests to the formal living and dining area.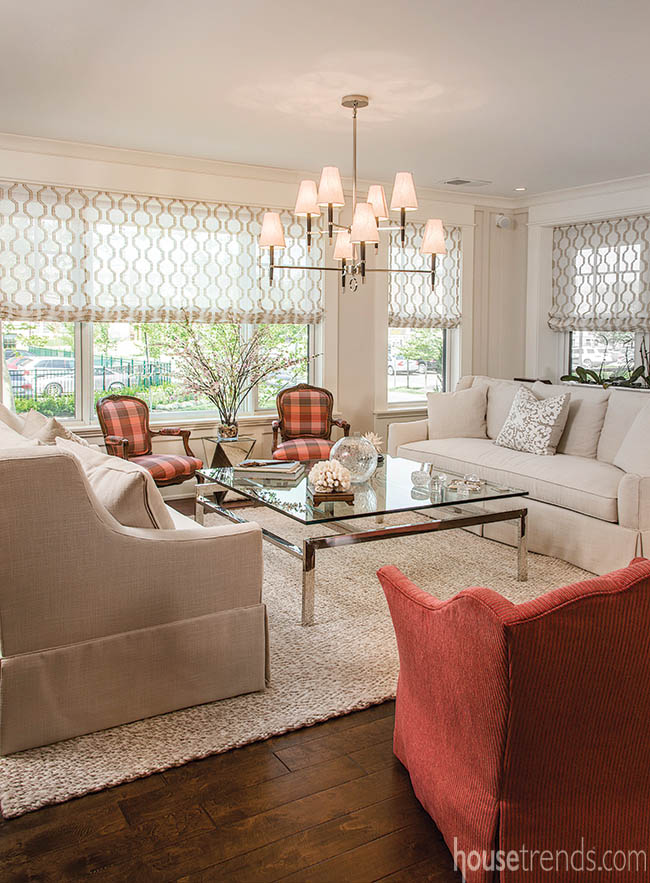 The space is open and bright with windows enveloping the room with light. The dark stain on the hardwood flooring is a nice anchor to the Sherwin Williams China Moon paint on the walls. The furnishings are also a nice mix of styles and designs.
Cindy played with scale in the living room seating area where she paired her mother's plaid chairs, which she realizes are small for the space, with an oversized coffee table and facing sofas. "I always wanted a living area like this, I just never had the space," Cindy says of the nice conversation area.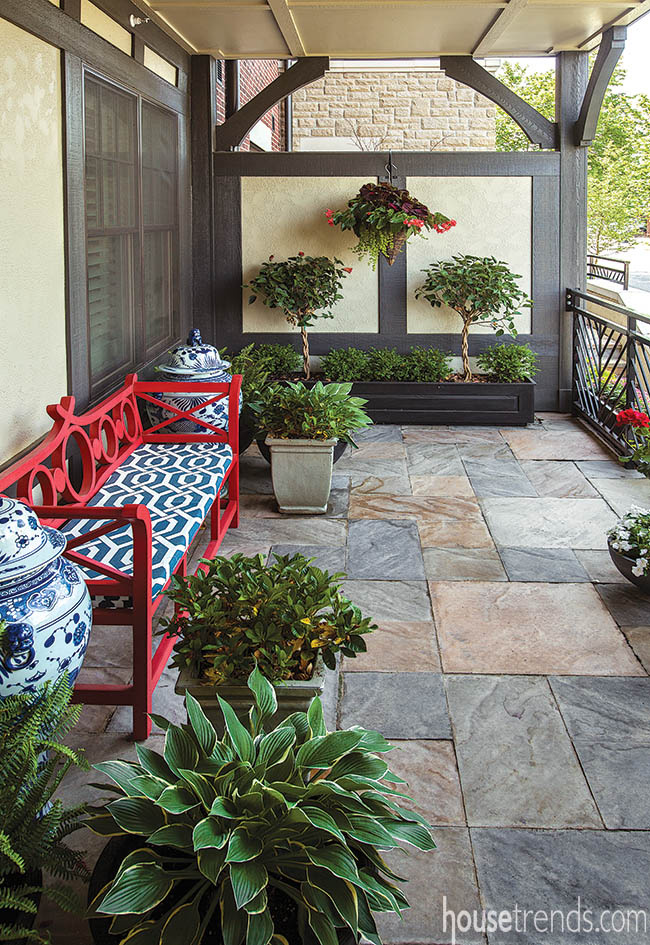 A private, corner terrace is located off the formal dining area. This is Cindy's favorite spot to sit and enjoy a glass of wine after dinner. "Dilly Deli has live music that we can hear from here, so it's almost like we have our own private concert."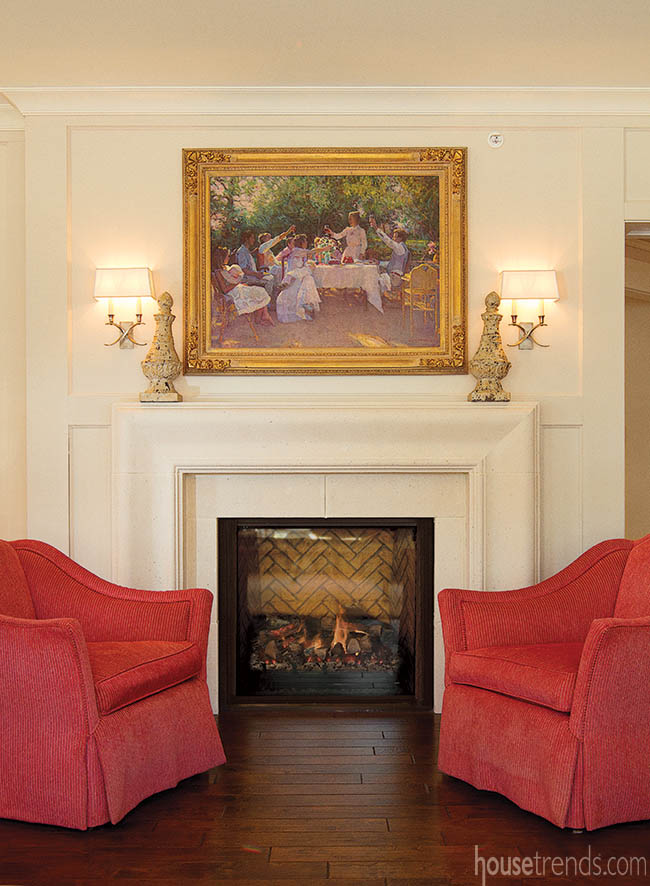 Cindy's crown jewel in her formal living area is her poured stone fireplace. "I've always wanted a stone fireplace, and the company designed and built it custom for this space.
"It weighed 600 pounds, and they had to use a dolly to bring it inside in pieces. We had already finished the floors, so they laid heavy cardboard down and started to put it together like a puzzle.
"After they got it installed, they realized one of the pieces wasn't the right size, so they had to take it apart, wait for that piece to be rebuilt, and then finish the installation. It was a process."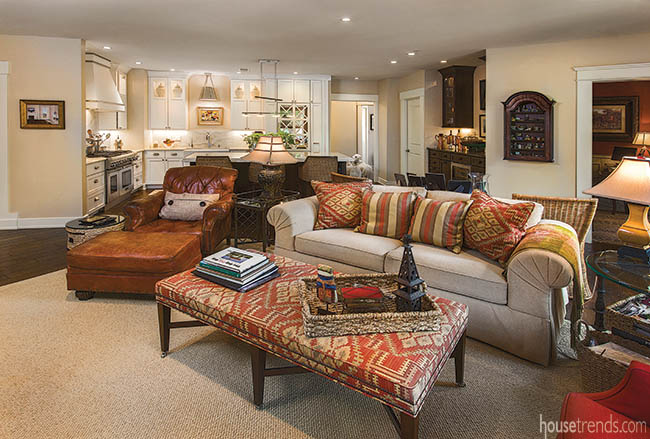 Cindy loves entertaining in the formal area of her home, but she admits that the couple spends most of their time in their open kitchen and family room.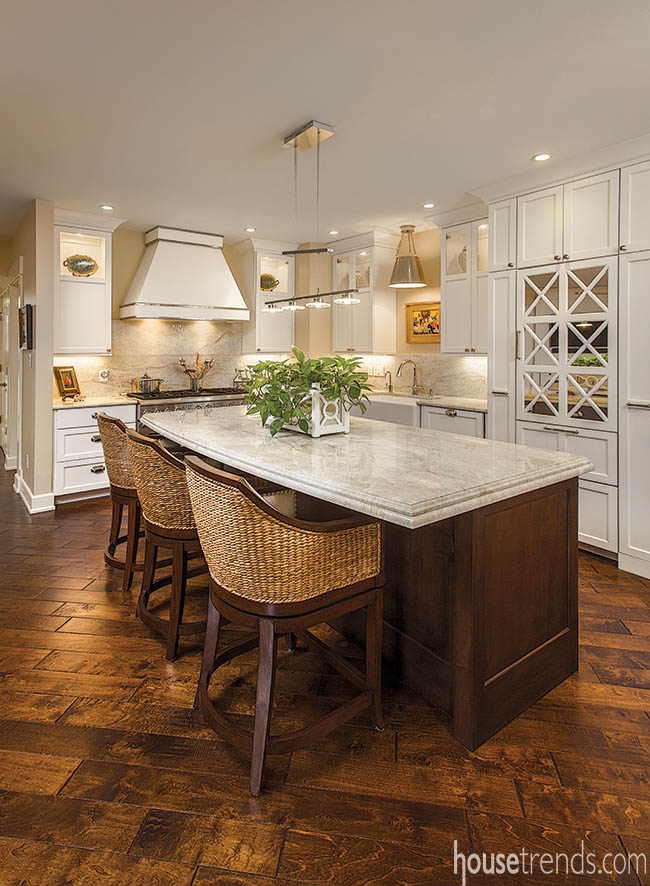 She knew she wanted a neutral countertop, white cabinetry and chrome details. The Taj Mahal quartz counters bring a subtle sparkle to the space and highlight the chrome detailing—especially the trim on the massive hood over the stove.
"I've always lusted after a stove like that," Cindy says. "Judy designed just what I wanted and Gary Wilson did an amazing job fabricating and installing it."
Perfectly positioned between the kitchen and the hearth room rests this timeless mini-bar, which comes with a wine fridge, as well as plenty of storage for the homeowner's collection of dining utensils.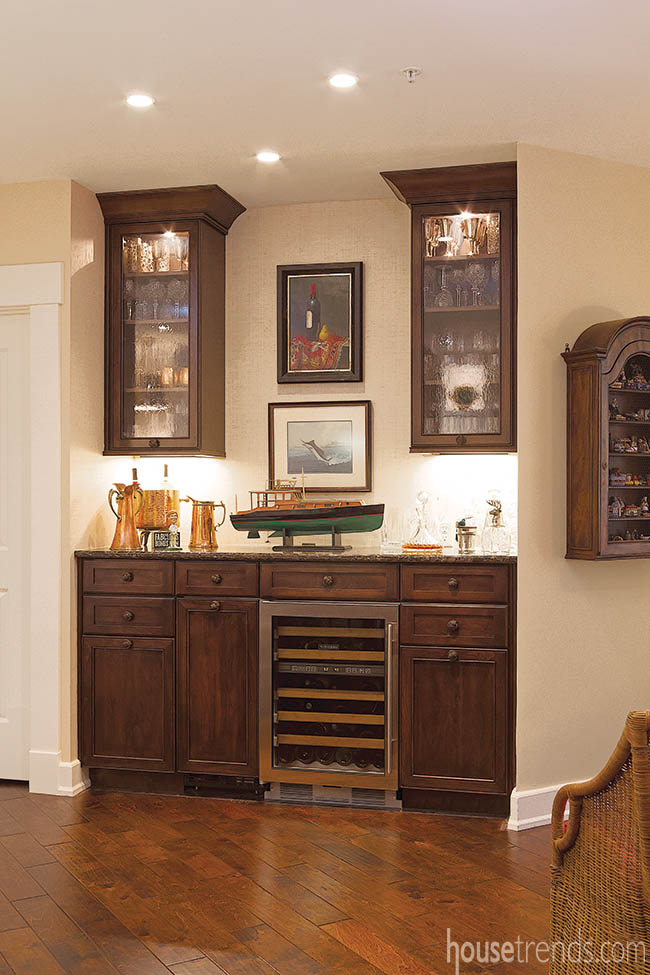 Mirrored facing on the low profile, paneled refrigerator brings more light to the space, and the smaller design takes up less room. "I realized what takes up the most space in my refrigerator is produce, so I got a separate drawer just for produce," Cindy explains.
"We cook three to five nights a week," Cindy says. "Dale loves to grill outside, and I enjoy baking."
The kitchen was carefully designed to accommodate the couple's love of cooking and entertaining their children.
"Dale and I joke that we thought we'd downsize and get invited to our kids' houses for holiday meals, but they still want to come here… We love it though, and wouldn't want it any other way.
Resources: Developer: Greiwe Development; Builder: North American Properties; Architect: Sari Lehtinen, CR Architecture; Kitchen and interior designer: Judy Holland, Greiwe Interiors; Lighting, electric Roman shades, and select pieces of furniture: Greiwe Interiors; Home automation (including shades): Sound Advice; Paint: Living room, dining room, hall in China Moon; Kitchen in Desert Sand, all Sherwin-Williams; Kitchen cabinetry: Kitchen Views and G. Graham Wilson Architectural Woodworking; Appliances: Keidel; Kitchen countertops: Taj Mahal quartzite from Mees, fabricated by Pure Granite and Stone; Sink, faucet, cabinetry hardware: Bona Decorative Hardware; Study carpeting: Antelope from Greiwe Interiors; Fireplaces: Tate Builders Supply